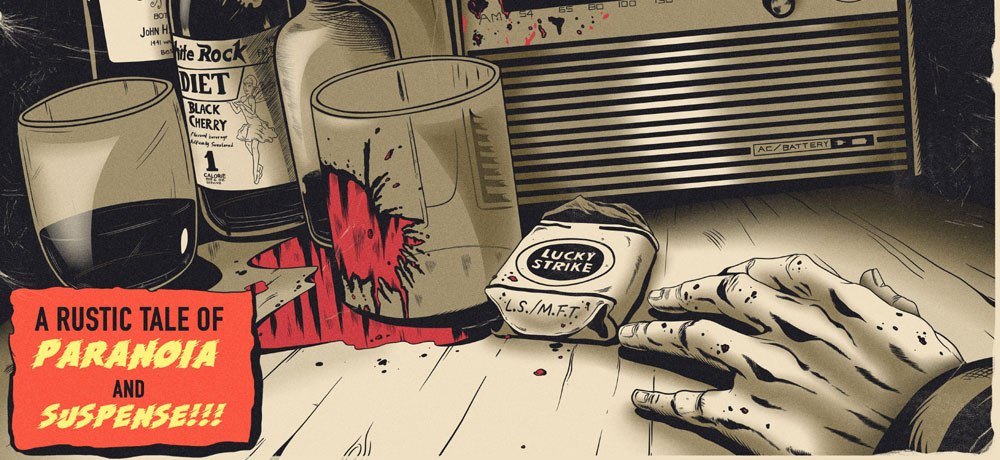 We're back with another edition of Horror Highlights! Today's installment gives you a tease of The Howling Wind, the official trailer for The Droving, and details on the recent acquisition of Don't Tell a Soul:
THE HOWLING WIND: "During a plagued dust and wind storm, a countryman takes in a weary traveler seeking refuge — but discovers the truth in the circumstances of his arrival."
"THE HOWLING WIND, at its core, depicts how good people can become monsters when their survival is at stake. In the midst of a natural threat outside, the real terror comes from within. Our vision in crafting THE HOWLING WIND was to utilize the classic style and timeless setting of the early 1960s in order to tell a universal story that although shot in early January, presciently reflects present day events."
The film was directed by Lorian Gish and Justin Knoepfel, written by Justin Knoepfel and stars Anthony Arkin, Nicky Boulos, and Mark Silverman.
Keep up to date with news on The Howling Wind by following: https://www.instagram.com/howlingwindfilm/
---------
THE DROVING Trailer & Release Details: "A man returns from the military in search for his lost sister, who mysteriously went missing around the time of a strange traditional festival called 'The Droving'."
Directed and written by: George Popov
Produced and written by: Jonathan Russell
Cast: Daniel Oldroyd, Suzie Frances Garton, Amy Tyger, Bobby Robertson, Jonathan Lawrence Risdon, John Love, Alexander King.
Available now on Amazon Prime Video.
---------
DON'T TELL A SOUL Acquisition: (Press Release) "Saban Films announced today that they have acquired North American rights to Alex McAulay's (Flower) directorial debut Don't Tell a Soul from Unbridled Films and Mangano Movies & Media.  Penned by McAulay, the thriller was an official selection of the 2020 Tribeca Film Festival and stars Jack Dylan Grazer (Shazam!, It), Fionn Whitehead (Dunkirk, The Children Act), Mena Suvari (American Beauty, American Pie franchise) and Emmy Award® nominated Rainn Wilson ("The Office," The Meg).  Chris Mangano (Standing Up, Falling Down) and Merry-Kay Poe produced with Steve Poe, Matt Bronson and John Neace as executive producers, and Brian Tanke, Max Neace and Alex McAulay as co-producers.
Don't Tell A Soul follows two young brothers (Whitehead, Grazer) who, when robbing a house to pay for their sick mother's medical bills (Suvari), cause a security guard (Wilson) to fall into a forgotten well.  Trapped, the security guard must try to outsmart these two teenagers, as the brothers also come head to head.
Saban Films' Bill Bromiley commented, "During these trying times, we at Saban thrive to continue bringing entertainment to our audiences and provide a platform for indie films.  Don't Tell a Soul is an entertaining and thrilling tale that audiences will love.  We are proud to support Alex and the whole team."
Shot entirely on location in Kentucky, Don't Tell a Soul marks the debut production for Poe's Kentucky based production company, Unbridled Films, and the second production for Mangano's Mangano Movies & Media.  The film would have served as the second premiere in a row for Mangano at Tribeca, having premiered the critically embraced Billy Crystal dramedy Standing Up, Falling Down there last year, which was released theatrically in February.
Producer Merry-Kay Poe stated, "It was a true pleasure to work with such a great cast and production team.  Alex's masterful script showcases four great actors each in a new dimension, which is very exciting to watch. We are very pleased to be working with Saban Films to share every twist and turn of Don't Tell A Soul with a wide audience."
Producer Chris Mangano added, "Don't Tell a Soul is a special film that will surprise a lot of people, and Saban Films genuinely understands its appeal to both commercial and critical audiences.  We could not be in better hands."
Bill Bromiley and Jonathan Saba negotiated the deal for Saban Films along with UTA Independent Film Group on behalf of the filmmakers.
Saban Films continues to grow its presence in the industry, remaining active in the acquisition, production and distribution space. The company's successes have run the gamut from critically acclaimed theatrical films such as The Homesman starring Hilary Swank, to two of the biggest Fathom events with horror icon and heavy metal mastermind Rob Zombie's 3 From Hell last year and Kevin Smith's Jay and Silent Bob Reboot, the sequel to the 2001 comedy Jay and Silent Bob Strike Back which the company partnered on after coming onboard at script stage. Its upcoming slate includes: Nicol Paone's Friendsgiving with Malin Akerman, Christine Taylor, Jane Seymour, Kat Dennings and Chelsea Peretti; John Suits' Breach starring Bruce Willis; and Twist starring Michael Caine, Lena Headey and Rita Ora."