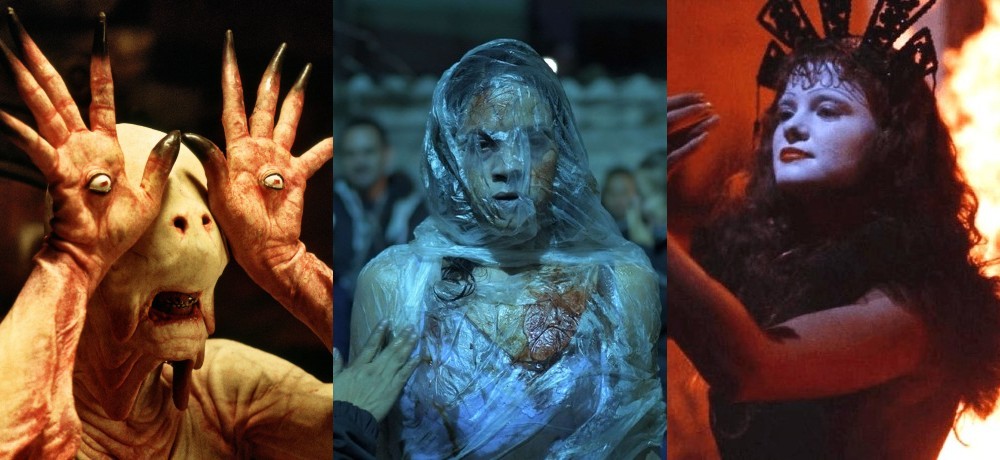 Since 1933, Mexico has been a major pioneering force in Latin American horror cinema. In contemporary times, Mexican horror has blossomed into a diverse array of horror subgenres including paranormal, art house, independent, social-political, and extreme.
For those inspired to explore what Mexican horror has to offer, this film list is a beginner's guide to contemporary Mexican horror, featuring films by art-house cinema icon Alejandro Jodorowsky, the Oscar-winning monster maker Guillermo del Toro and Mexico's tiger queen Issa Lopez.
10. El Gigante
Though the only short film on this list, it's a bold mix of Mexican wrestling, Rob Zombie, and The Texas Chainsaw Massacre, with lots of blood and gore. While attempting to cross the American/Mexican border at night via a "coyote", Armando is attacked and awakens in a dirty blood-splattered room. He is forced to wrestle for the entertainment of a sadistic family with the blood-thirsty wrestler El Gigante.
With the success of this and other short horror films, director Gigi Saul Guerrero has gone on to film movies with Blumhouse Television, including Into the Dark: Culture Shock and the upcoming Bingo Hell.
9. The Similars (Los Parecidos)
Heavily influenced by the sci-fi films and television of the 1950s and 1960s, this love letter to the genre combines fantasy and surrealism, with the unimaginable. Set on the night of the tragic day of October 2, 1968, eight people are stranded by a massive rainstorm, at an isolated bus station, desperate to get to Mexico City. As the hours go by, a strange phenomenon sends everyone into fear and paranoia, as horrific seizures create unbelievable reactions.
October 2, 1986 was the Tlatelolco Massacre in Mexico City, where over 1,000 peaceful student protestors were injured and an estimated 350-400 protestors were killed by the heavily armed federal Mexican Armed Forces. The Mexican government held the 1968 Olympics in Mexico City, to boast about economic growth, which didn't benefit the poor. Students protested this inequality and the corrupt Mexican government, in front of international media. This tragedy led to more student protests advocating for government change.
8. New Order (Nuevo Orden)
This recent controversial political horror examines social class, wealth, corruption, and the exploitation of political power. Two families, one lavishly rich and the other, the poor family who works for the rich family, have their lives turned upside down when violent class warfare breaks out nationally. When the Mexican government is taken over by a military coup, the families each face consequences beyond their worst nightmares.
New Order was the 2020 Venice Film Festival prize winner.
7. The Zone (La Zona)
A chilling commentary of the Mexican social class system and how the power of the privileged classes influences political corruption. In an isolated and guarded upper-class suburb called The Zone, a botched robbery by three teenagers throws the residents into a blood-thirsty manhunt to find the surviving teenage thief. As people from the outside and a Zone teenage resident try to search for answers, the wealthy Zone adults push their influence and bribes to put an end to the questions, so they can dispense their own bloody justice.
In 2007, The Zone received the Best Debut Feature award at the Vince Film Festival.
6. The Untamed (La región salvaje)
Following in the footsteps of Possession, mixed with an H.P. Lovecraft-inspired creature, this sci-fi sexual horror, evaluates relationships and the hypocritical views that society has of them. Alejandra is a young and unhappy wife, in a broken marriage, with little hope. In all her turmoil, she is introduced to a mysterious being who brings her ultimate pleasure, but also horrific destruction.
The unique concept of The Untamed was inspired by Possession and dedicated to its director Andrzej Zulawski.
5. We Are What We Are (Somos lo que hay)
Intertwining the heartache of a family melodrama, with bloody cannibalism, shows how far some will go protect and provide for their family. After the death of a family's patriarch and sole provider, the heartbroken widow mother and her three teenage children struggle to establish who will be the head of the family and continue their ritual cannibalism. As the tension increases in the household, they grapple to find their next meal.
In a cameo, paying homage to Guillermo del Toro's first Mexican film Cronos, with the Cronos actors Daniel Giménez Cacho as Tito the mortician and Juan Carlos Colombo the funeral director, acting in similar roles, in a morgue.
4. Under the Salt (Bajo la sal)
A crime drama, where everyone has dark secrets to hide. Commander Trujillo arrives in a small Mexican town to investigate a series of unsolved murders of young women. As the investigation intensifies, Victor, a misfit teenager who works at his father's funeral home, falls in love with Isabel, a local waitress, who he wants to protect at any cost.
The use of stop motion animation throughout Under the Salt creates a unique visual, giving the audiences an in-depth look at Victor's emotional evolution throughout the film.
3. Tigers are Not Afraid (Vuelven)
The international breakthrough for telenovela writer and comedic film director, turned horror director Issa Lopez, brought a children's perspective to the contemporary Mexican Drug War. Estrella, a young girl whose mother has disappeared without a trace, joins a group of young and orphaned boys for protection. Together the children face an array of tragic and supernatural events, as they are chased by the local cartel.
Adding to the strength of the film was featuring children as the main cast with no previous acting experience, creating more authentic reactions from them.
2. Santa Sangre (Holy Blood)
This arthouse film by groundbreaking Chilian filmmaker, artist, and writer Alejandro Jodorowsky is one of the most regarded modern Mexican horror films. Escaping from a mental institution, Fenix, a former circus performer reunites with his controlling, armless mother. Using her son as her arms, they go on a killing spree of jealously and revenge.
It's a breathtaking and trailblazing film, which also pays homage to classic horror films, such as Universal's The Invisible Man and the Mexican wrestler films.
1. The Del Toro Mexican Trilogy
No list of modern Mexican horror would be complete without a del Toro film. Each of del Toro's three Mexican films, Cronos, Devil's Backbone, and Pan's Labyrinth, possess their own individual haunting artistic beauty, while paying homage to classic tales and fables. These films have brought both del Toro international fame and a new appreciation by audiences for Mexican horror and Latino horror filmmakers.
Cronos
The first full-length film of del Toro taking an innovative, yet tragic interpretation of vampire folklore. Jesus, a Mexican antique dealer accidentally discovers the Cronos, a scarab that grants the recipient youth and eternal life, with the unknown price of an uncontrollable need for blood. Wanting to maintain his new vitality and immortality, Jesus must fend off others in search of the Cronos, as he struggles to protect his wife and young orphaned granddaughter.
Influenced by his relationship with his own grandmother, del Toro uses the perspective of child heavily, which would become a signature trait in his horror films, adds depth and heartbreaking tragedy to this and the rest of his Mexican horror films.
Devil's Backbone (El espinazo del diablo)
Del Toro's first cinematic co-collaboration with Spain, using the supernatural to address the pain and suffering war causes society, especially children. Set in 1939, during the last year of The Spanish Civil War, Carlos, a young boy, is sent to an isolated all-boys orphanage, where he comes across a spirit of a murder orphan haunting the facility. Carlos and the other orphans suffer at the hands of the violent caretaker, while the lies and corruption within the walls of the orphanage crumble around them.
This film is considered the brother film to its sister film set a few years in 1944, Pan's Labyrinth, continuing to supernaturally evaluate one of the darkest periods of 20th century Spanish history.
Pan's Labyrinth (El laberinto del fauno)
The most critically acclaimed of del Toro's Mexican films, winning three Oscars, Best Cinematography, Best Makeup and Hairstyling, and Best Art Direction. Ofelia, a young girl is forced to live in an isolated estate with her sickly mother and sadistic control freak army officer stepfather. As the lines between reality and fantasy blur, Ofelia pursuers three dangerous tasks to fulfill her destiny as the princess of the underworld.
Pan's Labyrinth is part of a small group of fantasy and horror films that have been nominated for Best International Feature Film, Best Original Screenplay, and Best Original Score at the Oscars.
Bonus Films:
If you are interested in extreme horror, We Are the Flesh (Tenemos la carne) and Atroz (Atrocious) are the most notable Mexican extreme horror films.
We Are the Flesh is a visually striking yet disturbing surreal arthouse film. Two siblings, Lucio and Fauna, are searching for food and shelter in a post-apocalyptic world until they find these necessities with a strange man. His bizarre, manipulative, and extreme demands of the siblings lead all three down a path of madness, violence, incest, murder, and cannibalism.
Atroz is considered the most violent film in Mexican cinema is so controversial, it was only released to home video and streaming. During a police investigation, two police officers find a handheld camera, with videos of two young men going on a demented rampage filled with torture and murder. Among the film's associate producers is the controversial Italian director of Cannibal Holocaust Ruggero Deodato.