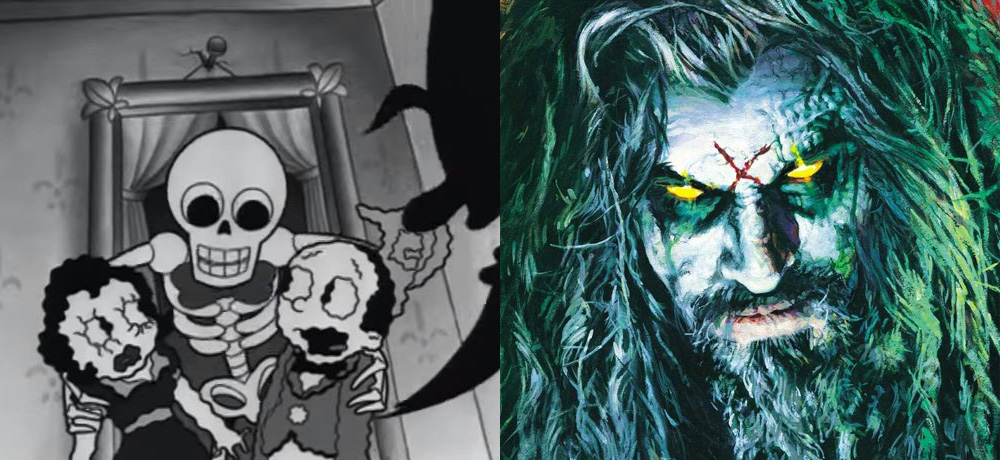 Halloween is the most wonderful time of year for all the ghouls and goblins everywhere. Whether you're dancing in the light of a full moon or passing out candy to trick-or-treaters, a good soundtrack is a must for your night. Here are 13 songs to add to your Halloween playlist that'll rock your bones and invoke those spirits for a good time.
Bobby Pickett - "Monster Mash"
A novelty song that has been synonymous with Halloween since it first dropped in 1962, "Monster Mash" has been constantly played on the airwaves ever since Bobby Pickett was inspired to sing a song using his Boris Karloff impression. Some artists tended to be ashamed of their big hit, but not only was Bobby proud of it, he continued to perform this song live until his death in 2007 at the age of 69.
Calabrese - "Voices of the Dead"
Off their 2007 release The Traveling Vampire Show, this trio of brothers from Arizona play a melodic and catchy mix of punk that pays tribute to the Misfits and many other goth and deathrock bands. If you've never heard of this band until now, this song is not only a tremendous add to your Halloween playlist, but a great gateway into a great band.
The Creepshow - "Cherry Hill"
This band from Burlington, Ontario, Canada may be rocking a more street punk sound these days, but when they started in 2005 they were as good and unique a psychobilly band as it gets. "Cherry Hill" comes from their debut album, Sell Your Soul, and contrasts the raucous instrumentation with the sweetness of original lead vocalist Jen "Hellcat" Blackwood. The song's lyrics invoke a trip into a haunted house that one may not return from.
Screamin' Jay Hawkins - "I Put A Spell On You"
If anyone were to forget to put this song on any list of great songs, that would be a tragedy. The fact that Screamin' Jay doesn't get more respect than he does is a travesty. Released in 1956, Hawkins became the original shock rocker after an alcohol-fueled party in the studio, which resulted in a bluesy love song becoming a haunting track driven by Hawkins' operatic delivery punctuated by snarling, grunting, and yelling that would influence future shock rockers from Alice Cooper to Marilyn Manson. 
John Carpenter - "Halloween Theme"
One can't help but appreciate a Renaissance man. Based on nothing more than a simple direction to make a movie about a babysitter on Halloween, Carpenter took that throwaway suggestion and turned it into classic horror. Not only did he write, direct, and produce the movie that introduced the world to Michael Myers, but he also wrote the theme that would always signal when the Shape was lurking just around the corner.
The Misfits - "Halloween"
Sometimes the obvious choice is the obvious choice. Glenn Danzig and company charge through one minute and 47 seconds to sing about a pagan celebration complete with bonfires, candy apples, and dead cats hanging from poles, leaving their mark on punk rock and modern popular music. The aforementioned Calabrese owe their career to the Misfits, as does any band past 1983 that loves to sing about vampires, zombies, fiends, and ghouls. 
Squirrel Nut Zippers - "Ghost of Stephen Foster"
Coming out of the swing revival of the mid-1990s, Squirrel Nut Zippers uses this track off their Perennial Favorites album to create a haunting tribute to turn of the century songwriter Stephen Foster. Even if you don't know that name, you've probably hummed a few bars of some of his songs. The Zippers remind you of that by invoking the lyrics to "Camptown Races" in order to create an offbeat track that will get you moving at any Halloween party.
Rezurex - "Dia De Los Muertos"
Off their 2006 release Beyond The Grave, Los Angeles' Rezurex invokes haunting images of the Mexican equivalent of Halloween in raucous fashion. The band's Latin-influenced psychobilly style is fun, fast, and frenetic, and Daniel DeLeon's singing is a treat that matches the song's pace. It's a shame the album is out of print, but the song can still be found online.
Rob Zombie - "Dragula"
Another example of obvious choice is the obvious choice. From his first solo album Hellbilly Deluxe, Zombie has always had an interesting brew when it comes to his music. This mix of metal and industrial creates a headbanger that gets you singing "dig through the ditches and burn through the witches" as you're heading down the highway at 666 miles per hour. Not bad for a song named after the car from The Munsters.
Ronnie Dawson - "Rockin' Bones"
One of the more obscure of the 1950s rockabillies, but no less an influence to current rockabilly and psychobilly bands. Dawson sings that while his soul may leave this world, his body will still be dancing to the tune of rock 'n roll. Released in 1959, the echo of his singing (which was a staple of rockabilly) and fast-paced instrumentation makes for a fun song that can make you seem like more of a music expert than you really are. 
Bo Diddley - "Who Do You Love?"
A classic R&B guitarist, Bo Diddley may not have as many well-known songs as his contemporary Chuck Berry, but that doesn't mean they're any less well known. Off his 1957 self-titled album, Bo sings about taking his girl on a haunting tour of his world where his chimney is made of a human skull and takes on the world with his rattlesnake whip. Voodoo references are a big part of the blues, and Bo uses it to great effect in a song that more than one horror-based band has either covered or been influenced by. 
Twin Temple - "The Devil Didn't Make Me Do It"
Ever hear of "Satanic Doo-Wop"? Now you have! Twin Temple takes the sounds of the '50s and '60s and adds exaltations of Satan in a brew of music that is not the typical crunch and blare of metal guitar and drums that one would expect from a Satanic band. This song from their first release, 2018's Bring You Their Signature Sound….Satanic Doo-Wop, "Devil Didn't" sets the groove and revels in what the clean world would consider a sinful life in spite of the fact that they kinda wanna take a bite themselves. 
Michael Jackson - "Thriller"
We'll end this list with another classic. The title track from his 1982 album, Michael Jackson ends the album that made him a superstar with a timeless banger that gets everyone dancing like a ghoul. Even though Jackson was a huge horror fan, his upbringing as a Jehovah's Witness caused him concern over the song's potential occult themes. Lucky for the world, Jackson got over those qualms and gave us the best song to include an appearance from horror legend Vincent Price, who ends the song with his famous cackle.