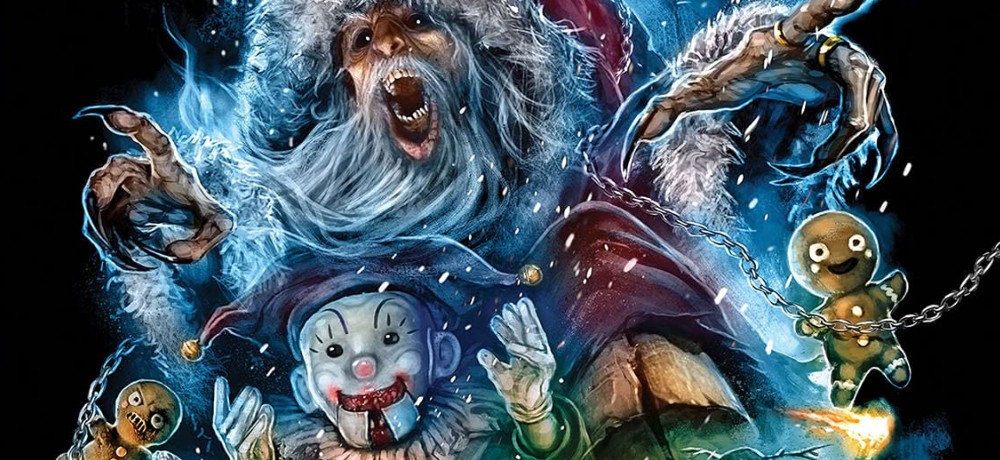 For as much as I love horror and the Halloween season, I am something of a softie at heart, so the Christmas season is the time of year when I really thrive. I love Christmas songs and holiday treats, and I will pretty much watch any and every movie that has some kind of a Yuletide angle to it (which probably explains why I watch a movie like Santa with Muscles annually, even though I know it's downright terrible). That being said, it shouldn't come as a surprise that Michael Dougherty's Krampus was a film that immediately captured my heart back when it was released in 2015, and it became one of my required viewings every December once it hit home media, ultimately becoming part of our traditional viewings to celebrate the holiday season. And I think that's something most genre fans have done as well over the years, so I'm not sure that I have to do much to sell you on the film with this review (you can read my 2015 review HERE if you're so inclined), so I'll focus my efforts elsewhere.
Which brings us to Scream Factory's Naughty Cut of Krampus, which arrives on both 4K Ultra HD and Blu-ray just in time for the Christmas season. If you're someone who doesn't already own Krampus, I do think if you're looking to add it to your home media collection, this version is definitely worth owning. For the fans out there who are curious about whether this new edition of Dougherty's modern Christmas horror classic is worth the double-dip or not, I can't really answer that for you. But I will say that the sound in this edition is a huge improvement over my other Blu-ray of Krampus that really makes the film's sound design and Douglas Pipes' score come alive in a way that makes the film feel new in that sense, and we also get a bunch of new featurettes included here that fans will certainly enjoy.
But beyond that, most of the other supplemental materials had been included on the previous Krampus Blu, and I didn't really notice a huge difference in the image quality, either (the 4K looks great, but so does the Blu-ray), so the big hook here is whether or not you're looking to have a bit more R-rated language to go along with Dougherty's festive frights that run amok throughout Krampus. And really, that's the only real difference between the theatrical version of Krampus and The Naughty Cut version—language. There aren't any real additional scenes added in or anything like that, we just get a more adult-friendly version of a film that I never really minded was PG-13 to begin with. I think because Dougherty went the Amblin route here, creating a story that families could share in, while also scaring the crap out of younger viewers, I personally liked that Krampus felt like this really fun and demented gateway horror movie that could be best summed up as "delightfully aggressive." There are so many "family-friendly" movies that I grew up with that messed up my young mind (Gremlins and Ghostbusters being the big two, ironically released the very same weekend), so I kinda like whenever modern movies have that same kind of ambition.
That being said, The Naughty Cut feels a bit looser in a sense, where the grown-up language feels like the characters really get to go all out in a way we don't see in the theatrical version, and I really did appreciate that about this iteration of Dougherty's Christmas chiller. It was fun, but I don't know if I'd consider this version to be wholly necessary. Not that I'd ever turn down an opportunity to get more from any of Dougherty's cinematic worlds.
With the new featurettes, we get brand new interviews with a ton of folks involved with the making of Krampus, including Michael Dougherty, co-stars David Koechner, Emjay Anthony, and Allison Tolman (who is just such a dang delight to listen to), co-writer Todd Casey, composer Douglas Pipes (who does confirm some aspects of Krampus' score and Trick 'r Treat's score are connected), Krampus performer Luke Hawker, storyboard artist Simeon Wilkins, and Richard Taylor from WETA, who discusses the design process behind the titular creature and all of his demonic minions that run rampant throughout Krampus. I think out of these new interviews, the only one that really is skippable is Emjay Anthony, and it's not that he isn't a great kid, but his quick blurbs don't really add a whole lot of context to anything from the film's production whatsoever.
Beyond that, though, we get a lot of great insights from Dougherty, who discusses everything from his own obsession with Christmas and Christmas movies (I really picked up on so many of his hat tips to the iconic Christmas movies of yesteryear with this viewing), to why he never saw Krampus as a straight-up R-rated horror movie, to some of the genre homages he worked into the film's production design (if you look closely at the neighborhood in the film, there are a lot of familiar-looking homes to horror nerds), and some of the other inspirations from his childhood that made their way into Krampus, too. I also enjoyed hearing about the original ending of Krampus from Wilkins (who also chats about how he always envisioned Koechner for the role of Howard and even drew his likeness in the storyboards before David had been cast in the role), and we get a lot of FX discussions from both Taylor and Hawker as well. So, lots of good stuff there in terms of the new bonus content included with this release of Krampus.
While I'm still not sure I really needed this Naughty Cut version or not myself, this release feels like it was made with love and reverence for the world Dougherty created in Krampus, and if this new version happens to get some of the genre fans out there who easily dismiss non-R-rated horror to finally give Krampus a chance, then I'd say this release is definitely worth it in that regard. Personally, what I took away from watching this new release of the film is a renewed appreciation for the craft that went into making Krampus from all the various creatives who contributed to the project, and the new sound mix really added a lot to my viewing experience this time around as well.
Movie Score: 4.5/5
Disc Score: 4.5/5