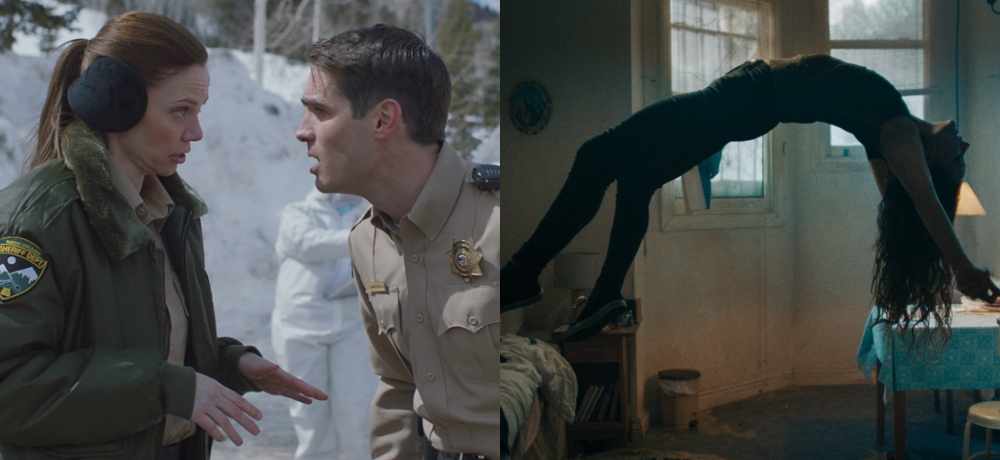 Last week, Beyond Fest 2020 kicked off at the Mission Tiki Drive-In, and every night, Los Angeles' preeminent genre fest has been bringing car-bound revelers a steady mix of new films and classic movies over the last few days. Here are my thoughts on a pair of newer titles that screened as part of Beyond Fest's killer lineup: The Wolf of Snow Hollow from Jim Cummings and Rose Glass' highly anticipated Saint Maud.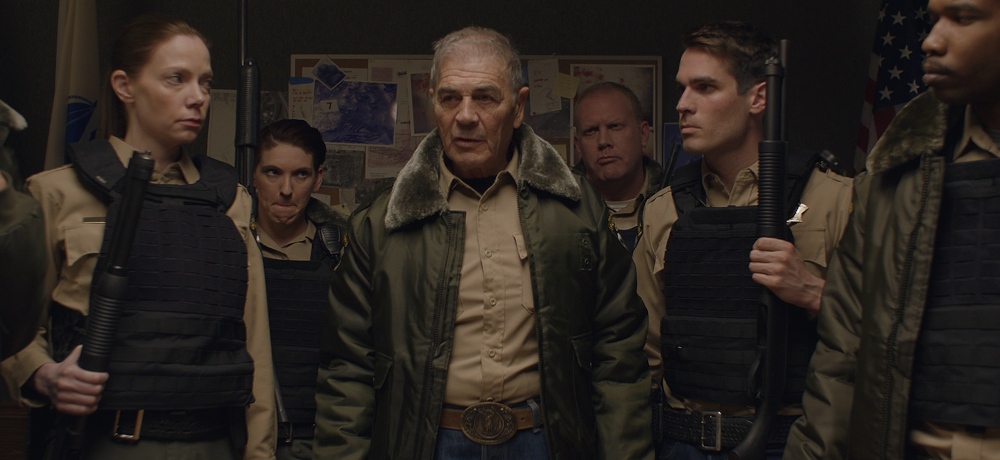 The Wolf of Snow Hollow: For his follow-up to Thunder Road, multi-hyphenate Jim Cummings introduces us to a new breed of lycanthropic storytelling in The Wolf of Snow Hollow, a quirky, darkly comedic romp about a small town plagued by a series of grisly murders that may or may not be the work of a bloodthirsty werewolf. With an approach that feels a bit like if David Lynch made Super Troopers (a prospect that I personally would love to see), Cummings has crafted something very special with The Wolf of Snow Hollow that stands out as a truly exemplary genre-bending comedy that's even better the second time around.
At the start of the film, we meet a young couple who have set out for an idyllic weekend away in the snow-laded mountains. But before they can get cozy, the young woman is attacked and paw prints at the crime scene would indicate that the perpetrator behind her gruesome death is a lycanthrope. When Officer John Marshall (Cummings, who also stars in the film) shows up at the crime scene, he's not fully convinced that there's a werewolf at large, and insists that there's got to be a more logical explanation to what's happening. But as the creature begins to amass a serious body count, John isn't sure what to believe anymore—all he knows is that he's got to put an end to these murders before it's too late for this town that he's sworn to protect.
As a small-town mystery, The Wolf of Snow Hollow weaves an intriguing whodunit where it's not just about who is behind these murders, but just who might be transforming into a bloodthirsty beast every night and attacking random women, too. As a slice of small-town life, Cummings perfectly captures the interbred nature of intimate communities in Snow Hollow where everyone seems to know everything about everyone, and it paints a truly vivid portrait where every resident of Snow Hollow feels fully realized and integral to the story overall.
Cummings' character, John, is the anchor of The Wolf of Snow Hollow, and he's not exactly the prototypical hero we see in these types of stories. His life is a mess—he's struggling with his sobriety, he's stressed out about his dad, Sheriff Hadley (Robert Forster), who has been hiding some pretty serious health concerns, his ex-wife hates him, his relationship with his 17-year-old daughter is strained at best, and the whole town is convinced he can't hack it as a cop. John's journey in Snow Hollow is wrought with frustration, where he utilizes his dry and cynical sense of humor to contend with the fact that everyone seems to blame him for what's happening in this sleepy town, and then utter devastation when he is forced to come to terms with his shortcomings.
While the entire cast rips along in The Wolf of Snow Hollow, Riki Lindhome steals the show here as Officer Julia Robeson, John's right-hand woman who is often underestimated because of her gender, but always seems to be a few steps ahead of everyone else. Lindhome gives a beautifully understated performance here, which makes Julia an interesting juxtaposition against Cummings' boisterous and reactionary character in the film. And to no one's surprise, Forster is absolutely great in Snow Hollow as well, playing a man facing his own mortality and his legacy as the face of justice in the titular town, and while it's a shame that this is the final performance from the legendary actor, Snow Hollow is a fitting swan song for him all the same.
Truth be told, the first time I watched The Wolf of Snow Hollow, I didn't know if it totally connected with me, as it has a very deliberate sense of pacing and dialogue delivery to it, and the way the mystery wraps up is something very unique. But when I had the opportunity to check it out for a second time, that's when everything in Snow Hollow really clicked for me, and Cummings found a way to breathe new life into a well-known subgenre in horror in a manner that is wholly unexpected and totally unique as well.
Movie Score: 4/5
---------
Saint Maud: In Rose Glass' Saint Maud, we're introduced to the titular caregiver (Morfydd Clark), who is someone that could be described as "damaged goods." After a traumatic incident leaves her reconsidering her work as a nurse and forces her to leave the hospital she's employed at, Maud sets out to begin her life anew in devotion to God. Still wanting to help others, Maud takes a job as a live-in caretaker to Amanda Kohl (played by Jennifer Ehle), an eccentric former dancer who is slowly succumbing to a terminal illness. Bored with the process of dying, Amanda wants to keep things as lively as possible, and her warped moral compass clashes with Maud's pious proclivities. As the nurse observes her patient in a variety of lurid (lurid by Maud's standards, of course) situations, Maud becomes transfixed on Amanda, and convinces herself that it's up to her to save the dancer's soul before it's too late.
Blending together elements of psycho-sexual horror, wickedly acerbic comedic undertones, and exploring the psychosis of religious consecration that pits the wills of these two determined women against each other, Saint Maud is truly an unsettling character study that slowly crawls under your skin and doesn't let go until the film's brutal and shocking climax. I know the term "slow burn" gets tossed around a lot, usually in a derogatory fashion, but with Saint Maud, Glass masterfully takes her time building an unbearable tension that pays off in the most unforgettable way. It's not easy to sustain this kind of consistent and heightened sense of dread, but Glass somehow makes it look easy here with her feature film debut.
While Ehle is utterly captivating to watch as she flings innuendo and barbs at her unassuming caretaker, Saint Maud is undoubtedly Clark's show and my god, her performance here is devastatingly great. Clark finds this beautiful balance in her portrayal of a woman who is so deeply wounded that she can't see anything beyond her own divine beliefs, and begins to mistake delusions and hallucinations for divine intervention. There's no doubt that Maud has some deep psychological issues to deal with, but Glass never treats her as a villain in this story, and instead approaches Clark's character with a deep sense of empathy, acknowledging that her fractured fanaticism is an issue, but not trying to make Maud into a monster for her beliefs, either.
Featuring a guttural elemental score by Adam Janota Bzowski that will rattle your core and beckons your attention at every turn, and exquisite camerawork by DP Ben Fordesman, Saint Maud is soul-shaking horror at its very finest. I feel like I have been waiting forever to experience it for myself, but I must say that the unbearable wait was worth it, because with Saint Maud, Glass has created a work of cinematic art that immediately establishes her as one of the most exciting voices working in the genre space today.
Movie Score: 5/5