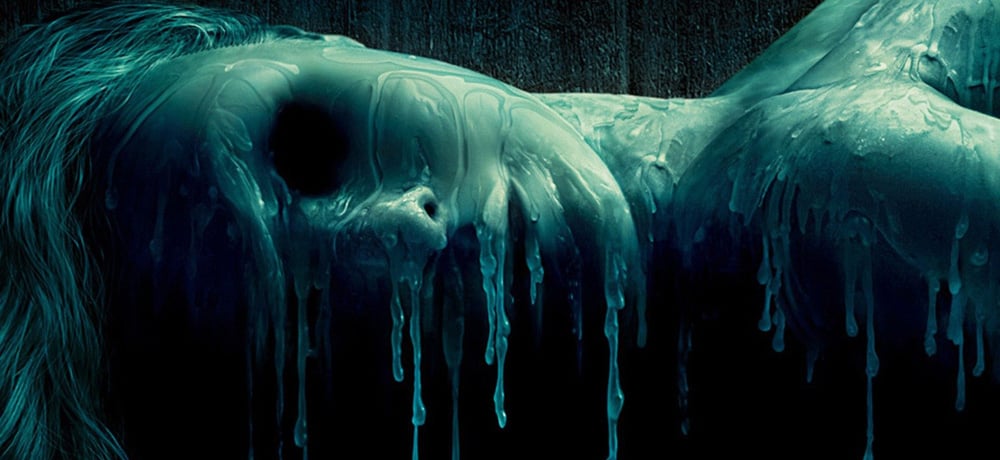 The 2000s were lousy with remakes, some of them good, many of them lousy. Major horror franchises from the 1980s got a makeover; subversive '70s horror films received a glossy new coat of paint. One of the best of these remakes – and one which has finally begun getting its due over the last decade, building a cult audience and culminating in a new special edition Blu-ray – is House of Wax from 2005. It reimagines the 1953 Vincent Price classic (itself a remake of 1933's Mystery of the Wax Museum) for a modern audience: gorier, sexier, and considerably more twisted. I'm certainly not the first to say it, but it's more a remake of 1979's underrated Tourist Trap than it is of House of Wax. As a remake of Tourist Trap, it's pretty fantastic. 
TV stars Elisha Cuthbert (24, The Girl Next Door) and Chad Michael Murray (One Tree Hill) play brother and sister on their way to a football game with a group of friends. When their car breaks down after a night of camping, the group ventures into the ghost town of Ambrose, where the main attraction is Trudy's House of Wax. As they uncover more about Ambrose, the friends begin disappearing as a madman (Brian Van Holt) kills them off one by one.
Very little is borrowed from the original House of Wax in this remake save for the titular attraction; in its place is a fairly standard slasher movie plot. That's not a criticism, both because I happen to love slasher movies and because this is a very good example of even a standard plot thanks to Jaume Collet-Serra's taut and imaginative direction. This is a mean-spirited movie, one that really goes for the throat: the kills are brutal, the gore plentiful. Where the movie really excels is in the set design and art direction, and how often can you say that about a 2000s horror remake? The climax, in particular, is a showstopper, as the House of Wax melts around the surviving characters while they fight for their lives. The whole sequence has a nightmarish beauty that's hugely ambitious in its aims and stunningly realized. It reminded me there was a time when studios would pour upwards of $40 million into a horror movie. Collet-Serra makes sure all that money winds up on the screen.
House of Wax makes its solo Blu-ray debut (it was previously released as part of a triple feature alongside Ghost Ship and Return to House on Haunted Hill) as a Scream Factory special collector's edition title. While I didn't compare this new disc to the previous release, the collector's edition is said to have been sourced from a new 2K restoration, which does right by the film's gorgeous visuals. The movie is very dependent on textures, whether it's the skin peeling from a paralyzed victim or gallons of goopy wax, and all of it is well represented here. The lossless 5.1 audio track features a good amount of surround activity while keeping dialogue clear in the center channel. The technical merits of Scream Factory's disc are very solid.
The big "get" of the special features is a new interview with star Paris Hilton, who proves that she's a good sport about the whole thing by sitting down to talk about the film years later. The interview is pretty surface level, but I appreciate the fact that Hilton agreed to take part. Co-star Robert Ri'chard is also interviewed, most of which is devoted to his working with Paris Hilton (interesting that her casting sucked up much of the oxygen during the original release and is still driving much of the conversation over 15 years later). Visual effects designer Jason Baird sits down for a new interview to discuss his work on the movie, but at just 10 minutes there's not quite enough time for him to go into much detail. He does tell an interesting story about having to rebuild a set in a short amount of time after the original burned down. The final new interview is with composer (and filmmaker) John Ottman, who speaks briefly about the choices he made in putting the movie's score together.
There's nearly 30 minutes of B-roll and bloopers accompanied by commentary from Cuthbert, Murray, Padalecki, and Hilton ported over from the original DVD release. Two vintage featurettes cover the set design and the visual effects, while 20 minutes of EPK-style interviews with the cast and Collet-Sera offer very little by way of substance. A brief alternate opening offers a spectacularly staged kill but little else. A four-minute gag reel is scored by the Black Eyed Peas' "Where is the Love?," just to remind you that this is a movie from 2005. The film's original theatrical trailer is also offered in HD.
At the time, House of Wax was most notorious for the casting of rich-girl socialite/reality TV star Paris Hilton in a supporting role as one of the victims. Hell, even the marketing was built around this, with T-shirts and posters made proclaiming "See Paris Die." It was a crass bit of hucksterism, underselling what is a very good movie as little more than a stunt. Thankfully, the years have been good to the film, as more and more fans have become vocal about loving it. A decade and a half removed from its original release, House of Wax stands apart from the rest of the 2000s remakes and remains one of the high water marks of the too short-lived Dark Castle Entertainment. Scream Factory's new Blu-ray cements the film's reputation as a modern horror classic and gives fans the home video release they've been waiting for.
Movie Score: 4/5, Disc Score: 4/5