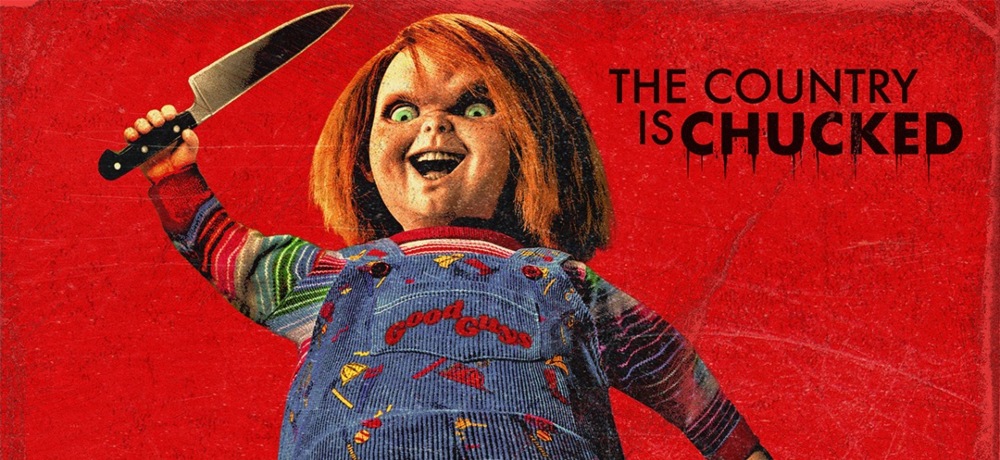 Don Mancini's Child's Play and its renowned main character Chucky, voiced by Brad Dourif, became an international horror sensation. How do I know? Because growing up in '90s Poland, I knew all too well about the evil doll. Chucky gave me a few nightmares, but it also turned me into a hardcode horror enthusiast. With the SyFy series Chucky , the creators extend the film universe and reintroduce the possessed doll to a broader and younger audience. This naughty, deliciously vicious series never gets old, even after several runs. This time, season 3 transports us to the White House and has to offer even more outrageous moments, great script, and continually astounding performances.
Following the events in Hackensack involving Chucky, Tiffany, and a pile of dead bodies, Jake (Zackary Arthur), Lexy (Alyvia Alyn Lind), and Devon (Bjorgvin Arnarson) find themselves orphaned. As befits Gen Z, the infamous trio immerses themselves in technology, becoming influencers/known Chucky survivors. Lexy and the boys also use their social media platforms to try to find Lexy's lost sister, Caroline (Carina Battrick), who was kidnapped by Tiffany/Jennifer Tilly (Jennifer Tilly) at the end of season 2. But that's not the only problem for the group. It becomes clear that Chucky and every other Good Guy doll the robber-turned-murdered possessed aren't all gone, and one of them made its way to the White House -- yes, the White House.
The series' creators do an outstanding job by creating a running gag in which Devon Sawa returns to the ensemble as a different character each time the previous one is horribly slain. In season 3, he takes on the role of President of the United States, James Collins. As he wins the hearts of people by promising complete transparency, he and the First Lady, Charlotte (Lara Jean Chorostecki), are also dealing with grief following the death of their son, Joseph. Soon, however, their attention is taken by the remaining children, Grant (Jackson Kelly) and his younger brother Henry (Callum Vinson). The latter, particularly, pulls the most focus, especially regarding the very close bond with his Good Guy doll.
Even though Mancini and his staff follow a similar re-casting pattern, they also do something different. Season 3 is divided into two parts, Part One and Part Two, with Part One consisting of 4 episodes. The difference in the way the narrative flows may be evident, but that's not necessarily a bad thing. Each episode is unique, whether it's the teenagers anxiously searching for Caroline, trying to break into The White House, or Tiffany on trial.
Although this round appears to be less gory than previous ones, it still remains jam-packed with camp, absurdity, humor, and outstanding writing. For example, Episode 4, named "Halloween III: Season of the Witch," pays homage to John Carpenter's franchise as the characters work on infiltrating the White House in search of the red headed doll. Another brilliant episode is titled "Jennifer's Body" and it features Tiffany as Miss Valentine in Jennifer Tilly's body being tried for Jennifer Tilly's killing spree. Karyn Kusama, I hope you're proud! Tilly herself continues to be a true gem of the show, seldom overshadowing Dourif's character. As soon as you see the dazzle of glitter or hear that legendary voice, you know you'll have the best, most delicious time of your life. 
Season 3 also continues to successfully bridge the gap between the older and younger generations of horror fans. The franchise further expands and opens for those who are only now finding the Child's Play universe with Jake, Lexy, and Devon, just like some of us before with Andy (Alex Vincent), Kyle (Christine Elise), or even Katherine Heigl's Jade. With this aspect, the series becomes not only a terrific position for the Halloween season, but also a mean for fans of all ages to connect. And what better way to bond than over your favorite Chucky kill?
The new chapter of Chucky certainly doesn't disappoint, despite its slower pace, and gives not just brilliantly fleshed-out characters and great writing, but also some ideas for altered Chucky Halloween costumes. Even if you don't like shows with young adult characters, the reappearance of movie characters like Fiona Dourif's Nica makes it a "full circle" moment to celebrate with other fans and average audience.
Season 3a Score: 5/5
Part One of season 3 of Chucky premieres on October 4th on both SYFY and the USA Network and is available on Peacock the following day.