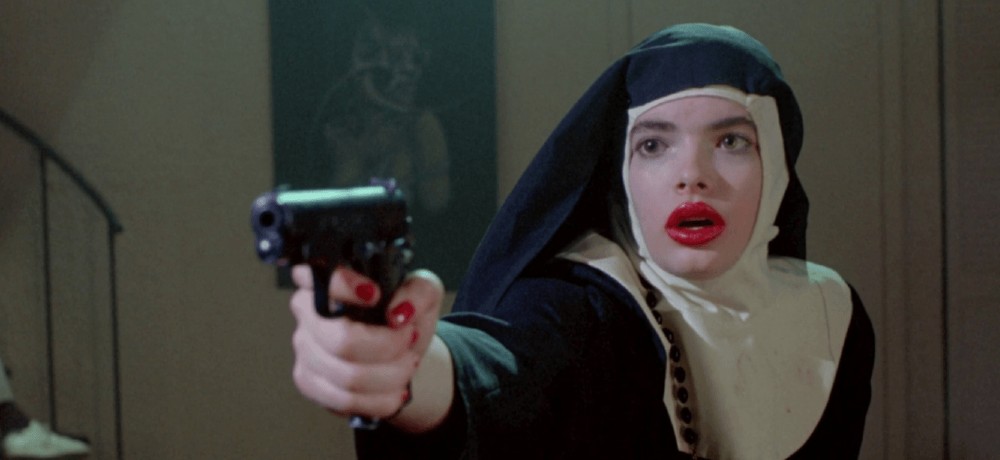 Some readers might remember when, in 2013, Abel Ferrara's third feature film, Ms. 45 (1981) was once again released in theaters, reinvigorated by a brand-new, state-of-the-art restoration and with its sound remastered in HD. This re-release, with its first screening held fittingly in New York on Friday, December 13th, demonstrated to audiences the extent to which Ferrara's controversial and hastily labelled "rape and revenge" film had maintained its aggressive spleen. 
While walking home from work, Thana, a mute young woman working as a seamstress in New York City's Garment District, is raped at gunpoint in an alley by a mysterious, masked attacker. She survives and makes her way back to her apartment, where she encounters a burglar and is raped a second time. Thana—her name an allusion to Greek god of death Thanatos—manages to knock her second assailant out, then bludgeons him to death with an iron and carries his body to the bathtub. She goes to work the next day, and after watching her boss, Albert, rip a shirt off a mannequin, she goes into what could be defined as a state of shock. Shortly after, she decides to dismember the burglar's corpse and throw the parts away in various locations around the city. She progressively and hyperbolically becomes an icon of violated innocence, and in the final scene, dressed as a "sexy nun" for a Halloween party, she holds the gun (she took from the corpse of her second attacker), which has since become an objective correlative of her drama, towards the other partygoers. 
As we watch Zoë Lund's Thana going through her metamorphosis throughout the film, we see her turn into a misandrist "angel of death" (the title with which the film was released in many European countries). Lund's Thana is not the female counterpart of Charles Bronson's Paul Kersey, a man all too easily discovering and manifesting his primordial instincts, but the incarnation of an emotional aftermath. The film proceeds with aggressive momentum to an inevitable conclusion in which Thana essentially transfigures into a poignant, heartbreaking martyr. [Spoiler] When Thana, during the film's final act, embarks on a shooting spree, targeting many of the men present at the party, her co-worker Laurie picks up the knife from the cake table and stabs her in the back. Thana turns around and points the gun at Laurie, but hesitates; she delicately pronounces her last word, "sister," then falls to the ground and dies. [End Spoiler]
Fundamental in unpacking Ms. 45 is the acknowledgment of the authorship of the very openly Catholic Nicholas St. John, screenwriter for Abel Ferrara, during the New York-born director's best and most fruitful years. Here, the poetics of sin come to life as the only form of catharsis: knowing evil—desired in the case of the executioner, while suffered by the victim—is equivalent to becoming evil, incarnating it. This is a concept further articulated by Lili Taylor in The Addiction (1995): "It is not Cogito, ergo sum, but Pecco ergo sum." In Ms. 45, sexuality becomes mere horror from which to purify oneself through murder, in a sort of ritualistic cleansing through blood. We can find all the iconography tied to Ferrara aesthetics, but most of all to St. John's narrative obsessions and latent Catholic guilt. Besides the choice of having Thana succumb to her death dressed in nun's clothing, the film is constellated with crucifixes in a city depicted by Ferrara with piercing symbolic minimalism. 
Similarities are often found with such films as Thriller—en grym film (1973) by Alex Fridolonski, the aforementioned Death Wish (1974) by Michael Winner, and Taxi Driver (1976) by Martin Scorsese. In other words, seminal films with far-reaching roots, which, among other things, are also on the fringes of the rape and revenge undercurrent: stories of dark and violent cities, and in the case of the second and third film, the embodiments of the fears and delusions of a crumbling American society. The startling statistics from the time those films were made reveal a city undergoing an unparalleled transformation fueled by economic collapse and rampant crime. 
Reeling from a decade of social turmoil, New York in the 1970s fell into a deep tailspin provoked by the flight of the middle class to the suburbs and a nationwide economic recession that hit the industrial sector especially hard. Combined with substantial cuts in law enforcement and citywide unemployment topping ten percent, crime and financial crisis became the dominant themes of the decade. Against this backdrop, Winner, with exploitative intuition, and the Scorsese/Schrader duo, with drug-fueled autobiographical sensitivity, created tapestries composed of the bombs exploding in the Vietnamese jungle and the seedy hisses of sexual revolution collapsing onto itself. Ms. 45 is not a socio-anthropological manifesto as much as a blue-tinged kaleidoscope held up by female hands toward male eyes. Ferrara and St. John depict a city layered with icons of clear religious and fairy-tale derivation (Thana hits her second assailant with a red glass apple) fueled by male toxicity, which not only explodes in sexual aggressions, but finds fertile ground in the mundane aspects of everyday life and articulates itself first and foremost in the role of Thana's boss, Albert. In fact, at the party, Albert takes Thana upstairs in private and tries to seduce her. His almost sexual behavior towards her in the past finally takes shape, making him the first victim of the final massacre. As a passive subject, the woman first discovers the male tools of power (the gun), then sensuality (she begins to put on makeup and revealing clothing to seduce her new victims), and uses both to emancipate herself (in a violent way, the only one that is possible for her in an equally violent world) from the drama she has suffered, to finally reach a kind of sanctity (the disguise of a nun) and recover a new innocence. In this socio-religious, gender-centered parable of revenge and redemption, Ferrara, St John, and Lund reach one of the highest pinnacles of their poetics.  
A hybrid between child and woman, in a way not too dissimilar to Catherine Deneuve's Carol Ledoux in Repulsion (1965) and to other Polanski heroines, Zoë Lund, who was 17 at the time, is a revelation as Thana, in what is both one of the most heart-wrenching and frightening studies of character within Ferrara's cinema. A cruel fate links Lund's name to her most famous role and character, synonymous with death in the strictly Freudian interpretation. In fact, the young American artist with multiple talents as a model, actress, musician, and co-screenwriter of Ferrara's masterpiece Bad Lieutenant (1992), died at the young age of 37 due to a life of excesses and drugs, adding, in a way only films can do, an extra amount of violence and spleen to Ms. 45.
---------
Visit our online hub to catch up on all of our Class of 1981 retrospectives!