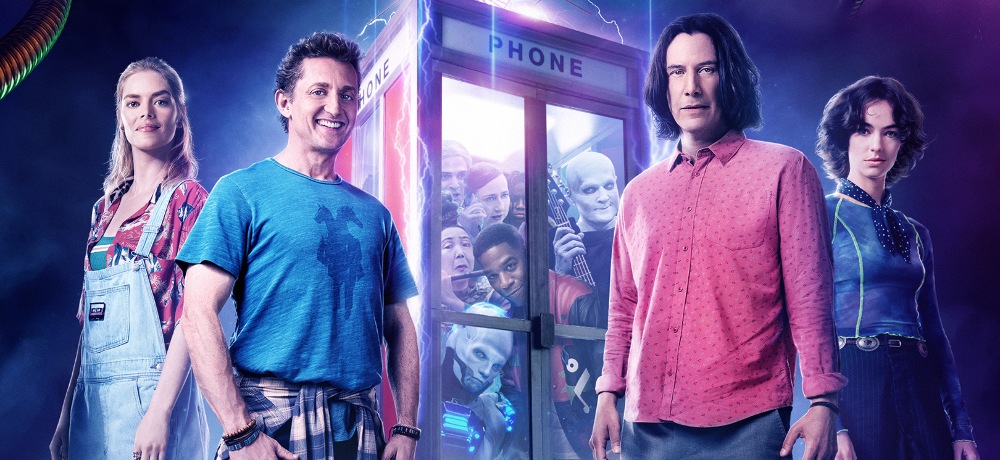 This past weekend, Comic-Con@Home got a little bit more excellent with the virtual panel for Bill & Ted Face the Music which was hosted by the one-and-only Kevin Smith. Joining Smith for the panel were Keanu Reeves, Alex Winter, William Sadler, Bill & Ted newcomers Samara Weaving and Brigette Lundy-Paine, co-writers and character creators Ed Solomon and Chris Matheson, as well as director Dean Parisot (who previously directed the totally non-bogus Galaxy Quest).
During the nearly hour-long discussion, Smith chatted with the Face the Music gang about the origins of Bill and Ted, the long journey to making this third film, favorite memories from production, and more.
Check out the highlights from the Bill & Ted Face the Music panel below, and look for the film to be released on September 1st, courtesy of Orion Pictures.
Chris Matheson on the genesis of Bill & Ted: It all started in 1983. Ed and I did a little improv group with some friends. It wasn't for an audience, it was just to play around with characters and comedy. So, the suggestion was two teenage boys studying history who don't know anything about history, and we started playing these two guys, and we just liked them instantly. They struck us as really funny and we just started playing with them. We would talk on the phone as Bill and Ted, we would write letters back and forth as Bill and Ted, and they were just really fun to be.
But originally, we were going to write a skit movie, with a bunch of different skits in it, because we had a bunch of silly ideas. Bill and Ted was going to be one of the pieces, where it was going to be this eight-to-ten minute piece. But it was actually my dad, Richard Matheson, who wrote I Am Legend and Shrinking Man, who I ran it by and he said that we could make a whole movie out of that. So, we started looking at it that way.
Ed Solomon on why Keanu Reeves and Alex Winter were destined to play Bill and Ted: There's a story that we told before, but it's apropos to this, which is it was hard for us to imagine who would take the characters over and we were not involved in the casting process or anything. We were in Arizona where the movie was about to shoot and we were in line at a McDonald's where we were actually complaining to each other that whoever they had cast was never going to be able to do it the way that we hoped, and all that. There were these two guys in line in front of us just goofing off and talking to each other, and Chris and I were like, "Now, those are the people that play Bill and Ted." We ended up on set for the first rehearsal, and it was Alex and Keanu. It was unbelievable.
Ed Solomon on the producer's original sequel plans and how they got to do Bogus Journey instead: We were initially pitched an idea from the producers to do Bill and Ted go back to take another test, but an English test this time, and they go into books. Chris and I didn't want to rehash like that, and we had this other idea, where we thought, "What if we just kill them and call it Bill and Ted Go to Hell?" They were not into it, surprisingly, until we flew to Massachusetts where Keanu was doing Shakespeare. We said, "There are two ideas; the one that they want us to do and this other one," and if we didn't have the backing of Alex and Keanu, who basically said there was no way they were going to do the first one, we never would have gotten to do the weirder version which I'm so grateful that we got to do.
Alex Winter on how Bill & Ted Face the Music finally came together: There really wasn't a version years ago. We all went on our merry ways and we all stayed really good friends. It was some years ago now, at least 10 years ago, and Chris and Ed posed a similar question to us, that felt a lot like it did when they asked us about Bogus Journey. But they told us that they had this other idea for a Bill & Ted movie and they didn't really pitch us, but they just laid out this summary that was like a piss-take of Dickens' of going back into your life and finding that each iteration of your life was worse than the previous one.
It was pretty damn funny but none of us had really thought about embarking on a journey to try and make a third film. I think we even left that dinner that night feeling like it wasn't really worth doing because no one really needs it unless it's really great, and we could somehow magically hold onto the creative well enough that it maintained its integrity of that initial idea. Thus began a very long road to get us sitting in front of you on our laptops today.
Keanu Reeves on when he realized that the characters of Bill and Ted had become a pop culture phenomenon: I think as soon as people started yelling in the street, "Be excellent!" or "Party on!" whenever I'd be out walking around, so I thought that was pretty cool.
Brigette Lundy-Paine on the audition process for Face the Music: We definitely had to audition but it wasn't as rigorous as what they [Alex and Keanu] went through originally. It was like 15 minutes, in and out. For myself, personally, I had never seen the movie and I didn't want to see it before I went in because I just wanted to go in blind. But I watched a two-second clip of what their voices sounded like and went in just being as goofy as possible. The second time I got to read with Sam, and we just hit it off.
Samara Weaving on her experience with the original Bill & Ted films and being a part of this new generation: I hadn't seen the films either. I know a few Aussies who have seen it, but I think it's very much an American cultural phenomena. But I remember getting an email about the audition and reading it, saying, "What's Bill & Ted?" My partner was sitting next to me and he lept off the couch and started doing this bizarre surfer dude voice. That's when I realized that those films really had an impact of the culture of America, and surf culture, especially.
He immediately said that I needed to get this job so we watched both films back-to-back, and we had so much fun. I just hadn't seen films like that before, that were so innocent and naïve and delightfully funny. Then, I was in Santa Monica, reading opposite of Brigette and gave it my best shot. It was really daunting to try and fill Bill and Ted's shoes, but still trying to make a character different from doing an impression of them. That was the tricky part.
Dean Parisot on joining the Bill & Ted family: It's daunting because they're [Bill and Ted] iconic, right? It's very hard to come back after 30 years so all of that was part of the puzzle of putting it together, but also contemporize it and also bring these characters back in middle age, and have them find their daughters. And in that casting session, the weird thing was that it was obviously them [Samara and Brigette], but we didn't really look at them physically. But then, we put up photographs of Bill and Ted against Sam and Brigette, and we were actually astounded that they looked like they were actually their daughters.
William Sadler on a favorite moment of his from Face the Music: The very first shot of the very first take of the very first scene that I did on Face the Music, I'm supposed to be playing hopscotch by myself, and I'm cheating. I tripped and I caught myself and bent and sprained my wrist. I thought, "This is a disaster." I was not off to a very good start. But the really fun moment was when Alex, Keanu and I were finally reunited onscreen, and it was just like gangbusters from there. It was like we never left off.
Alex Winter on handling the physicality of his role for Face the Music: The movie was really hard, physically. It's fun, so that's a good thing; it's not a negative. But we're older and the script was even more physical than the first two for Keanu and myself especially. It was super physical and I remember maybe about halfway through week one, we're shooting one of the iterations of our former selves and I just remember the whole family is there, with all these people who I have known now for most of my life.
I just remember we got ourselves into these rocker characters that we play in this one sequence, and we just went off. I remember coming off set and I remember looking at him, looking at me, and I was like, "Bill and Ted are f—king back." They're really fun to play and you just have to let them go and do their own thing, just wind them up and let them run. There's really an ensemble feeling to these movies and when that groove is happening, when it's like working, it's really working.
Keanu Reeves on the special relationship he shares with Alex Winter: There's nothing like – I can't feel or laugh or do anything like the way that working on Bill and Ted does, and working with Alex. That doesn't exist anywhere else in the world for me. So, to partner up and to work on the craft side of it, and then get to play these characters that Chris and Ed have created, there's no other place that I can laugh like this. And Al is so good and really funny, too. And getting to play older versions of Bill and Ted, that kind of connection that I have with Alex, that just doesn't exist anywhere else.
---------
ICYMI, visit our online hub to catch up on our previous coverage of Comic-Con@Home!