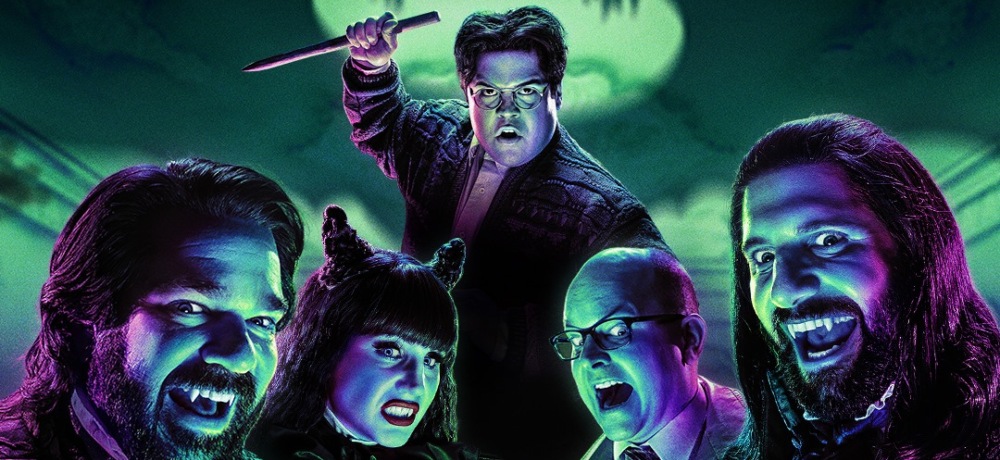 One of the few joys I have left in this world right now is the FX series What We Do in the Shadows, which provided a myriad of laughter throughout its second season. Cast members Matt Berry, Natasia Demetriou, Kayvan Novak, Harvey Guillén, and Mark Proksch came together with Executive Producers Stefani Robinson and Paul Simms for a virtual panel yesterday talking about the show's standout run thus far and gave us more insights into this follow-up season of What We Do in the Shadows as well.
The panel was moderated by Haley Joel Osment, who happened to play Laszlo and Nadja's unfortunate familiar, and they chatted about sorts of hilarious happenings on the show, the difficulties of wrapping up WWDITS season two during lockdown, and gave us a bit of a tease as to what we can expect from season three.
Here are some highlights from the What We Do in the Shadows Comic-Con@Home panel.
Harvey Guillén on the evolution of Guillermo in season two: I didn't know that we were going to go in that direction in season one, so to see the trajectory of Guillermo's storylines have been awesome. I think no one expected it. Season two started with a bang and we were off and running, killing vampires and trying to stop evil from getting to my housemates. I'm really enjoying that Guillermo's really torn between what's probably his destiny and what he's longing to be, which are two great things to play. He's still loyal to a T to those housemates though, so I love it.
Harvey Guillén on his stunt work for the season two finale of WWDITS: That was a lot of fun and I didn't know that was going to happen until the first episode of season two. Then, I got paired off with Tig [Fong], our stunt coordinator, and started going to the gym and working out, which I didn't think I was going to be doing. It was good for me, with building stamina and stuff. All the stunt things I was doing was like a dance to me, so in that sense, it felt like we were just doing a musical, but it paid off because it looked really cool on camera. People have really been responding to it, especially people who are like, "Good! I like seeing people who can kick ass who isn't stereotypical; it's just some round kid." So, it's been fun to get that feedback from people.
Kayvan Novak on the ups and downs of the relationship between Nandor and Guillermo: I would say that it's a really dysfunctional relationship that they have and the way that Nandor and Guillermo have this co-dependency together, where on one hand, Guillermo really wanted to be a vampire, and now he realizes that he doesn't even need to be a vampire anymore, because he's a vampire killer. Why would he need to be a vampire? Nandor needs Guillermo because no one else listens to a damn word that Nandor says in the house, apart from Guillermo, so who's he going to boss around? So, now that this big reveal has happened, I have no idea how this relationship is going to evolve now. Why would Guillermo stick around then? He could kill Nandor, so Nandor's basically got someone who can kill him, so I don't know. I'm concerned (laughs).
Natasia Demetriou on working with the puppet version of Nadja: I did all the recording of the puppet's voice actually in lockdown. So, if it doesn't sound that good, that's why. It was very easy to improvise with myself because I am a fantastic actress and improviser (laughs). It's always been my dream to work against someone who's as good as me, and finally, I got to be able to (laughs).
Mark Proksch on the episode where Colin Robinson gets promoted: When you get sick filming and your on location, it sucks. You have none of your creature comforts with you. Then, to boot, it's in Toronto, Canada, which is very cold, but you just take a lot of drugs and smile. The flying was fun but it's a little painful, as all the other vampires know, as they have to do it much more than I do, so I can't really complain about that. It's work so you just have to go to work. But hopefully the episode didn't suffer because of me being sick.
Stefani Robinson on preparing for Mark Hamill as Jim the Vampire for season two: I feel like we had enough time. It was better than what has happened in the past. There have been times on this show where, because of Visa issues, and getting everyone to Toronto and everyone's busy schedules, plus we shoot so close to the holidays so it can be sometimes hard to lock people down. In this specific instance, we were lucky that we knew ahead of time that he was going to be there and had enough time to write the part specifically geared towards him.
The pool cue moment was something that just happened on set. If I'm not mistaken, it was the stunt coordinators who came up with it while they were rehearsing. Yana Gorskaya, who directed the episode, embraced it and it was something that was designed for that specific space when they were blocking it all out.
Paul Simms on the pool cue gag: I think when we were originally blocking it all out, we were just trying to think of all the ways they could fight and we thought, "Oh, maybe they'll hit each other with some pool cues." But when it was on the day and we were shooting it, and we saw Mark Hamill pick up the pool cue, everyone on set went, "Oh, my god."
Matt Berry on getting to square off against Luke Skywalker: You have to understand what that was like. There I was, standing in front of Luke Skywalker, and he's holding something like that right in front of me. It doesn't matter how cool you think you are, or how in character you are, you're not. You're seven years old with Luke Skywalker right in front of you. It was pretty special.
Paul Simms on having to wrap up post-production of WWDITS season two during lockdown: For Stefani and I, we have been really busy because we had to start finishing the show at the start of quarantine. So we had to figure out how to edit remotely, how to color correct remotely, how to sound mix remotely, and how to get everyone's loop and ADR lines remotely. It was a challenge.
Paul Simms on season three of WWDITS: I think if there's any preview that we can give on season three, it's that they all have something that they're searching for. Nandor might be searching for love, Colin still doesn't know how he became an energy vampire, he's just rolled with it all these years. There might be a search that he goes on, and I might be giving too much away now. I will say that the vampires do get a hellhound to protect them, but that's all I'll say.
Stefani Robinson on what other kinds of creatures we can expect to see in season three: Well, there are some creatures that live on edifices, right? That is something we'll probably see.