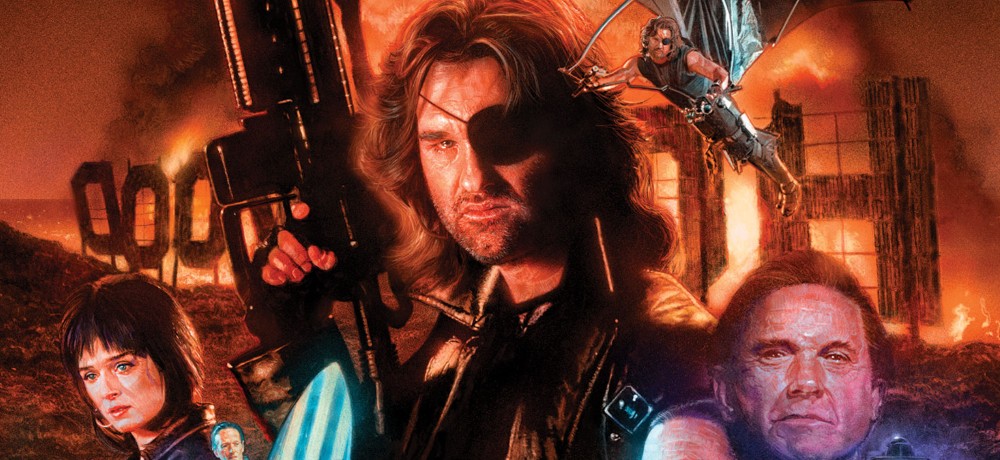 After releasing John Carpenter's Escape From New York on a Collector's Edition Blu-ray back in 2015, Scream Factory is giving Snake Plissken's second big screen adventure the same celebratory treatment with a new Collector's Edition release of Escape from L.A., and we've been provided with three copies to give away to lucky Daily Dead readers!
---------
Prize Details: (3) Winners will receive (1) Collector's Edition Blu-ray copy of Escape from L.A..
How to Enter: We're giving Daily Dead readers multiple chances to enter and win:
1. Instagram: Following us on Instagram during the contest period will give you an automatic contest entry. Make sure to follow us at:

https://www.instagram.com/dailydead/

2. Email: For a chance to win via email, send an email to contest@dailydead.com with the subject "Escape from L.A. Contest". Be sure to include your name and mailing address.
Entry Details: The contest will end at 12:01am EST on June 3rd. This contest is only open to those who are eighteen years of age or older that live in the United States. Only one entry per entry method, per household will be accepted.
---------
Escape from L.A. Collector's Edition Blu-ray: "Snake is back! Kurt Russell rejoins filmmakers John Carpenter and Debra Hill to do to Los Angeles what they did to the Big Apple in Escape From New York – with even more futuristic thrills and big action!

Into the 9.6-quaked Los Angeles of 2013 comes Snake Plissken (Russell). His job: wade through L.A.'s ruined landmarks to retrieve a doomsday device. Don't miss the excitement as Snake surfs Wilshire Blvd., shoots hoops at the Coliseum, dive bombs the Happy Kingdom theme park, and mixes it up with a wild assortment of friends and foes including Stacy Keach, Steve Buscemi, Bruce Campbell, Peter Fonda, George Corraface, Cliff Robertson and Pam Grier. Escape From L.A. is a "go-for-broke action extravaganza" (Roger Ebert, Chicago Sun Times)!

Bonus Features

NEW 4K Film Scan From The Original Negative
NEW A Little Bit Off Beat – An Interview With Actor Stacy Keach
NEW Beverly Hills Workshed – An Audio Interview With Actor Bruce Campbell
NEW Part of the Family – An Interview With Peter Jason
NEW Miss A Shot, Get A Shot – An Interview With George Corraface
NEW One Eye Is Better Than None – An Interview With Special Effects Artist Jim McPherson
NEW The Renderman – An Interview With Visual Effects Artist David Jones
Theatrical Trailer
TV Spots
Still Gallery"