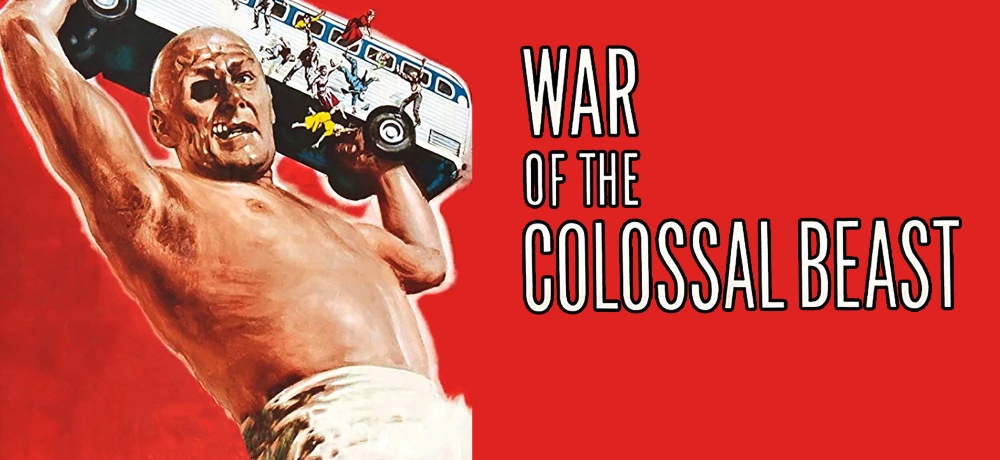 A ravenous giant attacks Los Angeles in War of the Colossal Beast, and with the '50s sci-fi horror film now on Blu-ray from Scream Factory, we've been provided with three copies to give away to lucky Daily Dead readers!
---------
Prize Details: (3) Winners will receive (1) Blu-ray copy of War of the Colossal Beast.
How to Enter: We're giving Daily Dead readers multiple chances to enter and win:
1. Instagram: Following us on Instagram during the contest period will give you an automatic contest entry. Make sure to follow us at:

https://www.instagram.com/dailydead/

2. Email: For a chance to win via email, send an email to contest@dailydead.com with the subject "War of the Colossal Beast Blu-ray Contest". Be sure to include your name and mailing address.
Entry Details: The contest will end at 12:01am EST on November 19th. This contest is only open to those who are eighteen years of age or older that live in the United States. Only one entry per entry method, per household will be accepted.
---------
War of the Colossal Beast Blu-ray: "SHE WANTED ONLY TO FIND HER BROTHER ALIVE ... BE CAREFUL WHAT YOU WISH FOR.

After Colonel Glenn Manning survived an experimental plutonium blast that triggered his mutation into a seventy-foot giant, everyone believes he plunged to death from the top of Boulder Dam. Everyone, that is, except for his sister, Joyce. She is convinced that her brother is alive. Joyce sets out to find her brother in the mountains of Mexico ... but she is unprepared for the full truth. Her brother is hideously disfigured now ... and very angry. When he is captured by the authorities, the Colossal Beast escapes to wreak havoc on Los Angeles!

Bonus Features

NEW 2K Film Scan Of A Fine Grain Print
NEW Audio Commentary With Author/Film Historian C. Courtney Joyner, Filmmaker Donald F. Glut And Monster Historian Eric Hoffman
NEW Size Matters: Bert I. Gordon At AIP
Alternate Black And White Ending
Theatrical Trailer"