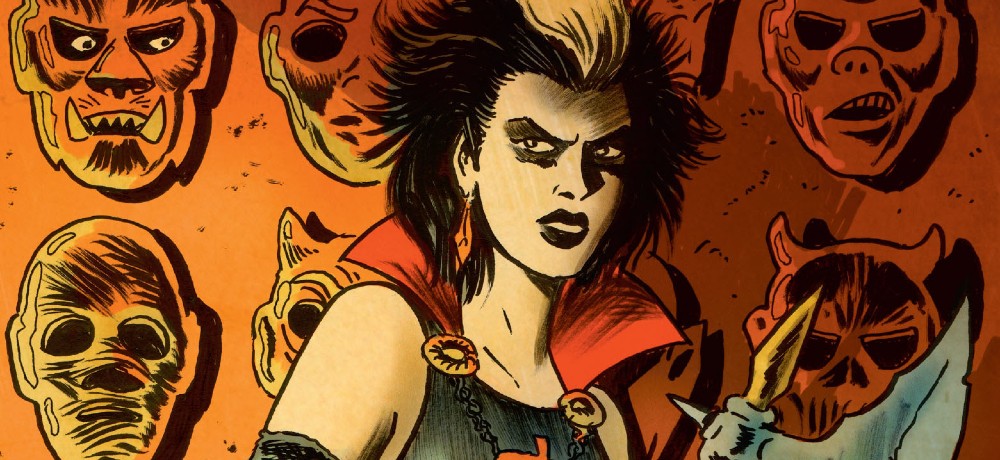 I took some time off this week. Unfortunately, my wife and I lost our little puppy son, Logan, who was a big part of our lives for nine years. If you've been a regular reader of my writing on Daily Dead, chances are he was on my lap while it was being written. Reading comic books and writing and horror has always been a great source of comfort for me, so I wanted to share some news that has me really looking forward to November 8th: the date when Count Crowley returns in Count Crowley: Mediocre Midnight Monster Hunter. Details are below, along with a look at the main cover from Lukas Ketner and the variant from Francesco Francavilla:
Eager fright fans won't have to wait much longer for a new chapter starring their favorite horror host, for the incredible team of David Dastmalchian, Lukas Ketner, Lauren Affe, and Frank Cvetkovic returns with Count Crowley: Mediocre Midnight Monster Hunter! Lukas Ketner provides the main cover art, and the frightfully talented artist Francesco Francavilla presents a thrilling variant cover for issue #1, with chilling variants planned for each issue. Dark Horse Comics brings the campy crowds a third volume of the hit horror story in a four-part miniseries that is sure to cure that Count Crowley creature feature itch… for now.

A dead werewolf would have made Jerri Bartman feel victorious just a few days ago. But this deceased beast was her friend, and our beloved monster hunter is shocked and depressed. The return of her predecessor brings no consolation, and now there's a ghoulish child-snatcher on the loose in Beloit... Holy Halloween, Count Crowley! Things are really getting batty!

"I am dying for readers to get their claws on Volume 3 of the Count Crowley saga!" said series creator David Dastmalchian. "I am finally getting to soak my pen in the blood and guts that I've always wanted to splatter on these pages. Pulling inspiration from some of my favorite gore horror in the Stuart Gordon/Frank Henenlotter tradition, as well as the "Abduction Panic" dread of the 1980's Midwest, I have taken Jerri's journey to a whole new level of horror. When readers see what Lukas Ketner has achieved in these issues, their eyes will literally pop out of their heads! And just wait until those variant covers are unveiled… It's going to be a wild ride!"

Don't take any chances: pre-order Count Crowley: Mediocre Midnight Monster Hunter #1 (of 4) today. This 32 page, full-color comic will be available in comic shops on November 8, 2023 for $4.99.