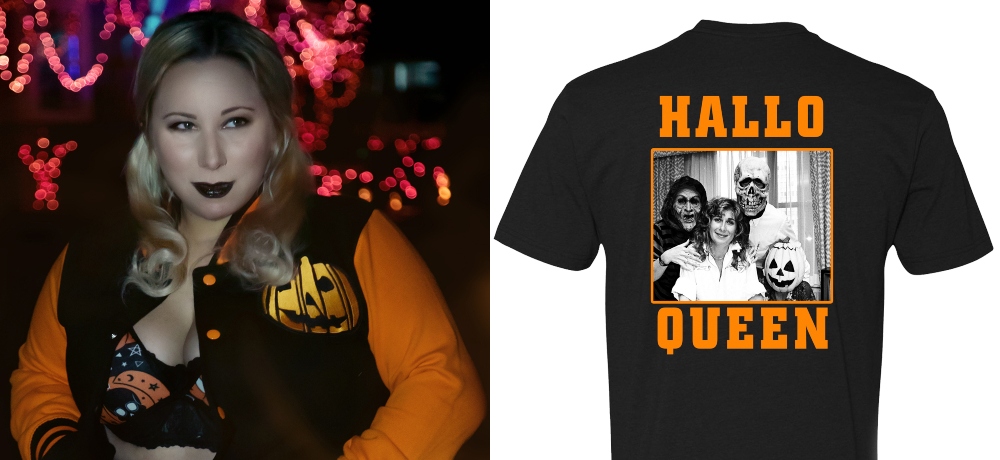 Undoubtedly, Ama Lea is one of the hardest-working figures in the L.A. horror scene. She's a director, photographer, launched her own lingerie line a few years ago through her company Poltergeists and Paramours, and she somehow found the time to make thousands of face masks during the pandemic. And that barely even scratches the surface when it comes to Ama's boundless talents (she even directed a segment in the upcoming Christmas anthology, Deathcember). But if you're on the lookout for some great horror-inspired gifts this holiday season, I highly recommend checking out Ama's online shop at: https://www.poltergeistsandparamours.com/ to check out her designs.
You're a Jill of all trades. Can you talk about what inspires you as a creative force in the genre space, and what it is about horror specifically that motivates you as a filmmaker and as a designer as well?
Ama Lea: Horror has been a part of my life as long as I can remember. The Monster Squad was my favorite movie by the time I was four, and I got in trouble for writing fan fiction when I was in first grade, so it's always been there. As an artist, I am definitely inspired by a lot of horror from the '60s and '70s, like Italian horror movies and Hammer films. I think it's the lush colors and the strong and simultaneously sexual female characters.
You started Poltergeists and Paramours in 2016 to help fill a gap in the marketplace. What was behind that decision and what have you learned about creating your own line of lingerie and running your own business along the way?
Ama Lea: My place in horror seems to be filling in the gaps [laughs]. Before Poltergeists and Paramours, I ran Year of Fear, which was a sexy horror calendar aimed at the female and LGBTQ+ demographic because there was nothing out there in that market at the time and I wanted to see that change. As for P&P, I had been thinking about it for a long time before I actually did it. I remember, probably as far back as 2010, looking for lingerie for myself that was horror inspired and there was pretty much nothing out there, but I didn't know how to sew and always thought about taking classes.
In 2016, a friend of mine, Julie Leon, bought me a little sewing machine for my birthday. I started watching YouTube tutorials on how to sew and within six months I had my first collection and fashion show debut at Midsummer Scream. I worked really hard to teach myself and I am constantly still trying to grow and learn as much as possible. Being an entrepreneur is something that I think I was always destined to do. Both of my parents are savvy small business owners and I grew up with a lot of importance being placed on having a strong work ethic.
When it comes to your line of lingerie, how would you describe the aesthetic of your stylistic choices in your designs?
Ama Lea: My style is definitely on the more feminine side. I am drawn to laces and mesh and delicate fabrics, but of course, with a spooky twist. When I design something new, my first thought is how can I make it flattering to all body types, genders, and sizes, and then how can I make the customer feel like their best self. My inspiration board changes often and I'm usually inspired by a specific movie or subgenre. Right now, I'm super inspired by western horror and working on some really fun lingerie and streetwear pieces based off of that.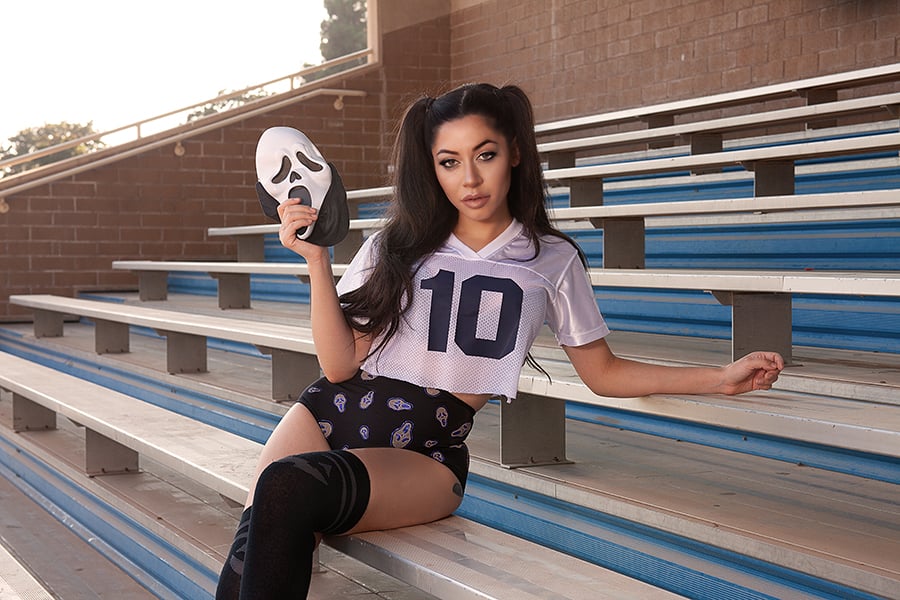 You've also had a lot of success in creating face masks this year, which I'm sure you couldn't have foreseen being such a huge thing. How fulfilling is it to be able to create these wicked cool designs for masks, but also know that these are things that will help keep people safer, too? Also, do you have a favorite mask design?
Ama Lea: When the pandemic first started, I was working on set, as a director or photographer, and filling lingerie orders on the side. All of a sudden, all of my jobs vanished. I mean, within a week my full work calendar was all of a sudden empty for six months. Everyone was freaking out about toilet paper and supplies, and of course, masks and PPE. I had tons of free time and lots of leftover cotton fabric, so I just posted on social media basically saying anyone who needed a mask, stop by and grab one. Suddenly I had hospitals, prisons, shelters, businesses, etc. all begging for masks! I think in those first three months I donated something like 4,000 masks.
After that, I began designing and creating fun masks to sell and donating the proceeds to different causes or for materials to keep creating masks for people who desperately need them. It's definitely given me a sense of purpose that is really fulfilling. I love that I can make horror fans something that is enjoyable to wear during these crazy times, and I love that because of that, I can give back to my community, too.
Can you discuss what inspired you to make your amazing Debra Hill shirt?
Ama Lea: I have been wanting to get into the t-shirt game for a long time. I adore all the companies out there and support them 100 percent, but there aren't many horror t-shirt companies that are really making products that celebrate women in the genre, and that's really the seat that I want at the table. I want to make t-shirts that represent great female characters, filmmakers, and movies made by women. I also hired a great local screen print company owned and operated by another female business owner to print the shirts called FroBoyInk. So there is a whole lot of spooky girlboss energy behind those shirts!
As far as the design itself, I grew up in the hardcore/punk music scene and was inspired by the type of t-shirts that bands like Youth of Today were making in the late '80s. So I paired that style with my love of Debra Hill who SERIOUSLY doesn't get the love she deserves for all the great movies that she was really an integral part of bringing to life.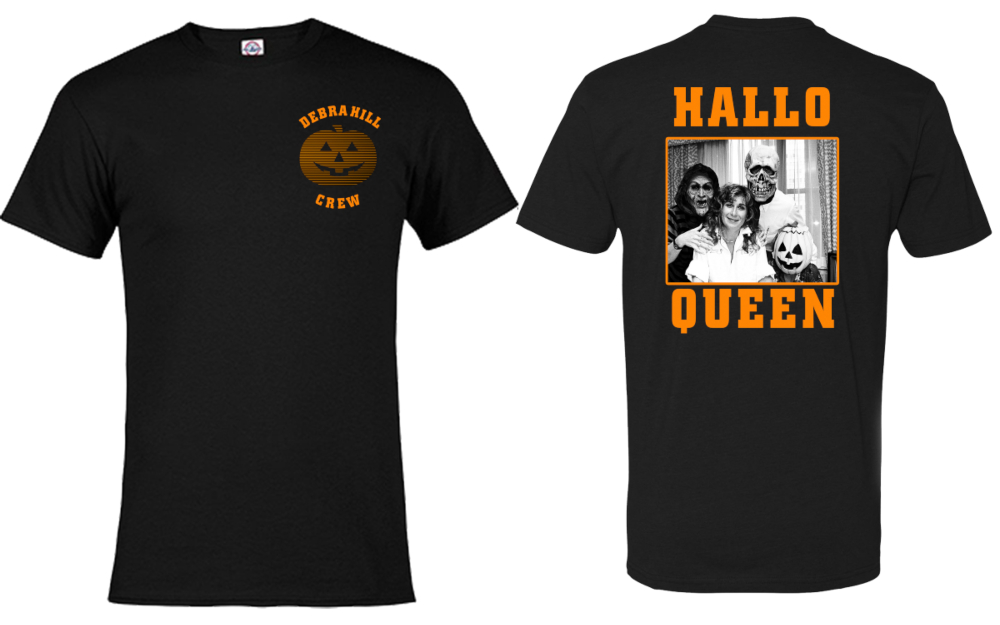 You've already accomplished so much in the last years, but I'm curious if you have any aspirations for the direction you want to take Poltergeists and Paramours in the future?
Ama Lea: I'd love to get to the point where I'm just designing the collections and art directing the photo and video materials. Basically, just the creative stuff. Right now, I'm sewing everything, designing, shooting, answering emails, etc. all by myself, which is tricky with also directing and doing all of the other things I do. I'm never not working. My other goal is to someday own a storefront. Overall, I just want to keep designing fun horror-themed lingerie that makes people feel like their sexiest selves.
I know you also do custom orders, and even made some killer Halloween costumes this year, too. If someone wanted to approach you about doing some custom creations, what should they know and what's the best way to approach you about it?
Ama Lea: I do a select amount of costume design for film, burlesque, drag, and even Halloween costumes. The best way to get me to say yes is TIME. I usually need at least six months' notice for any custom work, but I can be reached through my website, poltergeistsandparamours.com.
---------
Visit Poltergeists and Paramours to learn more about Ama's amazing creations, and go here to catch up on our previous Holiday Gift Guide artist profiles!
Photos courtesy of Ama Lea: