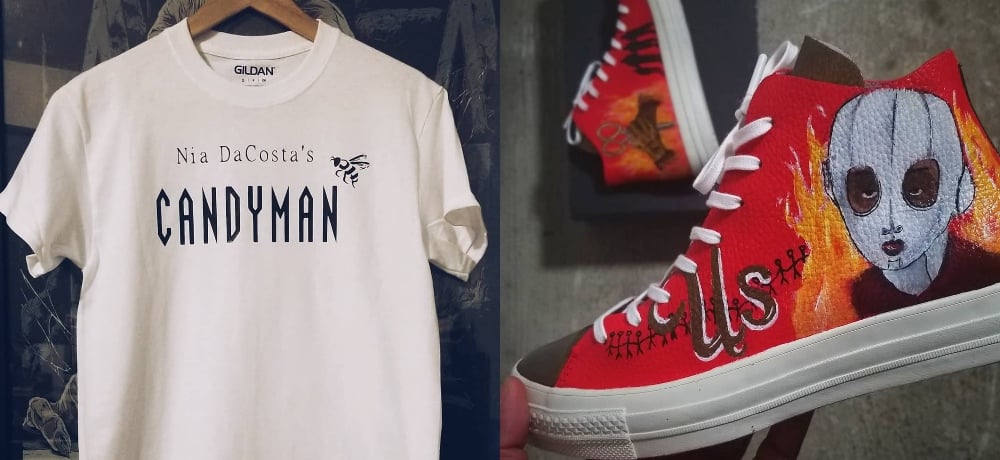 Hello, readers! In anticipation of the launch of Daily Dead's 8th annual Holiday Gift Guide later this month, we're going to spend the next few weeks celebrating a series of independent artists who specialize in creating horror-themed merchandise. Be sure to check back every day throughout the month of November to learn more about all of these indie artisans, and hopefully these profiles will help inspire your holiday shopping lists this year. Cheers!
Andrew LaSane's work first popped up on my radar in the form of his badass "Regina King Rules" tee, and then once I discovered he was a talented artist who could transform footwear into works of art for genre fans, I realized just how talented he truly was, as you can see the passion that pours through in everything he creates. Check out our interview with LaSane below and be sure to check out his online shop at: https://laptoplasane.bigcartel.com/ for more details on all his creations.
How long have you been creating, and was there a certain point in your life when you realized you wanted to be an artist?
Andrew LaSane: It may be a clichéd answer, but I've been drawing for as long as I can remember. As far as customizing sneakers, that started around 2006/2007 in college, thanks to a couple of online sneaker forums. I was already into shoes, so combining the two just made sense. I've always looked at it as a hobby, but I guess it has become a side hustle as of late.
I feel like your "Regina King Rules" shirt was a real breakout moment for you. As a fellow Regina King Stan (227 FOREVER), can you talk about the inspiration behind the design and how great it felt to have that design take off?

Andrew LaSane: Yeah, that kind of randomly blew up on Twitter. From 227 to Boyz N the Hood to Friday to The Boondocks, Regina King has always been a Queen. I think I was watching The Watchmen and somehow made the mental leap from Regina King to Stephen King and the iconic shirt from The Monster Squad. I was already dabbling in one-off hand-pressed tees, so I came up with the parody for myself. The way it took off is thanks to Phil Nobile Jr. over at Fangoria.
I had previously made a "Fango McFangoface shirt" and wore it to meet him at a signing in Manhattan. To one-up that, at the next signing I made and brought him a couple Furgoria tees. I was wearing the Regina King shirt that night, and Phil took a photo and posted it to Twitter. I couldn't legally sell the Furgoria tees, but a few people asked for the Regina design, then they followed me and learned about the customs I was doing (including a couple pairs I did for Jordan Peele and Monkeypaw) and it kind of snowballed from there. Most of the stuff I make is to humor myself, so the fact that other people are into it feels pretty good.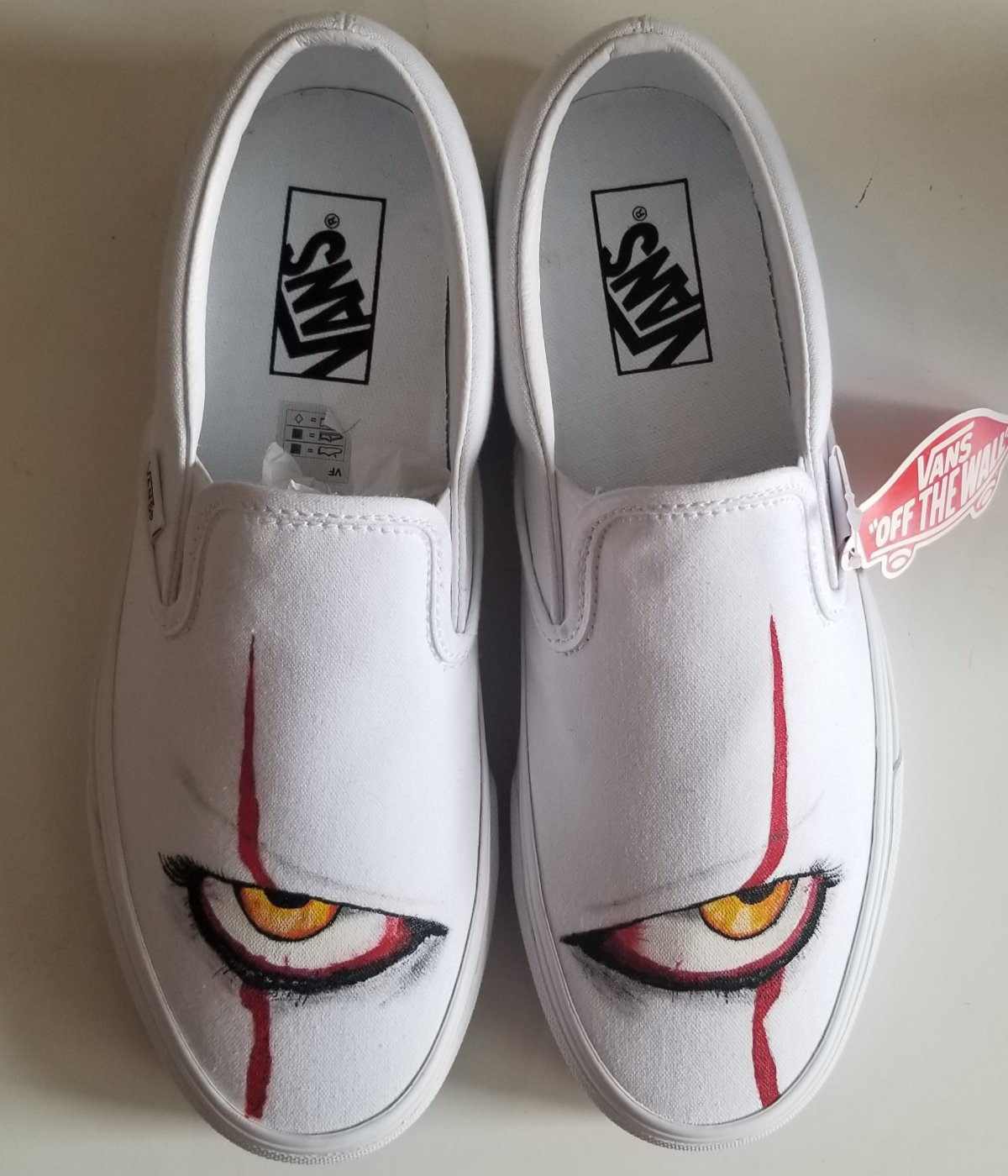 Your Black Horror Director Roster tee also feels like a vital and important design as well. Can you discuss wanting to celebrate these filmmakers who have often gone overlooked?
Andrew LaSane: That shirt is really special to me. I'm really into bold, super basic, and super readable vintage tees. The idea came while watching Horror Noire, probably for the fifth time. I've seen countless shirts dedicated to Romero, Carpenter, Craven, and even Fulci, but never the Black horror directors who have made incredible and influential films. It was Black History Month, so I couldn't NOT do it. Some people might argue that Jordan Peele and Nia DaCosta don't belong on the list yet, but I wanted the shirt to be multi-generational and to reflect the past and the future. If someone sees it and doesn't recognize all of the names, they can ask the person wearing it or ask the internet and learn something. I still feel bad that I had to leave a few people out (Ernest Dickerson and Kasi Lemmons especially), but I got to shout them out in an article for Insider. And they'll definitely be on version two.
The artwork you create on shoes is incredible—was there something in particular about shoes that make them the perfect palette for your art?

Andrew LaSane: Thanks! Using shoes as a canvas is something that grew out of loving sneakers and wanting to take the whole culture of exclusivity to another level. It's one thing to own a "limited" shoe that maybe 10,000 other people have, but it's another thing entirely to have something that is done by hand and that you know is unlike anything else you'll see on the street. They're also cool because, for people like me, they're the first thing you notice about someone. I'll paint or draw on just about anything, but prints and framed panels hang on a wall, whereas custom sneakers turn heads out in the real world.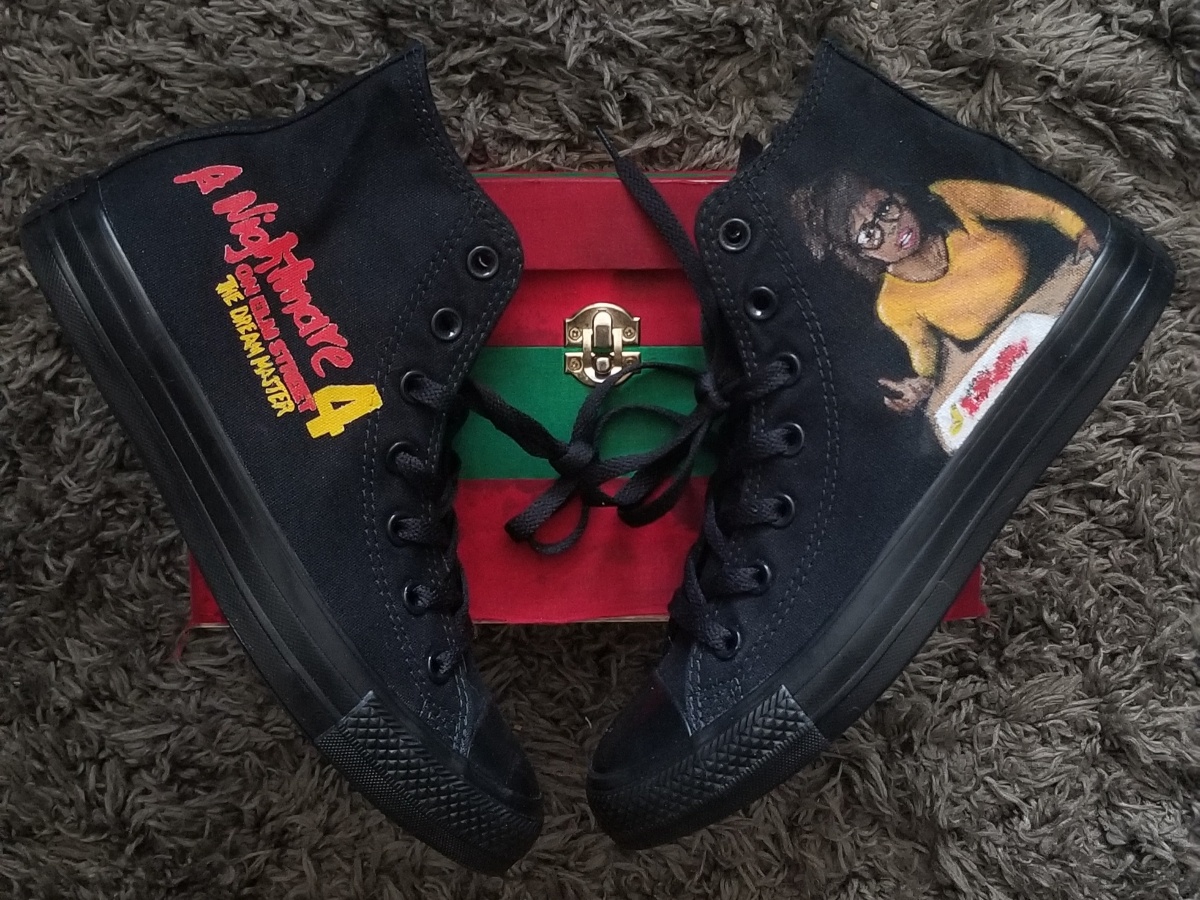 Do you have a favorite shoe design that you've done so far?

Andrew LaSane: Several years ago for Halloween I made a pair of American Werewolf in London sneakers with metal fashion spikes, special FX silicone scratches, and hand-painted fur that took forever, but came out really cool. I even lined the box in faux fur and covered the outside in Union Jack duct tape. I want to do more out there designs like that because it reminds me of the kind of customs I was inspired by back in the forum days.
Is there a shoe design you're dying to do, but just haven't done it yet for whatever reason?

Andrew LaSane: I have a mental list of film/TV-themed pairs that should keep me busy for a long time. Personally, I need to make Howard the Duck and Michael Jackson: Moonwalker customs because those are the two films I watched religiously growing up. The Thing is also pretty high up there. As for dream customer projects, I get excited when someone has an idea for something that they are truly passionate about or, if it's pop culture related, something that at first I have no idea how to translate it onto a shoe. If someone asks for Martyrs customs though, I may have to retire.
What's been the biggest challenge for you as an artist working in the online marketplace?
Andrew LaSane: Beyond finding the time to do it with a full-time job, I think a major challenge with art in general is customer expectation. It sucks when you read a comment from someone who doesn't understand that there is more to making a shirt than a 60-second press, or that just because I love painting sneakers doesn't mean I will do it for free or next to nothing. It can also be difficult to stand out, especially now that customs have gone mainstream and it's more about Instagram and Tiktok than it is about the creativity and quality of the work. I like the lane I'm slowly carving for myself with my hobbies and I will always be grateful for those who have chosen to support me when they have zero obligation to.
---------
Visit Andrew LaSane's website and online store to learn more about his artwork, and go here to catch up on our previous Holiday Gift Guide artist profiles!
Photos courtesy of Andrew LaSane: