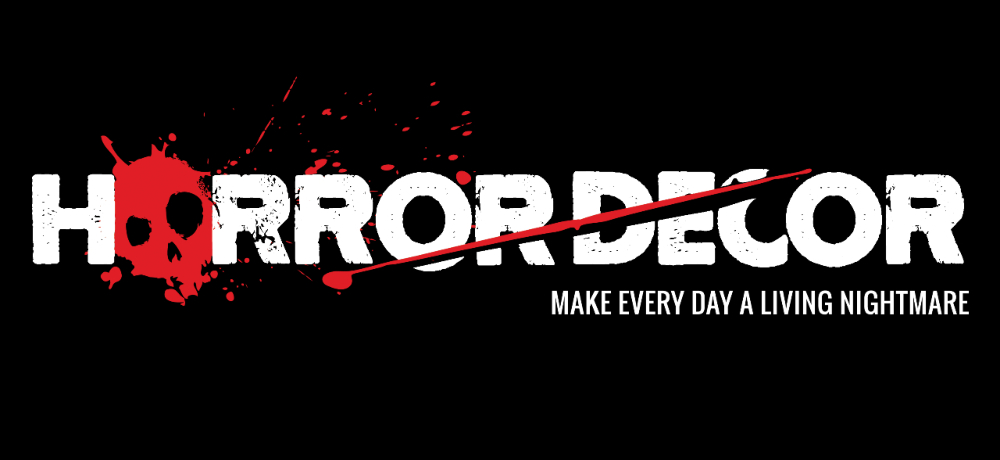 Hello, readers! In anticipation of the launch of Daily Dead's 8th annual Holiday Gift Guide later this month, we're going to spend the next few weeks celebrating a series of independent artists who specialize in creating horror-themed merchandise. Be sure to check back every day throughout the month of November to learn more about all of these indie artisans, and hopefully these profiles will help inspire your holiday shopping lists this year. Cheers!
As someone who has been purchasing from the fine fiends at Horror Decor for nearly a decade now, I wanted to make sure I included them in our Artist Profile series because their dedication to creating horror-themed decorative items is unmatched. Even more impressive is the fact that they have always taken a homemade approach to their wares as well, which is why I always encourage anyone ordering from them during the holiday season to do it as early as possible. For more information on all of Horror Decor's amazing line of products, be sure to check out their site at: https://horrordecor.net/.
First of all, I just realized I have no idea just who is behind Horror Decor after all these years (I think my first order with you guys was back in 2011). Can you fill me in on your background and what inspired you to start Horror Decor back in 2007?
Haha, it's okay! That is somewhat intentional. We don't necessarily hide in the shadows on purpose, we just always prefer to put our products in the spotlight rather than ourselves. So to pull back the curtains a little bit, Horror Decor is primarily myself (Matt) and my wife, Nichole. It all started when we attended our first horror convention in 2006 (Rock & Shock in Worcester, MA). I had been a horror movie fan for a long time, but had never experienced the community side of it before and was absolutely blown away by seeing so many horror fanatics in one place.
As we explored the vendor floor, we noticed a trend: there were plenty of shirts, DVDs, posters and toys, but that was it. There was definitely a void in the decor department. My first thought was, "Why aren't there any bloody sheet sets?" Then Nichole made the fatal mistake of saying, "We can make them." Horror Decor was then born and we were selling those blood splattered sheet sets the next year at that same convention.

You take a homemade approach to your products, which has to be so time-consuming. Can you talk about the pride that comes from creating your products by hand and knowing a little piece of your hard work makes its way into the homes of horror fans worldwide?
It certainly can be time-consuming to make almost every item we offer by hand, but ensuring unique, quality made items make it to our customers is something that is very important to us. Seeing our items in customer pictures or on Christmas wish lists is both a proud and humbling moment. Being reminded that things we made with our own hands are loved by so many can still be hard to believe at times, but fuels us to keep doing what we do. Especially seeing the younger horror fans enjoying what we've made, that truly warms our hearts!
From a creative standpoint, what's been your most successful line of products that you've released?
Creatively, the Horror Buddies and Killer Carnival Punks lines have been the most successful, for me anyway. Getting to look at some of my favorite characters in a new light, while also getting to work with some amazingly talented artists to help design them is a ton of fun.
I'm a big fan of your Ecto Cooler candle (we have one we burn from time to time in our office). What's the inspiration behind the different scents that you guys release? How do you capture "Amity Island," for example?
Thank you! A lot goes into creating a candle and getting it to represent whatever film, product, etc. we are aiming to represent. Wax color, container selection, label design, and most importantly the scent, we keep everything in mind when designing it. When it came to capturing "Amity Island," the classic billboard was the main inspiration. The beach setting was the direction we decided to take for the scent, with notes of oceanic mist, suntan lotion, jasmine, and mandarin orange. We always try to lean towards keeping the scents in the "pleasant" category, so while doing something like a chum-scented candle may be fitting for a horror-inspired candle, it certainly isn't something most people would want wafting through their house.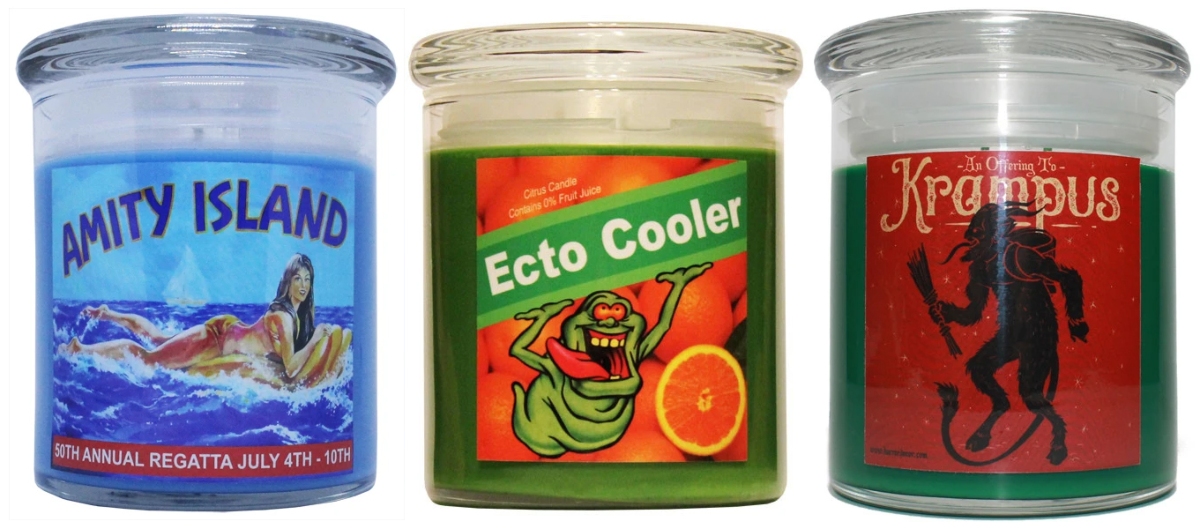 I know you've retired products from time to time—is there a product that you miss and would love to bring back some day?
I do have a deep love for our line of bloody bedding products that was called "The Rough Night Collection," as that is how this all got started. How we initially made them was very labor intensive because we painted them each by hand. I often play around with the idea of bringing the line back in a way that incorporates the techniques we have learned over the years and utilize today. We'll have to see what the future holds...
You've been in business now for 13 years; what do you attribute your success over the years to?
Resilience. We've certainly had plenty of ups and downs over the past 13 years and 2020 has certainly been a bumpy ride, but adapting to the constant changes has kept us going. We started this company to bring the horror community items that didn't exist beforehand. Since then, we've seen many companies that have tried making the same type of products come and go, and we attribute that to this business being more challenging than one may initially expect it to be. The horror community has been so amazing to us by embracing and supporting what we do and we couldn't ask for more!
---------
Visit Horror Decor to learn more about their homemade products, and go here to catch up on our previous Holiday Gift Guide artist profiles!