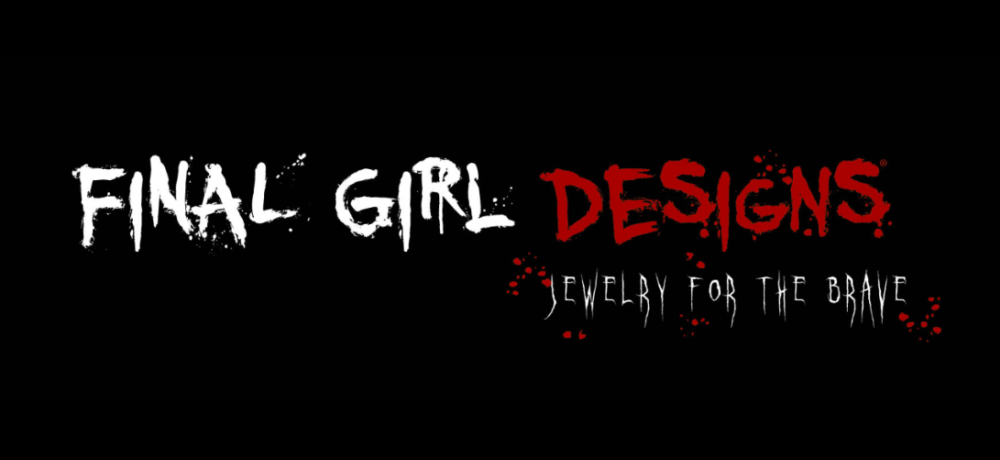 Hello, readers! In anticipation of the launch of Daily Dead's 8th annual Holiday Gift Guide later this month, we're going to spend the next few weeks celebrating a series of independent artists who specialize in creating horror-themed merchandise. Be sure to check back every day throughout the month of November to learn more about all of these indie artisans, and hopefully these profiles will help inspire your holiday shopping lists this year. Cheers!
For over 20 years, Jennifer McCarthy has been making jewelry, and with her company, Final Girl Designs, she incorporates her passion for the horror genre into her dazzling creations. Final Girl Designs has been featured in several past iterations of our HGG, so I thought it was time to catch up with Jennifer and talk about her love of jewelry, horror, and more.
For more information on Final Girl Designs, please visit Jennifer's site at: https://www.finalgirldesigns.com/, or follow FGD on Twitter at: https://twitter.com/finalgirldsigns, or on Instagram at: http://www.instagram.com/finalgirldesigns.
Was there something in particular that inspired your passion for creating jewelry and then bringing that together with your love of horror?
Jennifer McCarthy: I started out with those little kits you get at the toy store when I was in my teens. They were just fun to do. Then I started working at a secondhand store and began learning about vintage jewelry—what was valuable or worth fixing and what I could use for parts. It just grew from there. It was always just a hobby, but I wanted to make it more than that for a long time. Then I started going to horror cons and really wanted to become a part of the community. I've always loved horror and it just made sense to bring those two passions together. I started listening to the Movie Crypt podcast in 2015. Hearing creators from all walks of life share their stories really legitimized being a working artist for me. I knew that sharing my work was going to be the way I could contribute to and become a part of something I love so much. I trademarked my name and went from there.
With the name Final Girl Designs, I was wondering if there are certain final girls that are your favorites?
Jennifer McCarthy: Laurie Strode is the Final Girl that's probably had the biggest effect on me. Her survival story speaks to me on a visceral level. She was one of the first Final Girls I ever saw. Final Girls are usually thrown into their roles and have to fight their way through their situation while coming to terms with what they are becoming. The end of the movie is the end of their story. We get to see Laurie at different stages of her trauma/recovery showing that we can get through it, but it will always be with us. Jamie Lee Curtis owns that role. It has been a privilege to watch her grow with it and I am so grateful she has been able to play it consistently.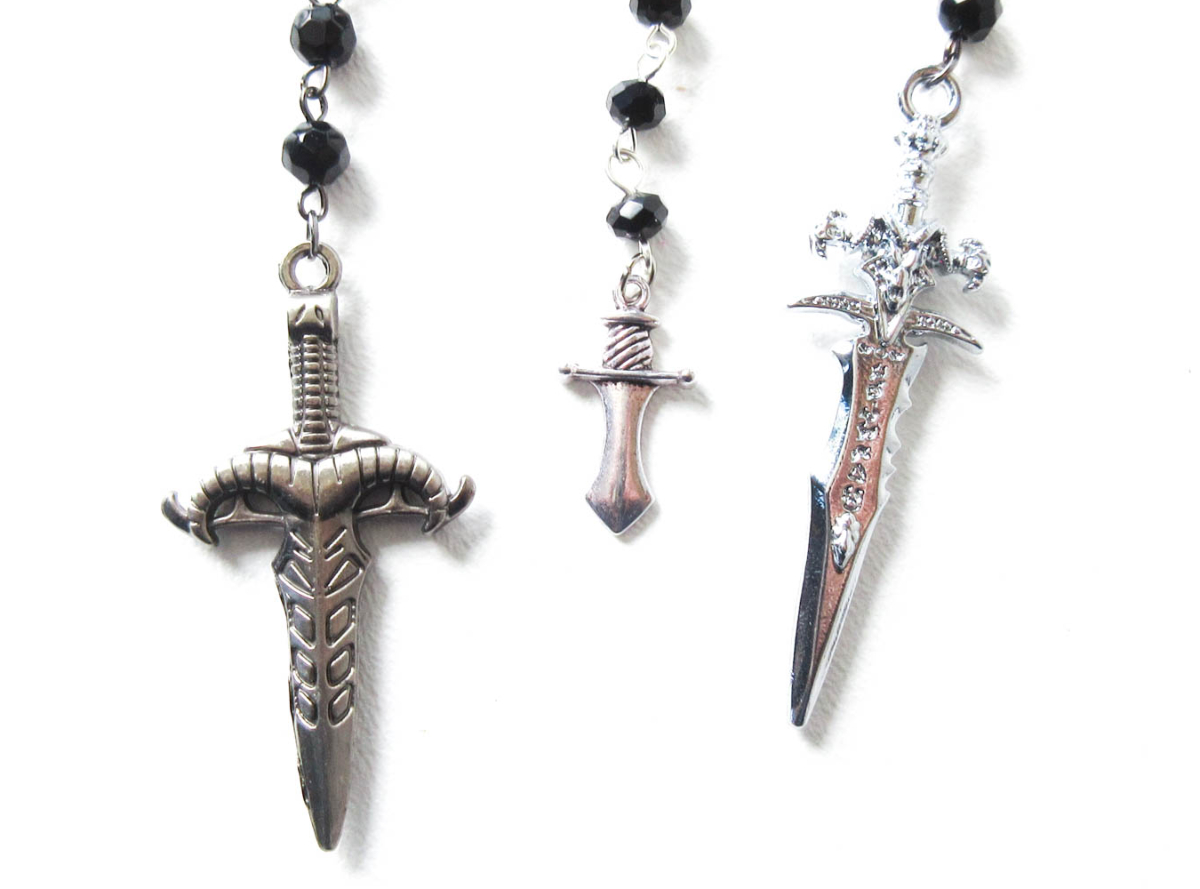 On your site, you mention that you rescue broken jewelry and breathe new life into these pieces (which makes you like Dr. Frankenstein in a way!). Is there something extra satisfying for you on a creative level when you're able to recycle items and turn them into something new for people to enjoy?
Jennifer McCarthy: I love the Frankenstein reference! As a Final Girl, rebirth through destruction has been a major theme in my life. Transforming something broken and discarded into something beautiful brings me joy. Sourcing vintage goodies is like a treasure hunt. And it saves useable material from going into a landfill.
How would you describe your design aesthetics for your jewelry?
Jennifer McCarthy: Spooky, dark, and badass. I use horror elements, but not horror movie references specifically. Fan art is awesome, but it's just not what I do. I like things that are simple, but make a statement. I use a lot of weapon charms in my work. The weapons channel the Final Girl vibe, but also subvert the danger of them by making them into something cool and fun to wear.
Do you have a certain type of jewelry you enjoy making more than others (earrings, necklaces, etc.)?
Jennifer McCarthy: Not really a certain type of jewelry per se, but my favorite pieces are those that have meaning. Jewelry is a very personal item. I like to make pieces that make people feel special and pieces that make people feel powerful. I even have a Wear Your Bravery Collection available on my website. I often post materials I just got and works in progress on my Instagram account: http://www.instagram.com/finalgirldesigns. People can customize their jewelry by choosing chain type/length or what charms or beads to use, etc. It makes the pieces that much more personal and meaningful.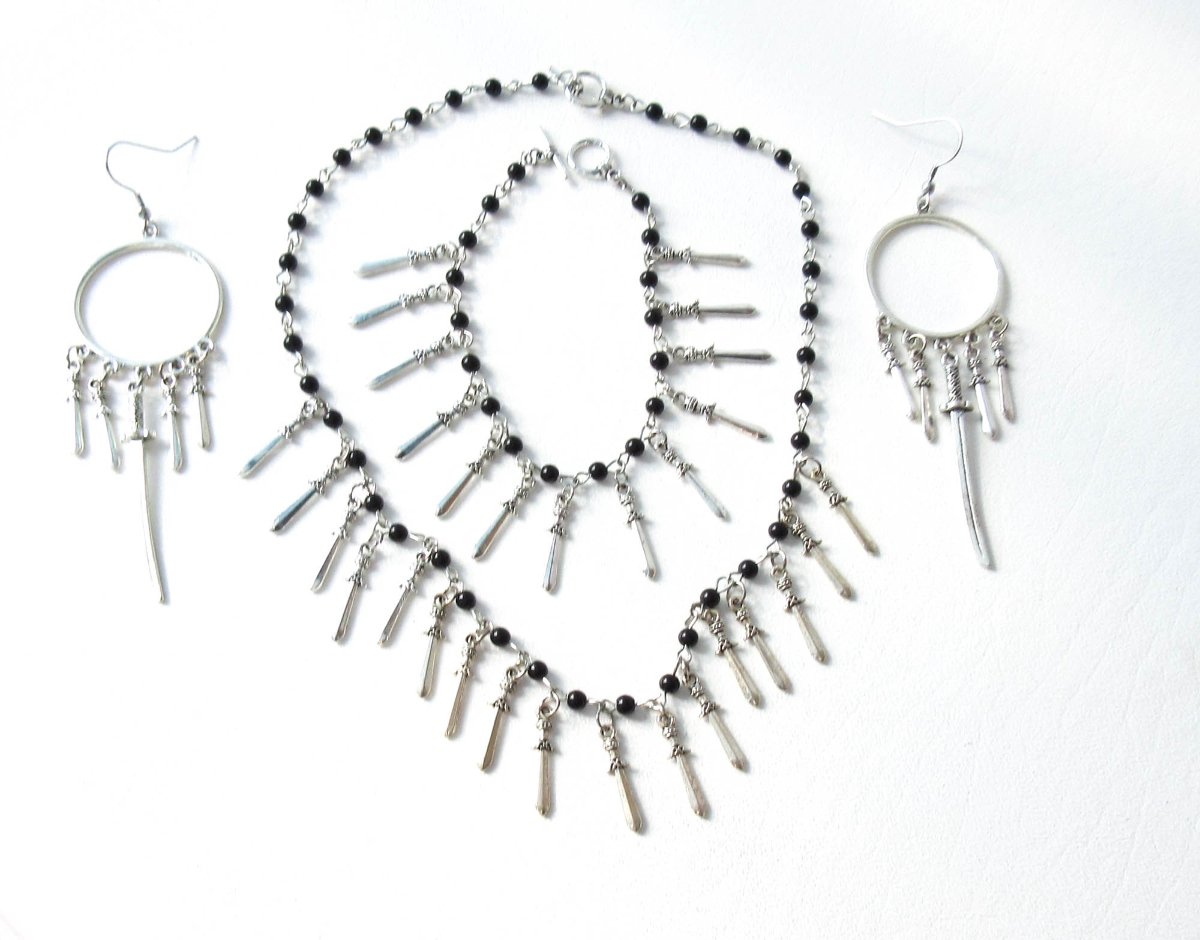 What's been the hardest aspect of running your business?
Jennifer McCarthy: The hardest part of running my business is running my business. Like most creators, I just want to make stuff. Building and maintaining a website, marketing, social media, etc. is a full-time job in and of itself. And it's a pain in the ass. If I could have another me that just did all that I'd be happy. Plus, I have a full-time job and a son. I feel like I have four full-time jobs: a mother, a therapist, an artist, and a business owner.
Is there a design you've wanted to do, but just haven't been able to yet?
Jennifer McCarthy: There are certain designs that I've already done that took forever to do because I was looking for just the right finishing touch. My Arm the Matriarchy Collection is a perfect example. Trying to find the right materials that looked like what I wanted was a struggle. And I am still looking to expand and improve that line. I try and learn a new technique and/or make a new kind of product every year to keep things fresh. I do want to create more original, fabricated pieces. I've always wanted to learn how to metalsmith. However, I have learned that right now I need to work within the price point I have success with and as my business grows, so will my body of work.
---------
Visit Final Girl Designs to learn more about Jennifer's horror jewelry creations, and go here to catch up on our previous Holiday Gift Guide artist profiles!