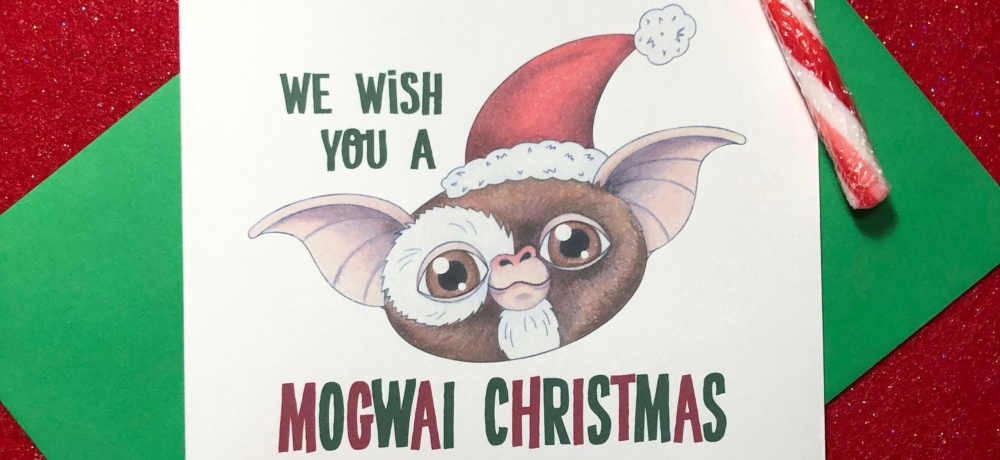 Hello, readers! In anticipation of the launch of Daily Dead's 8th Annual Holiday Gift Guide later this month, we're going to spend the next few weeks celebrating a series of independent artists who specialize in creating horror-themed merchandise. Be sure to check back every day throughout the month of November to learn more about all of these indie artisans, and hopefully these profiles will help inspire your holiday shopping lists this year. Cheers!
While they have only been in business for just a short time, Laurie Necco and Toni Gabriele of Ghost Girl Greetings have made a big impression on genre fans in search of unique greeting cards, wrapping paper, mugs, pins, and other goodies that celebrate everything we love about horror. If you're in the market for some truly adorable and awesome products, be sure to check out Ghost Girl Greetings' site at: https://ghostgirlgreetings.com/.
So, what inspired you both to start Ghost Girl Greetings in 2018?
It all happened while accidentally crashing a 1st birthday party. We were going out for pizza and this family was having a huge party and rented out the place, and were like, "It's okay, join us"(they even gave us delicious cupcakes). We had been talking about the lack of Die Hard-inspired holiday items that (Toni) so desperately wanted.  Knowing each other for so long, it was kind of an easy idea to bake because of Laurie's incredible art and Toni's eternal silliness. But Hans Gruber aside, we really wanted to make them based on our shared true love of horror movies.
We started that weekend and never looked back!
I think my favorite thing about your designs is their sense of whimsy to them, and a delicacy, too, where they feel perfectly in line with the characters and properties you are celebrating, but they are also absolutely adorable. Can you discuss your design aesthetic and what inspired you to take that direction with your products?
Laurie: Thank you! It's really my drawing style to begin with. I've been drawing since I was a kid and have been applying the things that I love, which are spooky and dark, but also pretty and cute. I love taking the spookiest characters and giving them my own twist. I am a lover and frequent user of colored pencil over any other medium and it really lends to the style of the art we want to have on the cards.
Toni:  I have always loved the style of Laurie's art. We have this running joke that she can literally create anything that pops into my mind down to the last detail. We love to soften up the characters so they are niche enough for a horror fan, but pretty enough to give to mom.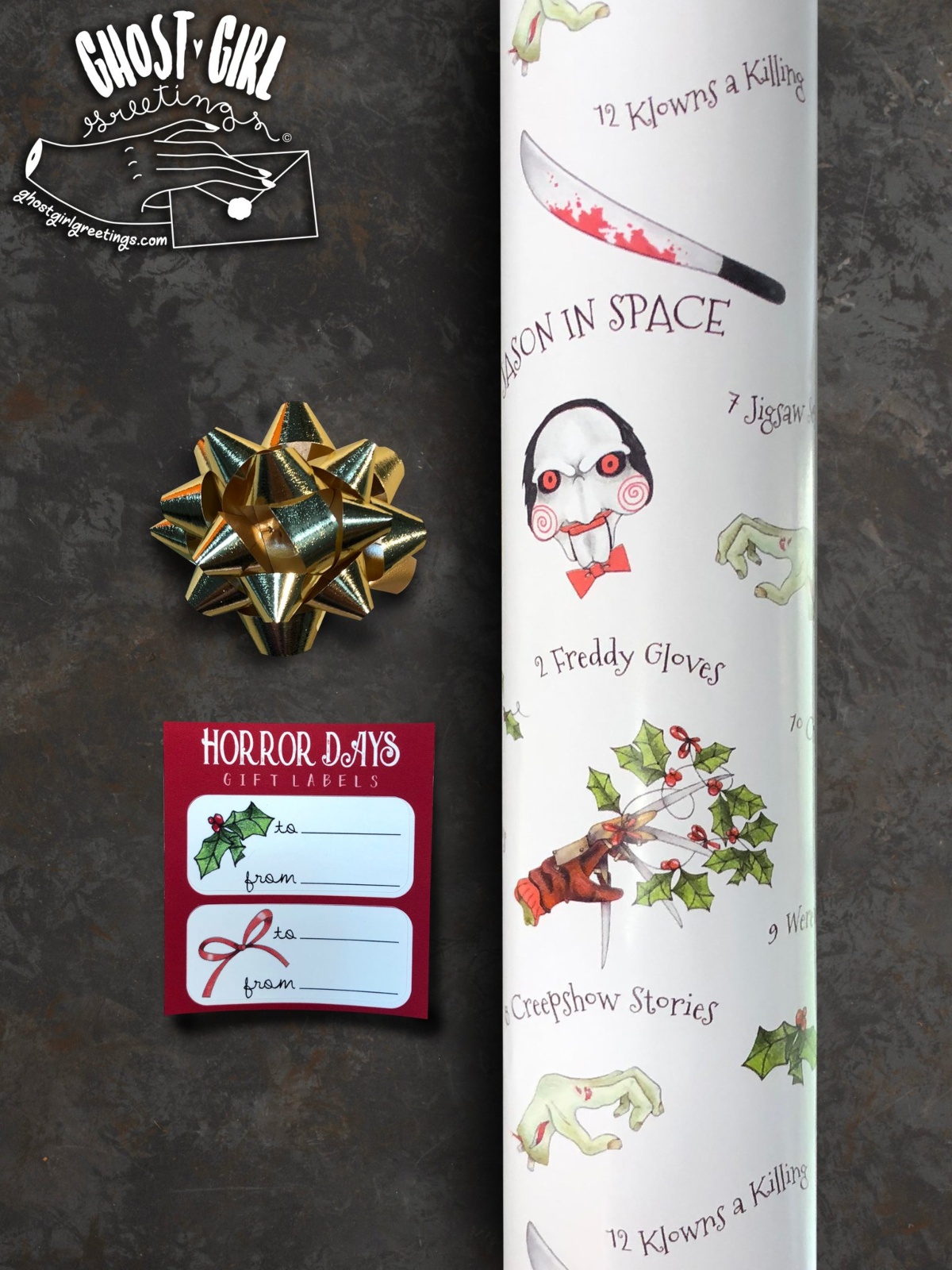 You've managed to break out the Ghost Girl Greetings brand with a variety of new products, including your line of mugs and wrapping paper (which is AMAZING). Was the timing right in terms of seeing your work out there on new mediums, and are you planning on doing more designs on more types of products in the future?
Toni: If we tell you we'll have to kill you. Just kidding! We have SO MANY ideas that we're trying to bring to life and are evolving quicker than the dinosaurs at Jurassic Park as of late. Wrapping paper we worked on for SO long and tested so many types of paper, bows, and labels. We can definitely say it's made with love. We aren't people who are like, "Okay, let's just try this thing." We test it out and only pick the best of our ideas.
Laurie: It's true, and we both have our own extensive mug collections and wanted to make styles of our own for so long, but we made a promise to create a rich line of cards before we started to try out new products. Now we can't stop making them, and although we have much less room in our own cabinets, we also love to see how much our customers have loved them!
How has 2020 shifted your business, if at all?
We went from this dynamic duo hopping from show to show constantly on the run to still a dynamic duo with a lot of Zoom calls. It's been weird and we miss doing live events together, but it has also granted us the time to focus on new products as well as growing our online presence. The weird part is not being able to spend time working on these goodies in person together like we are used to. Social media is great, but hugs and shared pizzas are so much better.
What's been the most rewarding aspect of Ghost Girl Greetings for you both?
Laurie: I have two major favorites. At conventions, we get to see in-person reactions when people read our cards. Watching them cracking up or bringing a friend over to say, "Look at this," is something we just can't get over. It makes us laugh with them, and is really what we always hope to accomplish. My second has to be the customer photos we get. First of all, it's incredible that people enjoy our stuff enough to purchase it, but then to love it enough to hang on the wall or snap a clever IG photo with it—we literally dance every time! It's the best.
Toni: I totally agree there. As such a small shop, we put so much love into everything we make, and to see someone enjoy our work is the best feeling. I'd say my other favorite is meeting all of these amazing people through the shop. At conventions, meeting celebs who love the cards and encourage our creations, to other small shops and other horror fans alike, it has been the coolest to make so many new friends. Like Kate Siegel coming to our table and buying something from us. That would never just happen to us in real life (that was also probably one of the most exciting days we ever had—haha!). But then, these other shops that we encounter and support back, who end up becoming real-life friends, it rules!
---------
Visit Ghost Girl Greetings' official website and Etsy shop to learn more about Laurie and Toni's creations, and go here to catch up on our previous Holiday Gift Guide artist profiles!