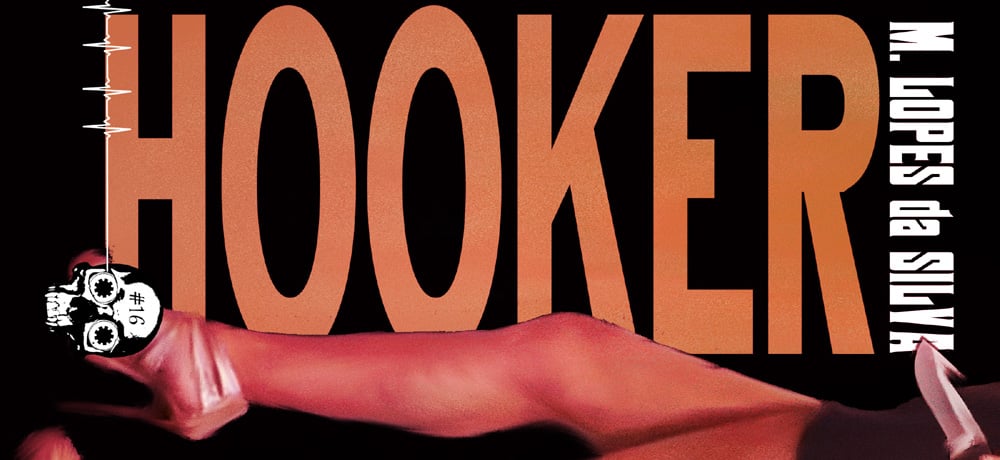 Hello, readers! In anticipation of the launch of Daily Dead's 8th Annual Holiday Gift Guide later this month, we're going to spend the next few weeks celebrating a series of independent artists who specialize in creating horror-themed merchandise and more. Be sure to check back every day throughout the month of November to learn more about all of these indie artisans, and hopefully these profiles will help inspire your holiday shopping lists this year. Cheers!
For her novella Hooker, author M. Lopes da Silva transports readers back to Los Angeles in the year 1984 for her tale of a woman named Sylvia seeking to enact her revenge on a mysterious serial killer who has targeted a group of sex workers, including her sister, Penny. Along the way, Sylvia teams up with an intrepid reporter named Crystal and her longtime friend Frankie to take down this scumbag before he can claim more victims, making for an entertaining and wholly enjoyable ride from start to finish. To grab your copy of Hooker, it's currently available for purchase on Amazon HERE.
First of all, great job on the book! I was totally immersed the entire time and every page seemed to fly right by because I was so pulled into this story. I loved it. What was the initial inspiration behind you wanting to write this story in particular?
M. Lopes da Silva: Wow, thank you! I'm so glad you enjoyed the book. I love exploitation cinema, but it's a toxic relationship. I've been angry for a very long time at the genre for not giving me a "sex worker kicks ass" story that felt as inherently fun as most basic "male protagonist gets revenge" tropes (I'm thinking in particular of The Italian Connection—one of my favorite films of all time, a giallo thriller which features a pimp seeking revenge). This anger has been extremely productive, because over time its distilled exactly what I want to see from a story about a sex worker seeking revenge.
Like most Americans, I love the fantasy of righteous vengeance, but I was dissatisfied with the very limited selection that we currently have. I didn't want to fetishize the violence against the women. I wanted queer characters that felt iconic. I wanted the distinctions between "good" and "evil" to be clear. I wanted to write women that punched harder than Russ Meyer Super Vixens. And I wanted characters that I actually liked—not the standard Hollybored blanks that a lot of current blockbusters keep foisting on us. Oh, and every time the reader encountered the word "hooker" in the book, I wanted it to cut.
I really love whenever stories use Los Angeles in the 1980s as a backdrop—it's a time and place that I'm endlessly fascinated with myself. Was there something about this era in L.A. specifically that you felt really captured the essence of your story?
M. Lopes da Silva: I was born in Los Angeles in the early '80s, and this book has a lot of me in it. In the prologue of the book I mention the Satanic Panic and Manhattan Beach very briefly—well, when I was a child, I was nearly enrolled into the McMartin preschool. My parents just randomly picked another preschool because it worked with their schedules better. And in the wake of the scandal, life in that very moneyed, white community became extremely strange. Living with Satanic Panic was scary. It created a perpetual aura of fear, which could lead to fear theater (which was often even scarier). People can really get a thrill out of being afraid. I was being asked weird questions about sex and the devil when I was still in kindergarten. It was scary and very intense.
On the other side of town, when you look into the history of sex work at the time—Crystal's story that she's originally trying to publish about a massive influx of sex workers from the middle and working classes on Sunset Boulevard—that's all absolutely true. The Los Angeles Times was reporting on it in 1985. It was an era when sex work was attractive to a lot of women.
Plus, you know, the 1980s was a heyday for the "sex worker kicks ass" story. It's why you have the Angel series of films, Vice Squad, etc. It all felt very natural to pick this time period.
One thing that I really enjoyed about Hooker were the characters, and how real they felt. Their pain, their journey, the things they felt compelled to do—it all felt real. Can you talk about diving into the lives of these fictional women who are often overlooked by society and breathing life into them on the page?
M. Lopes da Silva: I'm glad that these characters work so well for you—thank you! I'm kind of intimidated by your question, to be honest. I think that if they felt real to you, it's because the very real emotions and intentions that I have placed in this book have spoken to you.
Looking at the process of writing Hooker, and now it has been released into the world, what has been your biggest takeaway from this process?
M. Lopes da Silva: It takes me a long time to process anything, so I'm still not sure what my biggest takeaway is. Knowing me, I'll probably figure that out in a year or two. But I can say that it's important to write your story. Getting positive responses like your own has been in-the-bone-deep validating. This story is my hometown. My friends. I have walked the boardwalks of the Redondo Beach Pier hundreds of times in my life, and now I know that someone else has taken the same route. It's kind of a lot.
I won't lie—I would be down to see more from these characters in the future. Any plans for a sequel at all? I'd love to see Sylvia, Crystal, and Frankie taking down more bad guys for sure.
M. Lopes da Silva: You know, I hadn't considered writing a sequel for this novella, but that sounds fun! If I get a story idea that feels like a good fit for them, I will definitely consider it.
---------
To learn more about M. Lopes da Silva's novella Hooker and her other written works, visit her website and Amazon, and go here to catch up on our previous Holiday Gift Guide artist profiles!