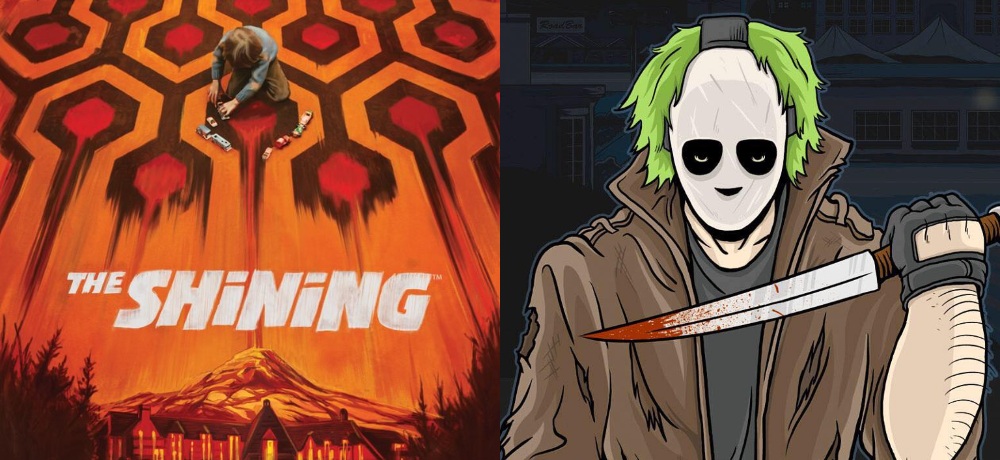 Happy Friday, dear readers! We've reached the end of the first full week of Daily Dead's 2020 Holiday Gift Guide, and I hope you've been enjoying them so far, as we still have a whole week ahead of us, too. For today's HGG installment, I'll be covering all sort of horror-themed games and puzzles, which should be perfect to enjoy throughout this holiday season as we all hunker down at home.
Check out all these great game and puzzle options below, and be sure to check back on Monday for more horror-ific gift ideas to help you get your shopping done this holiday season.
Cheers!
GAMES:
Mixtape Massacre is a tabletop board game where up to 6 players play as slasher archetypes and compete in a fictional 1986 killing spree to be remembered. With tons of jokes and references to 1980's pop-culture and horror tropes – Mixtape Massacre will have you laughing while you're slashing!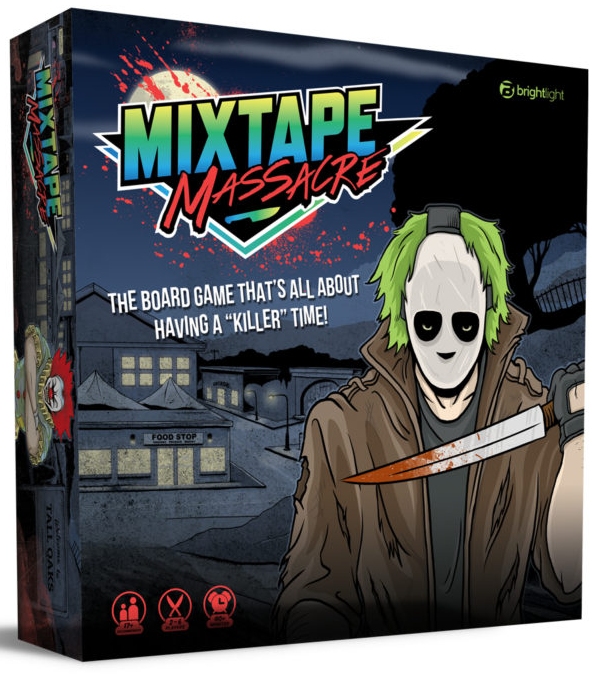 Mixtape Massacre: Escape from Tall Oaks is a meta-cooperative game where 2 to 6 players attempt to escape the maddening streets of Tall Oaks by fighting off slashers, rescuing residents, and safeguarding the town in hopes of getting the hell outta town…or die trying. Though working together at times, in the end only one survivor will escape. Welcome back to Tall Oaks. Now run like hell.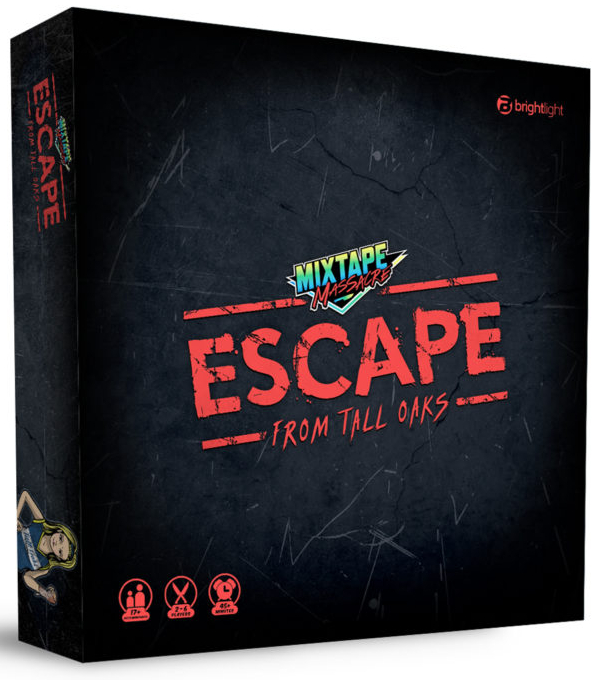 Are you a slasher or a survivor? Can't decide? Then this bundle is for you.
Get the Best of Both Worlds! You get two base games that can be played on their own or combined with an additional 3 expanded modes of play!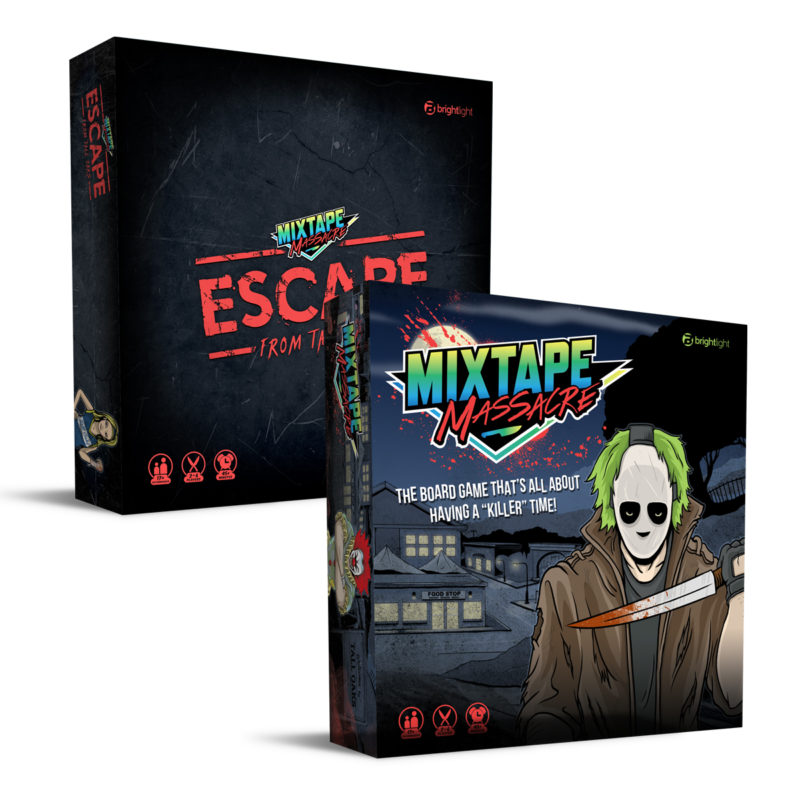 Horrorfied: Universal Monsters Strategy Board Game
Imagine living in a place so wretched that it's not plagued by one, two, or even three monsters, but seven of the most horrifying fiends you've ever heard of. In this game, you'll come face to face with them all as you work together to rid the town of these maniacal or misunderstood creatures... Before it's too late.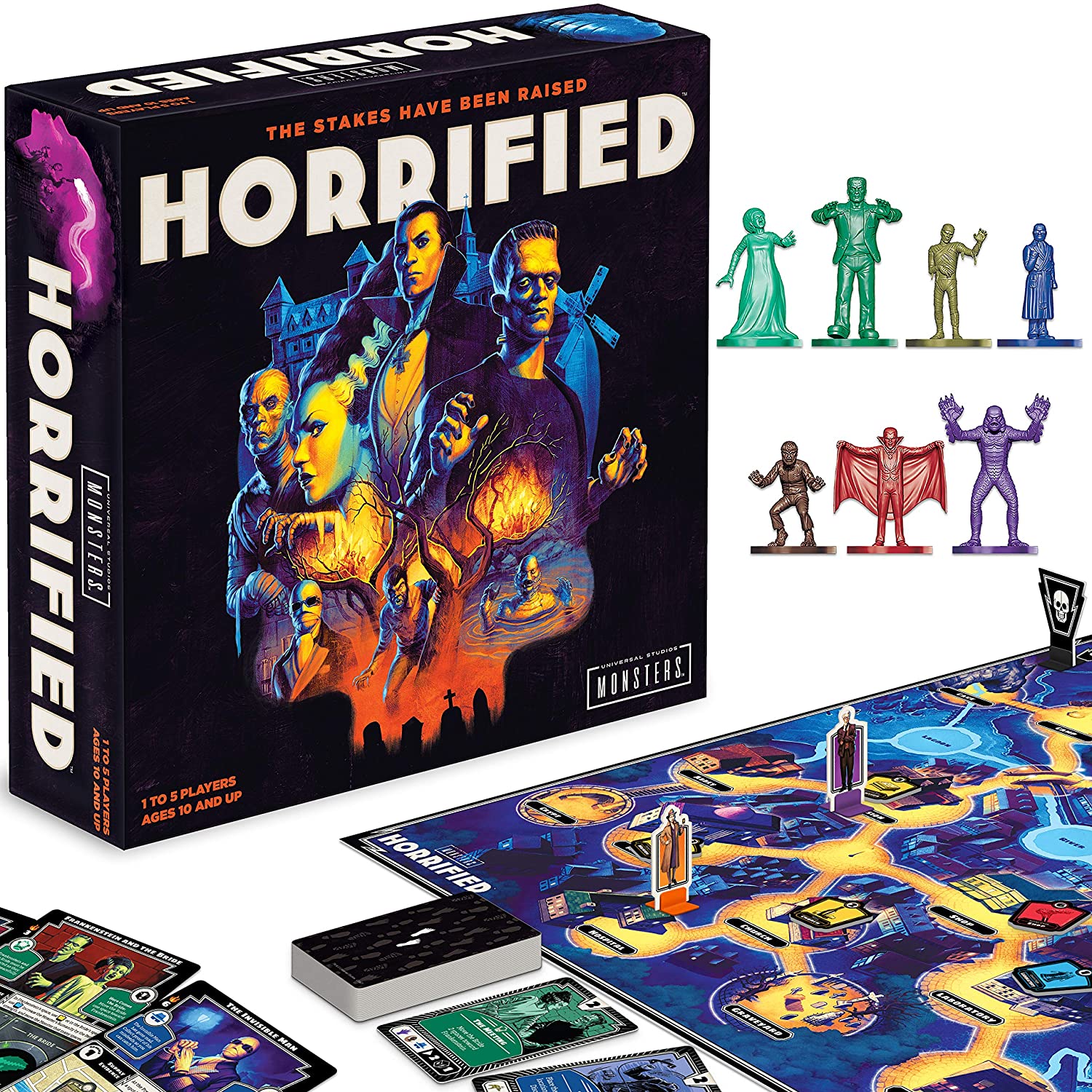 Trivial Pursuit: Horror Ultimate Edition
There's no turning back from TRIVIAL PURSUIT: HORROR ULTIMATE EDITION! Explore the darkest corners of pop culture in this fact-based challenge where survival skills are a must! 1800 blood-curdling questions from across all horror genres will test your mastery of the macabre. Rely on your skill and luck to make it out alive through six comprehensive categories: Gore & Disturbing, Psychological, Killer, Monster, Paranormal, and Comedy.
Friday the 13th: Horror at Camp Crystal Lake
Summertime fun is dying out at Camp Crystal Lake, where masked and murderous Jason Voorhees is on the hunt for camp counselor blood… and your unlucky day is looming. Grasp for as much lifesaving supply as possible to escape the vengeful serial killer's slaughter and try to make it out alive through five nights in this edge-of-your-seat game of chance, strategy, and survival. Reach into the bag and see what you will find!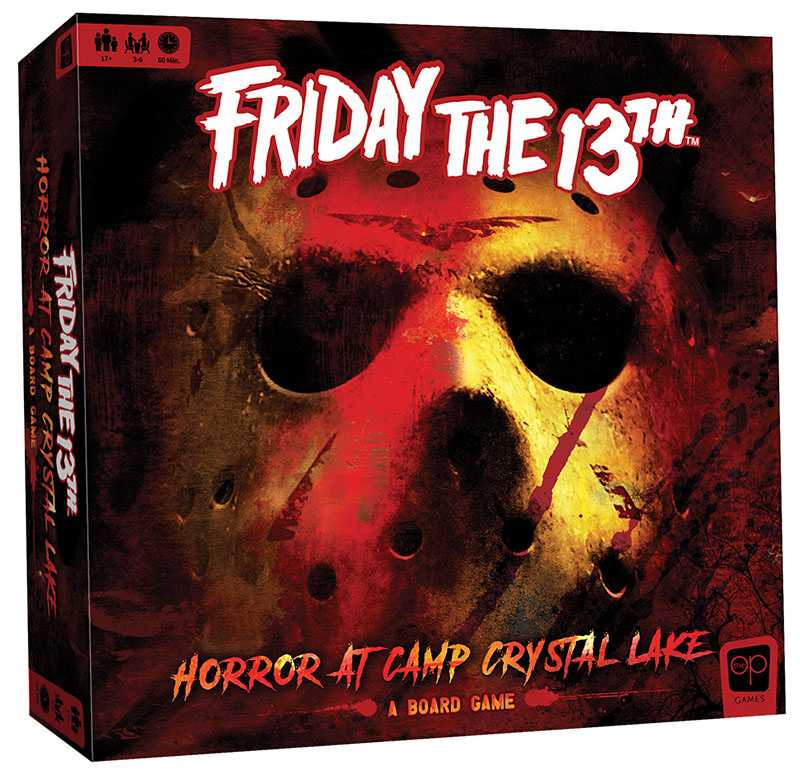 Inspired by horror movies but light-hearted enough for everyone to enjoy. One player is the killer. The rest are victims. The killer wins when all the victims have three Stab Cards. The victims win by escaping.
Everyone takes turns drawing cards. If a victim gets three Stab Cards, they DIE! But they can use Action Cards to avoid getting stabbed. And they can use Combo Cards for a chance at escaping. But the killer has special powers. If the killer draws a Stab Card, they can put it back in the deck wherever they want. And the killer can use Action and Combo Cards to thwart the victims' attempts to stay alive. A exciting card game for adults or as a gift for a horror fan.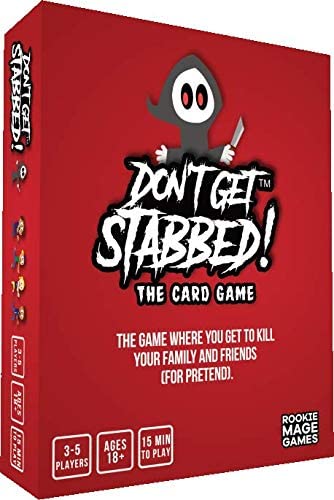 Death by Trivia will either make you shiver with delight or quiver with fear. This game lets players test their knowledge of the dark, disturbing, debauched and diabolical. It's splattered with humor and is easy to learn too. Players compete to be the last person left alive. Wrong answers can get you killed. Correct answers can keep you alive. Simple.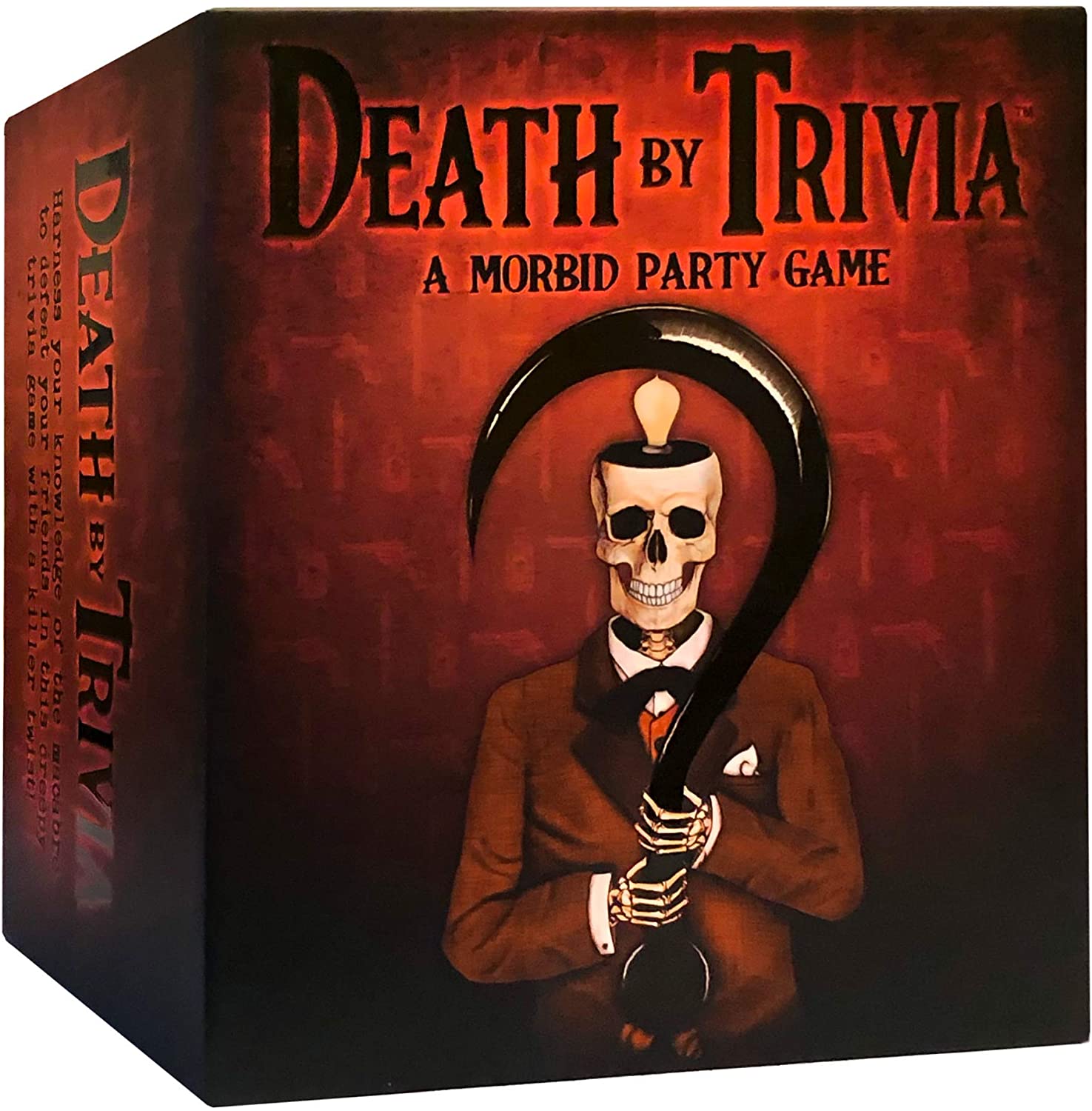 The Shining: Escape from the Overlook Hotel
"Here's Johnny!" In The Shining: Escape from the Overlook Hotel, take on the roles of Wendy and Danny and work together to search for a way out! Use psychic abilities like "the shining" to solve challenging puzzles, but beware of Jack and the hotel itself, which are conspiring to keep the Torrance family captive. Can you get Wendy and Danny out of the Overlook Hotel while avoiding the axe-wielding Jack?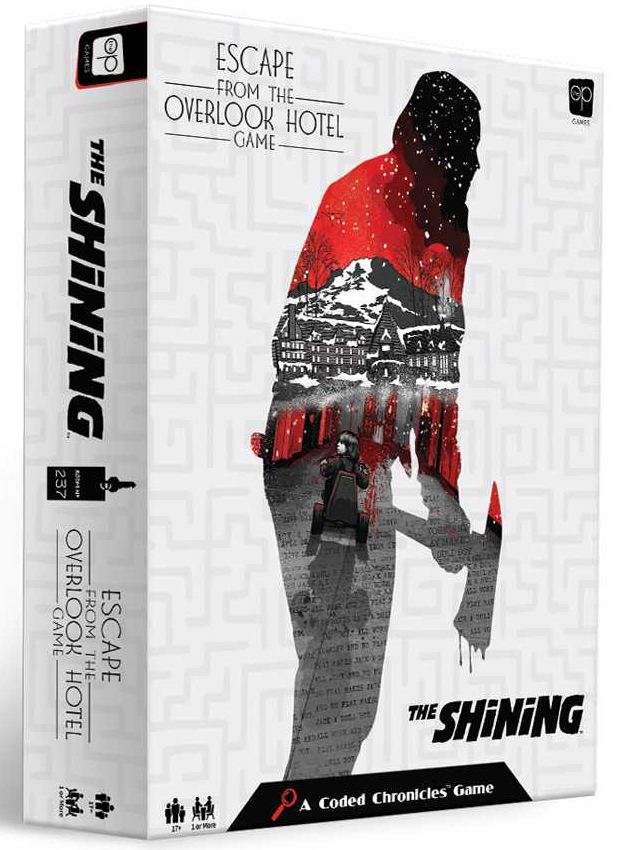 Across the globe, ancient evil is stirring. Now, you and your trusted circle of colleagues must travel around the world, working against all odds to hold back the approaching horror. Foul monsters, brutal encounters and obscure mysteries will take you to your limit and beyond. All the while, you and your fellow investigators must unravel the otherworldly mysteries scattered around the globe in order to push back the gathering mayhem that threatens to overwhelm humanity. The end draws near. Do you have the courage to prevent global destruction?  
Eldritch Horror is a cooperative game of terror and adventure in which one to eight players take the roles of globetrotting investigators working to solve mysteries, gather clues and protect the world from an Ancient One - an elder being intent on destroying our world. Each Ancient One comes with its own unique decks of Mystery and Research cards, which draw you deeper into the lore surrounding each loathsome creature. Discover the true name of Azathoth or battle Cthulhu on the high seas. With twelve unique investigators, two hundred-fifty tokens and over three hundred cards, Eldritch Horror presents an epic, world-spanning adventure with each and every game.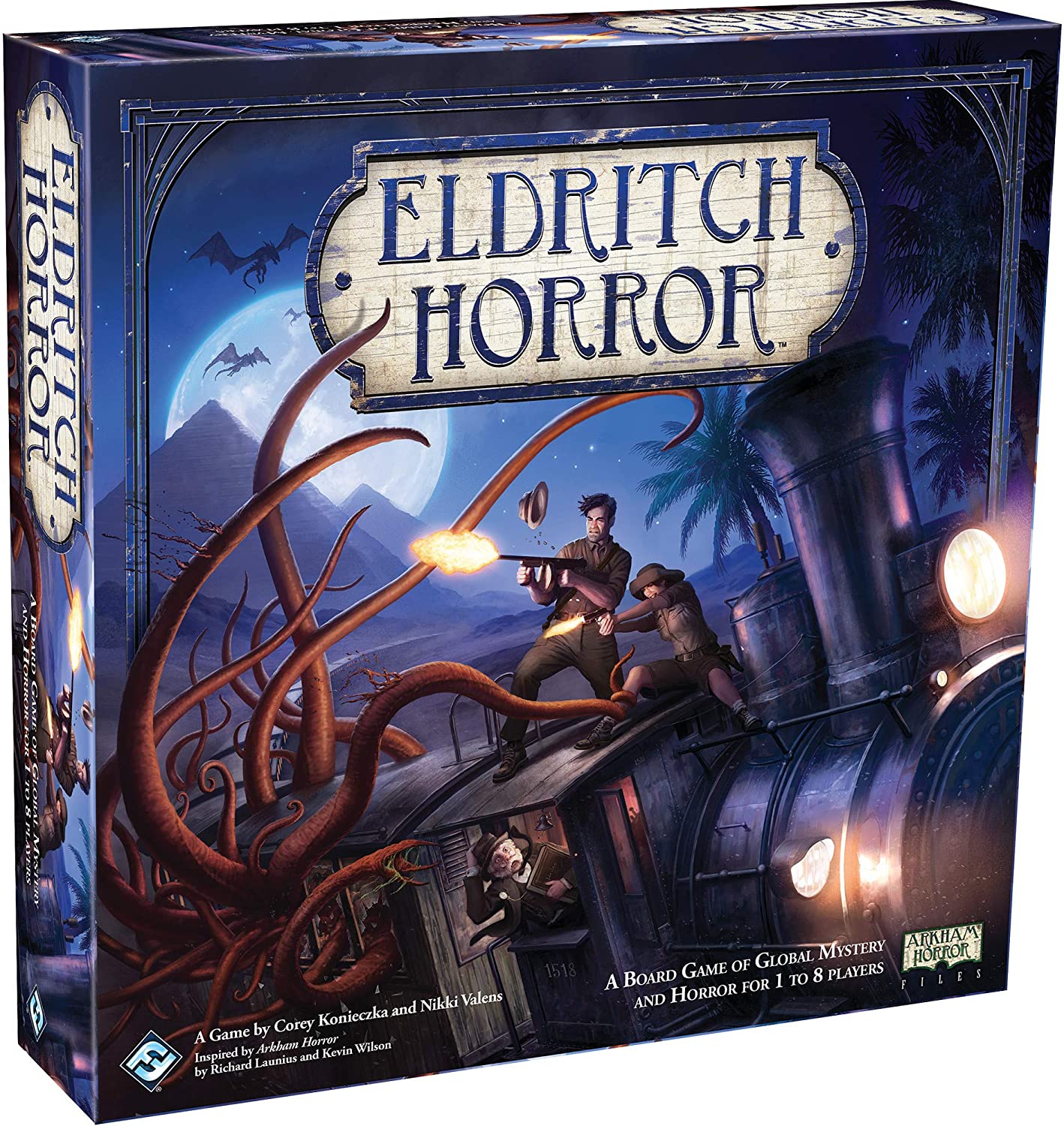 Travel to the heart of the Rocky Mountains to take charge of the Overlook Hotel while it is closed for the winter. Except, you aren't alone... The Shining is a suspenseful game of cooperation, deception and terror! Explore the Overlook Hotel as a Caretaker and test your Willpower against the evil influences lurking there. Can you work together to survive the winter? Or will one of you be corrupted, secretly acting against the other players, trying to make former team members a permanent part of the hotel's bloody history?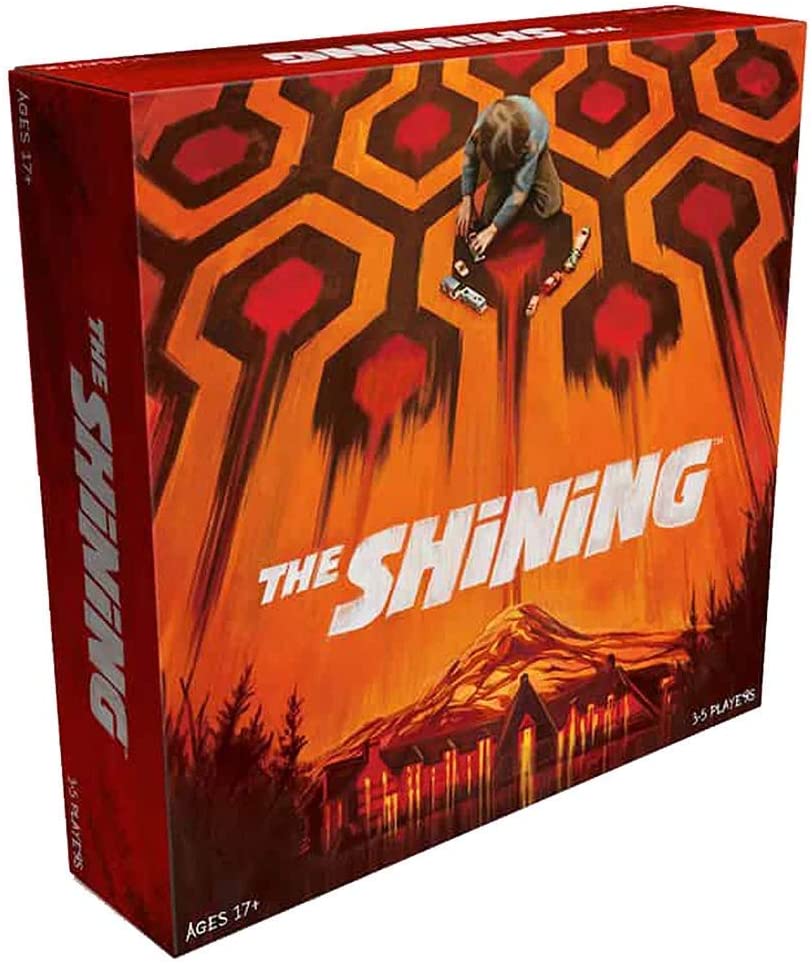 Arkham Horror third edition is a cooperative board game for one to six players who take on the roles of investigators trying to rid the world of Eldritch beings known as ancient ones. Based on the works of H.P. Lovecraft, players will have to gather clues, defeat terrifying monsters, and find tools and allies if they are to stand any chance of defeating the creatures that dwell just beyond the veil of our reality.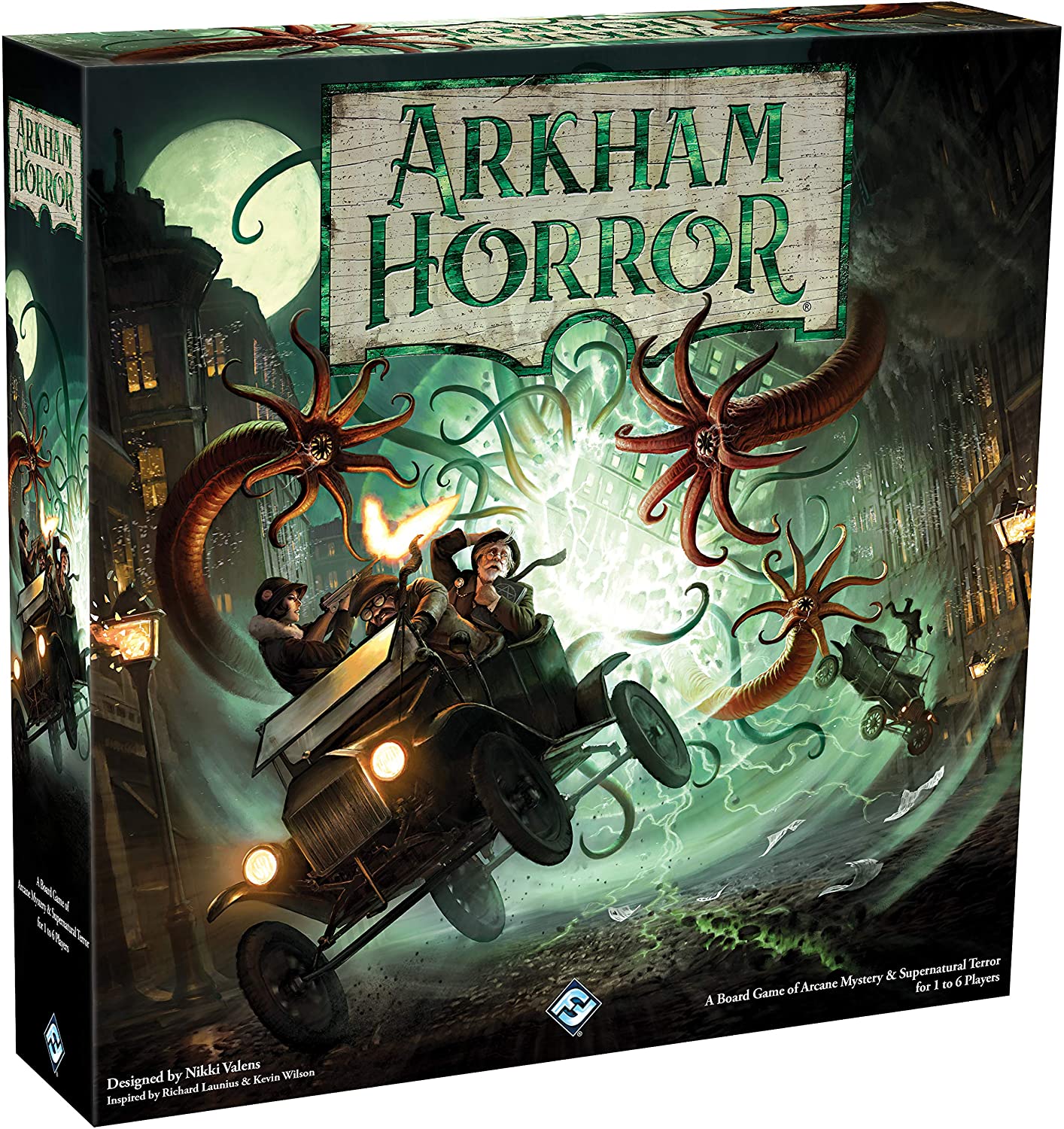 Last Night on Earth: 10th Anniversary Edition
Last Night on Earth is a fast-paced game of brain-eating Zombies, small town Heroes, and horror movie action. Players take on the role of either the Heroes or Zombies. To survive, Hero players must work together and use their cunning and ingenuity (as well as a bit of luck) to make it through the night, while the Zombie players control unending waves of undead, spreading over the town to feed their hunger.
With a cast of horror movie archetype Heroes and hordes of bloodthirsty Zombies, each Scenario is designed to play out like the plot of a movie; desperate Heroes racing against time to accomplish their goals... sometimes it's as simple as just trying to live through the night. So put down that popcorn, grab your shotgun, and hide your brain - the Zombies are coming and this could be your Last Night on Earth!
This 10 Year Anniversary Edition includes a complete and updated version of the classic Last Night on Earth, as well as several new additions! The Experience System and Fire Rules, first introduced in the Timber Peak Expansion, have been integrated into the original game, as well as some new Zombie cards, Hero cards, a new set of Upgrade cards, and a brand new scenario "Broken Down"!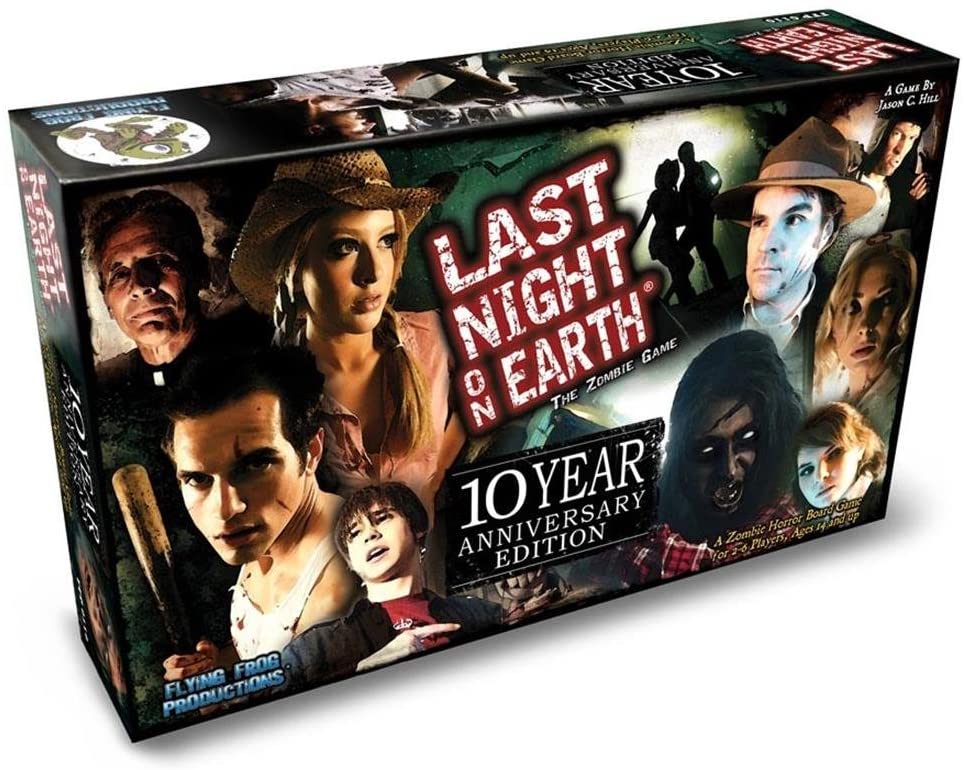 ReAnimator is a cooperative mystery-story board game for 1-4 players. Players will work together taking on the role of the narrator from Lovecraft's original story in order to perfect the protagonist's experimental reanimation serum. Classic characters including Herbert West, the City Watch, and the Undead wander through Arkham to help or hinder the players as they undertake their profane task. Subplot decks of cards will develop your story through gameplay, forcing players to respond to new adventures and challenges only the world of the ReAnimator can provide! Players play through six iconic serials akin to the original novel series with modified enhancements from the comics.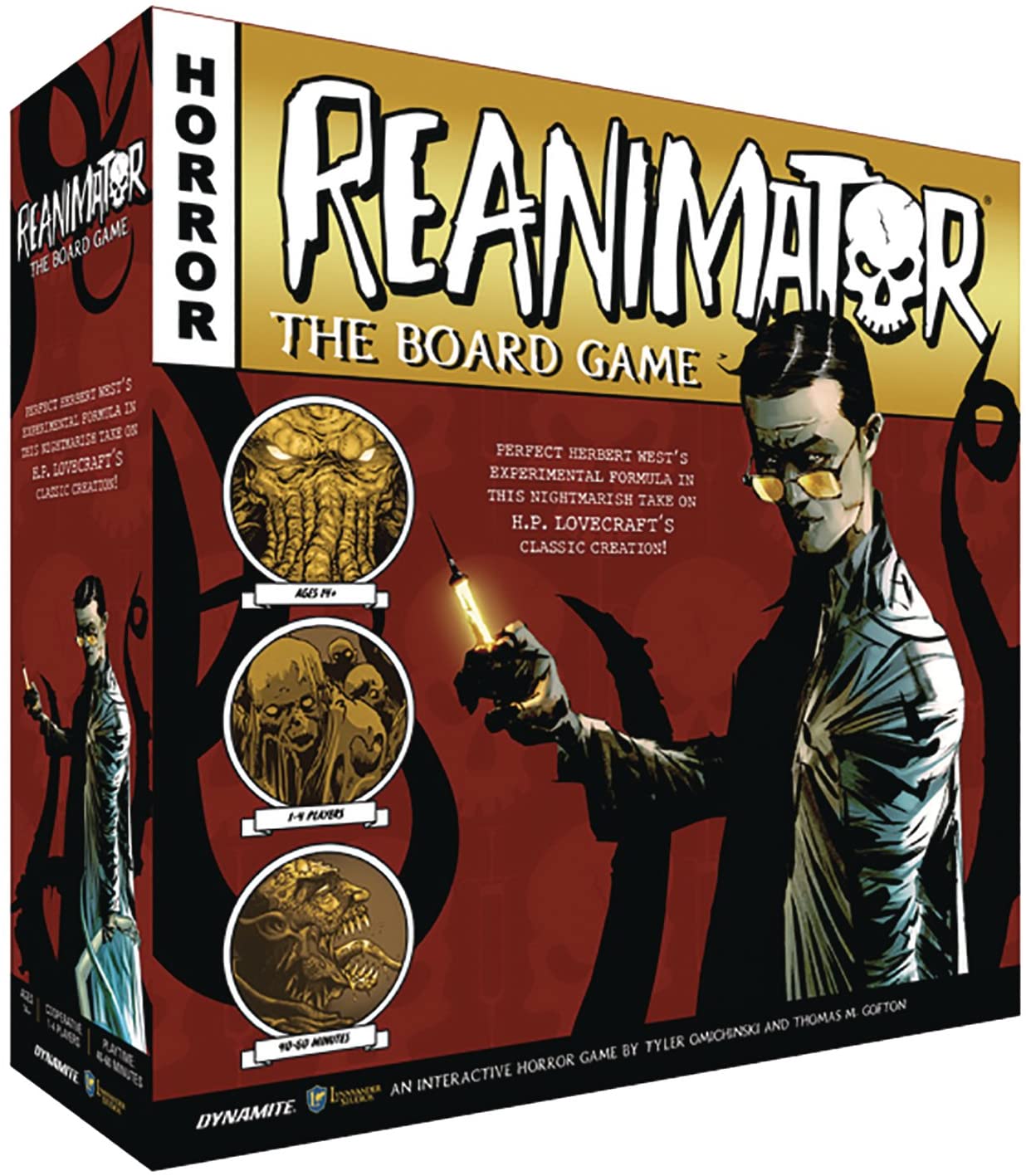 This is the game of dark fun, where players who are dead right win! Many people die in utterly ridiculous ways, and Stupid Deaths challenges players to identify myth versus fact. In this hilarious party game, players work to beat the Grim Reaper before the Grim Reaper beats them.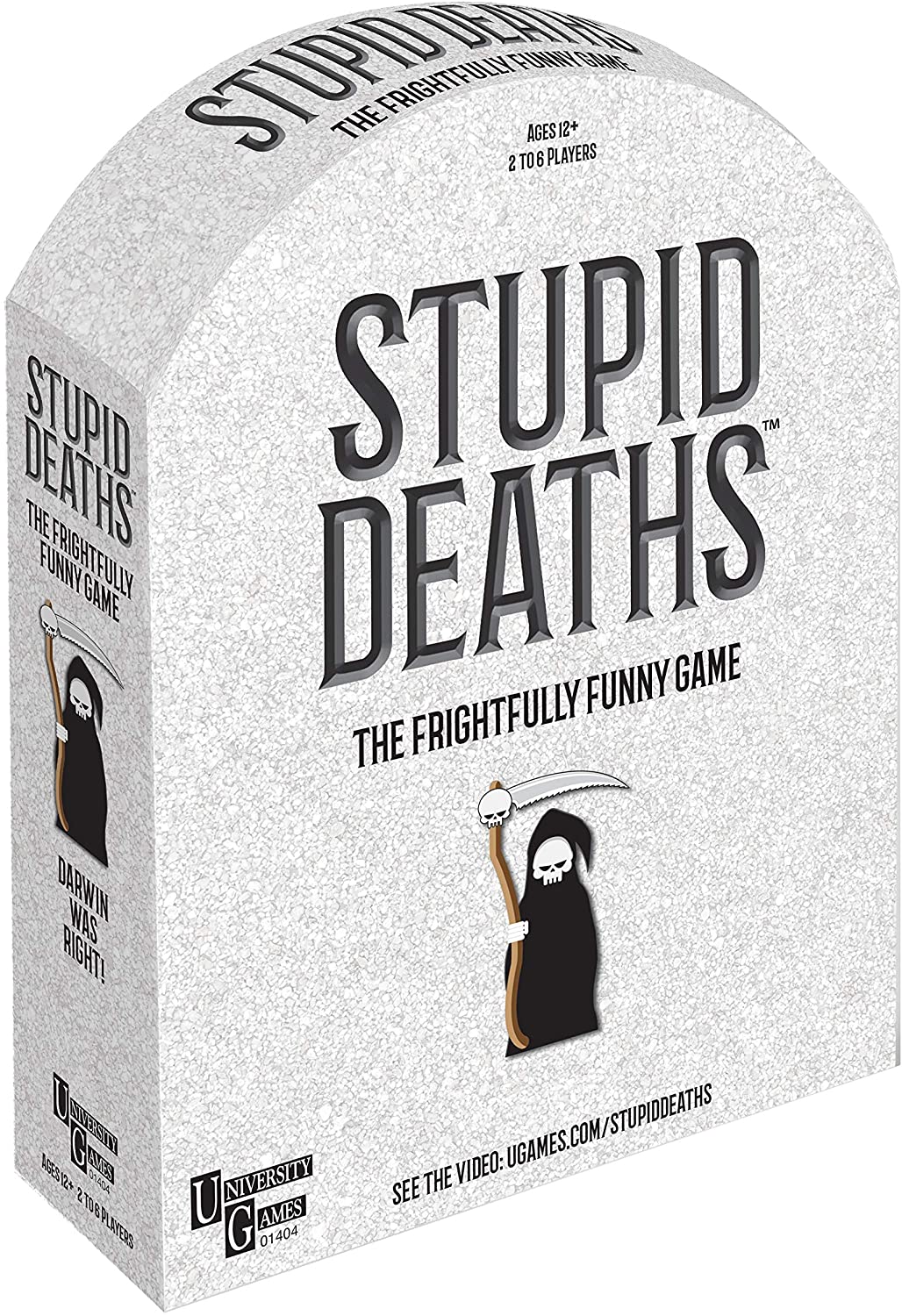 Summer 1980. Five friends were hired as counselors by the new owners of a camp in the woods, to patch up the property in exchange for a free vacation. . . but now they're just trying to survive the weekend.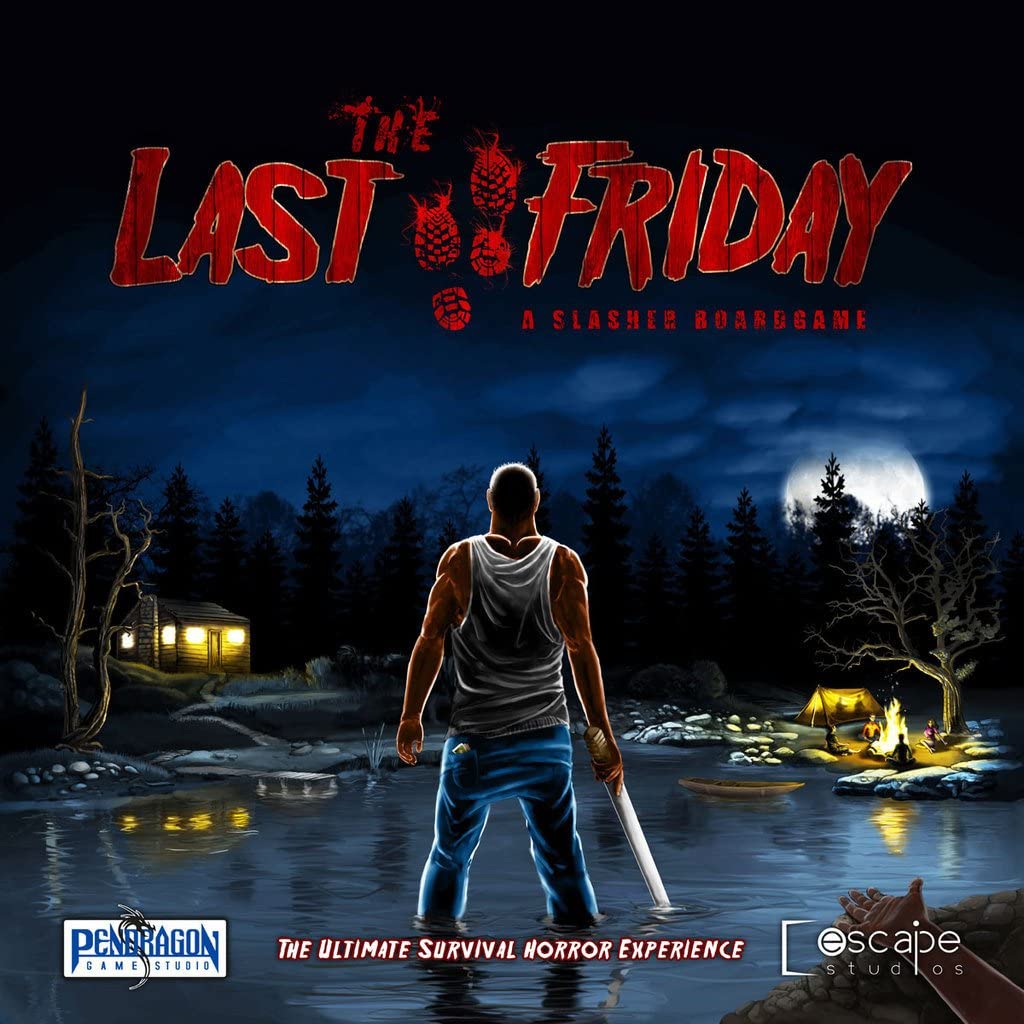 JENGA: Godzilla Extreme Edition
Beyond belief… GODZILLA is on the rampage again! With JENGA® GODZILLA Extreme Edition, the titan of terror is trying to bring your tower down with a heat ray. Featuring custom game play, players remove and replace blocks according to the directives to keep it standing through every threatening roll of the die. Beware, GODZILLA marches toward the tower raising the threat of destruction with every step!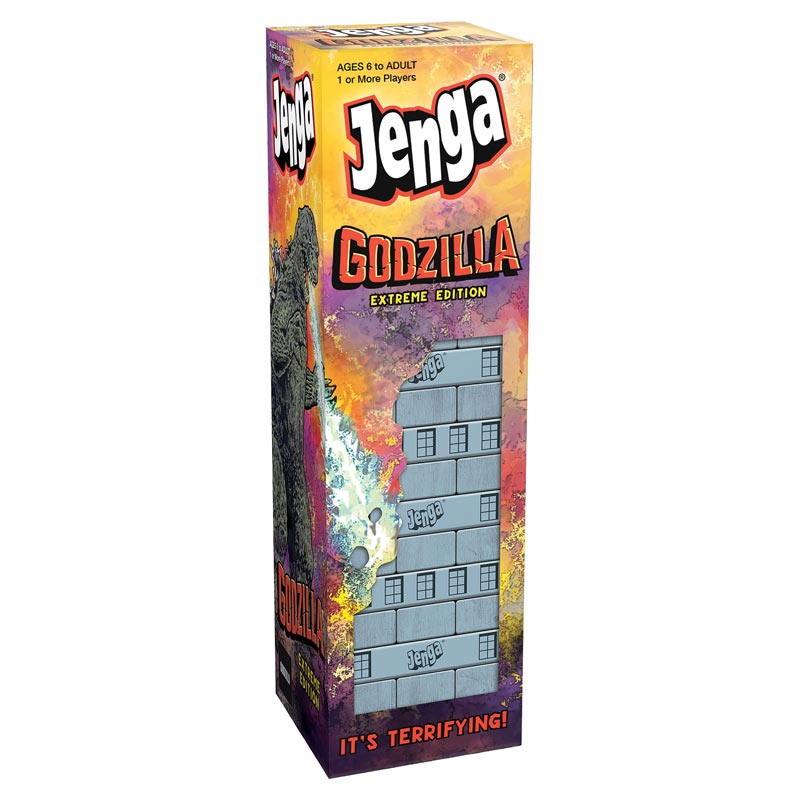 Unmatched: Buffy the Vampire Slayer
Unmatched: Buffy the Vampire Slayer features four heroes. Buffy will hit you with Mr. Pointy or summon her Slayer's strength for a cartwheel kick. When it's time for backup, she'll take her pick between insightful Giles or reliable Xander. Spike, a relentless hunter, seeks the shadows and calls on Drusilla's Sight to let him know just where and when to strike. Willow, a peerless witch, dabbles in black magic and risks her darker self, potent but dangerous. At times, only Tara can bring her back from the brink of the abyss. Angel, once the Scourge of Europe, is cursed with a soul, conflicted by his victories and taking solace in his losses. Faith is there to make sure things stay "Five by Five".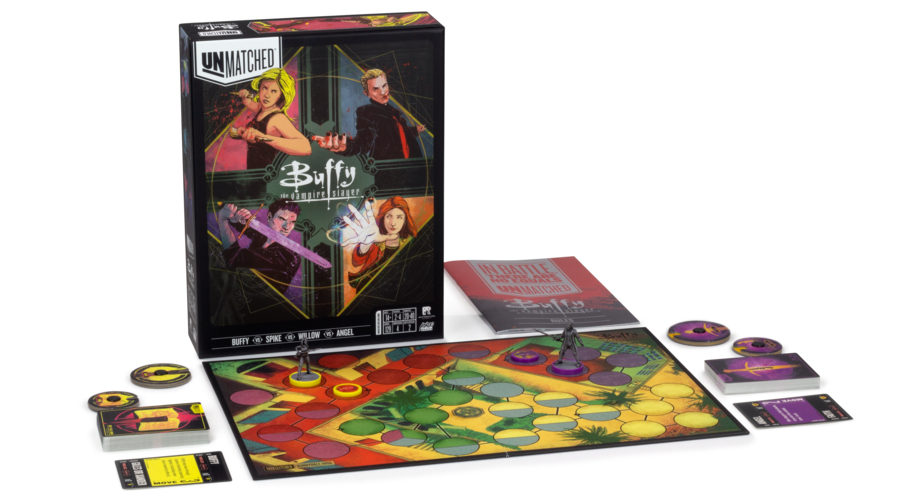 Unmatched: Jurassic Park – InGen vs. Raptors
"They show extreme intelligence, even problem-solving intelligence. Especially the big one." He has hunted many a dangerous predator, but against a pack of raptors, is Robert Muldoon the hunter or the hunted? In Unmatched: Jurassic Park – InGen vs Raptors, these clever girls use their speed and agility to surround their prey, getting stronger when they attack together. InGen's Game Warden and his Security Team lay traps to slow their opponent down and attack from range in a matchup 65 million years in the making.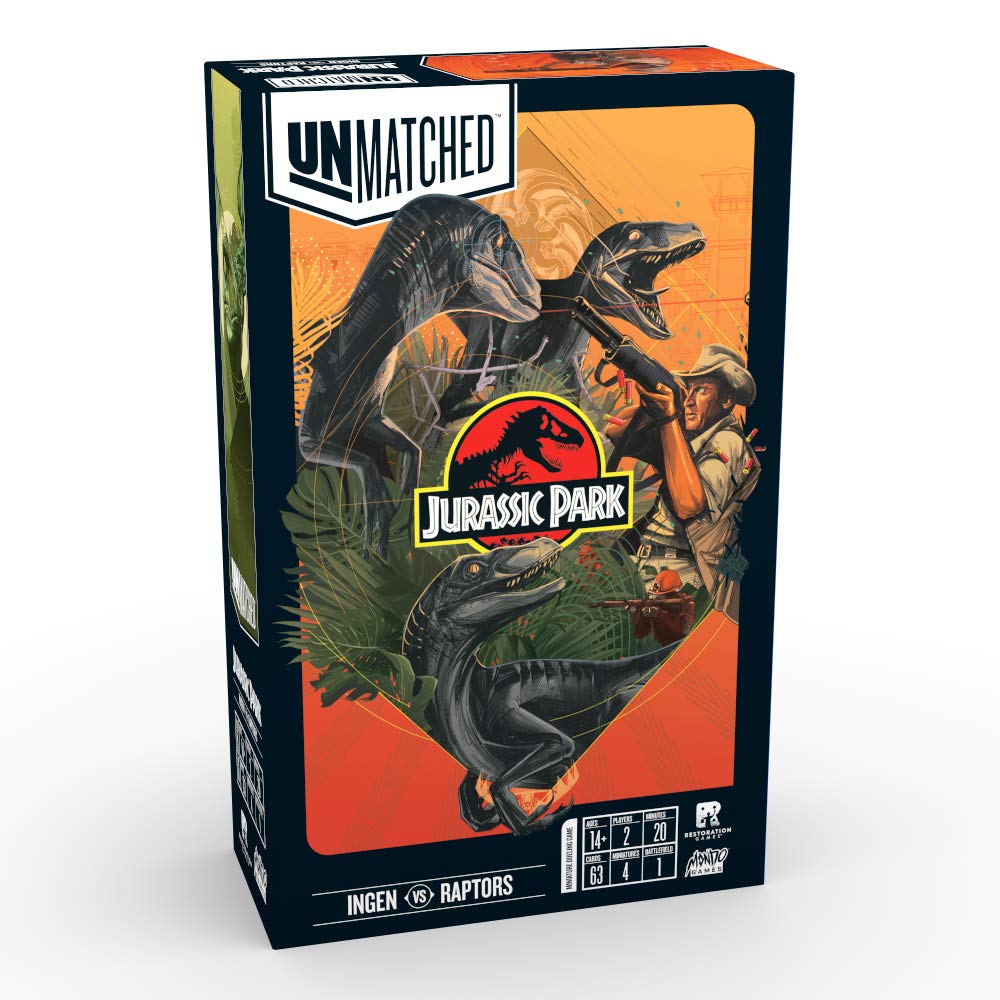 DICE GAMES:
Take Jason Voorhees to your next game night with this Camp Crystal Lake-approved set of dice! This 6-sided dice set features the masked serial killer and graphics from the classic 80s slasher film including Jason's mask, the Camp Crystal Lake sign, bloody axe, handprint, and more.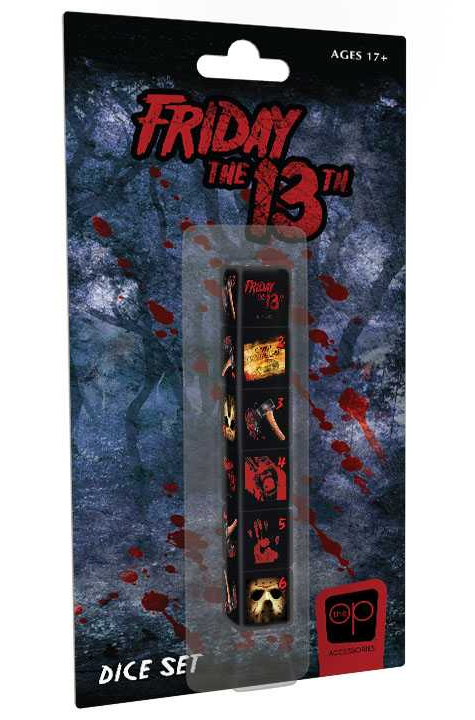 Take "The Ghost with the Most" to your next game night with this Neitherworld-approved set of dice! This 6-sided dice set features your favorite characters from the classic 80s dark comedy including Beetlejuice, transformed Andy and Barbara Maitland, Sandworm, and more.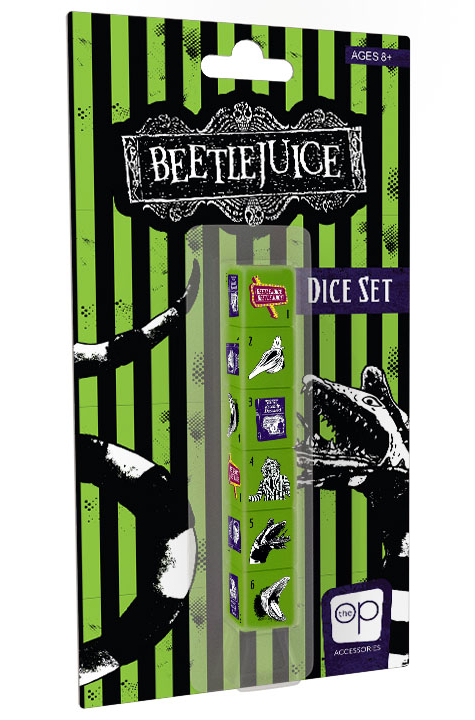 Take creepy visuals from The Shining to your next game night with this Overlook Hotel-approved set of dice! This 6-sided dice set features silhouettes from the classic horror film including axe-wielding Jack, Danny, REDRUM, typewriter, maze, and the Grady twins in black and white.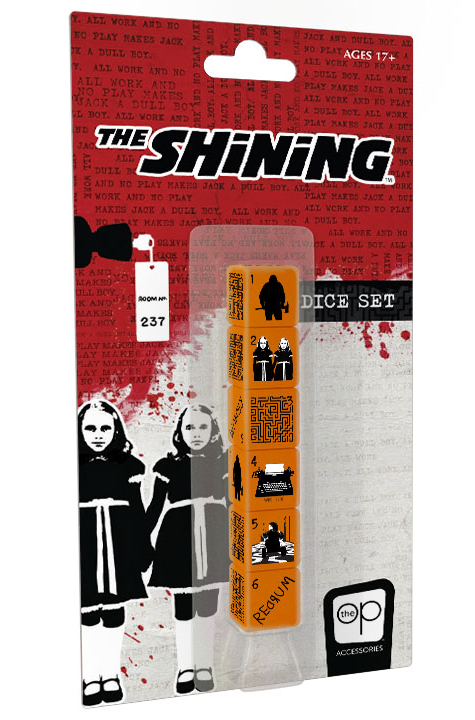 MONOPOLY:
Want a balloon? Immerse yourself in the horror that fills the town of Derry in this IT inspired rendition of Monopoly. This essential for Stephen King fans features custom Losers' Club currency and tokens sculpted after significant items from IT. As one of six iconic tokens, travel around locations found in the dangerous town of Derry to defeat your opponents.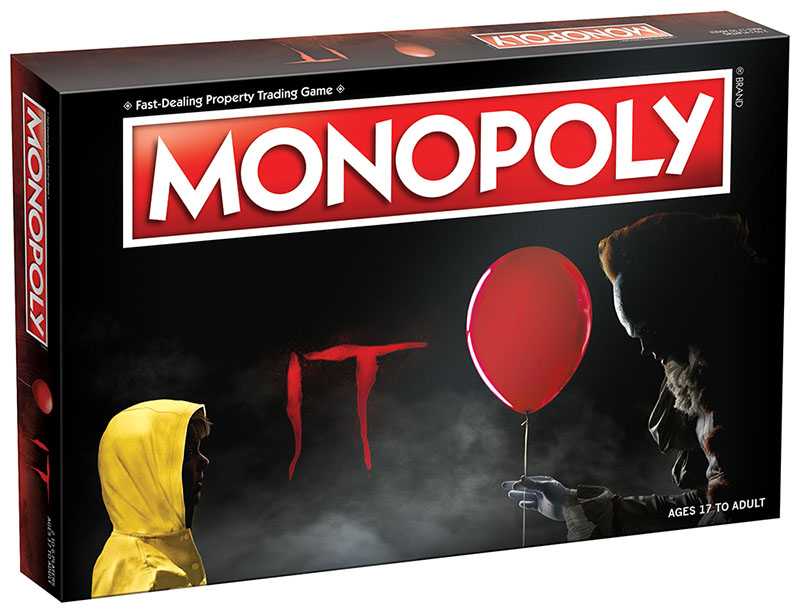 Demolish the competition in a city-terrorizing twist on the classic board game with MONOPOLY®: Godzilla. Begin the invasion by buying, selling and trading locations like Monster Island, Goro's Workshop, and Kitakami Lake and take over the board with Facilities and Bases. Custom sculpted tokens of giants such as Mothra, Godzilla, King Ghidorah, and Mechagodzilla easily impose on anything in their path!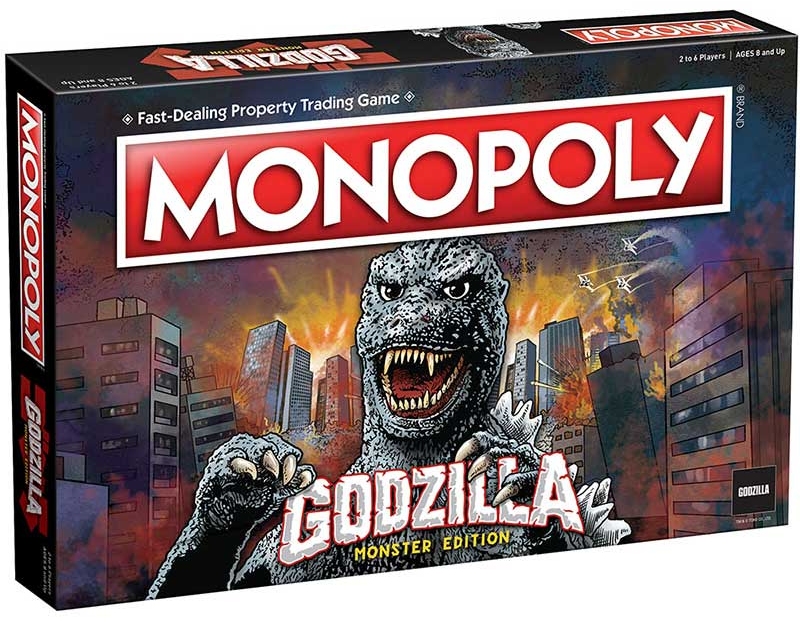 In the Monopoly Game: Stranger Things Collector's Edition, the Upside Down looms larger than ever before! Fans of the Netflix Original Series can enjoy an awesome unboxing experience with artwork inspired by the show. Players race between the tunnels under Hawkins to buy as many properties as they can. Instead of Houses and Hotels, this edition of the Monopoly board game features Forts and Hideouts – and the Hideouts glow in the dark. Look out for the Upside Down cards -- they can provide special powers and change a fortune! The last player with money when all other players have gone bankrupt wins.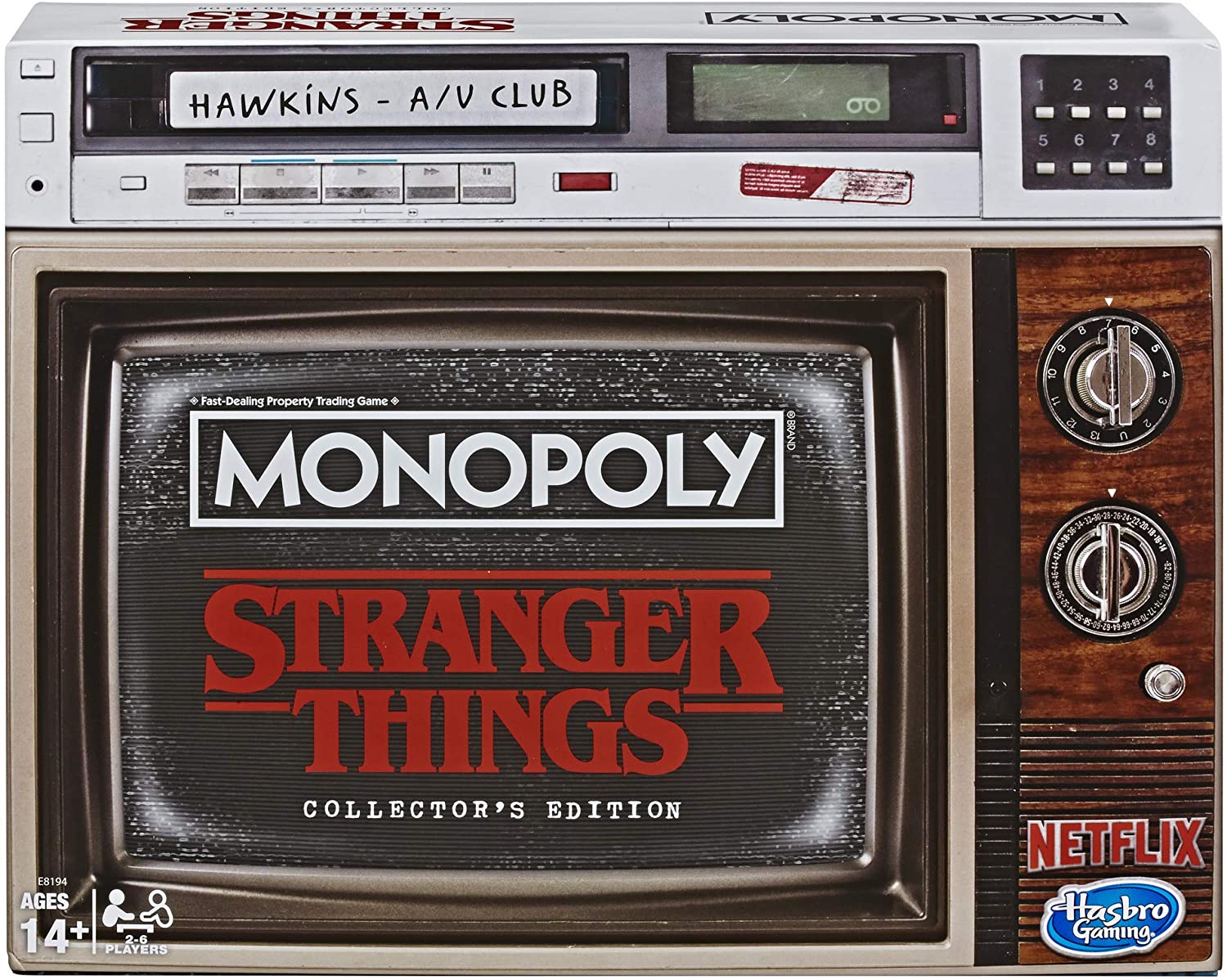 In this Monopoly Board Game: Ghostbusters Edition, players travel around the board buying up Ghostbusting contracts. The game features scenes, characters, tokens, and artwork inspired by the original Ghostbuster movie. Landing on a Supernatural Entity space has players teaming up to battle Slimer, Stay Puft, Library Ghost, or Vinz Clortho to save the city! The last player with petty cash when all other players have gone bankrupt wins!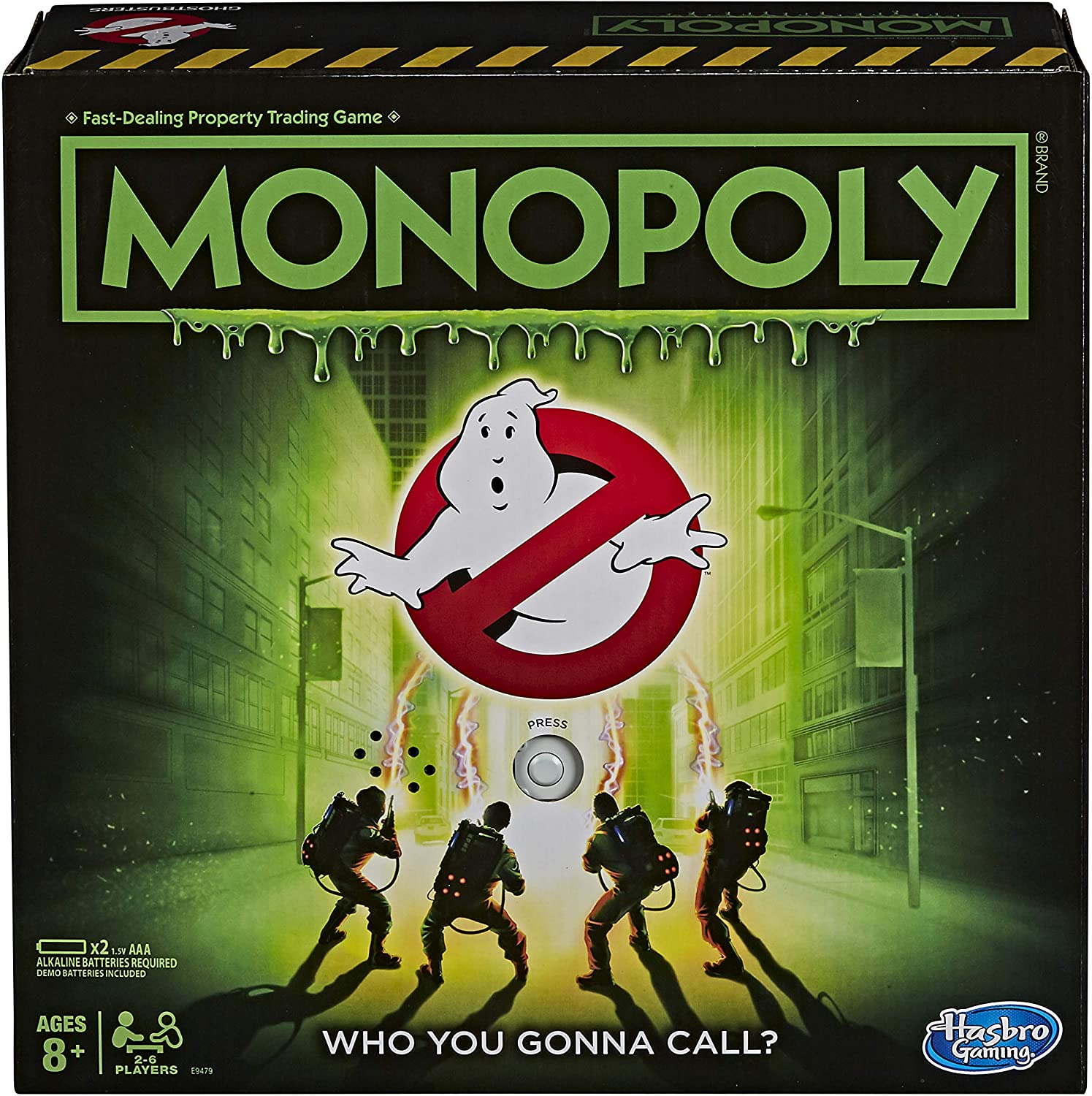 CLUE:
Taking on the roles of the kids from IT, players will move around the game board representing locations in and around the town of Derry, Maine to determine WHO Pennywise will abduct, WHAT object he will use to lure them, and WHERE he will take them from.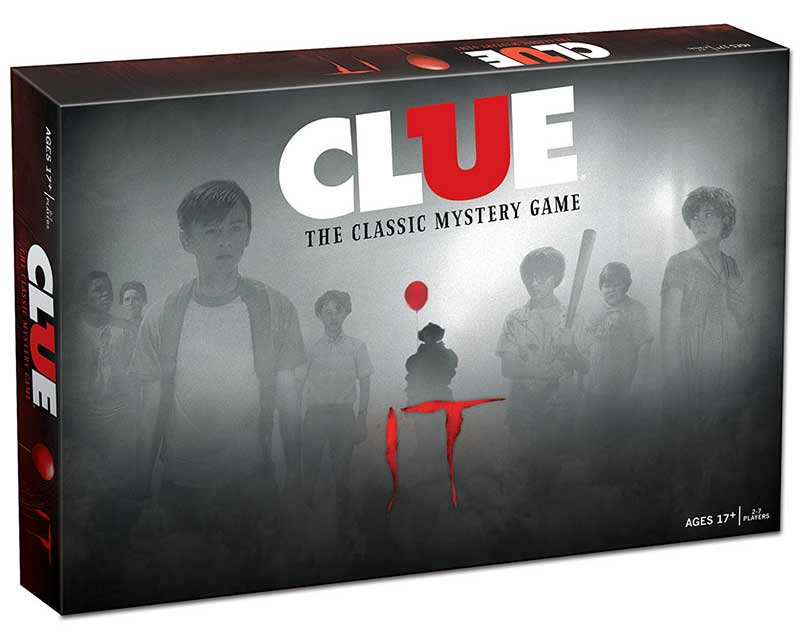 CLUE: Chilling Adventures of Sabrina
Enter the world of the hit series, The Chilling Adventures of Sabrina. Father Blackwood has announced that Hilda Spellman has been murdered and she lies pale and rigid in Spellman Mortuary. By process of elimination, players figure out who killed her, with what weapon, and where the murder took place. Was it Harvey Kinkle with a poisonous potion in the Academy of Unseen Arts? Perhaps it was Prudence Blackwood with a mortuary knife in Dorian's Gray Room. Move from location to location in the town of Greendale making suggestions, and narrow down the possibilities as other players show their cards. Once a player thinks they've solved the murder and makes an accusation, check the Spellman Mortuary envelope to see if they're right. A correct accusation wins the game.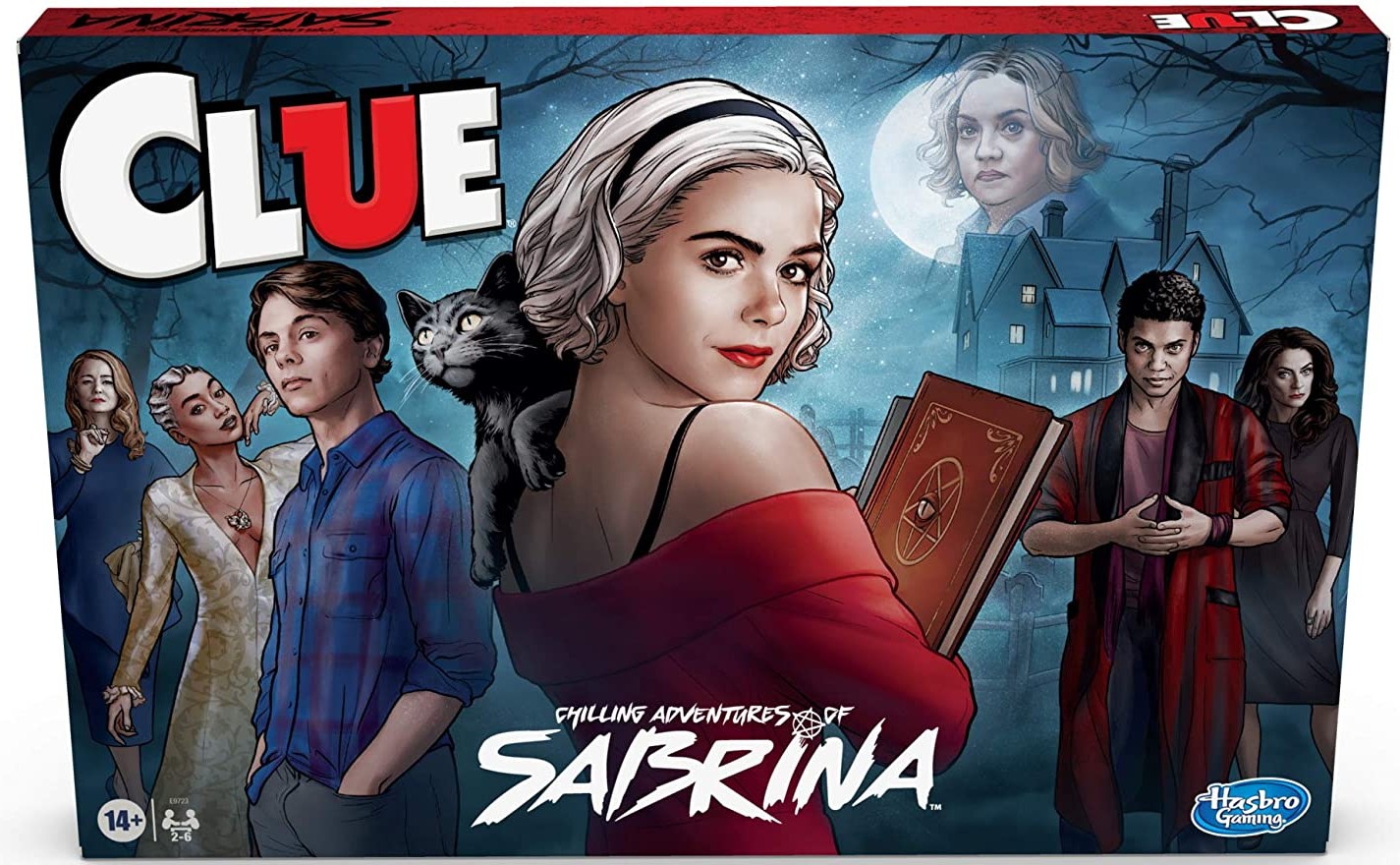 PUZZLES:
On top of being awesome at everything else, Mondo has really stepped up their puzzle game as of late, and they have a TON of great movie-themed puzzles that would make for perfect gifts for anyone this holiday season. Here's a look at just a handful of their selections:
Mandy 252-Piece 2-Sided Puzzle
Big Trouble in Little China 1000-Piece Puzzle
Planet of the Apes 1000-Piece Puzzle
Back to the Future 1000-Piece Puzzle
The Wolf Man 1000-Piece Puzzle
Frankenstein 1000-Piece Puzzle
Revenge of the Creature 1000-Piece Puzzle
Jurassic Park 1000-Piece Puzzle
I'm a big fan of Messed Up Puzzles, and spent quite a lot of time earlier this year putting together their Silent Night Deadly Night puzzle early on during lockdown. Their puzzles are high quality and provide for hours of entertainment, and I cannot recommend them enough. Here are just a few of their killer designs:
Silent Night Deadly Night Jigsaw Puzzle
USAOPOLY:
USAOPOLY is the company behind so many pop-culture inspired games, but they've also gotten into the puzzle game as of late, and here are just a few designs I thought genre fans would dig:
Beetlejuice Graveyard Wedding 1000-Piece Puzzle
The Shining Come Play With Us 1000-Piece Puzzle
IT Chapter 2 "Return to Derry" 1000-Piece Puzzle
REDBUBBLE:
If you want to support some indie artists who created their own puzzles over on Redbubble, here's an assortment of designs that I thought were pretty fun that horror aficionados would enjoy. There are tons more, but I know for sure that these are definitely in the clear when it comes to any potential copyright issues (which has become a thing this year):
The Bride of Frankenstein Puzzle
Retro Horror VHS Artwork – 1980 Puzzle
Retro Horror VHS Artwork – 1981 Puzzle
Retro Horror VHS Artwork – 1982 Puzzle
Retro Horror VHS Artwork – 1983 Puzzle
Retro Horror VHS Artwork – 1984 Puzzle
Retro Horror VHS Artwork – 1985 Puzzle
Stephen King Book Cover Collage Puzzle
---------
Be sure to check back here for more horror gift guide installments, and happy holidays to our readers from all of us at Daily Dead!