Hello, dear readers! With December officially here, that means that the 2021 holiday shopping season is well underway as we're now only a little over three weeks away from the Christmas holiday weekend. For today's installment of Daily Dead's 2021 Holiday Gift Guide, we're taking a look at a bunch of great horror games and puzzles that would make for killer gifts to find under the tree this year.
Check out our highlighted horror games and puzzles below and be sure to head back here tomorrow for the final installment of our 2021 HGG. 
Happy Shopping!
GAMES:
Mixtape Massacre is a tabletop board game where up to 6 players play as slasher archetypes and compete in a fictional 1986 killing spree to be remembered. With tons of jokes and references to 1980's pop-culture and horror tropes – Mixtape Massacre will have you laughing while you're slashing!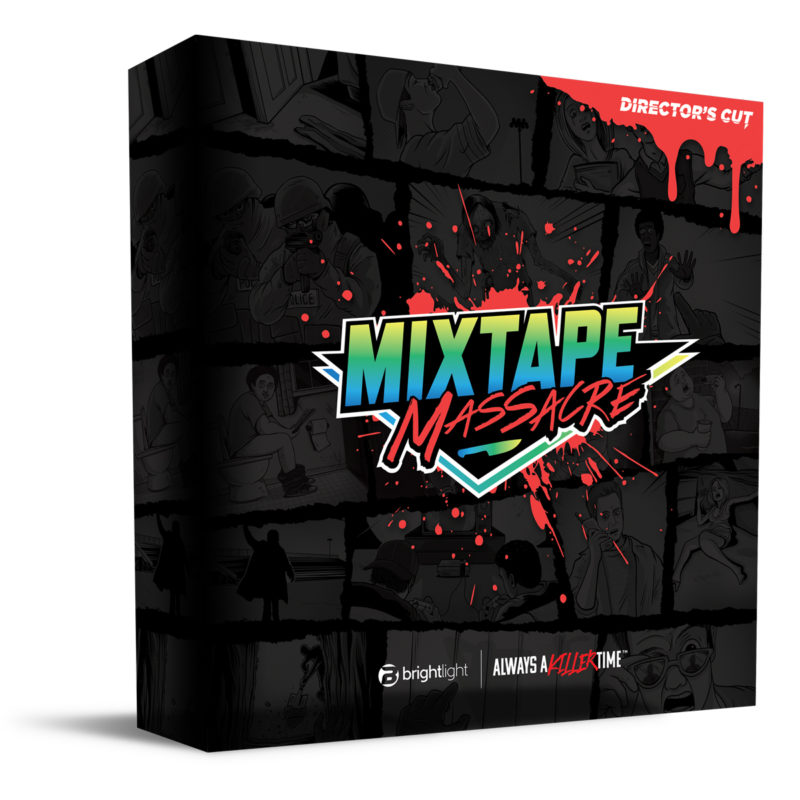 Mixtape Massacre: Escape from Tall Oaks is a meta-cooperative game where 2 to 6 players attempt to escape the maddening streets of Tall Oaks by fighting off slashers, rescuing residents, and safeguarding the town in hopes of getting the hell outta town…or die trying. Though working together at times, in the end only one survivor will escape. Welcome back to Tall Oaks. Now run like hell.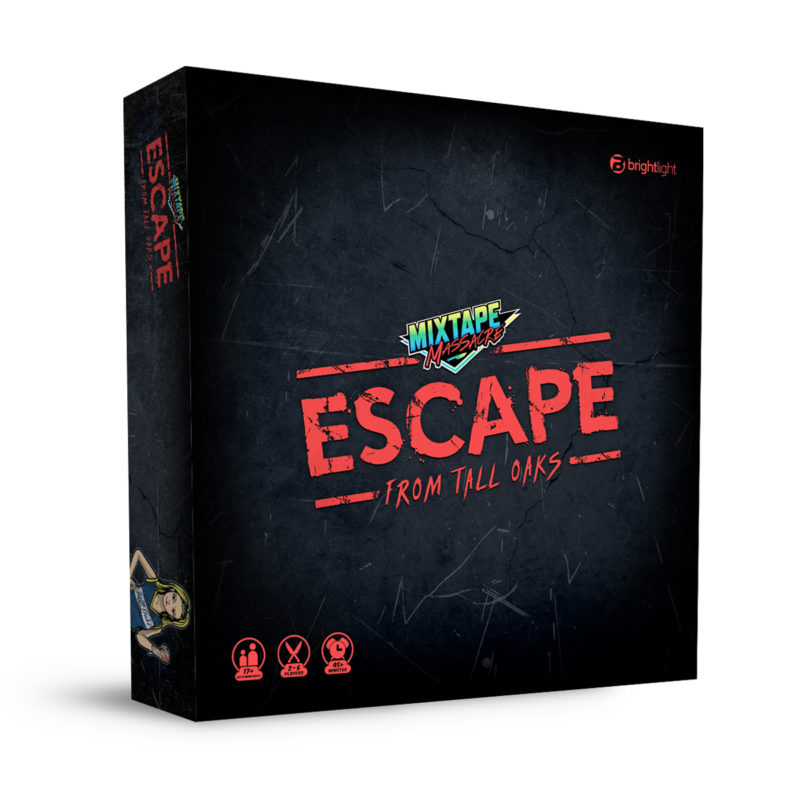 Escape from Tall Oaks (EFTO) is a meta-cooperative game where 2 to 6 players attempt to escape the maddening streets of Tall Oaks by fighting off slashers, rescuing residents, and safeguarding the town in hopes of getting the hell outta town…or die trying. Though working together at times, in the end only one survivor will escape.
This "Make Your Escape" Bundle also includes all compatible expansions and 2 EFTO booster packs to create the ultimate game night with multiple game modes for you and your friends.
Included in this exclusive bundle:
The Great Escape – Supplies Pack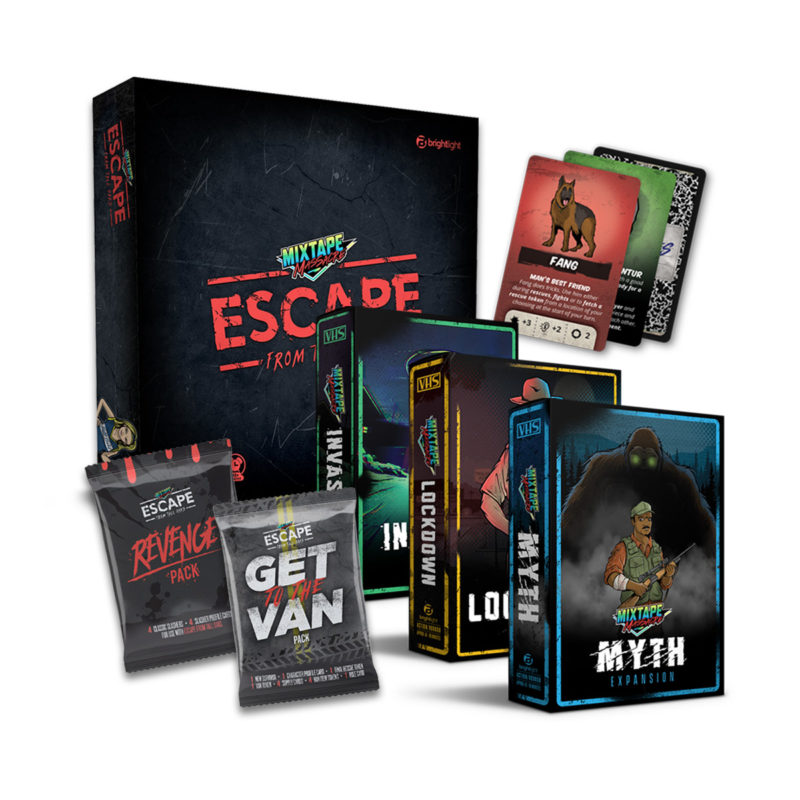 Hunt a Killer: Blair Witch (Season 1)
Hunt A Killer's horror season, Blair Witch, is now available as a terrifying box set! This self-directed storyline is perfect for an experienced detective looking to test their skills against the supernatural forces that lurk in the woods. When Rosemary Kent's son, Liam, goes missing under mysterious circumstances, she looks to you to help uncover the truth and find her son. The Burkittsville police deem Liam a runaway, but Rosemary thinks something far worse may have happened in the Black Hills Forest. Can you survive the woods?
Receive all 6 episodes at once (that's 10-15 hours of gameplay!).

No subscription required.
Experience the

supernatural forces of the Blair Witch

like never before in this narrative-driven psychological thriller.
Use your detective skills to

decode ciphers, solve cryptic puzzles

, and uncover the history of Burkittsville.
Trivial Pursuit: Horror Ultimate Edition
There's no turning back from TRIVIAL PURSUIT: HORROR ULTIMATE EDITION! Explore the darkest corners of pop culture in this fact-based challenge where survival skills are a must! 1800 blood-curdling questions from across all horror genres will test your mastery of the macabre. Rely on your skill and luck to make it out alive through six comprehensive categories: Gore & Disturbing, Psychological, Killer, Monster, Paranormal, and Comedy.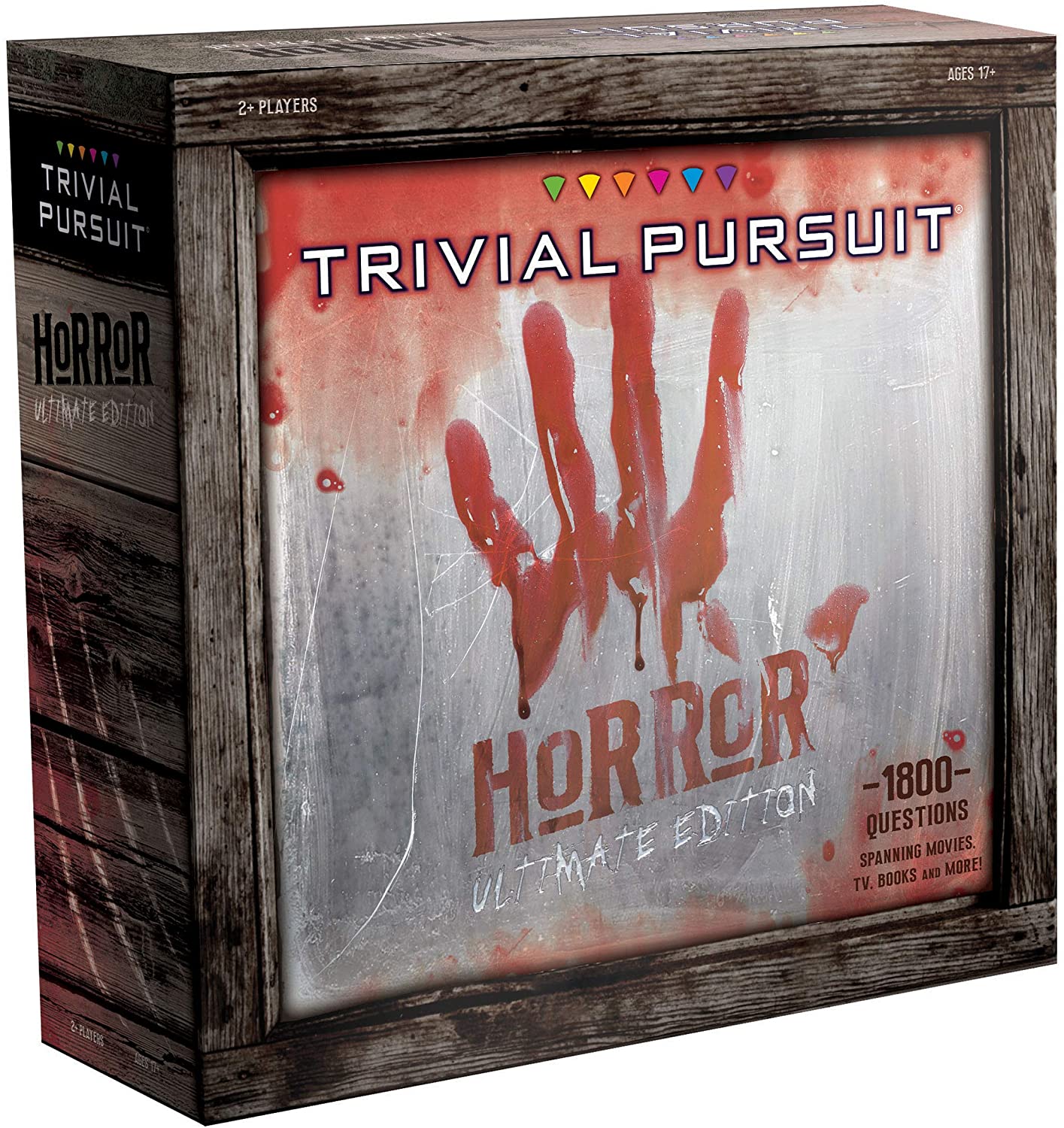 Horrified: Universal Monsters Strategy Board Game
Imagine living in a place so wretched that it's not plagued by one, two, or even three monsters, but seven of the most horrifying fiends you've ever heard of. In this game, you'll come face to face with them all as you work together to rid the town of these maniacal or misunderstood creatures... Before it's too late.
PLAY TOGETHER: Playable with family and friends and more fun with groups between 4-10 people. The ultimate horror movie game for you and your scary movie loving friends! This HorrorBox card game comes with 420 freaky cards!
STAY IN: Haunted houses are overrated anyways! Alice Cooper's HorrorBox is perfect for your scary Halloween game night in. From complimenting Annabelle's hair, beating "The Ring" because you don't have a VHS player or even a scientologist zombie, this frightening card game has something for your night indoors.
GIVING: Know someone who loves Michael Myers, movie trivia, and a good laugh? The HorrorBox is the perfect Friday the 13th game for them. This Freddy Krueger friendly card game will have them bringing a haunted doll to a gun fight, making eye contact with themselves or even defending Jason's mother with this inappropriate scary gift!
JAM OUT: The HorrorBox is Alice Cooper approved! Listen to our partner Alice Cooper when playing this adult party game. His classic rock music will "Poison" your mind and have you yelling "School's Out"
WARNING: This game was created for ages 18+. Because scary games are for adults. Remember, this Halloween party game is NSFW! Here is a frightening reminder: This is the full card game, but check out our numerous expansion packs with focuses ranging from Aliens, to our Alice Cooper Edition, and even Monsters to test your limits.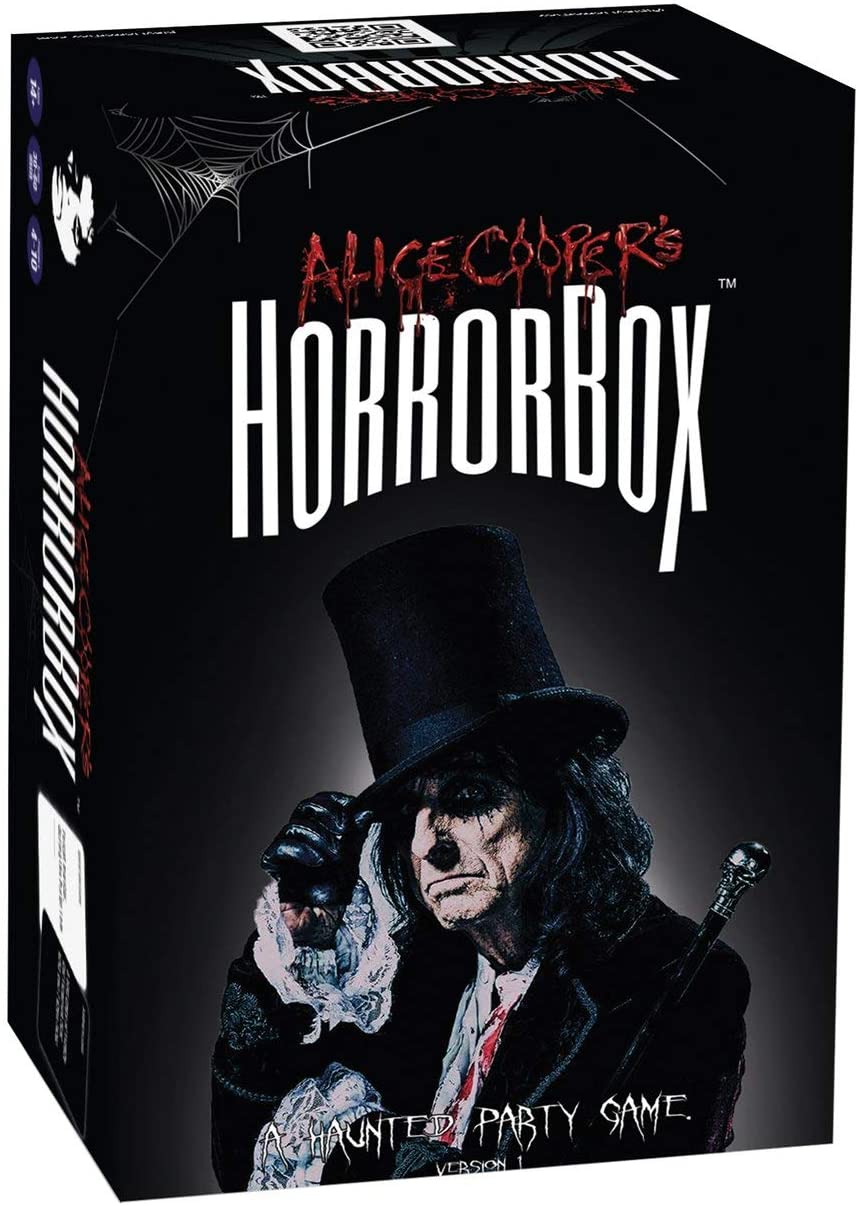 Scooby-Doo: Escape from the Haunted Mansion
Step into the roles of Scooby-Doo and the Mystery Inc. gang as you work to solve the mystery in Scooby-Doo: Escape from the Haunted Mansion. Work together to decode over 50 clues and find your way out of the haunted mansion in this cooperative Coded Chronicles game, an officially licensed escape room board game great for Scooby-Doo fans.
Coded Chronicles is an at-home escape room style game where players work together to unlock clues and solve puzzles by using a unique code revealing mechanic. Each game offers a unique storyline and objective to provide a one-of-a-kind game-play experience.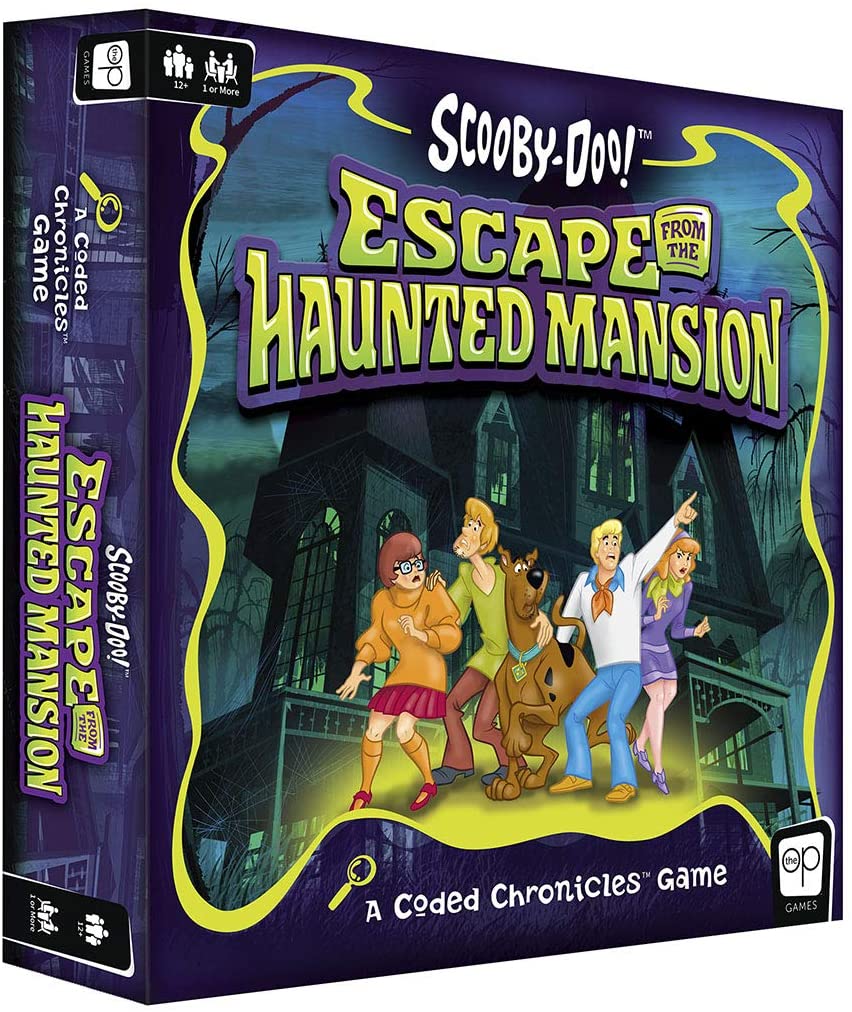 Death by Trivia will either make you shiver with delight or quiver with fear. This game lets players test their knowledge of the dark, disturbing, debauched and diabolical. It's splattered with humor and is easy to learn too. Players compete to be the last person left alive. Wrong answers can get you killed. Correct answers can keep you alive. Simple.
Funko Godzilla Tokyo Clash Board Game
Play as famous Kaiju, with each player selecting to be either Godzilla, Mothra, King Ghiborah, or Megalon, and battle to see which monster will reign as king!
Plan your strategy to gain energy by destroying select targets in order to use your Kaiju's special abilities to defeat the other monsters.
It's a race to establish dominance before the humans are able to deploy their special game ending weapon.
4 stunning massive Kaiju miniatures!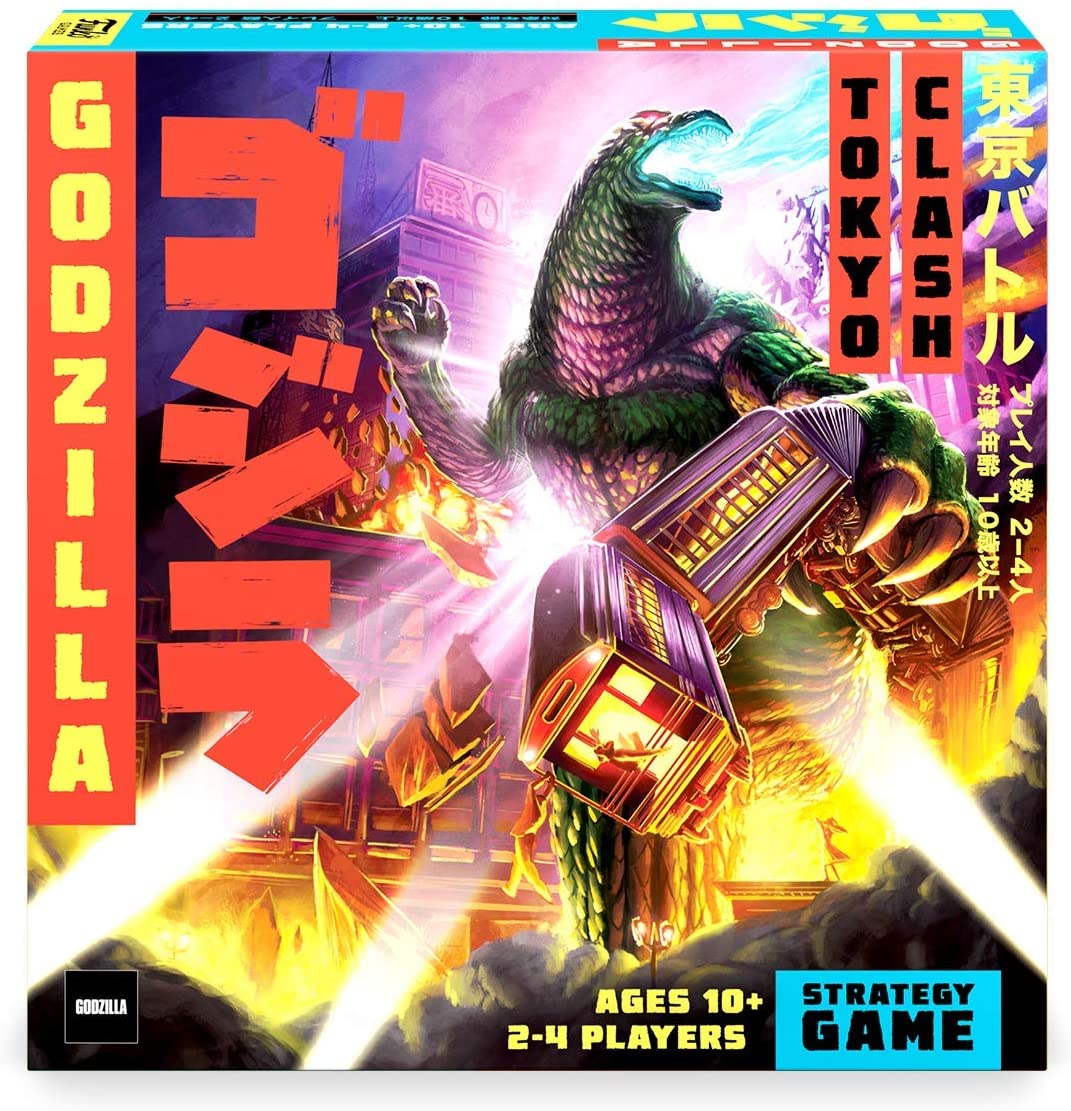 Travel to the heart of the Rocky Mountains to take charge of the Overlook Hotel while it is closed for the winter. Except, you aren't alone... The Shining is a suspenseful game of cooperation, deception and terror! Explore the Overlook Hotel as a Caretaker and test your Willpower against the evil influences lurking there. Can you work together to survive the winter? Or will one of you be corrupted, secretly acting against the other players, trying to make former team members a permanent part of the hotel's bloody history?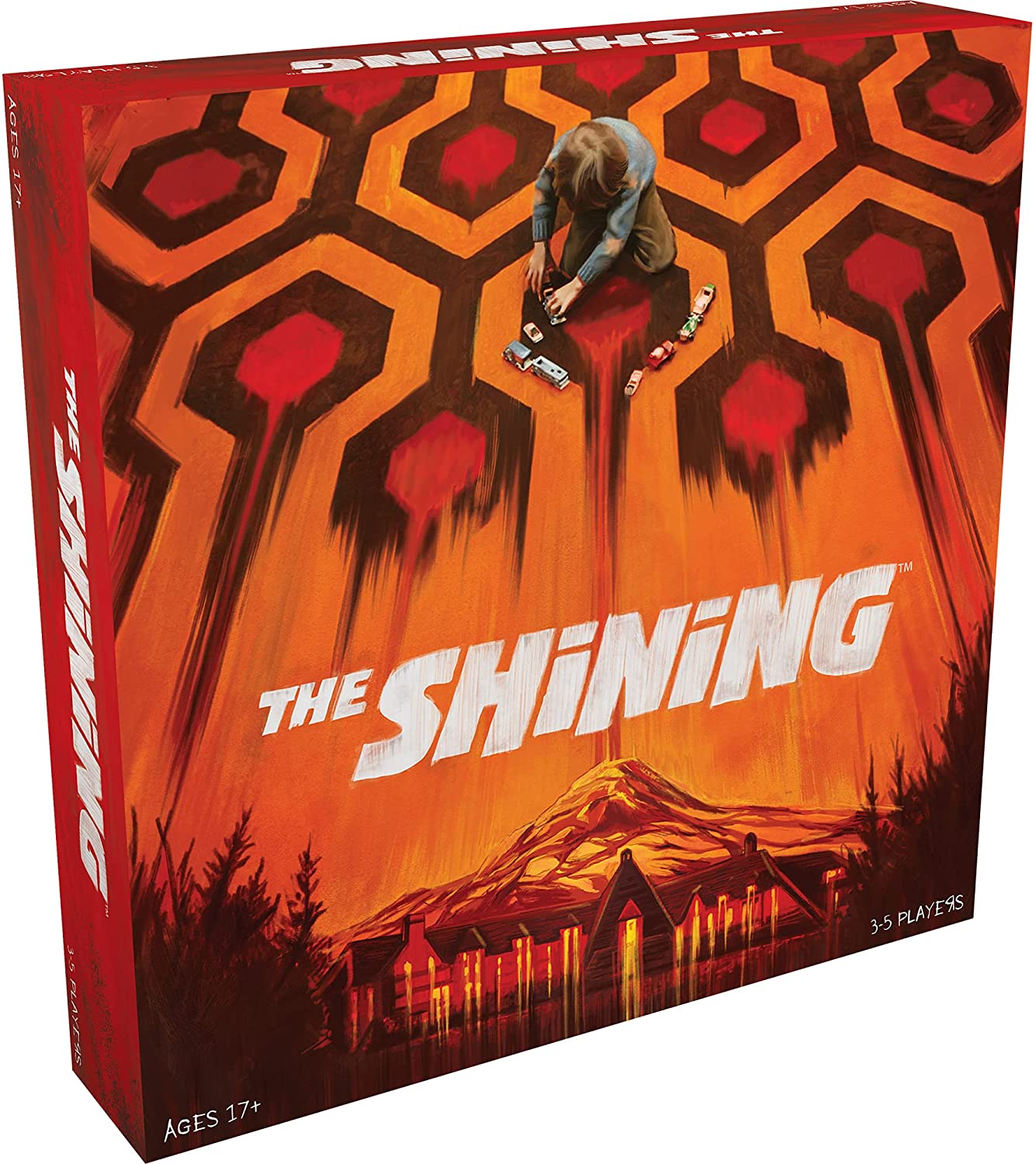 Night of the Living Dead Board Game
AN EXCITING STANDALONE GAME IN THE ZOMBICIDE SERIES: Experience 10 unique scenes in this standalone game inspired by the famous George A. Romero film, Night of the Living Dead.
THRILLING ZOMBIE GAME: Can you survive the Night of the Living Dead? Swap your survivor's identity between Romero mode, recreating the movie's atmosphere, and Zombicide mode, going all-out against your living dead foes! Find weapons, eliminate ghouls, and upgrade your survivor's skills along the way. But be careful, as the more ghouls you kill, the more of them show up.
COOPERATIVE ADVENTURE: Your best weapon is cooperation. All players win or lose together, and only through teamwork will the Survivors become the best they can be, unlocking powerful Skills and access to the best weapons. Cooperation is the key to survival and victory!
NEW UNIQUE SCENARIOS: Experience five scenarios that recreate the movie as a board game, placing you in the role of the heroes of the frightful night. The other five scenes from an extended storyline with plot twists, "what if" cases sprouting from the core movie. The fate of the survivors now lies in your hands!
NUMBER OF PLAYERS AND AVERAGE PLAYTIME: This fun zombie board game for adults and family is designed for 1 to 6 players and is suitable for ages 14 and up. Average game time is approximately one hour.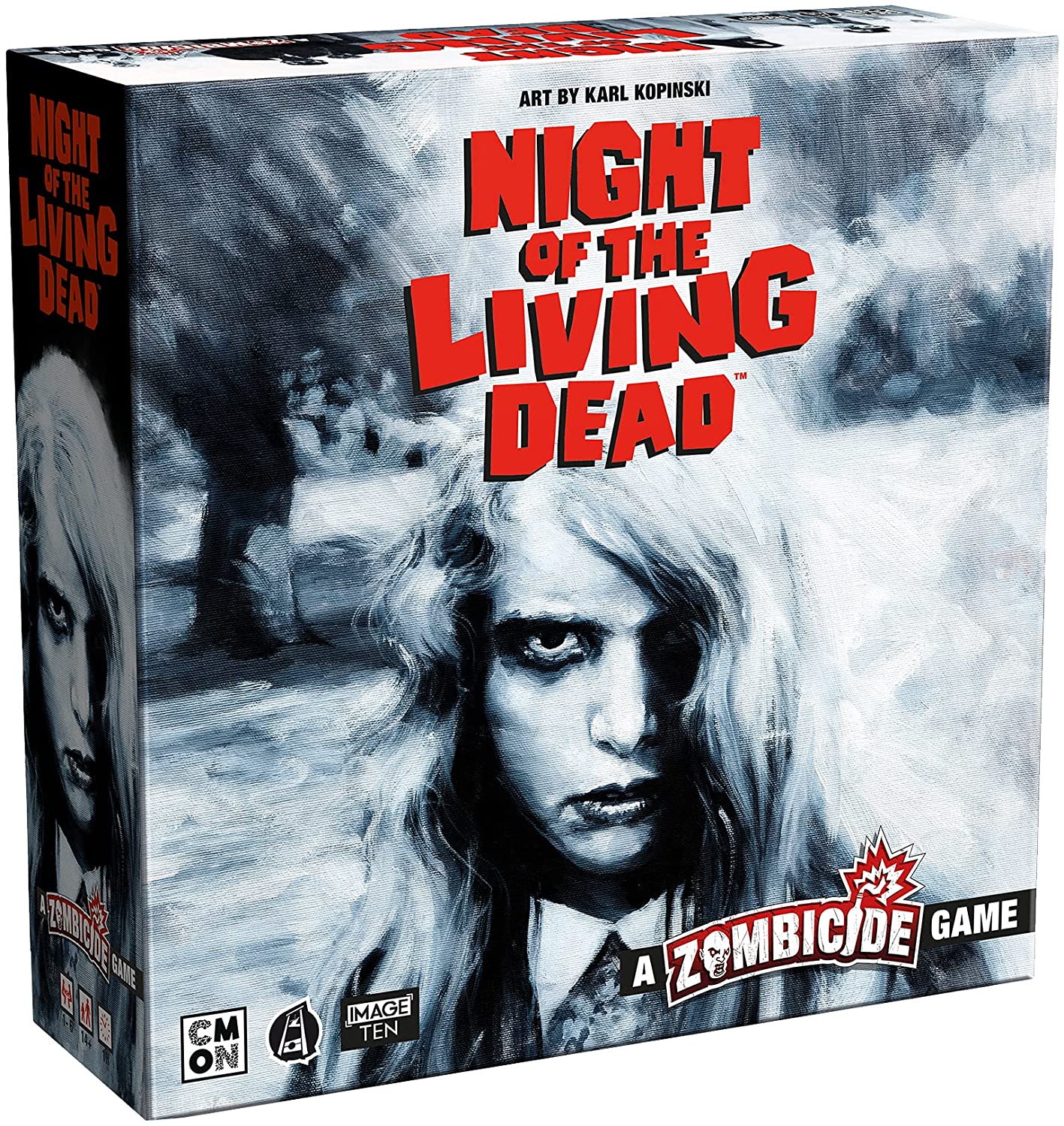 Back to the Future: Back in Time Board Game
Celebrate the 35th Anniversary of the groundbreaking franchise and join Marty McFly, Doc Brown and a time traveling DeLorean-fueled adventure of a lifetime!
Play as Marty McFly, Doc Brown, Jennifer Parker, or Einstein
Game brings major movie plot points to life in an exciting race against time
Cooperative gameplay pits players against Biff and his gang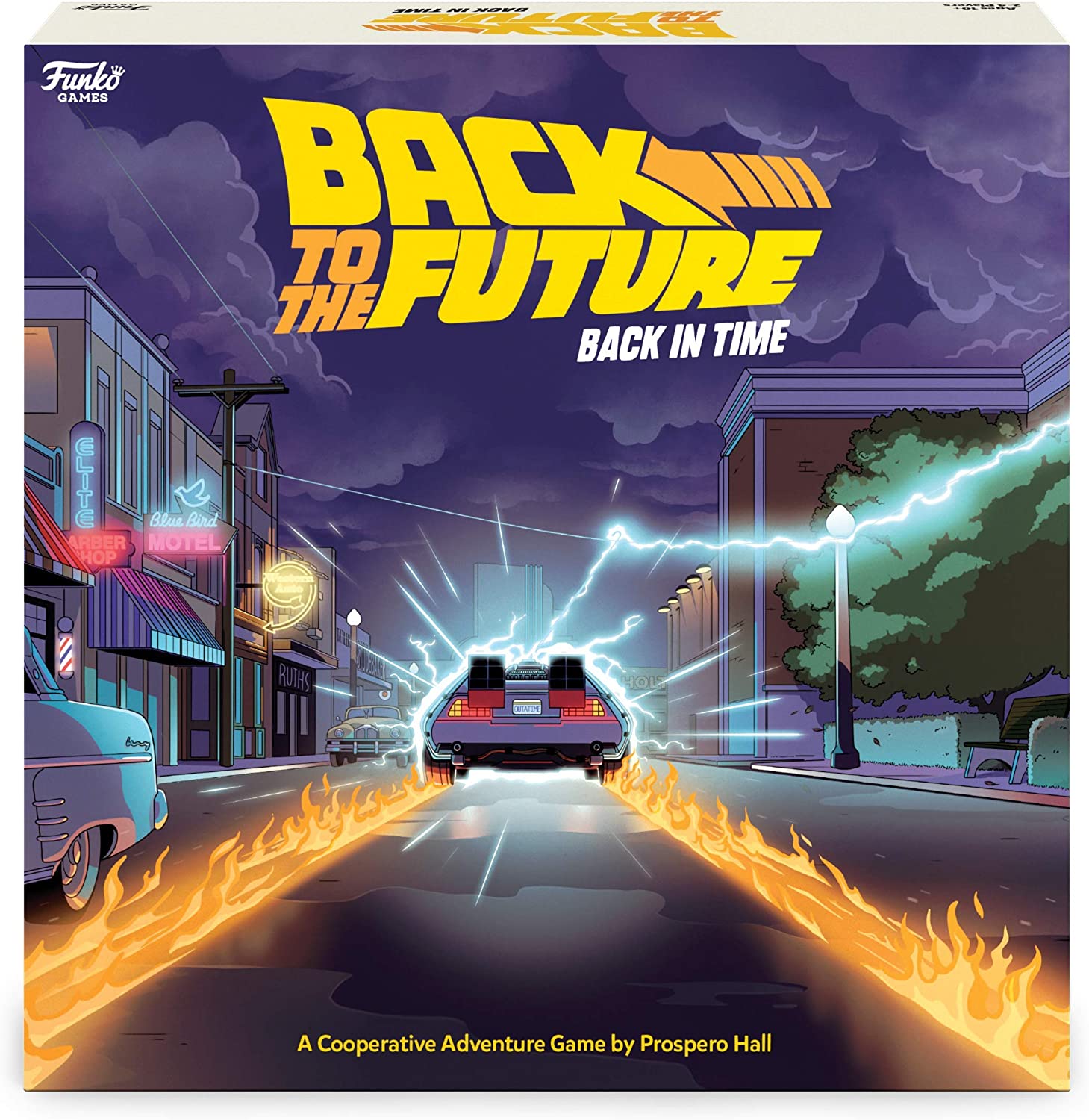 Taking on the roles of the kids from IT, players will move around the game board representing locations in and around the town of Derry, Maine to determine WHO Pennywise will abduct, WHAT object he will use to lure them, and WHERE he will take them from.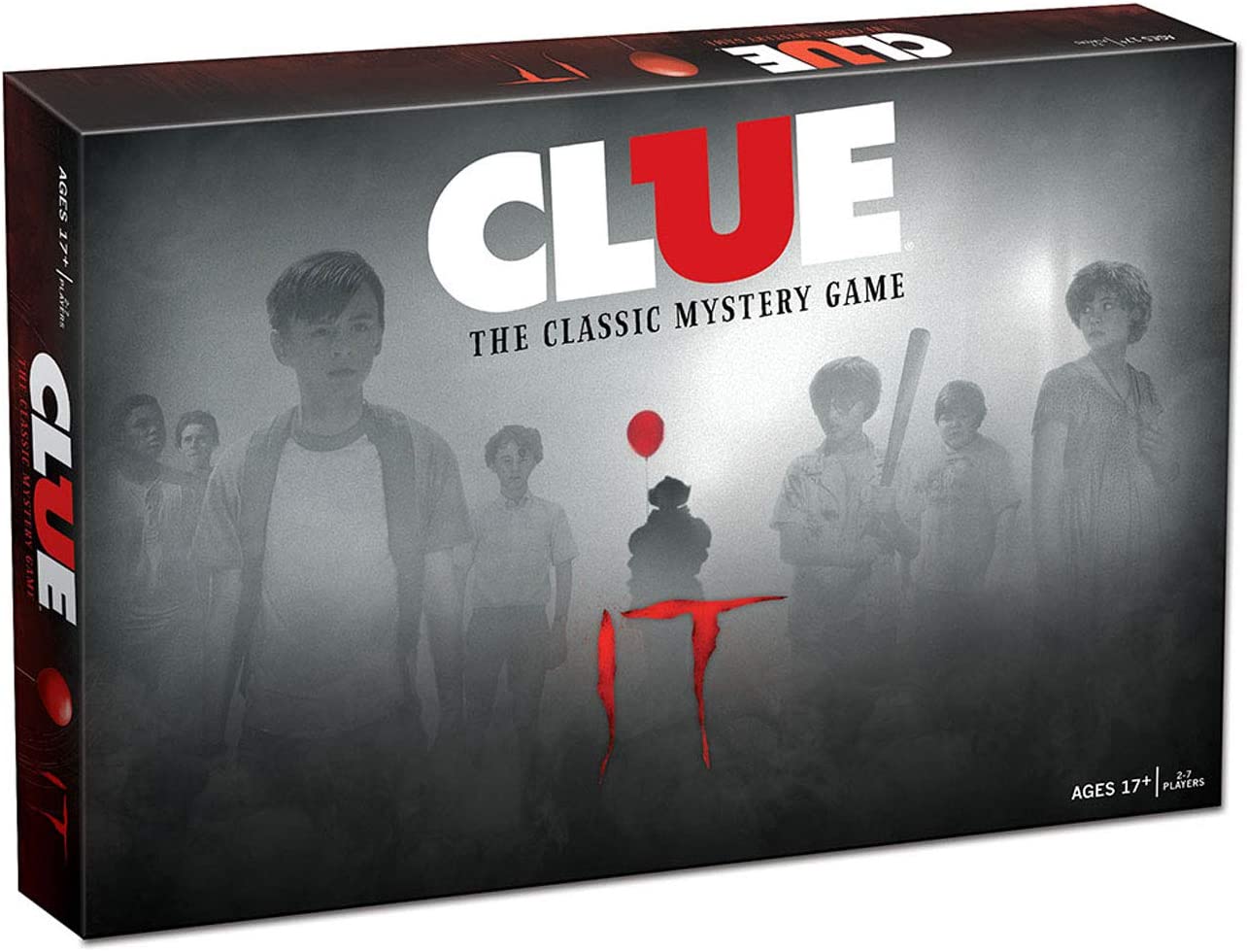 Resident Evil 2: The Board Game
Resident Evil 2: The Board Game is a co-operative survival horror board game for 1-4 players set in the rich and immersive Resident Evil universe. World-class miniatures and innovative new mechanics help deliver an experience that captures the essence of the much-loved video game, with players venturing into the zombie-infested streets and buildings of Raccoon City in a desperate fight to escape the nightmare!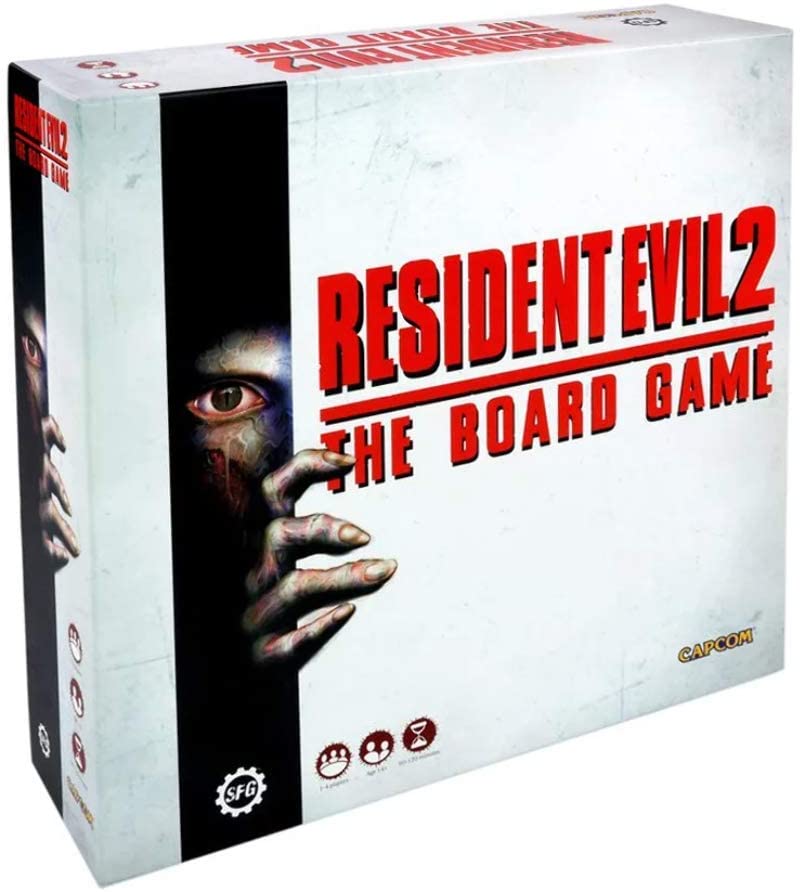 Join Scooby-Doo and the gang as you buy, sell and trade monstrous locations from Scooby's world in MONOPOLY: Scooby-Doo! Bring your favorite memory of Scooby-Doo! to life with this custom Monopoly game. Includes collectable tokens and custom Monopoly money along with Community Chest & Chance cards renamed Ruh-Roh and Zoinks!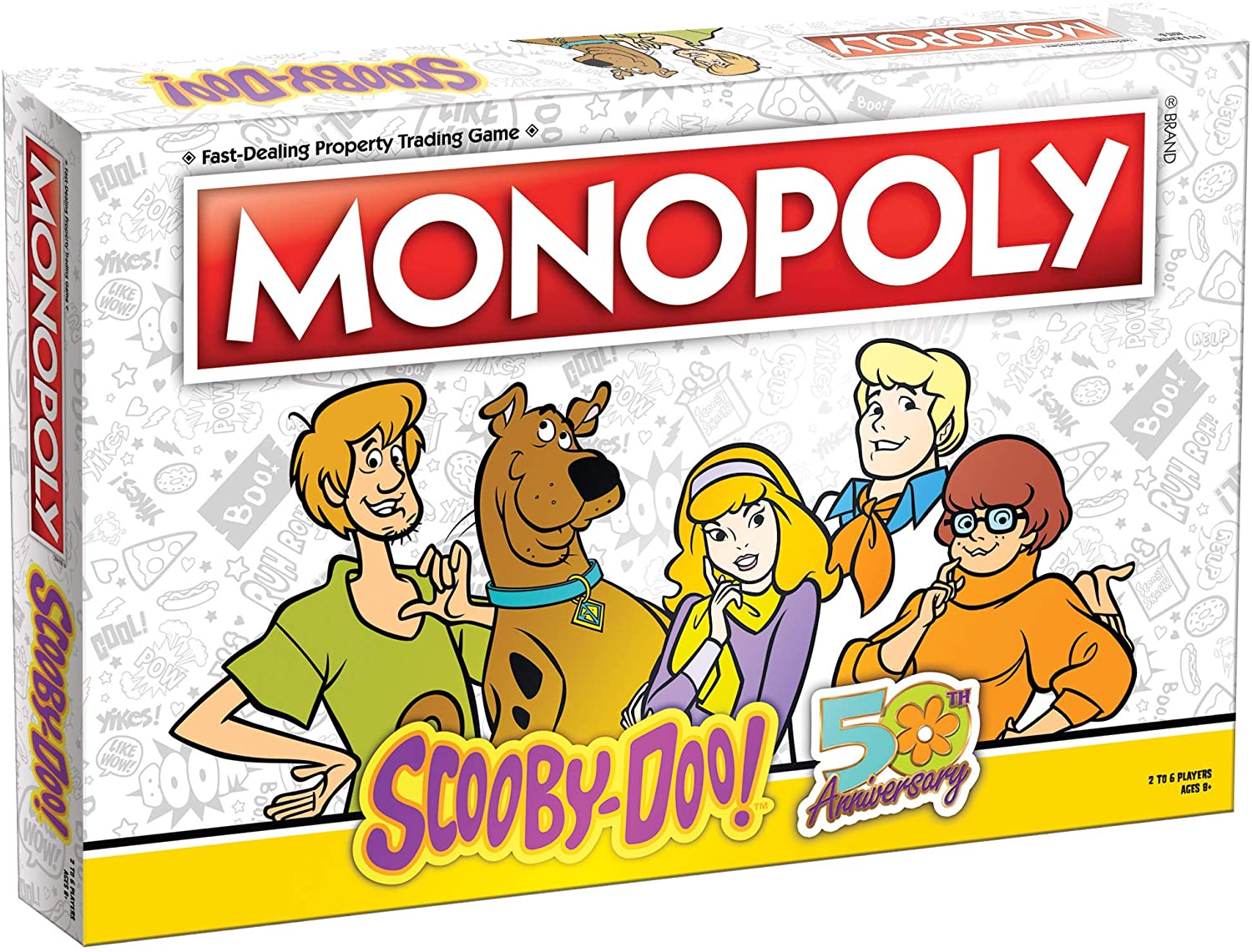 Unmatched: Buffy the Vampire Slayer
Unmatched: Buffy the Vampire Slayer features four heroes. Buffy will hit you with Mr. Pointy or summon her Slayer's strength for a cartwheel kick. When it's time for backup, she'll take her pick between insightful Giles or reliable Xander. Spike, a relentless hunter, seeks the shadows and calls on Drusilla's Sight to let him know just where and when to strike. Willow, a peerless witch, dabbles in black magic and risks her darker self, potent but dangerous. At times, only Tara can bring her back from the brink of the abyss. Angel, once the Scourge of Europe, is cursed with a soul, conflicted by his victories and taking solace in his losses. Faith is there to make sure things stay "Five by Five".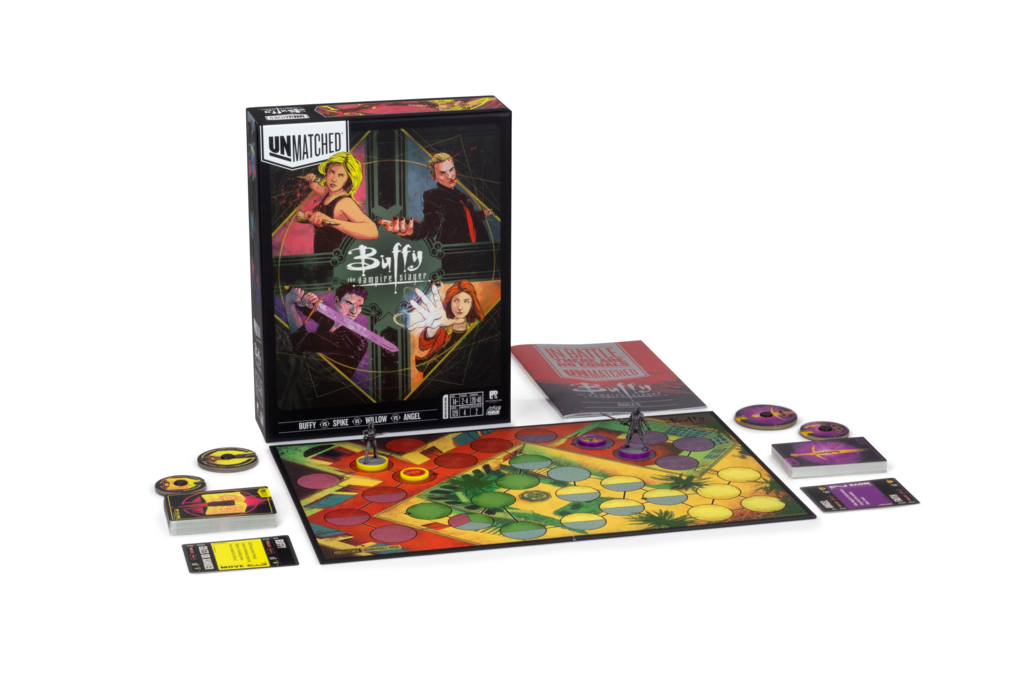 Unmatched: Jurassic Park – InGen vs. Raptors
"They show extreme intelligence, even problem-solving intelligence. Especially the big one." He has hunted many a dangerous predator, but against a pack of raptors, is Robert Muldoon the hunter or the hunted? In Unmatched: Jurassic Park – InGen vs Raptors, these clever girls use their speed and agility to surround their prey, getting stronger when they attack together. InGen's Game Warden and his Security Team lay traps to slow their opponent down and attack from range in a matchup 65 million years in the making.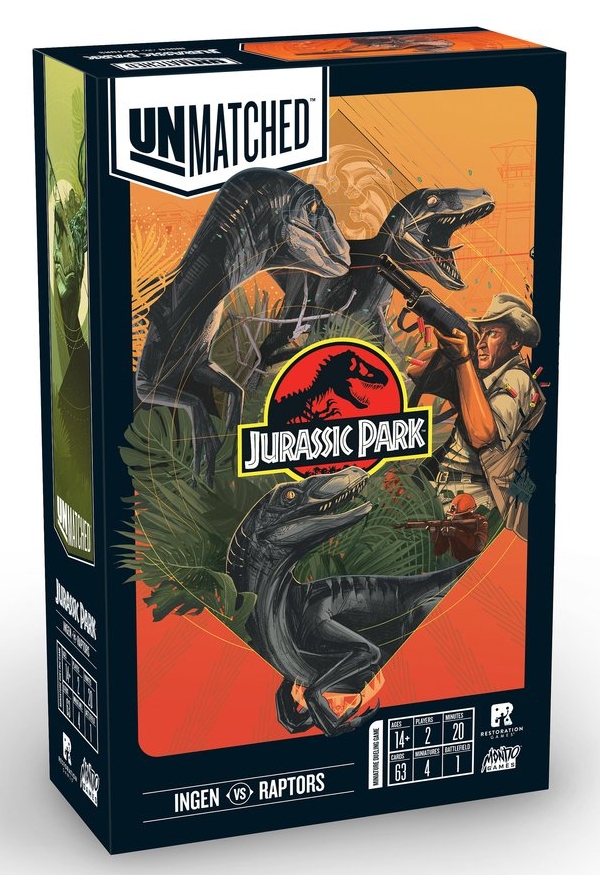 ROLE PLAY – In this thrilling and immersive board game experience, 4-5 players role play as a team to solve this gruesome murder mystery.
WELCOME TO CRAFTON MANSION – 15 years after the horrific murder of your parents, you return to Crafton Mansion—your childhood home and the scene of the crime—to solve the cold case murder mystery.
A MURDERER AMONG US – What lies ahead is a night even more horrific than the one from your childhood. To solve the murders, you must first prevent your own…
GAME PLAY – 4-5 players, ages 16+. Game lasts 120 minutes.
INCLUDES – Board game components, 5 x blindfolds, 5 x pencils, 5 x notepads, access to interactive multimedia (computer or tablet required; not included).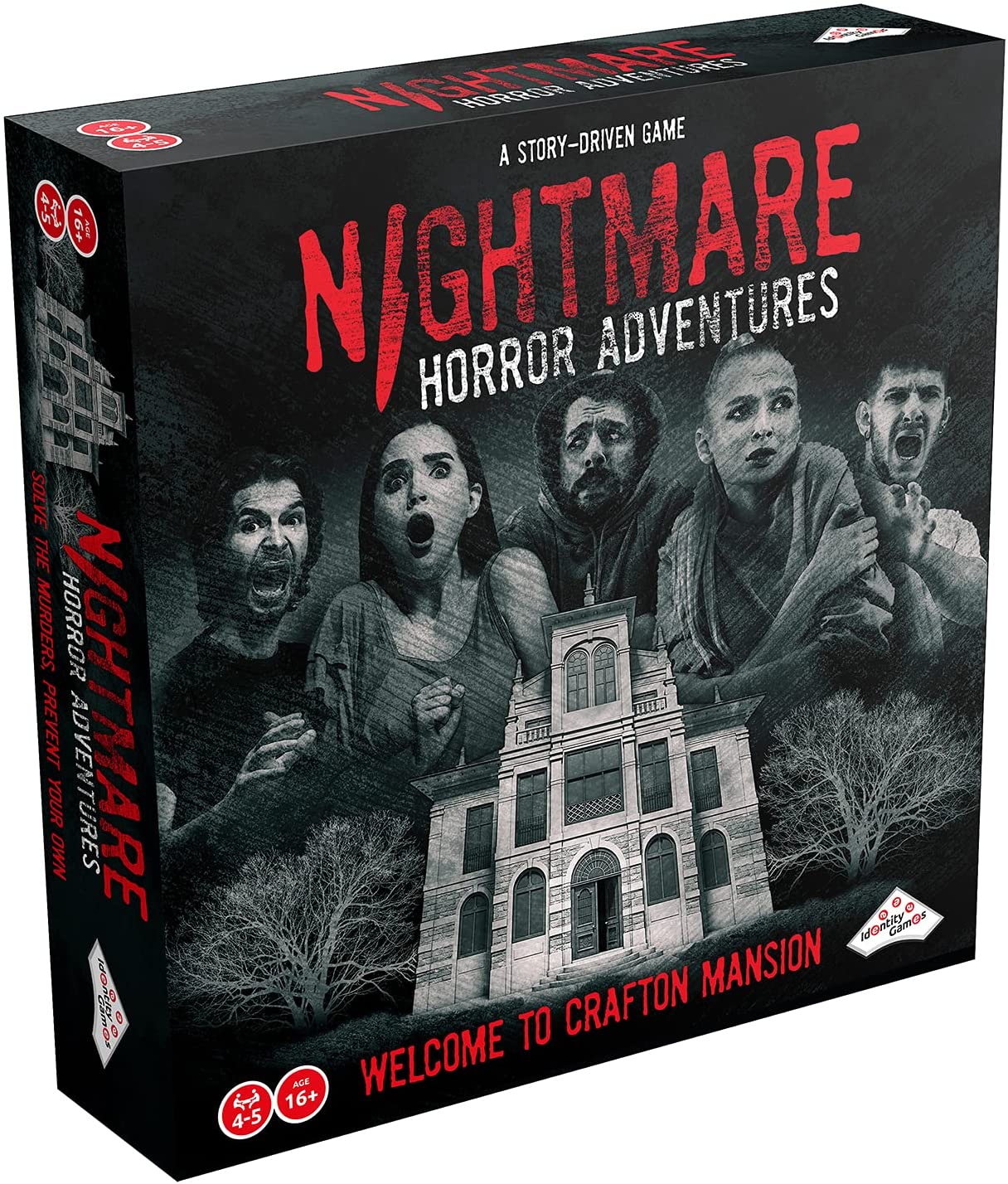 Sorry!: Disney Villains Edition
In the Disney Villains edition of the Sorry! board game, each player gets 4 Disney Villains pawns to move around the gameboard. The first player to get all 4 Disney Villain pawns to home base wins this wickedly fun kids game!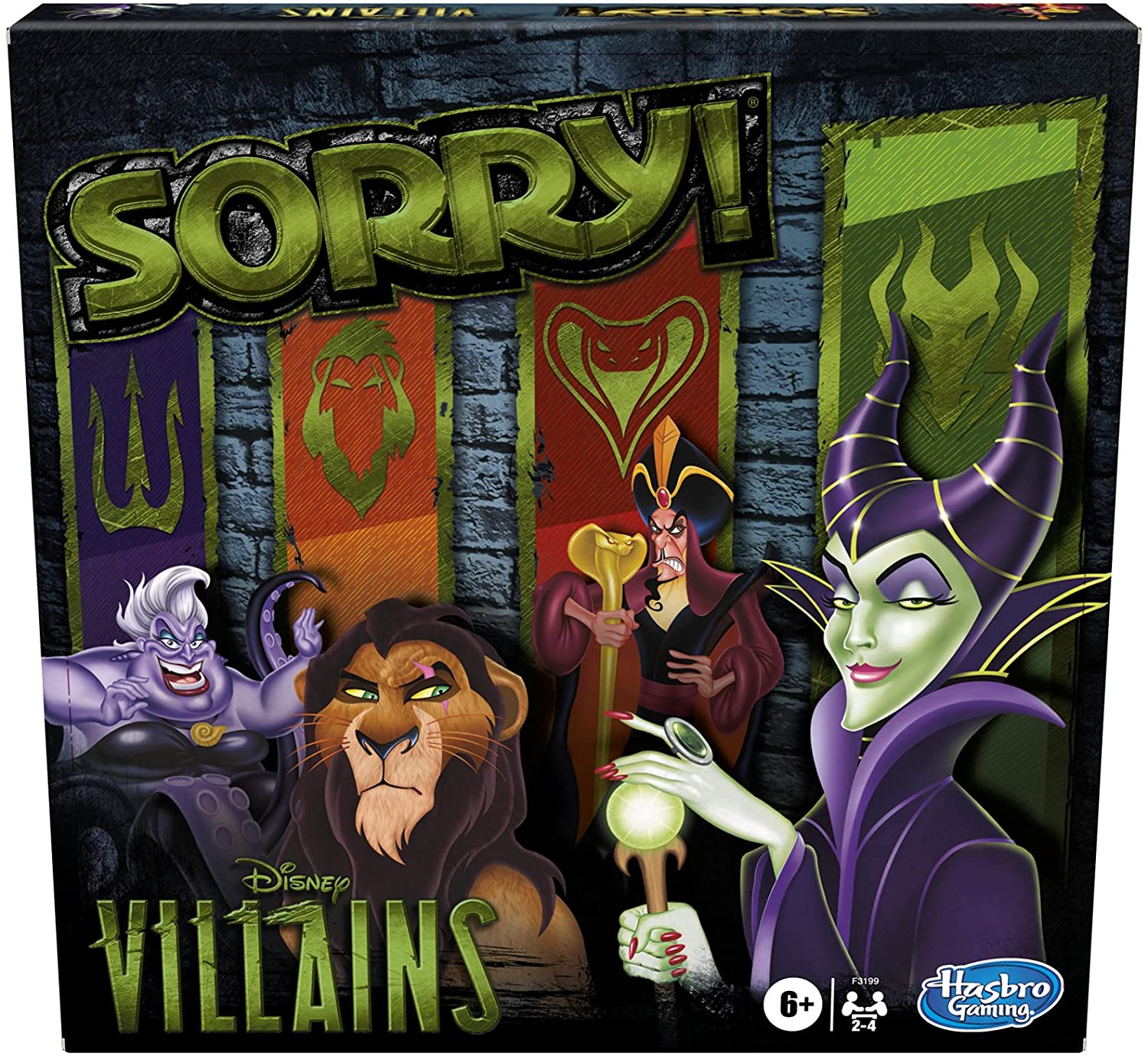 The Shining: Escape from the Overlook Hotel
"Here's Johnny!" In The Shining: Escape from the Overlook Hotel, take on the roles of Wendy and Danny and work together to search for a way out! Use psychic abilities like "the shining" to solve challenging puzzles, but beware of Jack and the hotel itself, which are conspiring to keep the Torrance family captive. Can you get Wendy and Danny out of the Overlook Hotel while avoiding the axe-wielding Jack?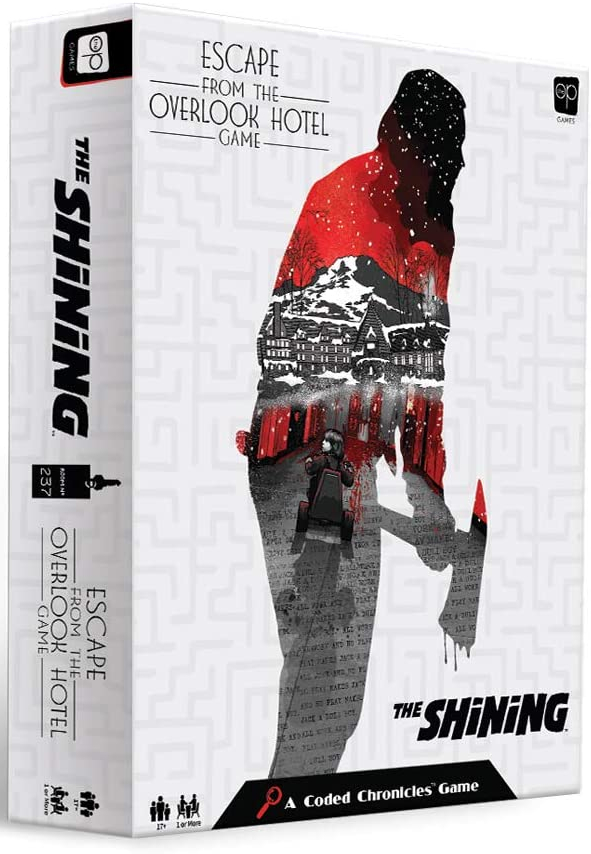 You receive an invitation to take part in a mysterious contest at the "Grind House," an old mansion that once stood as the largest slaughterhouse in the state. The invitation is signed simply by an individual known as "The Host." The letter promises you the opportunity to play a game to win a reward greater than you could possibly imagine.
You arrive at a decaying mansion on a hill along with five other strangers. A tall, narrow man in a tuxedo opens the huge ominous doors to usher you inside. "Thank you for attending this evening" The Host says in a deep, ominous voice. "The entertainment will be to die for!"
The Host bursts into a sinister echoing laugh. Behind you, the door slams shut and the sound of a heavy deadbolt clicks into place. You and your fellow guests are trapped at the mercy and whims of The Host.  "Shall we play a little game?"  Grind House is a narrative horror game for 2-6 players where you would be considered lucky if survival only costs an arm and a leg.
While survival is the ultimate goal, each player has a classic archetype with a secret motive. Some characters like the Doctor may try to keep everyone alive, while the psychopath will surely attempt to split everyone apart.  Others, like the Pianist, just want to keep their hands intact.
For those unfortunate souls who do perish in the house, the game is not over.  Players may return as ghosts to haunt the remaining survivors as they try to make it through the Grind House unscathed.  After exploring all 5 randomized rooms in the house, any survivors left total up their score to determine the winner.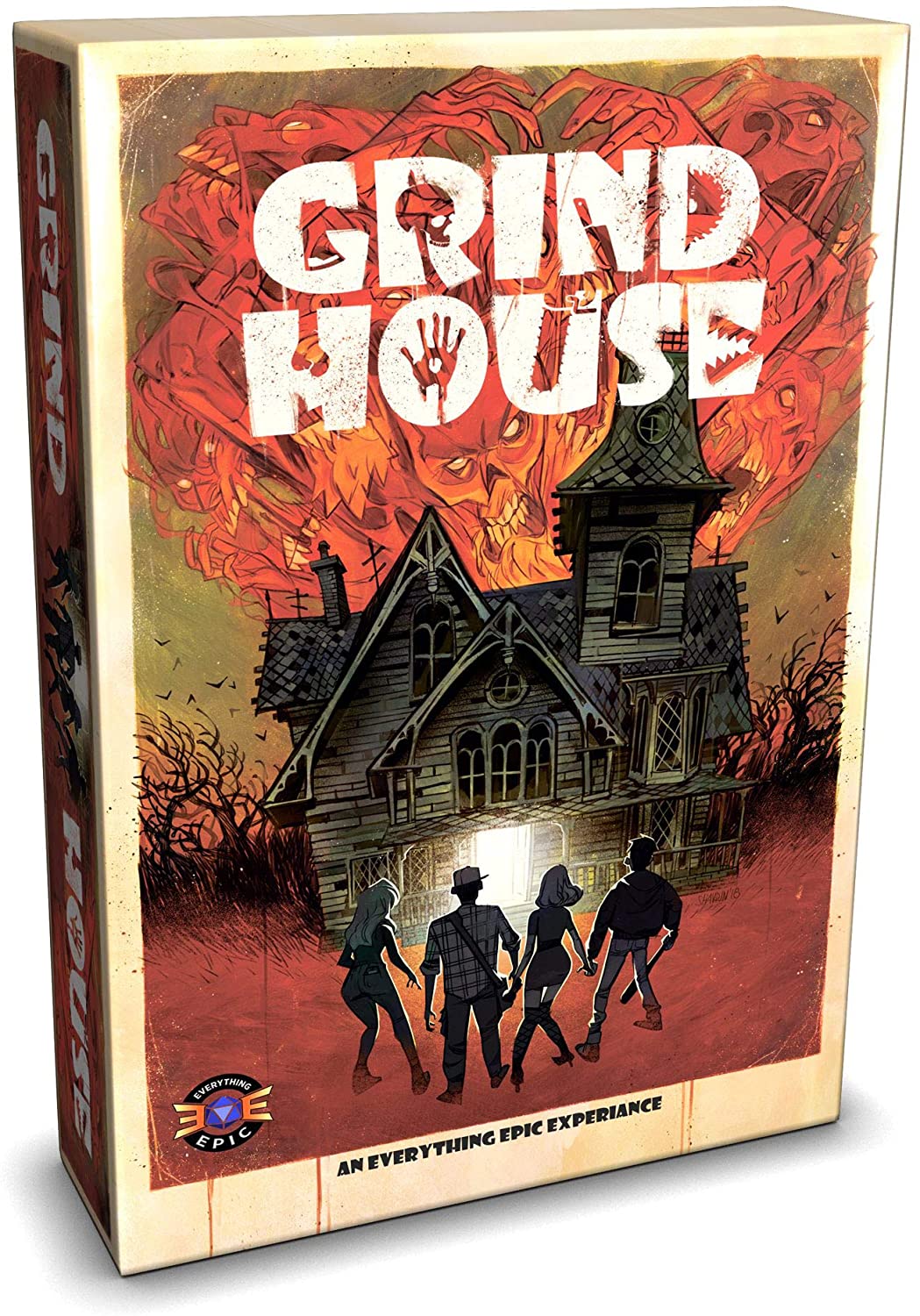 Custom game pieces are comprised from film, cartoon, comics and toy lines
Peter Venkman, Ray Stantz, Egon Spengler and Winston Zeddemore, Ecto-1, Galloping Ghouls, Gruesome Twosomes, Boogaloo Manifestations Idulnas, Slimmer and a 100mm Stay Puft Marshmallow Man!
Includes original back story that leads up to the events of the game from the Ghostbusters comic book team of Erik Burnham (writer) and Dan Schoening (illustrator)
Each scenario's map is constructed using double-sided tiles, featuring street and park imagery by the talented Robb Mommaerts. With guidelines for creating your own scenarios, Ghostbusters: The Board Game will keep you enthralled for hours!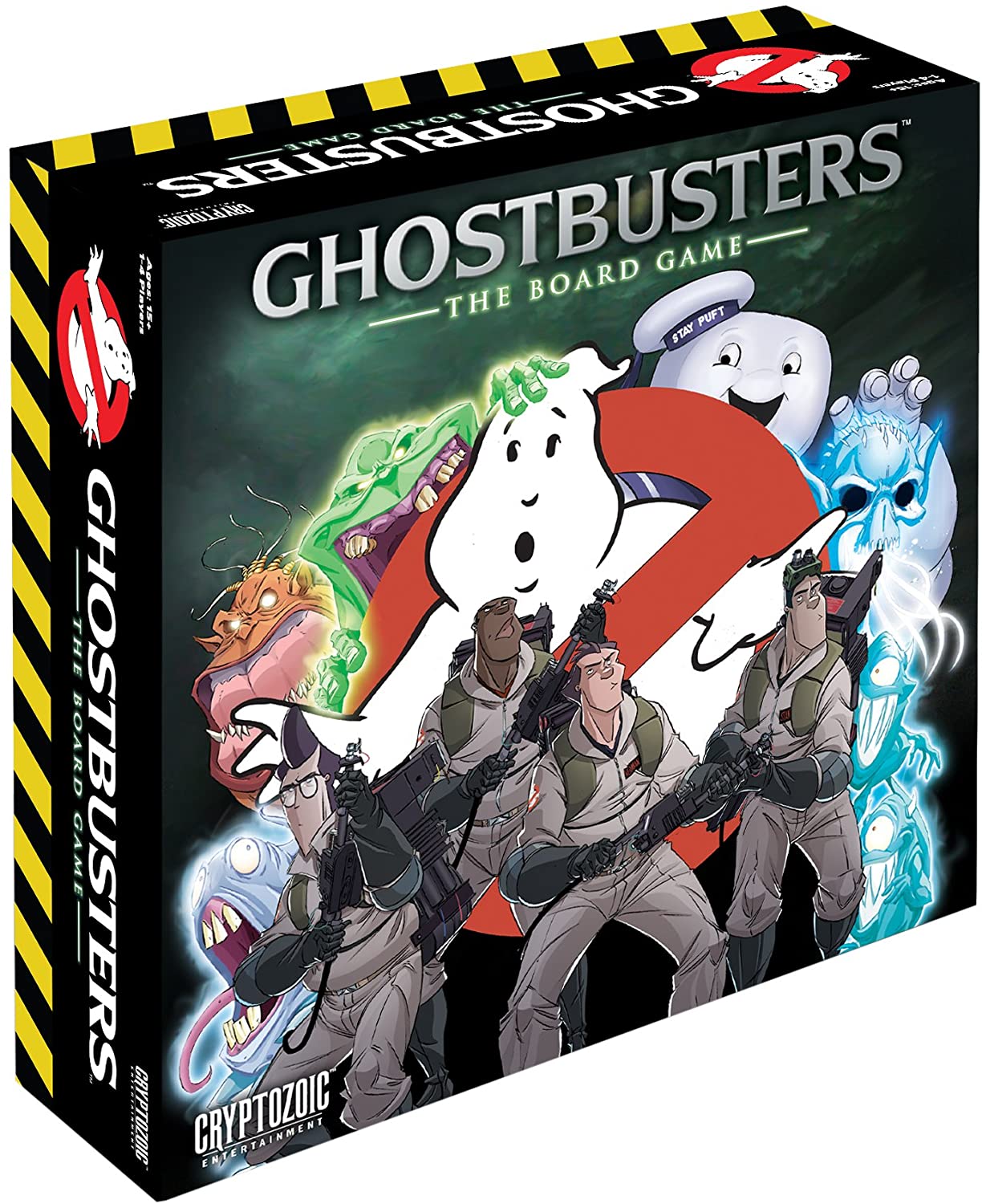 Dead of Winter: A Crossroads Game
SURVIVAL GAME: Dead of Winter A Crossroads Game is an experience that can only be accomplished through the medium of tabletop games. It is a story-centric experience about surviving the harsh winter in an apocalyptic world
STRATEGY GAME: Players must frequently make difficult decisions and often choose between what actions are best for the colony and what is best for themselves. Survive the winter, survive the dead and survive each other
COOPERATIVE GAME: While the survivors are all dealing with their own psychological imperatives, they must still find a way to work together to fight off outside threats, resolve crises, find food and supplies and keep the colony's morale up
HIGHLY VARIABLE: Play as dozens of unique characters in this engaging and emergent narrative game and make wildly-varying decisions so that no two games are ever exactly the same. Watch out for a betrayer in your colony
NUMBER OF PLAYERS AND AVERAGE PLAYTIME: This fun adventure game for teens and adults is made for 2 to 5 players and is suitable for ages 13 and older. Average playtime is approximately 60 to 120 minutes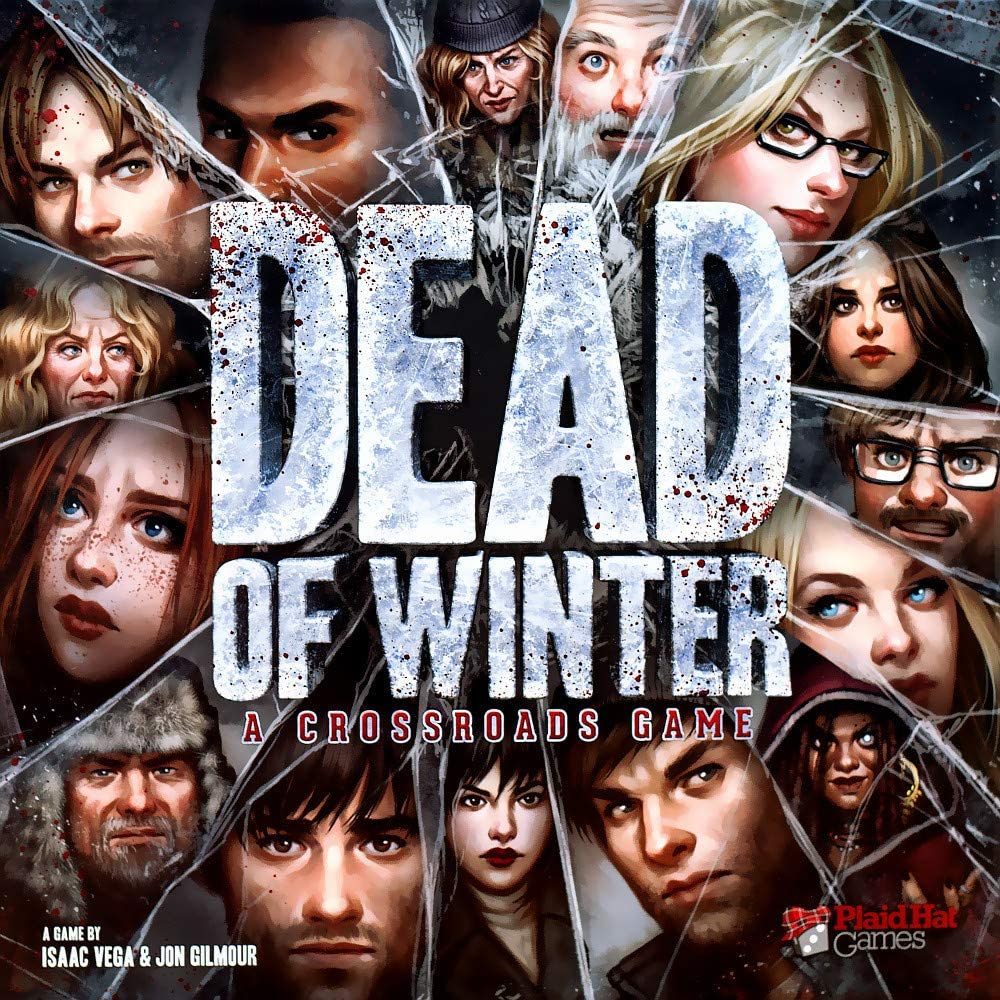 PUZZLES:
Over the last few years, Messed Up Puzzles has established itself as the premier purveyor of horror puzzles, and its collection of genre jigsaws continues to impress. Also, it's worth noting that their Silent Night, Deadly Night puzzle ended up being far more challenging than I thought it would be, but looked amazing once we finished assembling it.
Silent Night, Deadly Night Puzzle
The Evil Dead Version D Puzzle
As someone who has assembled a few of MONDO's puzzles, I can vouch for just how much fun they are (and if you choose to frame your efforts afterward, they make for some killer art for your walls).
The Wolf Man 1000-Piece Puzzle
Frankenstein 1000-Piece Puzzle
Revenge of the Creature 1000-Piece Puzzle
Planet of the Apes 1000-Piece Puzzle
Mandy - Cheddar Goblin 252-Piece Puzzle
MISCELLANEOUS PUZZLES:
Here's an assortment of horror and sci-fi puzzles I discovered that would make for perfect gifts this holiday season.
A Nightmare on Elm Street Freddy Krueger 1000 Piece Puzzle
Beetlejuice Handbook Of The Recently Deceased Puzzle
Hammer Classic Horror 1000 Piece Puzzle
Retro Horror Artwork - 1984 Puzzle
Retro Horror Artwork - 1985 Puzzle
The Simpsons Treehouse of Horror Glow-in-the-Dark Puzzle
IT Chapter 2 "Return to Derry" 1000 Piece Puzzle
The Shining "Come Play With Us" 1000 Piece Puzzle
Friday the 13th 1000 Piece Puzzle
---------
Go here to unwrap other installments of Heather Wixson's Holiday Gift Guide, and happy holidays to our readers from all of us at Daily Dead!