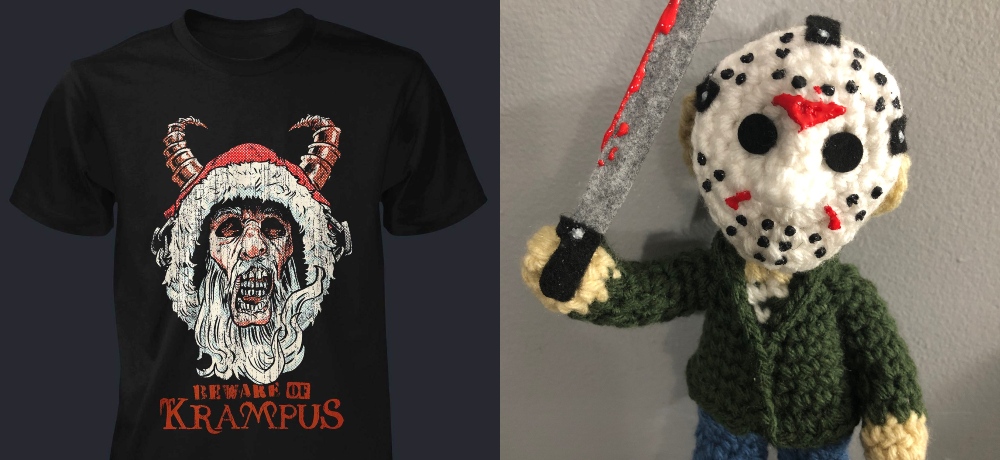 Welcome back, dear readers, for the next installment of Daily Dead's 2021 Holiday Gift Guide! Today, we're turning our attention toward all the amazingly brilliant indie artists and creators who celebrate horror and sci-fi with the work they do. For today's gift guide, we've organized everything into specialized sections, including artwork, apparel and accessories, jewelry and enamel pins, and a miscellaneous category where you'll find a fun assortment of items and gift ideas for this holiday season.
A quick note: I think most of us are aware that mail and shipping has been slow as molasses this year, so I encourage you to do your shopping early on, as some of these sites have a cut-off date coming up in the next week, and you wouldn't want your gifts to arrive after the holidays. So, if you're looking to do some shopping and support an array of wonderful indie creatives, it's better to shop sooner than later.
Cheers!
MISCELLANEOUS ITEMS:
Horror-Themed Cards, Gift Wrap and Accessories 
Silent Night Deadly Night Collection: 5 Card Set
Gift Wrap Set- Horror Days of Christmas
Handmade Horror-Themed Housewares and More
Homemade Soaps and More
Handmade Crocheted Yarn Dolls
Handmade Horror Plushes
Angela the Happy Camper (w/Sound)
JEWELRY & ENAMEL PINS:
Handmade and Vintage Jewelry
Stainless Steel Witch Necklace
Gingerbread Voodoo Doll Earrings
Silver Vampire Fangs Bracelet and Earrings Set
Retro Horror & Video Game Merchandise
Super Horror Bros. Scary Movie Slasher Enamel Pin
Slay-Puft Marshmallow Man Enamel Pin
Cult-Themed Enamel Pins
Vintage Halloween Witch Enamel Pin
Adorable Enamel Pins, Keychains and More
Stephen King's IT Postcard Enamel Pin
Celebrating Horror and Cult Cinema
The Paperback: Bed Sheet (White)
Horror Merch with Style
Do you remember Missy Elliot's episode of Cribs where she revealed she still sleeps in a race car bed? Anyway, we sell pins.
CLOTHING & ACCESSORIES:
Vixen is a vintage-style brand for all bodies and babes, taking inspiration from 1950s bad girls, and 80's flair for a timeless vintage aesthetic.
Ghostbusters Slimer Crossbody/Backpack Combo Bag
Vixen Swing Skirt In Striped Monster Mask Print
A streetwear and lingerie apparel company inspired by all things spooky and scary for the fashionable horror fan.
Our focus has always been on making the most kick-ass t-shirts, and backing them with the best possible service.
Our brand mission is to share our collective passion for all things spooky with each & every high quality item we create. We hope you enjoy!
Elvira: Queen of Halloween T-Shirt
Silent Night Deadly Night Punish Long Sleeve Shirt
Our Chicago based crew distills nostalgia on a daily basis, and transforms it into impeccably-designed clothing, collectibles, and must-haves for people like us.
Bela Lugosi "Vive Le Horror" Button-Up Shirt
Studiohouse was built in 2012 to embody a love of horror and art.
Officially licensed horror t-shirts.
The Stuff: Never Enough T-Shirt
Black Christmas: Strange Calls T-Shirt
Poltergeist: It Knows What Scares You T-Shirt
Middle of Beyond has the best ugly Christmas sweaters, button-up shirts, apparel & gifts.
Killer Klowns From Outer Space Short Sleeve Button-Up Shirt Version 2
ARTWORK:
Halloween - Michael Myers Print
Joe Bob's 2021 Walking Dead Special
Joe Bob's Halloween Hoedown 2021
Blood on Satan's Claw Art Print
What We Do in the Shadows Guillermo Art Print
Little Shop of Horrors Rick Moranis Art Print
Alien Sigourney Weaver Art Print
Zombie Undead Santa Claus Custom 10 inch Mixed Media figure
---------
Go here to unwrap other installments of Heather Wixson's Holiday Gift Guide, and happy holidays to our readers from all of us at Daily Dead!