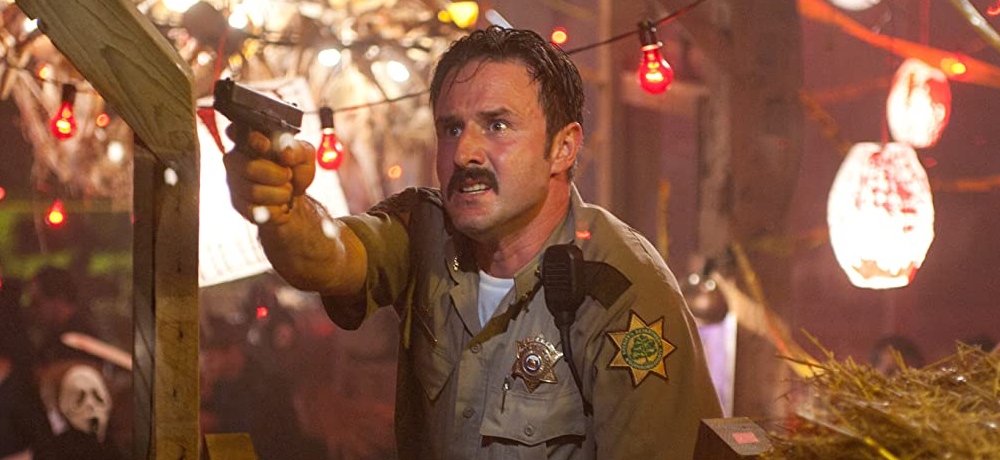 Earlier this year it was reported that the filmmakers behind Ready or Not would direct a new Scream movie, and while it's been speculated that actors from the previous films would be a part of the new entry in the franchise that director Wes Craven and writer Kevin Williamson built, we now have our first official confirmation.
According to multiple sources, including The Hollywood Reporter, David Arquette will reprise his role as Dewey Riley in the new Scream film directed by Matt Bettinelli-Olpin and Tyler Gillett (two-thirds of the filmmaking group known as Radio Silence) from a screenplay by James Vanderbilt (Zodiac) and Guy Busick (co-writer of Ready or Not and episodes of Stan Against Evil and Castle Rock).
Here's what Arquette had to say about returning to the world of Scream (via THR):
"I am thrilled to be playing Dewey again and to reunite with my Scream family, old and new. Scream has been such a big part of my life, and for both the fans and myself, I look forward to honoring Wes Craven's legacy."
In recent interviews, Neve Campbell has indicated that she's in early discussions about playing Sidney Prescott in the new movie, but there's no official confirmation yet that she or Courteney Cox will return. Arquette's involvement is one step closer in getting the Scream trio back together again.
Kevin Williamson, the writer of Scream, Scream 2, and Scream 4, will executive produce the new film, with Vanderbilt, Paul Neinstein and William Sherak also producing. Filming is expected to begin in Wilmington, North Carolina before the end of the year.
Plot details are being kept under wraps, but the last time we saw Dewey, the dear friend of Sidney Prescott and husband of reporter Gale Weathers, he was sheriff of Woodsboro and was faced with solving a new string of Ghostface murders.
Here's what Radio Silence had to say about breaking new ground in the Scream franchise while respecting Wes Craven's legacy:
"It's impossible to fully express how much Wes Craven's work and the Scream movies in particular mean to us as fans and have influenced us as storytellers. Kevin Williamson's incredible stories have entertained and inspired us for decades and we're insanely honored to have the opportunity to be a part of the cinematic world Wes and Kevin so brilliantly created together. Jamie and Guy's amazing script does that legacy justice and we're so excited to bring the next chapter of Scream to life."
We'll be sure to keep Daily Dead readers updated as more details are revealed for the new Scream movie.