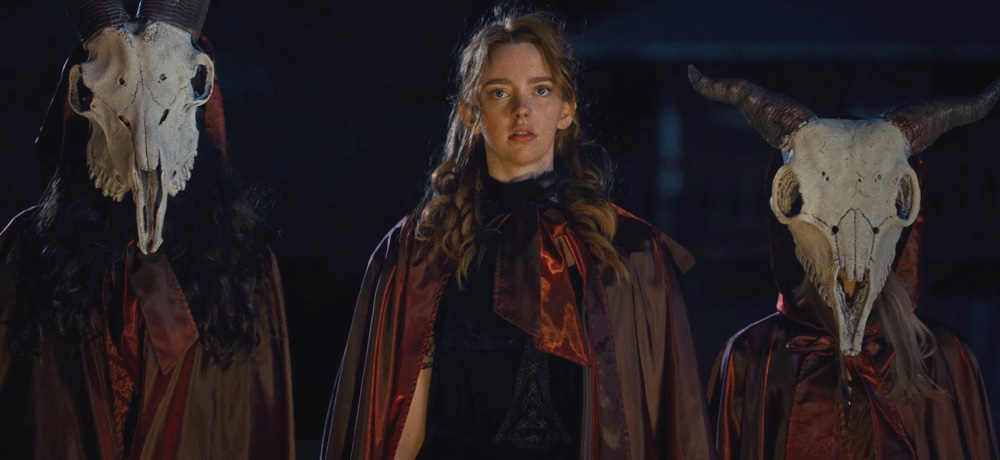 Even though the holiday season is in full swing, that doesn't mean the horror has to stop, as we have quite a few genre titles headed to VOD, Digital, and various streaming platforms throughout the month of December. Notable titles you'll be able to watch at home this month include Tenet, Anything for Jackson, Archenemy, Minor Premise, Skylines, and a pair of holiday specials exclusive to Shudder: Joe Bob Saves Christmas and A Creepshow Holiday Special.
Mark your calendars and happy streaming, everyone!
Backwoods (Gravitas Ventures) – December 1st
High school cheerleader Molly woke bound and gagged in the trunk of her boyfriend's car. That was the high point of her night. After escaping and fleeing into the nearby forest, she comes face-to-face with the town urban legend: The Hangman, a deformed zealot said to lynch male trespassers and keep the women as "brides". Now, Molly, along with her best friend and would-be rescuer Noah must work together to avoid becoming his latest victims.
Beast Mode (Devilworks) – December 1st
Bad boy actor Huckle Saxton lets fame get to his head and turns into a ferocious beast, ripping Hollywood to shreds. Will he sink his teeth into the role of a lifetime or succumb to the dangers of the Hollywood lifestyle?
The Bloodhound (Arrow) – Exclusively on ARROW December 1st
Francis, a dispossessed young man, is summoned to the secluded home of his wealthy childhood friend, JP Luret, who is suffering from a mysterious affliction. Upon his arrival, Francis realizes that JP and his ethereal twin sister Vivian are the sole surviving members of the privileged Luret family, whose legacy has been one of depression and self-destruction, and the only occupants of their family estate. As the old friends attempt to reconnect, a number of inexplicable incidents begin to occur within the house, and Francis finds himself drawn into a world of malaise and despair, where an act of betrayal might provide his only way out.
Thirst (Uncork'd Entertainment) – December 1st
The addict Hulda is arrested and accused of murdering her brother. After she is let go because of insufficient evidence, she meets Hjörtur, a thousand-year-old gay vampire. Together they fight a cult while being investigated by a rogue detective.
Werewolf (Indiecan Entertainment) – December 1st
In Werewolf, children liberated from a Nazi concentration camp have to overcome hunger, thirst and vicious attack dogs in abandoned mansion surround by the forest.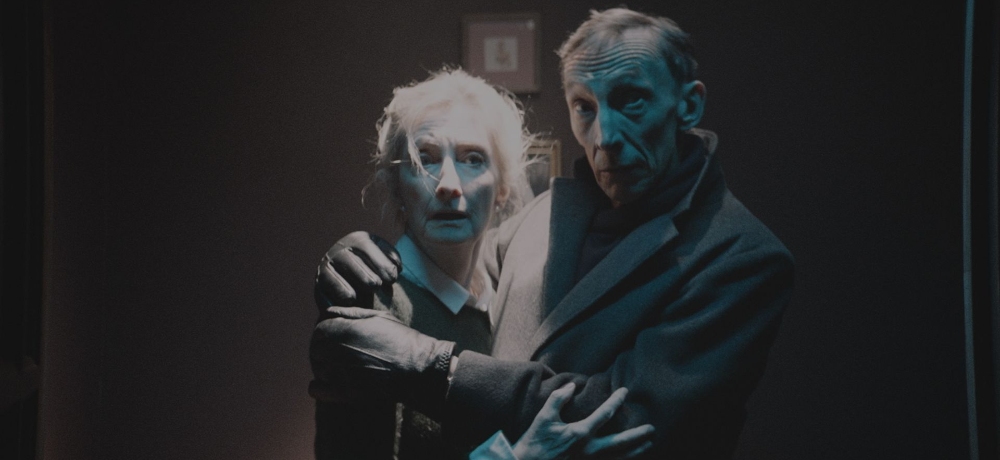 Anything for Jackson (Shudder) – Exclusively on Shudder December 3rd
After losing their only grandson in a car accident, grief-stricken Audrey and Henry, a doctor, kidnaps his pregnant patient with the intention of performing a "Reverse Exorcism", putting Jackson inside her unborn child. It doesn't take long to figure out Jackson isn't the only ghost the grandparents invited into their home. Now it's a race against time for the couple, as well as the pregnant woman to figure a way out of the haunting they've set upon themselves.
Minor Premise (Utopia) – December 4th
Attempting to surpass his father's legacy and pressured by an old colleague (Dana Ashbrook of Twin Peaks), a reclusive neuroscientist becomes entangled in his own risky experiment. Ethan (Sathya Sridharan) has now locked himself in his home with his ex-girlfriend Allie (Paton Ashbrook) and the two navigate trauma, ambition, and missteps of the past. Diving headfirst into the uncharted equations of the brain, they realize that there is more at stake than just their relationship or Ethan's reputation. With time quickly running out, he is forced to face off against the darker sides of himself while frantically attempting to solve an enigma that lies within his subconscious.
What Lies Below (Vertical Entertainment) – December 4th
In WHAT LIES BELOW, Liberty, a socially awkward 16-year-old, returns from two months at camp to a blindsided introduction of her Mother's fiancé, John Smith, whose charm, intelligence, and beauty paint the picture of a man too perfect to be human.
Koko-Di Koko-Da (Dark Star Pictures) – December 8th
Elin and Tobias are a happily married couple who regularly vacation with their young daughter. The family is on a dreamy holiday when an innocuous case of food poisoning derails their plans and forever alters the course of their lives. Three years later, the once loving couple is on the road again to go camping, looking for one last chance to go back to the way things used to be. But what once was is lost, and our characters instead find themselves having to relive the same nightmarish events, as that day and the horrors it brings repeat themselves infinitely. Together, they must overcome their trauma, reconcile with their past and fight for their lives. Over, and over, and over again. Discerned through a dreamlike fabric, a story emerges about relationships in general, grief and reconciliation in particular, and love as a healing force.
Archenemy (RLJE Films) – December 11th
Max Fist (Joe Manganiello) claims to be a hero from another dimension who fell through time and space to Earth, where he has no powers. No one believes his stories except for a local teen named Hamster. Together, they take to the streets to wipe out the local drug syndicate and its vicious crime boss known as The Manager.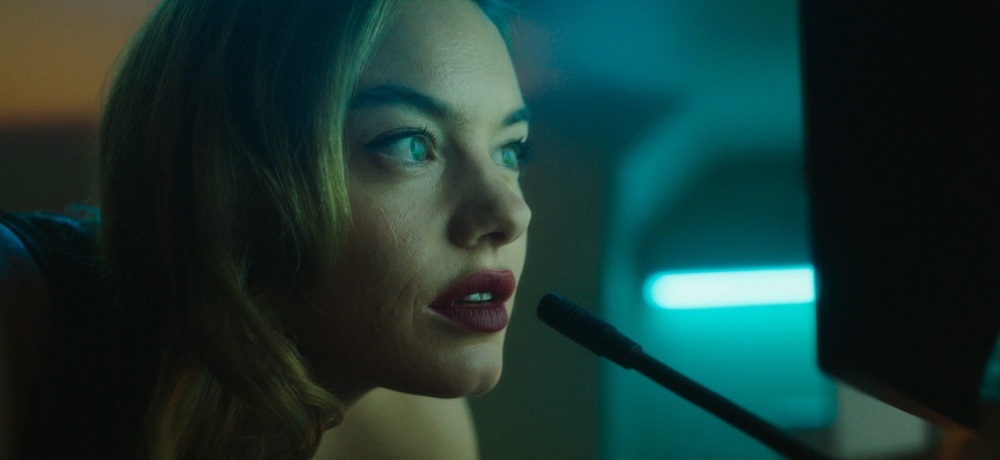 Knuckledust (Samuel Goldwyn Films) – December 11th
Police discover an elite fight club where they find seven underground levels, filled with the dead bodies of fighters from around the world. Only one man is found left alive. The task force has to work out if he's a mass murderer or the lone survivor?
Joe Bob Saves Christmas (Shudder) – Exclusively on Shudder December 11th at 9pm EST
The Christmas spirit takes over The Last Drive-In as Joe Bob and Darcy close out the year with a double feature of holiday horrors. Premieres live on the ShudderTV feed Friday, December 11, and will be made available on demand on Sunday, December 13.
Songbird (STX Films) – December 11th
Songbird is a sci-fi thriller about fighting for love at the end of the world from producer Michael Bay, who previously brought audiences such worldwide hits as A Quiet Place and The Purge. Songbird brings audiences a new saga about the resilience of the human spirit and our ultimate desire for connection and safety.
Wander Darkly (Lionsgate) – December 11th
In WANDER DARKLY, a traumatic accident leaves a couple, Adrienne (Sienna Miller) and Matteo (Diego Luna), in a surreal state of being that takes them on a disorienting journey through the duality of their shared moments.  By reliving fond recollections from the beginning of their romance while also navigating the overwhelming truths of their present, they must rediscover the love that truly binds them together. Writer/director Tara Miele offers a profound new perspective on the delicate nature of relationships with this emotionally moving story about a couple who must reflect on their past in order to face their uncertain future.
The Beach House (RLJE Films) – December 15th
In THE BEACH HOUSE, hoping to reignite their relationship, college students Emily and Randall arrive at their weekend getaway only to discover a peculiar older couple already staying there. They all agree to share the home but, after an indulgent night of partying, they're awoken to a living nightmare of apocalyptic proportions. A mysterious airborne microbe has infected the water and it's making its way to the house….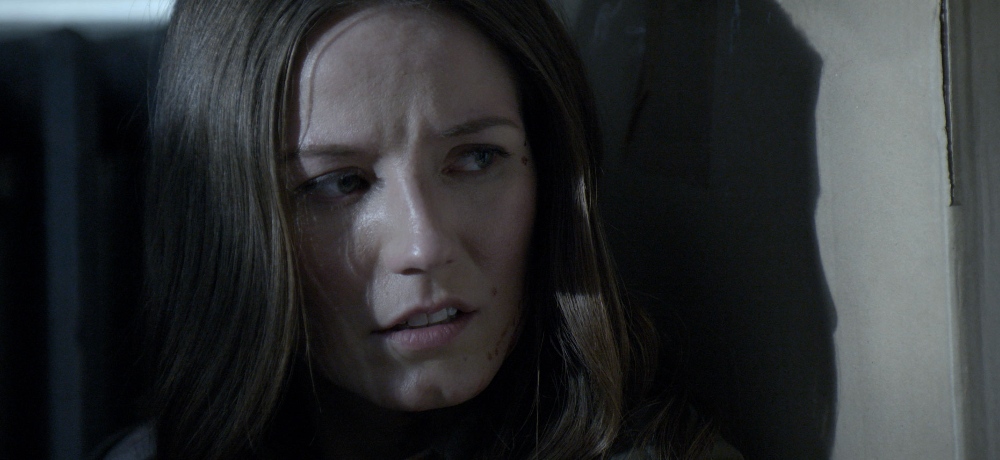 The Curse of Hobbes House (4Digital Media) – December 15th
After the death of her Aunt, Jane Dormant travels to the family's remote, ancestral home hoping to receive a large inheritance. When Jane's estranged, half-sister Jennifer arrives at Hobbes House to claim her part of the estate, the sisters' simmering hate ignites. But then a violent, unexpected storm cuts the estate off from outside help and a wave of bloodthirsty zombies lays siege. Now the sisters have to learn how to fight back together.
The Hex (Cleopatra Entertainment) – December 15th
The film follows a grieving British girl Dilanne (Coco Lloyd) who unravels her murdered mother's secrets connected to a South African witch doctor's curse. She wants to put an end to this haunting hex by traveling to South Africa – but instead gets cast into even deeper sinister depths.
The Mark of the Bell Witch (Small Town Monsters) – December 15th
The Mark of the Bell Witch is the first attempted documentary of the famed piece of Appalachian folklore. The story of the Bell family who encountered mysterious sounds in their home, eventually becoming a full-blown apparition who terrorized them for almost five years, is still taught in Tennessee schools today. Considered to be one of the only known cases of murder committed by a "ghost" in American history, the story of John Bell's poisoning at the hands of the witch has been the subject of numerous television shows, books, songs, and even a horror film.
Tenet (Warner Bros. Home Entertainment) – December 15th
Fighting for the survival of the entire world, the Protagonist journeys through a twilight world of international espionage on a mission that will unfold in something beyond real time.
The Pale Door (Shudder) – Exclusively on Shudder December 17th
The Dalton gang finds shelter in a seemingly uninhabited ghost town after a train robbery goes south. Seeking help for their wounded leader, they are surprised to stumble upon a welcoming brothel in the town's square. But the beautiful women who greet them are actually a coven of witches with very sinister plans for the unsuspecting outlaws - and the battle between good and evil is just beginning. Starring Devin Druid, Zachary Knighton, Bill Sage, Pat Healy, Natasha Bassett, Stan Shaw, Melora Walters, directed by Aaron B. Koontz (Scare Package).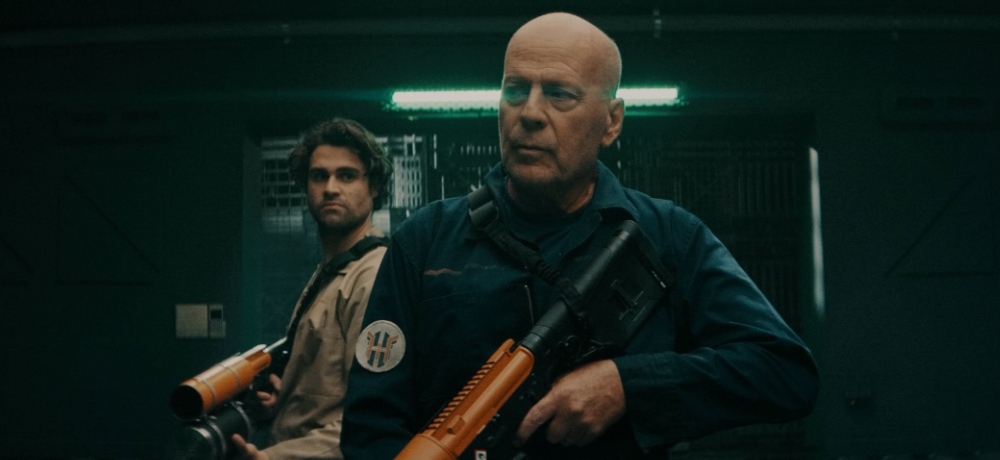 Breach (Saban Films) – December 18th
Bruce Willis stars in the action-packed, sci-fi thriller. Fleeing a devastating plague on Earth, an interstellar ark comes under attack from a new threat; a shape-shifting alien force intent on slaughtering what is left of humanity.
A Creepshow Holiday Special (Shudder) – Exclusively on Shudder December 18th
In the holiday themed, hour-long episode, "Shapeshifters Anonymous," fearing he is a murderer, an anxious man searches for answers for his "unique condition" from an unusual support group. Starring Anna Camp (Pitch Perfect) and Adam Pally (The Mindy Project), the special is written and directed by Creepshow showrunner Greg Nicotero, based on a short story by J.A. Konrath (Last Call). 
Hunter Hunter (IFC Midnight) – December 18th
HUNTER HUNTER follows a family living in the remote wilderness earning a living as fur trappers. Joseph Mersault (Devon Sawa), his wife Anne (Camille Sullivan), and their daughter Renée (Summer H. Howell) struggle to make ends meet and think their traps are being hunted by the return of a rogue wolf. Determined to catch the predator in the act, Joseph leaves his family behind to track the wolf. Anne and Renée grow increasingly anxious during Joseph's prolonged absence and struggle to survive without him.  When they hear a strange noise outside their cabin, Anne hopes it is Joseph but instead finds a man named Lou (Nick Stahl), who has been severely injured and left for dead. The longer Lou stays and Joseph is away, the more paranoid Anne becomes, and the idea of a mysterious predator in the woods slowly becomes a threat much closer to home.
Skylines (Vertical Entertainment) – December 18th
When a virus threatens to turn earth-dwelling friendly alien hybrids against humans, Captain Rose Corley (Lindsey Morgan) must lead a team of elite soldiers on a mission to the alien's world in order to save what's left of humanity.