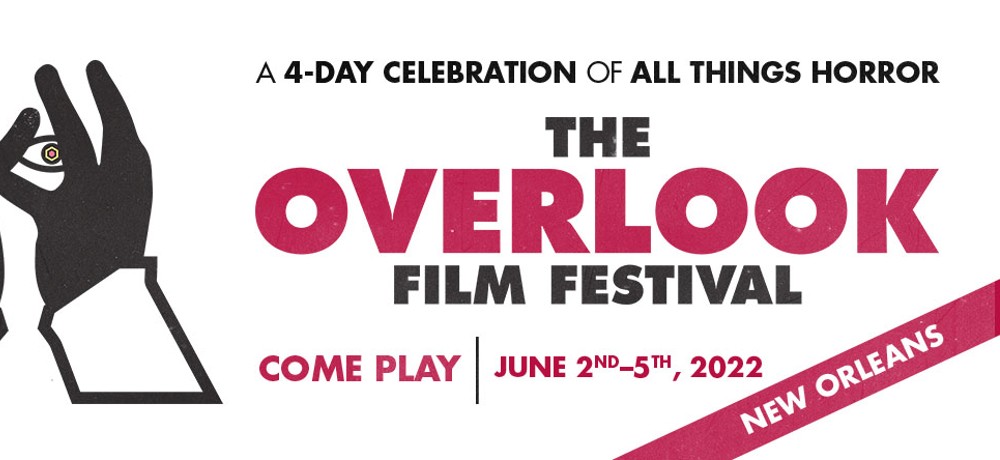 For years I had heard the stories—the immersive games, the must-see screenings, the summer-camp-for-horror-fans atmosphere. Despite my trusted sources, in the back of my mind I wondered if it was too good to be true, if somehow the hype surpassed the actual experiences, and I knew that I would never know for sure until I saw it firsthand for myself. So, after years of thinking about it, I finally took the plunge (thanks to my sister, who encouraged me to go). Early this June, I made the voyage from Minnesota to New Orleans (my first time in the city since I was 15), and I saw that it was indeed true—all of it, everything that I had heard from those who had gone before me. The Overlook Film Festival is the real deal, and like Jack Torrance in Stephen King's The Shining, I felt like I had always been at the Overlook… and I never wanted to leave.
It all started when I arrived in New Orleans on Thursday, June 1st. We've been having a cooler-than-usual spring in Minnesota this year, so that thick, humid Louisiana air was a welcome sensation as I navigated my way to the Prytania Theatres At Canal Place for the opening night movie, Ana Lily Amirpour's Mona Lisa and the Blood Moon. My hotel was just down the road from the theater, so like many places in New Orleans, I could just walk to a lot of the events and screenings taking place during Overlook. Once I arrived at the mall, I masked up and made my way to the third floor of the Canal Place mall where Prytania Theatres is located. At the check-in table, I provided proof of my COVID-19 vaccination before I could receive my festival badge. One of the best things about the festival this year is that it was required to wear masks and show your vaccination card before you were allowed to participate. With the pandemic still very much a part of our day-to-day lives, these requirements gave me peace of mind while talking with other attendees and watching screenings.
With my badge secured, it was time to watch Mona Lisa and the Blood Moon (including an in-person introduction by Amirpour), which turned out to be a really unique way to kick off the festival. The third feature film directed by Amirpour, Mona Lisa and the Blood Moon follows a young woman with telekinetic abilities after she escapes from a mental asylum and navigates the streets of New Orleans. What made this movie such a great fit for Overlook is that the city of New Orleans becomes a main character in the film, as Mona Lisa Lee (Jeon Jong-seo) wanders the streets of the Big Easy like she's someone in a Richard Linklater film. Kate Hudson and Craig Robinson also have intriguing roles that may catch their longtime fans by surprise, giving Overlook attendees a lot to talk about later that evening as bubbles swirled through the air at the opening night party at Toulouse Theatre, where musician Quintron played customized organ music in a room that resembled something you would find in the Black Lodge on Twin Peaks.
The following morning, it was time to investigate a case of spontaneous combustion, as the Overlook's legendary immersive game officially got underway. I joined fellow Daily Dead team members Jonathan James, Christy Smith, and Bryan Christopher (who also all attended Overlook this year) as we went on our first immersive game mission: an archive room on the third floor of the mall. Instructed via text message by Po Boy Music Museum worker Sandy, we  were tasked with finding out what happened to Ace Marcellin, a clarinet player who apparently exploded on stage earlier that week, effectively cancelling his performance at Overlook. With the unsettling feeling that we were being watched, the four of us navigated the archive room (reminiscent of the Warrens' haunted artifact museum) and discovered a record player… which proceeded to spin a vinyl on its own, treating our earbuds to an unsettling song that seemed to have a demonic voice chanting in place of a backup singer. After the vinyl finished playing, a thudding sound came from somewhere deep within the archive shelves, giving us our cue to get the hell out of there, our mission completed for the day.
The Daily Dead crew next headed to the American Townhouse bar for horror trivia presented by Shudder and hosted by Ted Geoghegan. Playing under the name "Cenobites" (if you've listened to our Corpse Club podcast, then you know we have some diehard Hellraiser fans on the Daily Dead staff), we put up some great scores against really great competition, even managing to tie for the win in one round. Thanks to Shudder (and Severin Films), I was able to leave trivia with a Blu-ray copy of Eyes of Fire and a Blu-ray of Woodlands Dark and Days Bewitched, which one of my team members graciously gifted me.
Next up for us on the festival slate was Friday night's screening of Nosfera2, a "remixed, reinterpreted, remastered feature-length version" of F.W. Murnau's classic 1922 film. Created by the talented team known as Dream Video Division, Nosfera2 was something that took me by surprise and lingered with me the rest of the weekend. No written words can quite capture the creepy, hilarious, and downright psychedelic remix of Nosferatu that Dream Video Division put together, accompanied by a livestream displayed on another screen in the theater, which allowed us to read ongoing conversations and running jokes while the movie was playing. The at times trippy nature of Nosfera2 and its mind-bending style of remixing may not be for everyone, and it took me a while to get used to this modern reimagining of a horror classic, but I can't deny that I've thought about it a lot since watching it, and I would be curious to see what other vibrant nightmares Dream Video Division will put together in the future.
With the dawn of a new day on Saturday, it was time to continue the immersive game and figure out what led to Ace's fiery demise. Still in contact with Sandy via text message, our Daily Dead quartet was instructed to visit an art gallery near Lafayette Square. We were supposed to meet up with Sandy, but she had to go before we could get there, leaving us instructions to go on a scavenger hunt throughout New Orleans to pick up clues about Ace. Having a great excuse to explore the city, we wandered from clue to clue, eventually ending up at a security guard's office in a music museum, where we learned more about the forces of evil that Ace had been dabbling in.
After piecing together our clues for that stage of the immersive game, we raced back to the Prytania Theatres for a live performance of Clay McLeod Chapman's The Pumpkin Pie Show. A mainstay of The Overlook Film Festival for years, Chapman's Pumpkin Pie Show is another thing I had heard about for a long time, and I was thrilled and chilled to finally experience it for myself in person. Even with high expectations, I was not prepared for what was about to happen after I settled into the front row of the theater for Chapman's performance. Embodying the voice and mannerisms of a character telling a story around a bonfire from his 2019 novel The Remaking, Chapman performed a 50-minute monologue that transported me out of New Orleans and onto one of those mossy logs around a crackling fire in Chapman's book. This was more than a reading, it was a transformative performance for the ages, and I can't thank Chapman enough for an experience that I'll remember all the way to my grave.
After The Pumpkin Pie Show, there was no time to waste as we headed to another theater at Prytania. This wasn't just Saturday, after all, it was Caturday! The Kingcast co-hosts Eric Vespe and Scott Wampler were on hand to host a 30th anniversary screening of Sleepwalkers (written by Stephen King) that was presented by Fangoria and featured director Mick Garris in attendance! This was admittedly my first time seeing Sleepwalkers, and it did not disappoint. An intriguing setup, gnarly practical effects, enough one-liners to fill four movies, and a star-studded cast including Brian Krause, Mädchen Amick, Alice Krige, and a whole bunch of cats made this a movie one that I wouldn't mind watching again and again (especially with a group of friends), and seeing the movie with director Mick Garris in attendance (after Eric and Scott walked in dressed as Garris), made this screening a truly treasured occasion.
Following Sleepwalkers, it was once again time to return to the immersive game. Sandy had texted us a desperate plea for help, leading us back to the other side of the mall's food court. Along with several other immersive gamers, we cracked the last round of clues (involving a Deadite-esque version of Ace's clarinet) and crawled through a secret door in the wall to a small room where we confronted the evil force that Ace had channeled on the night he spontaneously combusted. This force had now possessed a housecat that talked to us virtually via a computer screen. With nowhere left to turn and Sandy gone for good, we were given a choice: either fight the evil force and risk damnation or unleash its powers onto the world. Feeling adventurous, we went with the latter and watched as flames rose towards the sky on the screen. Satisfied that we had completed the immersive game (even though we may have just unleashed a fiery, apocalyptic evil onto the world), we crawled back into the food court and were left to wonder if the game was really over, especially since I still felt like we were being watched…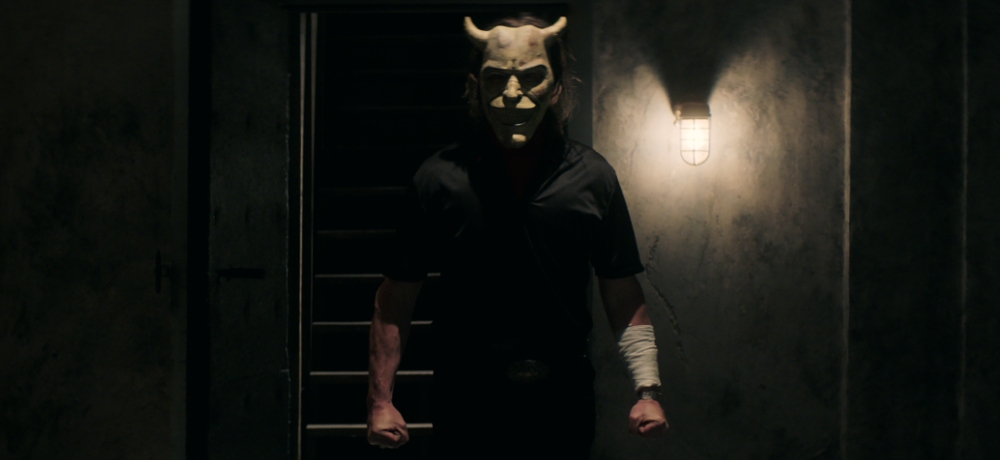 I couldn't ponder that chilling thought for long, though, as we were soon seated for Scott Derrickson's The Black Phone, an adaptation of Joe Hill's short story of the same name, co-written by Derrickson and C. Robert Cargill. Much like Sleepwalkers, I was not prepared for what I was about to watch, only this time it was The Black Phone's unrelenting approach to grim violence and deadly situations that left me shaken by the time the end credits rolled. Even though its take on kidnapping and captivity is extremely horrific at times, overall The Black Phone tells its story in a surprisingly accessible way, and I highly suggest horror fans see this one when it comes out in theaters on June 24th, if only to witness the terrifying performance by Ethan Hawke as The Grabber.
There wasn't much time to process the palpable terror of The Black Phone, though, as I needed to rush back to my hotel to unpack a bloody tuxedo from my suitcase and transform myself into a zombie as quickly as possible. The Overlook's "Halloween in June" costume party was about to kick off at One-Eyed Jacks, giving me the perfect excuse to wear the white tuxedo that me, my sister, and brother-in-law had splattered with red acrylic paint before I hosted the 10th anniversary zombie prom screening of Gregg Bishop's Dance of the Dead in Hollywood back in 2018.
This time, to complement the blood splatter on the white tuxedo and corsage, I also slathered white makeup and bloody scars and stitch marks on my face to give myself that classic dressed-up zombie look before I hit the town. While I missed the burlesque show at the costume party, I still got to see some great live music and plenty of creative horror-themed outfits, and most importantly, I got to have another killer time with the Daily Dead crew (who were also dressed up in awesome Halloween costumes).
After walking back to my hotel in my zombie costume (a late-night stroll that raised more than a few eyebrows and started a couple of interesting conversations), I washed my living dead look off my face but still slept like the dead before waking up a few hours later for the last day of the festival. Although it didn't seem possible, the end was nigh, and for the Daily Dead crew, it was time to record a live episode of Corpse Club—something I hadn't done since Flashback Weekend in 2018. I love recording our episodes in person when we get the opportunity, so I had some extra adrenaline running through me (along with plenty of iced caffeine) as Bryan, Jonathan, and I gathered around a microphone and gushed about our favorite moments from the past three days. Needless to say, we had no trouble filling up more than an hour of airtime before Bryan had to leave to catch his flight home.
With one full day left in New Orleans, me, Christy, and Jonathan had more downtime than any of our previous days, giving us an opportunity to watch Deadstream (a hilarious and horrifying found footage movie and satire of the world of online influencers) and Shaky Shivers (a quirky horror comedy and celebration of the prevailing powers of friendship) before settling in for my most anticipated screening of the day: the 100th anniversary showing of Häxan. Now, I may have been biased because this screening was presented by Daily Dead, but it was also extra special because it featured a live, improvised score performed by the band Think Less, Hear More. Watching Häxan with live music that wasn't rehearsed and was created on the spot was an experience I'll never forget, as the four-piece band made music that went from smooth jazz to hard rock to macabre melodies that paired perfectly with the paranoid horrors unfolding on screen.
As the final cymbal crash of the Häxan score echoed in the air, it felt like a signal that Overlook had come to a close. As I walked out of the Prytania Theatres one last time, I already knew that the hype was real. Overlook really was like a summer camp for horror fans, and in a year when we need to be extra careful to keep each other safe so that we can continue loving horror movies for years to come, the amazing team at Overlook provided as safe a space as they could for horror fans to come together and celebrate the genre in an ongoing pandemic. Overlook's safety measures gave me the opportunity to reconnect with friends I hadn't seen in years and meet other friends in person for the very first time.
For those reasons alone, I am immensely grateful to the Overlook staff and volunteers, but they delivered in so many other ways, too, from an eclectic screening slate to ghoulish gatherings to an immersive horror game that introduced me to parts of New Orleans that I may never had seen were it not for our investigation into Ace and his demonic clarinet. The Overlook team found ways to chill and thrill me both in front of the movie screen and outside the theater's walls, and that's no small feat to have multiple tracks that work equally well, especially when they invigorate you and make you excited for what's waiting around the corner—whether it's a movie premiere or a spontaneous combustion clue. I already can't wait to see what happens when we return to New Orleans next year, and even though this was my first year in attendance at Overlook, I'm beginning to wonder if I haven't always been here all along…