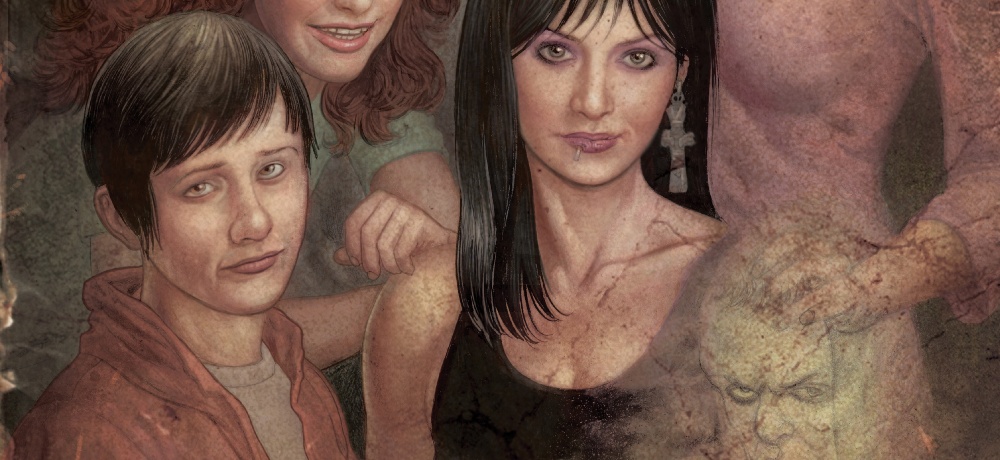 What should be a fresh start for a family turns into a living nightmare when they discover their living quarters at an apartment building is already home to centuries-old hauntings in the comic book series Lot 13.
Written by Steve Niles and featuring artwork by Glenn Fabry, Lot 13 was originally published by DC Comics from 2012–2013, and we're thrilled (and chilled) to exclusively announce that Dark Horse Books will be collecting the entire series in trade paperback for the first time!
The Lot 13 trade paperback will be released in comic shops on May 3rd, 2023, followed by a bookstore release on May 16th!
Below, we have the official press release with additional details and a look at the cover art for Lot 13, and to pre-order the Lot 13 trade paperback, visit Amazon and Barnes & Noble!
Press Release: MILWAUKIE, Ore. — Dark Horse Books presents Lot 13, a terrifying horror story from the minds of Steve Niles (30 Days of Night) and Glenn Fabry (PREACHER). Originally published by DC Comics in single issues, this edition collects the full series for the first time in print.

In 1670, in a small colony in Fairfax, Virginia, Robert Wyatt killed his family before taking his own life. The town elders held a tribunal and found Wyatt and his family guilty of mortal sin, and cast their bodies into unholy ground for eternity--or did they? When a young couple and their three young children move into a mysterious apartment building, they soon begin to see apparitions of the long-dead family of Robert Wyatt. The secrets of the house--and its dangers--are deepening with every passing hour as the young family struggles to escape the horrors surrounding them.

The Lot 13 trade paperback will be available at comic shops May 3, 2023 and in bookstores May 16, 2023. It is now available for pre-order at Amazon, Barnes & Noble, and your local comic shop. Lot 13 TPB will retail for $19.99.

Praise for Lot 13:

"It is quite frankly the most beautiful artwork I have seen Glenn Fabry produce to date."—Bleeding Cool

"This isn't slasher horror, but the more methodical under-your-skin kind that is a thousand times more rewarding." –IGN

###

About Dark Horse Comics 

Founded in 1986 by Mike Richardson, Dark Horse Comics is an excellent example of how integrity and innovation can help broaden a unique storytelling medium and transform a company with humble beginnings into an industry giant. Over the years, Dark Horse has published the work of creative legends such as Yoshitaka Amano, Margaret Atwood, Paul Chadwick, Geof Darrow, Will Eisner, Neil Gaiman, Dave Gibbons, Faith Erin Hicks, Kazuo Koike, Matt Kindt, Jeff Lemire, Mike Mignola, Frank Miller, Moebius, Chuck Palahniuk, Wendy Pini, Richard Pini, and Gerard Way. In addition, Dark Horse has a long tradition of establishing exciting new creative talent throughout all of its divisions. The company has also set the industry standard for quality licensed comics, graphic novels, collectibles, and art books, including Stranger Things, Avatar: The Last Airbender, The Legend of Korra, Minecraft, The Legend of Zelda, Super Mario, Dragon Age, James Cameron's Avatar, Game of Thrones, Mass Effect, StarCraft, The Witcher, and Halo. Today, Dark Horse Comics is one of the world's leading entertainment publishers.