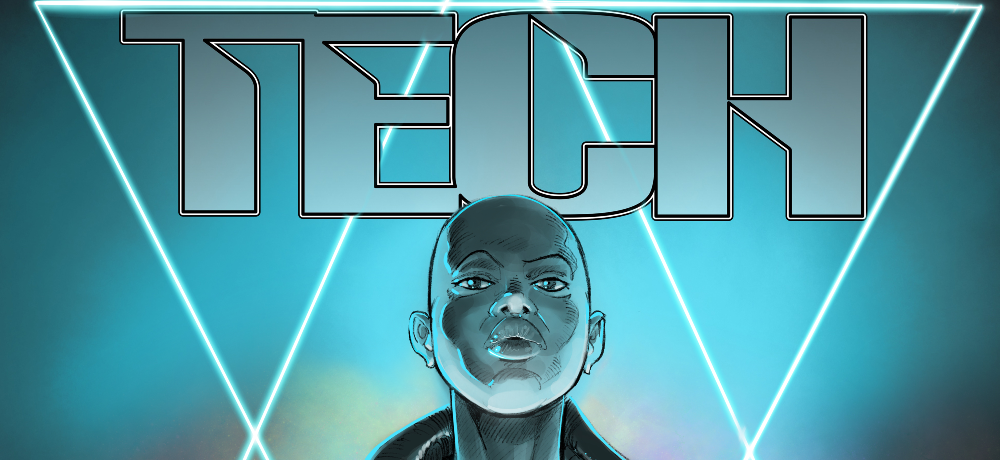 For decades, Vincenzo Natali has dazzled viewers as a director of horror and sci-fi with films such as Cube and Splice and TV series including The Stand and Lost in Space, but with his latest project, Natali steps out from behind the camera and taps into his longtime love of comic books to bring a bold vision of the near future to life in his debut graphic novel, TECH.
Written and illustrated by Natali, TECH will be released by Encyclopocalypse Publications on September 22nd, and we have an exclusive first look at the graphic novel's stunning artwork accompanied by a Q&A with Natali in which he discusses his artistic inspirations, the liberating creative process of working in the comic book medium, and teaming up with Encyclopocalypse to release TECH into the world!
Below, you can read our exclusive preview of TECH and Q&A with Natali, and to learn more, visit:
[Note: Pre-orders are currently US only. International pre-orders as well as wide release pre-orders will be handled via Amazon, Barnes and Noble, and Bookshop. Pre-order links for these sites and digital versions (Comixology/Kindle) will likely be available by the end of May.]
In TECH, you've built this incredibly rich futuristic world that still feels grounded in reality. How long have you been developing this story?
Vincenzo Natali: The story had been gestating in my mind since around 2015. Originally, I was thinking of it as a feature film screenplay, but I quickly realized that it would be very expensive to produce and probably would never see the light of day. About the same time, Apple came out with the iPad Pro, which was the first time a tablet would permit me to draw on the screen. I realized that I could make a comic book much faster and easier digitally than I ever could hope to do with pen and paper. Suddenly, I had the means to tell this story, albeit in another medium.
And you're right, I wanted it to have a gritty, street-view of a science fictional world. So I tried to take an illustrative approach, which would feel a little more naturalistic than the average comic book.
What are some of your favorite graphic novels, and which comic books / creators inspired you to work in this medium?
Vincenzo Natali: Even though I work in film and television, in reality I'm a frustrated comic book artist. Comics were my first love and I have since childhood admired the medium and artists and writers that work in it. I would say that comics have had as much an influence on me as a filmmaker as movies have.
Growing up in the late '70s and the '80s was a wonderful time for comics. In the early days, I was a Marvel kid. Jack Kirby, Steve Buscema, and John Byrne were very important to me. But while I liked superheroes well enough, I really connected with horror comics. And probably the artist who entranced me above all others was Bernie Wrightson. Swamp Thing and all of his work for Warren and independently was deeply influential. His illustrated Frankenstein and his collaborations with Stephen King have never really been surpassed.
Then in the mid-'80s, American comics suddenly evolved. The art and storytelling became quite experimental. Graphic novels (as they were now called) like Alan Moore and Dave Gibbon's Watchmen and Frank Miller's Ronin, and all the stuff that Bill Sienkiewicz did was mind-blowing. As was some of the British comics, like Judge Dredd, especially the ones drawn by Brian Bolland. At around the same time, I discovered the European artists like Moebius (Jean Giraud), Enki Bilal, Philippe Caza, Philippe Druillet, and Juan Gimenez (from South America). Those are the artists who probably had the most influence on TECH.
Of all the potential ideas you may have had for a graphic novel, why was TECH the perfect story for this format? What were the big advantages of developing TECH as a graphic novel versus a film or TV series?
Vincenzo Natali: Well, I'm used to working in film, which is a very expensive medium. And often I'm conscious of how much something is going to cost as I write it. My films Cube and Splice are written to only have a handful of locations and characters because that's all I could afford. But a graphic novel doesn't have those kinds of restrictions. So with TECH, I wanted to cast off those chains and do something really expansive.
I suspect that having been held back for so many years writing for movies made the freedom of the graphic novel that much more liberating and thrilling. It was like I suddenly didn't have strings attached to me. I could write as many characters as I wanted and I could visualize virtually anything. I've never had as direct a path from my brain to finished product than TECH. And yet having said that, I think my film experience provided me with the discipline to stay focussed on character and emotion and not become lost in my world-building.
The graphic novel is accompanied with some incredible concept art and notes. Can you talk about the creative process of bringing these characters and world to life?
Vincenzo Natali: Well, I confess I didn't have the story fully worked out before I began drawing the comic, which was part of the fun of it. I could be very organic with the process, letting discoveries that I made as I was writing and drawing in the early chapters inform what came later.
Essentially, I did it in three parts (which is how the book is divided). I would thumbnail about 60 pages in a notebook, then draw it fully rendered on my iPad, take a break and then do that with the next section and the next one. It was a very loose and playful process, which I hope translates into the final product. Also, this was all done in my spare time between film and TV gigs. When the pandemic hit, I had a luxury of time for me to finish it off.
But as different as a graphic novel is from a movie, it also has its similarities. I had to design everything in advance, from wardrobe to props to locations. And of course, I had to cast it, too. The pages you see at the back of the book are some of those explorations. I should point out that I borrowed heavily from the work of Ron Cobb (one of the great conceptual artists of all time) in terms of the feel of the hardware.
Can you also talk about your approach when it comes to the coloring of this graphic novel? Your approach is visually stunning and really sets itself apart from other graphic novels.
Vincenzo Natali: That's very kind of you. Well, there is a journey of self-discovery that our main character, Shel, is going through. And I thought it would be interesting that as she awakens to the hidden side of herself, more and more colour would be introduced. So even though we start in a monochromatic world, by the end it has become almost a psychedelic colour palette.
I also have to say I am a terrible inker! And when I am drawing I find that my best line work comes when I'm doing it unconsciously. So my preference is to do a very tight pencil with just a little bit of inking to refine it. If I go too hard in the inking, I find it kills the spontaneity and the energy of the drawing. The goal is always to find a kind of authenticity in my characters, to keep them at a human scale and not too cartoonish.
Ahead of TECH's release on September 22nd, can you give our readers a tease of the dangers that await Shel in a world where alien engineering and human technology mix?
Vincenzo Natali: The threat is from without and within. Shel is a courier for contraband alien technology. She's got a special knack for it which both empowers her and at the same time is killing her. That paradox is at the heart of our relationship with our real-world technology, which is at once so very seductive and yet seems to be leading us as much as it is serving us.
I wanted to take some of those thematic ideas and posit them in a future crime story. So, in addition to the danger of the tech itself, Shel must also negotiate all the other freaks, pirates, and addicts (because the tech has also been synthesized into a drug) who have become entangled in the black market, while protecting her daughter, who has been irreparably damaged at a genetic level. It's pretty juicy, pulpy stuff. I hope people dig it.
---------
To learn more about TECH and to pre-order the graphic novel, visit:
Press Release: Los Angeles, CA – What would humans do if they got ahold of alien technology? In Vincenzo Natali's upcoming graphic novel TECH, they'd exploit it for profit. Releasing on September 22, 2023 from publisher Encyclopocalypse Publications, TECH furthers Natali's passion for sci-fi horror into the realm of literary fiction.

"We have been admirers of Vincenzo's unique vision and imagination ever since Cube blew our minds. Working with him on TECH, which is a stunning and visionary piece of art, has been a dream." says Sean Duregger, Managing Editor of Encyclopocalypse Publications.

TECH explores a not-too-distant future in which mankind has cracked the code for alien engineering. Obtaining such insight carries a hefty price tag that Earth's miscreants are willing to pay – and lowly courier Shel can deliver. Business is booming, but it's a dangerous occupation; one that she would've abandoned long ago if not for her daughter's expensive medical treatments. Unbeknownst to Shel, however, is that the same secrets she's peddling on the black market are the very key to living the life she so desperately yearns for.

"TECH is the realization of a lifelong dream to write and illustrate my own graphic novel," says Natali. "As someone who works in the film and television space, I reveled in the freedom of a form unrestricted by time, money, and the machinery of Hollywood. The result is the most direct and undiluted translation of my imagination to words and images."

Vincenzo Natali is a wildly successful director and screenwriter, whose credits include the cult hits Cube and Splice. His talents have been displayed across multiple outlets, including helming episodes of 2020's The Stand miniseries and, most recently, Guillermo del Toro's Cabinet of Curiosities and Amazon Prime's adaptation of William Gibson's The Peripheral.

On why he chose Encyclopocalypse to help bring TECH out into the world, Natali had this to say, "The good people at Encyclopocalypse understand the inherent value of genre and are connoisseurs of its strangest and darkest corners, which is where I thrive. I feel immensely fortunate to have fallen into their orbit."

TECH will be available wherever books are sold on September 22, 2023. You can pre-order the graphic novel directly from Encyclopocalypse at BuyHorrorBooks.com.

Since its inception, Encyclopocalypse Publications has become a coveted publishing destination for independent authors and genre notables alike. Alongside producing audiobook renditions of literary classics, the imprint continually expands its catalog with new, original works and movie novelizations by the best dark fiction writers in the business today.
Exclusive Preview: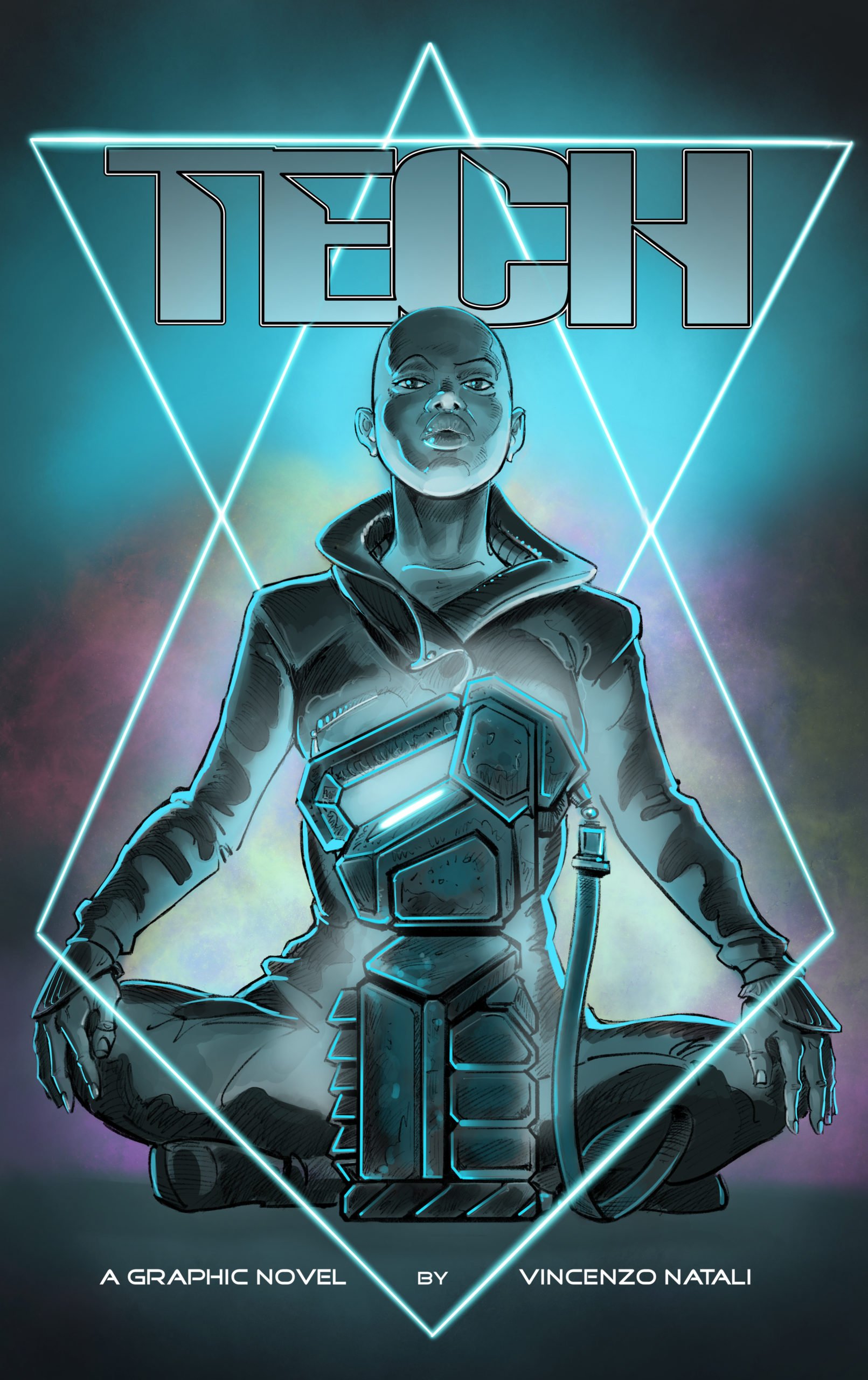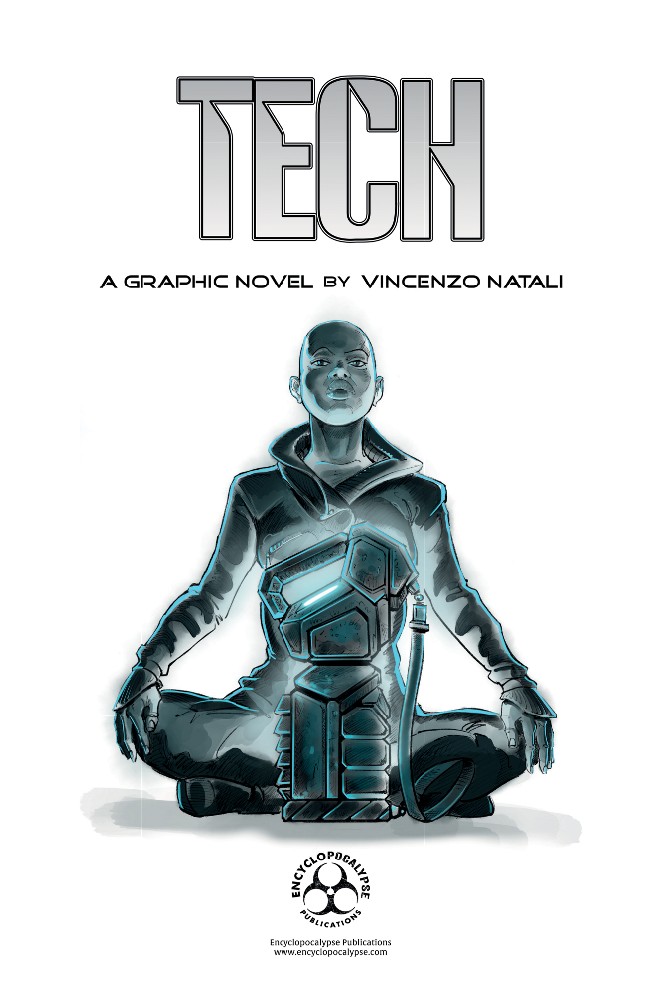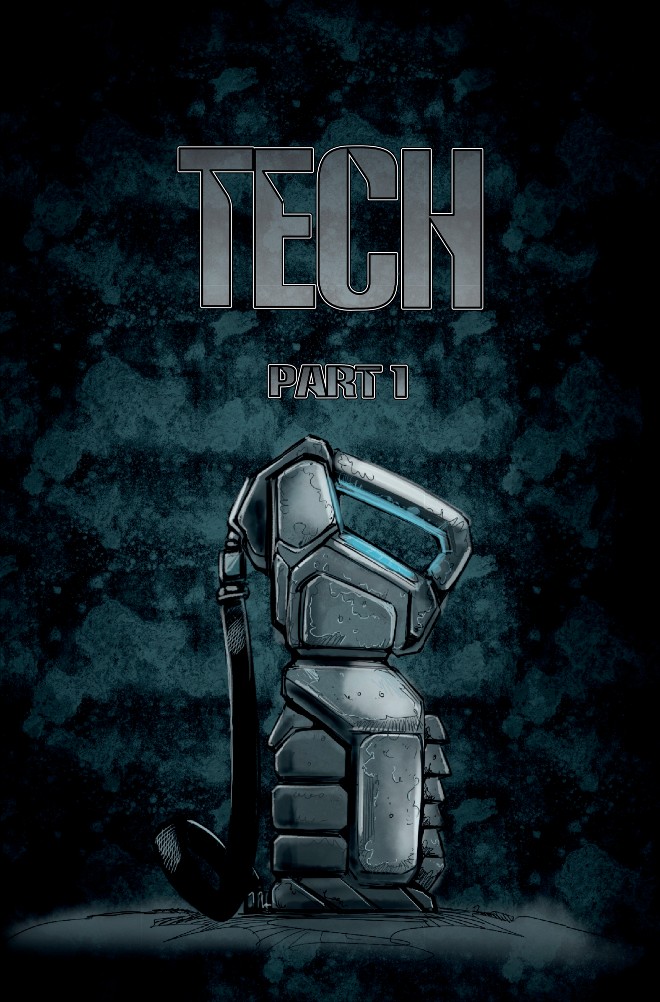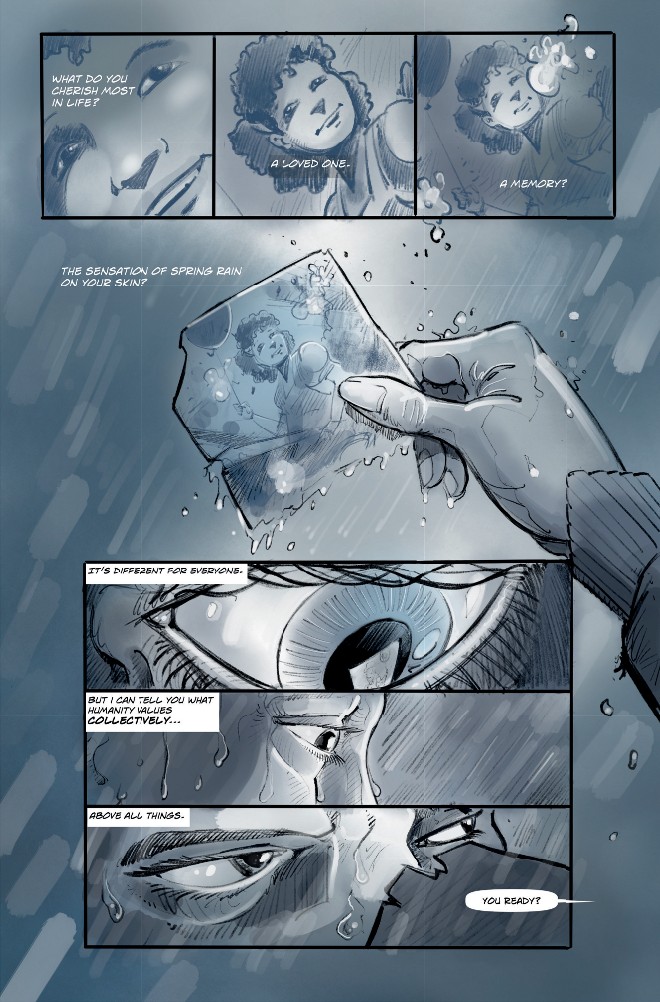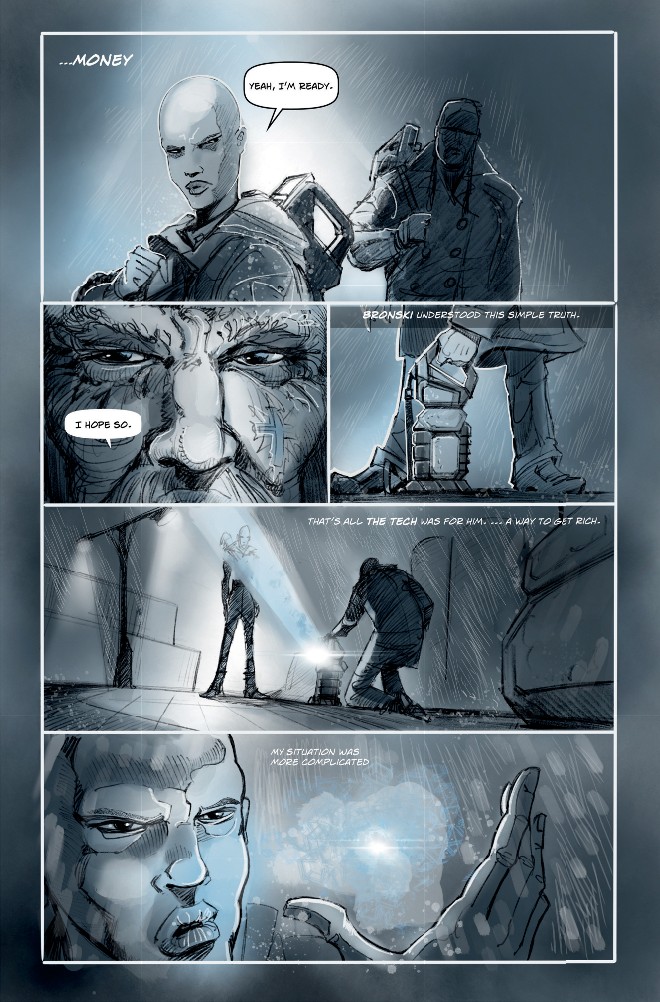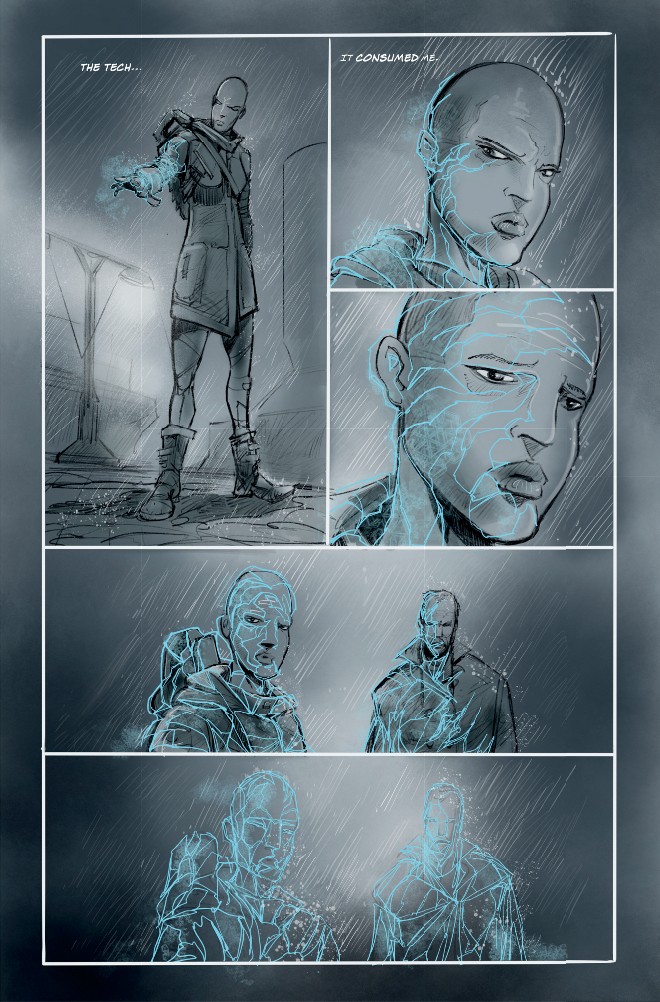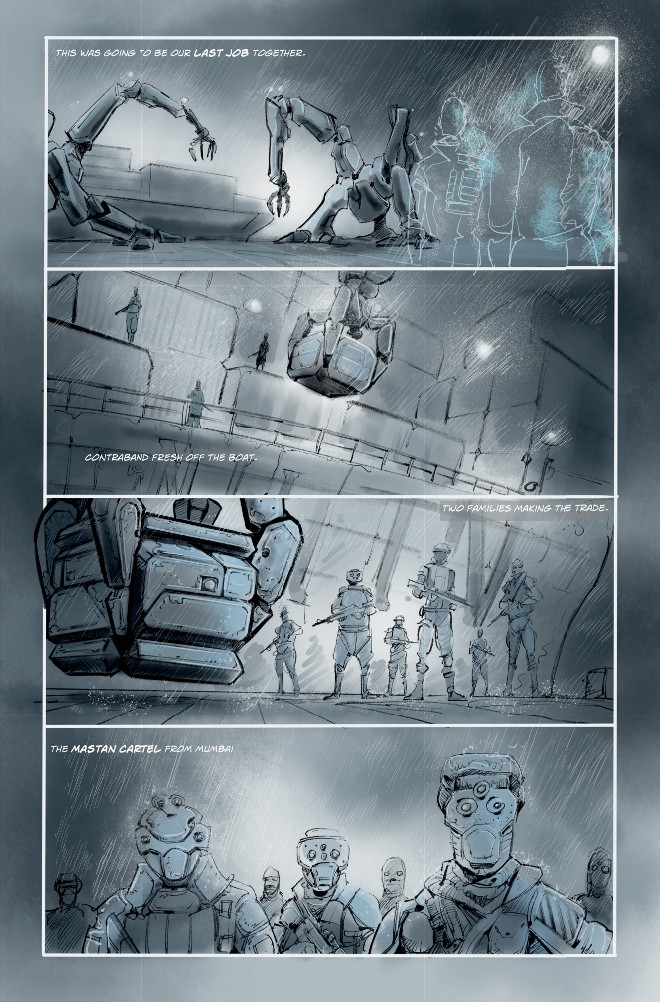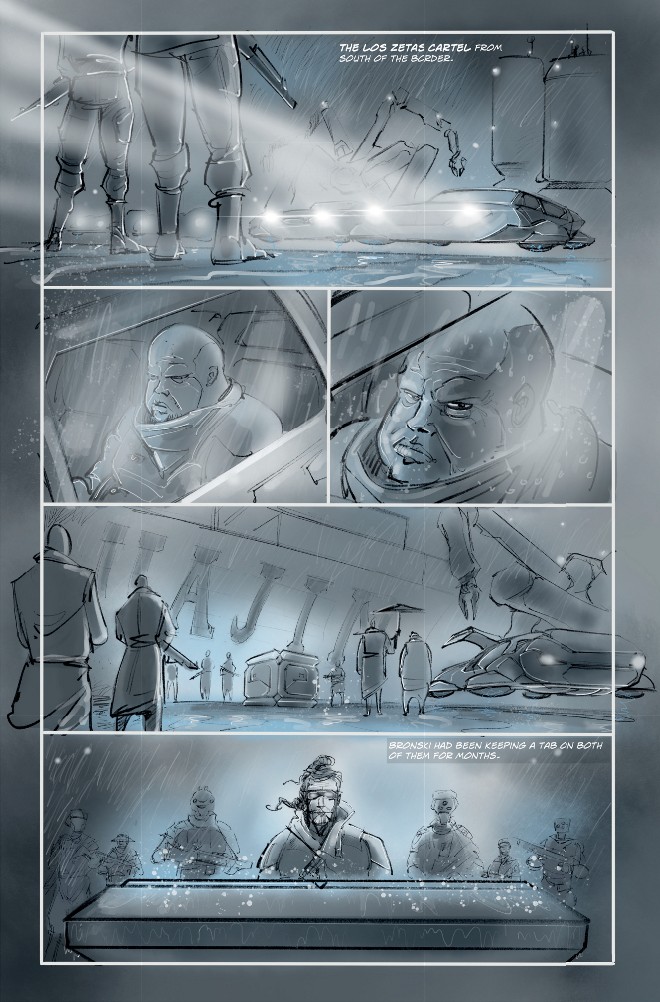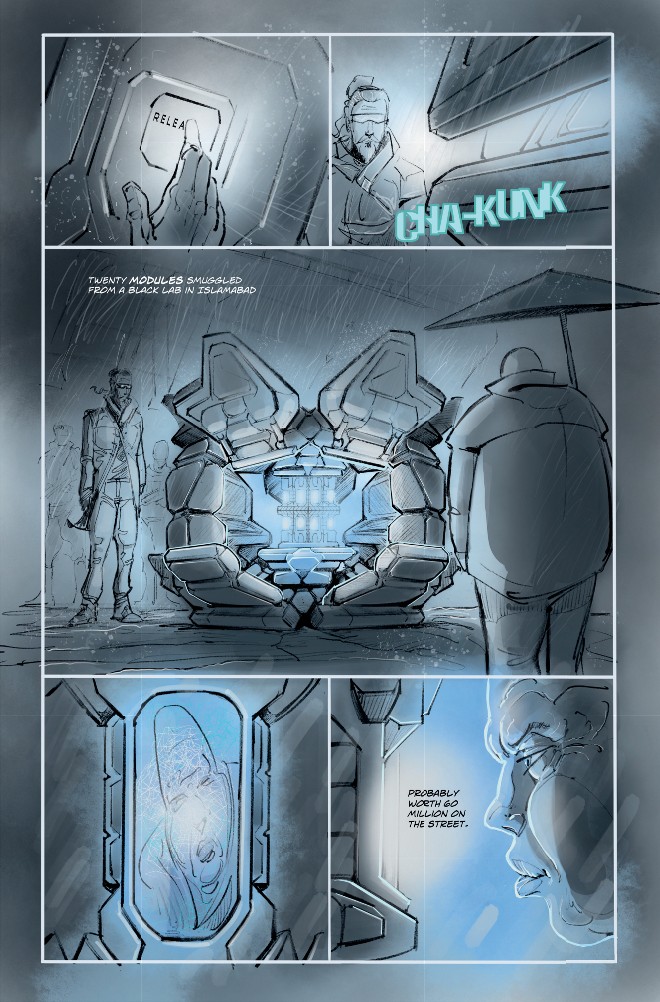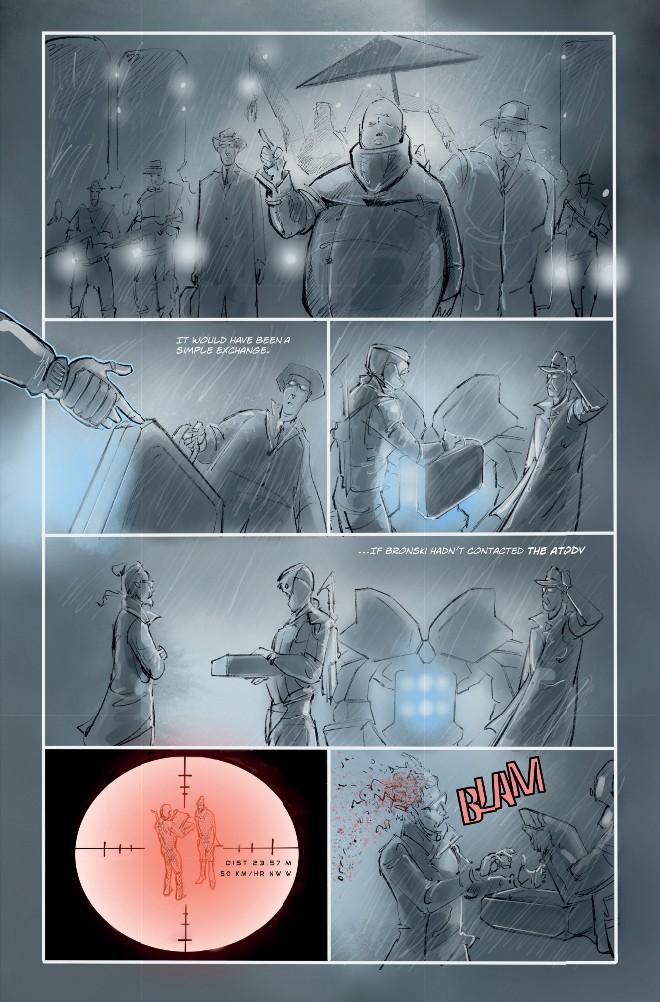 ---------
To learn more about TECH and to pre-order the graphic novel, visit: