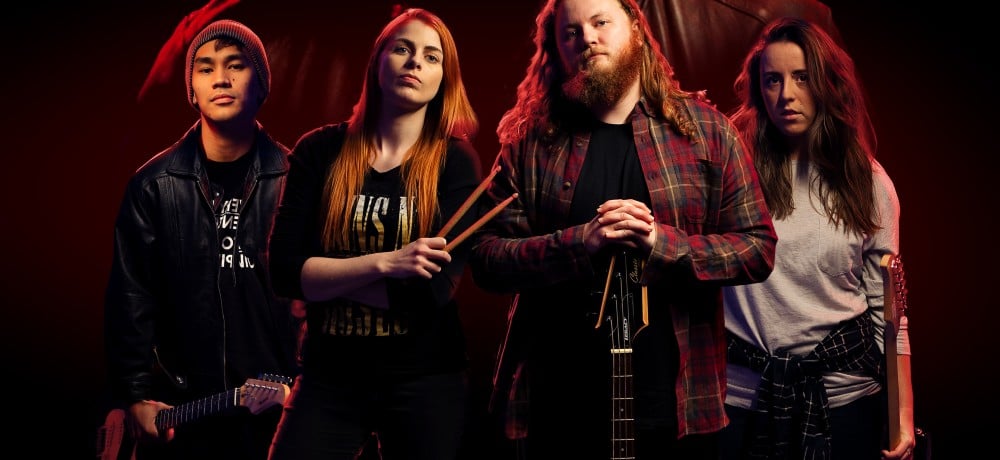 Bliss of Evil is a micro-budget queer-themed slasher film from Pieces of Work Productions. Shot over 13 days on a budget of $10,000 USD in Brisbane, Australia, the film has screened at Panic Fest, Salem Horror Fest, HorrorHound, GEN CON, Monster Fest, Cine-Excess, HorrOrigins, Spooky Empire, and Fright Nights. More festival screenings and release details will be announced in the near future, but to give you a tease of what's to come, we have the trailer and an exclusive look at a new poster!
"A sound engineer is forced to confront her trauma when she and her girlfriend's grunge band are trapped in a recording studio by a shadowy killer."
Directed by Joshua Morris, the film was written by Corrie Hinschen and Joshua Morris, produced by Lauren Shaw, Corrie Hinschen, & Joshua Morris, and features music by Nate Collins. Bliss of Evil stars Sharnee Tones, Michaela Da Costa, Shanay De Marco, Jordan Schulte, Chenaya Aston, Emily Rowbottom, Brendan R Burman-Bellenger, and Corrie Hinschen.
You can follow Pieces of Work Productions on Instagram: https://www.instagram.com/piecesofworkproductions/