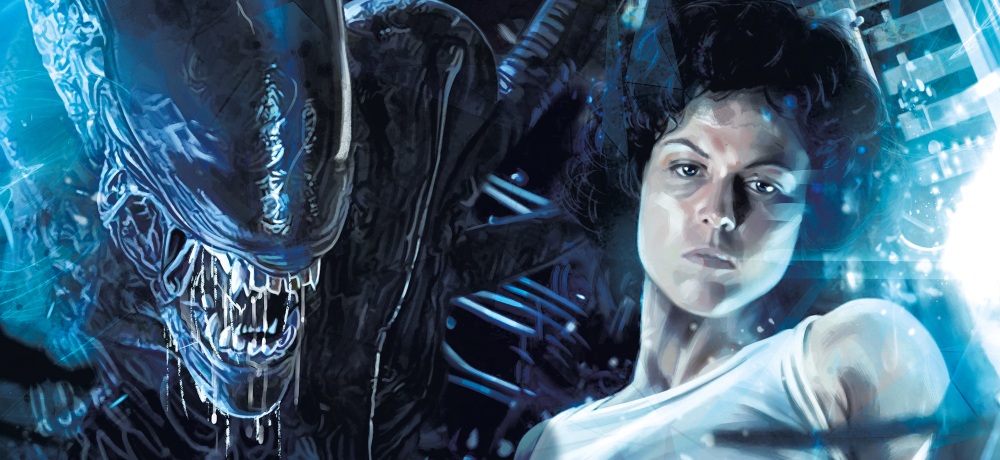 Although it may be difficult to believe, last year marked the 40th anniversary of Ridley Scott's Alien, and to celebrate, Titan Books gathered together an eclectic team of artists to pay tribute to H.R. Giger's gorgeously haunting visuals with original artwork of their own in Alien: 40 Years 40 Artists. With the new hardcover collection coming out on August 11th, we've been provided with an exclusive preview featuring stunning, scary good artwork by David Benzal, Dane Hallett, Justin 'Vberkvlt' Bartlett, and Marta Lech.
You can view new takes on the Xenomorph, Ripley, and the Facehugger in our exclusive preview below, and to learn more about Alien: 40 Years 40 Artists, visit Titan Books and Amazon.
"An artistic tribute to the sci-fi horror masterpiece Alien. 40 artists, filmmakers, and fans have been invited to contribute a piece of original art to commemorate the 40th anniversary of Alien in 2019. Pieces range from alternative posters to gothic interpretations of key scenes. Sketches, process pieces, and interview text accompany each new and unique nightmare. In addition to cover artist Dane Hallett—an Alien: Covenant concept artist—the contributors include Blade Runner 2049 director Denis Villeneuve, Sam Hudecki, and Tanya Lapointe; Star Wars concept artist and creature designer Terryl Whitlatch; and Kong: Skull Island director Jordan Vogt-Roberts, and Jon Wilcox."
Artwork credits:
15 - David Benzal
24 - Dane Hallett
39 - Justin 'Vberkvlt' Bartlett
55 - Marta Lech
Alien ™ & © 2020 Twentieth Century Fox Film Corporation. All rights reserved.