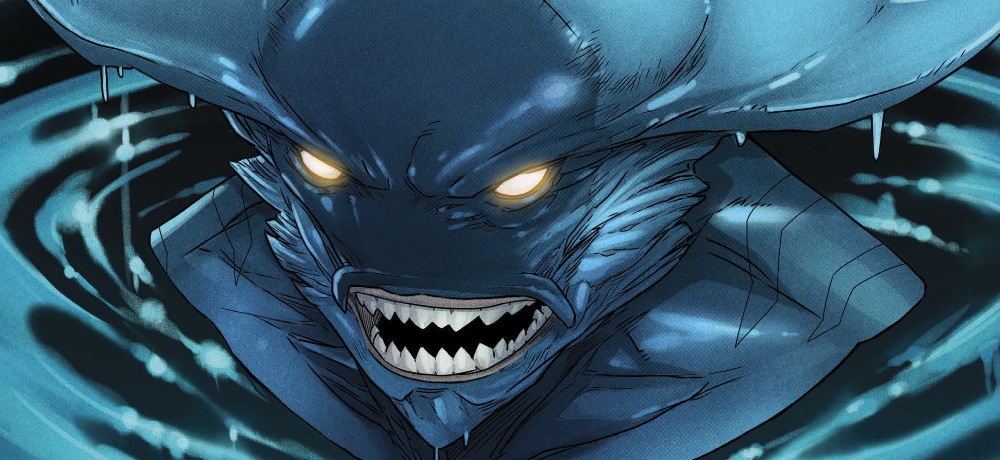 Pitting a newly settled family against a swamp creature known as the Grunch, the new one-shot comic Intrusion is now available from Magma Comix, an imprint of Heavy Metal. To celebrate the horror comic's release, we've been provided with exclusive preview pages to share with Daily Dead readers!
Writer and co-creator Ethan Sacks shared how his chemistry with Marco Lorenzana led to the creation of Intrusion:
"I couldn't have scripted Intrusion's origin story any better: four years ago, on my very first professional comic story for Marvel, I got paired with the incredibly talented artist, Marco Lorenzana. We jammed so well together that we vowed to team up again. Well, here we are with Intrusion, our first but not last creator owned comic together. To hold a copy of something you dreamed up and willed into existence with inspiration and perspiration is truly special. This may be a heart-breaking horror comic, but for us, it's all a storybook ending."
Check out our exclusive preview pages from Intrusion below, and to read more releases from Magma Comix, be sure to check out the fully collected trades of The Modern Frankenstein and Chasing the Dragon miniseries, which are now on shelves!
INTRUSION (ON SALE: OCTOBER 6)

Published by Magma Comix (Heavy Metal imprint)

CREDITS
Ethan Sacks – Writer/Co-Creator
Marco Lorenzana – Artist/Co-Creator
Denton J. Tipton – Editor and Magma Comix Publisher
Erick Arciniega – Colorist
Jaime Martinez – Letterer
Daniel Govar – Cover Artist
** Variant Cover by Marco Lorenzana

Set deep in the Louisiana bayou in the late 1760s, INTRUSION tells the story of the Broussard family, Acadians seeking a new life after being cast out of Canada by the British and having lived the last several years in indentured servitude. They arrive in Louisiana desperate for a second chance. Settling on a patch of remote land bordered by a "cursed" swamp, Jacques will do anything to defend his family's homestead…even if that puts them on a collision course with a creature that dwells in the bayou. At its terrifying heart, INTRUSION is a parable about the consequences of misguided prejudice and hate. The patriarch of the Broussard family will stop at nothing to defend his family from the horrors that lurk in the swamp—and neither will the Grunch!

Conceived as a one-shot horror comic from creators Ethan Sacks (Star Wars: Bounty Hunters, Old Man Hawkeye) and Marco Lorenzana (Heavy Metal Magazine, Hulk), the story makes use of the flip book format in an innovative way to tell the story from two very different perspectives—the human and the monster. The story from the human perspective starts at the front of the comic and the story from the monster perspective starts from the back, merging in the center of the comic on a double-paged spread.

ABOUT MAGMA COMIX

Magma Comix publishes original, creator-owned science fiction, fantasy, and horror comics and graphic novels, from the leading creators of the field. We believe storytellers deserve to be respected and valued more than the characters and worlds they create. We show this by championing creators and empowering them with the platform and resources to share their unique visions at the cutting edge of genre fiction. Founded in 2020 by award-winning and New York Times bestselling comics creator Denton J. Tipton, Magma Comix partnered with Heavy Metal Entertainment to help usher in an eruption of creativity at the revered publisher.