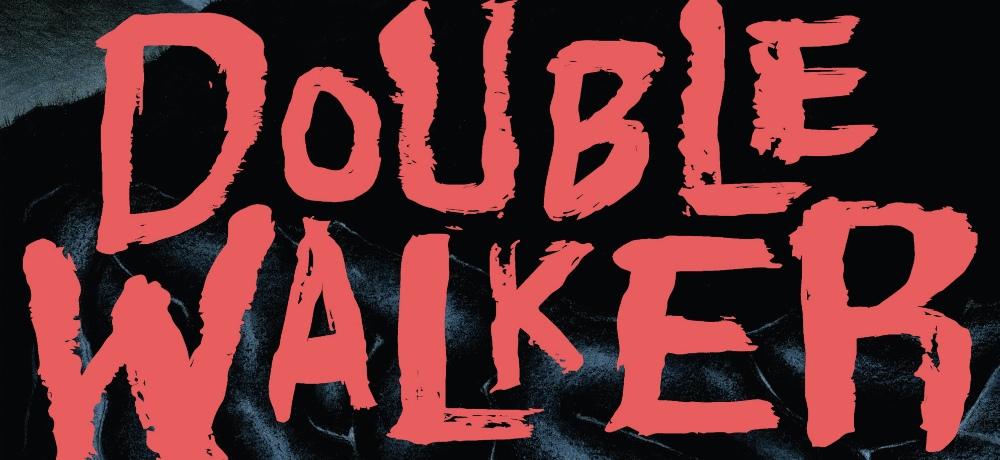 After exploring mind-bending dreams in Tremor Dose, writer Michael Conrad and artist Noah Bailey are reteaming for a new surreal tale of horror in the graphic novel Double Walker. Centered on a couple whose trip to the Scottish Highlands takes a deadly turn, Double Walker is now available digitally as part of the comiXology Originals line, and we've been provided with exclusive preview pages to share with Daily Dead readers, along with a Q&A with Conrad and Bailey.
Thank you so much for taking the time to answer questions for us, Michael and Noah, and congratulations on your new graphic novel Double Walker! Having previously worked together on the upcoming Tremor Dose, was it a no-brainer to team up on this story as well?
Michael Conrad: It's really rare, but we were lucky to find each other and discover that we share so many interests and goals. Our sensibilities line up perfectly for comics, so yeah; working with Noah takes no deliberation on my part.
After the success of Tremor Dose on ComiXology, I think everyone was a bit surprised. We were newer creators, offering a challenging book, when it found an audience we were asked what we would do next. With Tremor Dose being marketed as a horror book, we decided that our next effort would push further toward the horror genre. I asked Noah if I could do something mean spirited, of course he was up for it.
Noah Bailey: Being my first graphic novel, working on Tremor Dose was a massive learning experience for me and there were a lot of things that I wanted to do differently the second time around. Michael and I had gotten to know each other really well in that time, as humans and as artists. We were more understanding of each other's communication styles and more trusting of our creative instincts. We spent a lot of time introducing each other to different types of media and kind of giving each other little purity tests. Like: "So, are you really my creative-brother?" and every time the answer was clear. I think we both just really wanted to showcase our newly found strengths as a team and create something from a fresh position of confidence in ourselves and our capabilities. Working together feels so natural at this point, and I'm always just looking forward to our next project.
Double Walker follows an American couple on a trip to the Scottish Highlands. Did you have to do a lot of research on that location and its folklore to prepare to tell this story?
Michael Conrad: This kind of thing keeps me up at night. We have no desire to misrepresent Scotland, and I'm sure we got some elements wrong—but it won't be for a lack of research or care. I have been to the places we see in Double Walker and I've read a great deal about the area and the lore. Yes, we took liberties with some of the source material, but we made an effort to represent the culture and locations as honestly as a couple Americans can.
Noah Bailey: I was very nervous initially when dealing with the environments and the creatures for the book. I bought several books on Scotland, the Scottish Highlands and Scottish Folklore, and researched for weeks. It was actually one of my favorite parts of the whole project. Scotland is full of rich and incredibly fascinating history, I tried to hide small references to some of the things I had learned whenever I could.
How long did it take you to write Double Walker, and how many drafts did you go through before it was ready to publish?
Michael Conrad: It's hard to say, much of Double Walker was written in a blur, like a fever. I was laser focused on getting the script into Noah's hands so that he would have enough time to execute the art without feeling like he had to cut any corners. I went into it with clear beats, so structurally I knew everything was where we wanted it… I was tinkering with dialogue right through the lettering pass, thankfully we had Taylor Esposito on the book handling that element and he was very patient with last minute edits.
Double Walker is now available on comiXology Originals. What has it been like to partner with comiXology to release this story to the masses?
Michael Conrad: ComiXology Originals is home to a lot of books by the kind of creators we aspire to be. Many of them have engendered such trust with their audience that they are able to do something really strange and know that folks will show up in support. We don't have that kind of safety net. Noah and I have humble followings, so we can't count on loads of people giving us a chance based on what we've done before. We know we have to create really incredible books that contain something of such value that it will be given a chance by people unfamiliar with us.
We're lucky to have people internally who believe in us. Chip Mosher is the most notable advocate within the company. He believes in us and what we do, so in this way we've been quite lucky.
Noah Bailey: ComiXology has been so insanely good to us. They allow us to create books that are purely ours and trust us to do it well. I am so thankful to have been given the opportunity to work on these two books with a publisher that just allows us to create in our own way. They've taken a huge chance on us, and I hope that we can make them proud.
Noah, your artwork is both realistic and surreally haunting. What was it like for you to bring Michael's prose to life on the paneled page this time around?
Noah Bailey: Thank you! When I read Michael's script, it really moved me in a unique way. I could feel every emotion that the characters were experiencing so strongly. I knew that if his script was this effective in stirring a reaction in me, I REALLY needed to deliver on the visuals and hopefully even enhance the material for our reader. I took a long time to consider the mediums that I would use and how I should design the characters. I wanted the characters to be instantly sympathetic and relatable. I wanted it to feel like they were trapped in an animated movie from the '40s. Everything needed to feel deceptively sweet and inviting, and then it needed to feel horrible and nearly vomit-inducing. I had so much fun making the compositions and experimenting with shadows and rendering. It was just fun and exciting the whole way through.
Do each of you have a favorite moment in Double Walker that you're excited for readers to experience?
Michael Conrad: There are plenty of creepy moments in the book, but some of my favorite scenes have very little to do with the dread and paranoia we explore in the pages. I look forward to people seeing the bits where our central characters, Cully and Gemma, are interacting and enjoying their vacation. I'm proud of how authentic these moments feel, and it was neat to see Noah, who is known for his ability to horrify readers, tackle some tender moments.
Noah Bailey: My favorite moments include: a strange kind of picnic, a nighttime stroll through some woods, forgetting something under the bed, and some detectives enjoying the sight of some beautifully decorated tree limbs!
Do you have any plans to continue the story of Double Walker beyond this graphic novel, or did you accomplish everything you set out to do in this story's world?
Michael Conrad: I think stories can always go on, or thematic elements can be reframed and examined further. I know I could continue Double Walker, I'd be lying if I said I didn't like that idea; but we are also prepared to let the book live on its own. The story is complete, and doesn't need more. Any continuation would likely feel like its own thing, too.
Noah Bailey: For me, I can certainly see a way to continue with these characters and their story. But it doesn't seem necessary at this moment. I love the book as it is. I think if we were to do a continuation, it would be something very different in tone and purpose. I'm a big fan of sequels that completely subvert the viewers' expectations and offer something entirely new and unique.
Ultimately, what do you hope readers take away from Double Walker?
Michael Conrad: I like our stories to encourage self examination and to raise questions. I'm uncomfortable with the idea that there should be some moralistic value to every book, and I don't think it would be appropriate for me to desire an outcome for readers that they didn't unearth on their own in the process of considering what we've offered.
Noah Bailey: I just really want to make people feel something, and hopefully a lot of things. I hope that they read it and stare across the room for a long while after putting it down. I hope it stays in their minds for weeks and they have to keep revisiting different scenes to re-experience something that excited them in some way. I love when a piece of artwork can affect me in this way, and I want to create that for others.
What advice would you give to comic book creators who are just getting started?
Michael Conrad: This is one of my favorite questions because I think way too many people are waiting for someone to give them permission. Don't. If you wish to be a comic book creator, you need only to create comic books, then bango! You've done it!
Some folks wait, the illusion of legitimacy prevents them from self-publishing because their pride or something doesn't allow them to see this as "real" or valuable. These unfortunate people are doing themselves a disservice, and I hope they find a way to silence that voice and do what brings them joy. They might find that making comics isn't for them, and all that time hoping to do it would have been a waste! Imagine if people who wanted to play pro basketball never picked up the ball, waiting instead for the NBA to sign them a contract? Absurd. Go make something incredible—if that feels good, keep going, things will happen.
Noah Bailey: I would say, do not ever feel obligated to adhere to conventional standards of creating. Do whatever the hell you want, and do it now. If you want to make a graphic novel in a compositional notebook and make the drawings using mud and a stick you found in your yard, do it! Don't allow yourself to be debilitated by the weight of tradition. Have fun at every moment and create something that you wish existed.
In addition to Double Walker, what other projects do you have coming up that you're excited about, and where can our readers go online to keep up to date on your work?
Michael Conrad: I'm currently writing the monthly Wonder Woman for DC comics, and finishing up a run of Midnighter that has been appearing in the pages of Action Comics. Tremor Dose will see print through Dark Horse Publishing in November, Noah and I are very excited about that.
I have a number of other projects in the works that I can't really mention, and of course Noah and I are already going on our next project together. You can keep up with me on Twitter and Instagram, both under the handle @michaelwconrad
Noah Bailey: I am working on a number of shorter-form comics for various publications, as well as a graphic novel. Michael and I have a few short projects together and a much larger project in the works as well! I've released some new prints in my shop, and will soon have more! I'll also have illustrations in some upcoming issues of Alfred Hitchcock Mystery Magazine, and a film poster for the newly released book Underexposed: The 50 Greatest Movies Never Made, which I would urge every film fan to purchase immediately! If you want to keep up with my work, Instagram: @boyishdeathtribe Twitter: @boyishdeath
Thank you very much for your time, Michael and Noah!
Michael Conrad: Our pleasure, thank you for having us.
Noah Bailey: Thanks so much! This was a lot of fun and I really appreciate it!
----------
To learn more about Double Walker, visit ComiXology, and check out the trailer and exclusive preview pages below!
Press Release: July 8, 2021 — New York, NY — From writer Michael W. Conrad (Wonder Woman, Midnighter) and artist Noah Bailey, the creators of the acclaimed graphic novel Tremor Dose, comes an all-new original graphic novel: Double Walker. This mind-bending tale of neurotic folk horror written by Conrad and illustrated by Bailey, arrives July 13, 2021 from comiXology Originals, the exclusive digital content line of comiXology, an Amazon company, with lettering by Taylor Esposito and designs by Kyle Arends.

In Double Walker, Americans Cully and Gemma McCarthy decide to take one last trip before their carefree, childless days come to an end. Headed to the magical Scottish Highlands to hit up all the tourist locations, their romantic getaway soon spirals into a nightmare full of paranoia and violence. While staying at a B&B, the young couple soon find themselves at the local pub where they meet a barkeep who weaves tales of Scottish myths and legends and learn of a bizarre string of murders in the area. Haunted by the stories and their recent personal tragedy, their marriage is challenged, forcing them to confront their deepest darkest fears.

Conrad has returned to his horror roots with Double Walker. "I have always been fascinated by psychology and human motivation, my background in the mental health field will always inform every story I tell," says Conrad. "While I love writing for mainstream comics, a book like Double Walker allows me to push myself further into the surreal, twisted, and often terrifying worlds where I feel most at home. The worlds Noah and I are able to create with comiXology Originals are our own, places where anything can happen, and no one is safe."

Bailey's traditional mixed media work is presented here with a fresh, dream-like take on the four-color palette. The artwork once lures you into the fantastic gloominess of the fairytale environments and violently attacks with vibrant scenes of brutality. Bailey provides Double Walker with a pace and tension rarely seen in Western comics.

"I fell in love with every character, every environment and every moment that Michael had concocted," says Bailey, reflecting on his work on the material. "Michael wrote something that felt painfully real and raw, displaying all of the beautiful complexities of human relationships, pulling no punches in the moments of deep, diabolical darkness. I did everything in my power to produce pages that could convey my appreciation and love for the story and characters that he wrote."

Together, Conrad and Bailey weave another twisted tale of identity, anxiety, and fear that will linger with readers day and night.

Tremor Dose arrives in print from Dark Horse Comics on November 2, 2021 and is available for pre-order now through Amazon, Barnes and Noble, and your local comic shop.

ComiXology Originals titles are available at no additional cost for members of Amazon Prime, Kindle Unlimited, and comiXology Unlimited, and for purchase on the Amazon Kindle Store and comiXology. Prime Reading offers all Amazon Prime members a rotating selection of over a thousand top Kindle books, magazines, short works, comic books, children's books, and more – all at no additional cost. Kindle Unlimited gives customers access to more than 1 million titles, including thousands of audio books, and current magazines for just $9.99 a month with a free trial period at amazon.com/kindleunlimited. ComiXology Unlimited offers over 30,000 comics, graphic novels and manga for just $5.99 a month with a 30-day free trial at comixology.com/unlimited.

For more updates on comiXology Originals, check out http://comixologyoriginals.com.

About the Creators

Michael W. Conrad is currently co-writing Wonder Woman and Midnighter for DC Comics. Michael continues to self-publish and document his existence through Mystery School Comics Group.

Noah Bailey is an illustrator and cartoonist from the Midwest. He continues to grow as one of the most sought-after illustrators for print and film. In addition to his work in comics, Bailey has developed a cult-like following of collectors hungry for more of his cinema inspired multimedia work.

About comiXology

ComiXology, an Amazon.com, Inc. subsidiary (NASDAQ:AMZN), is a revolutionary, cloud-based digital comics service. With content from over 125 publishers as well as thousands of independent creators from around the world, comiXology provides an unrivaled library of comic books, graphic novels, manga and bandes dessinées. The company's first-in-class innovations include Guided View technology which provides an immersive and cinematic reading experience and a monthly subscription service. ComiXology is based in New York City, with operations in Seattle and Los Angeles. For more information, visit comixology.com and follow the company on Twitter, Facebook and Instagram.

Exclusive Preview Pages: