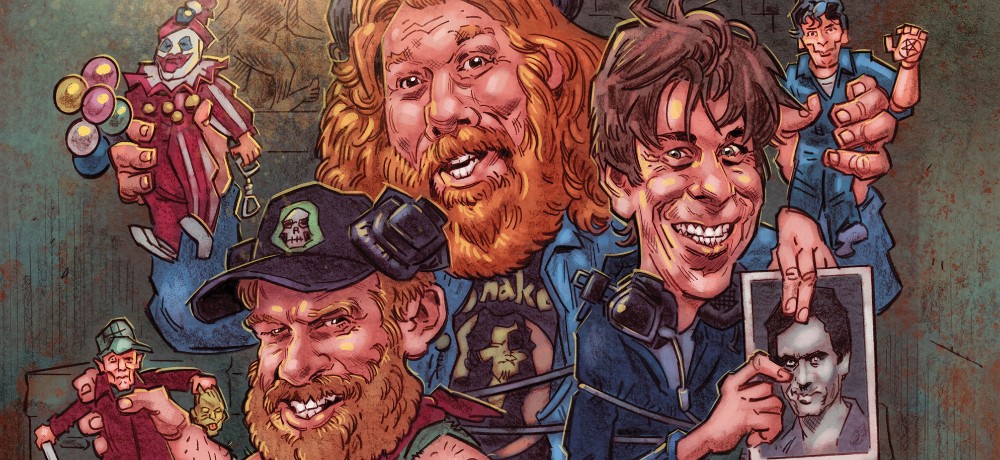 Marcus Parks, Henry Zebrowski, and Ben Kissel, the hosts of Last Podcast on the Left, made headlines last year when they teamed up with DC for the horror comic book series Soul Plumber and now they're only a couple of weeks away from their next comic book release! Available on June 21st from Z2 Comics, The Last Comic Book on The Left is a graphic novel that pays homage to horror comics like Tales From the Crypt and The Vault of Horror, with an all-star group of creators, including James Tynion IV, David Dastmalchian, Ryan Cady, Rick Veitch, Morgan Beem, Lukas Ketner, and more! As an exclusive treat just for Daily Dead readers, we have preview pages that you can read right now, featuring a story from Ryan Cady, Morgan Beem, and Fred Stresing:
"RISE FROM YOUR GRAVES! Not a joke, not a gag; like a necromancer, The Last Podcast on The Left is reviving the tradition of the humor comic magazine, this time as a series of graphic novels. Inside you will see stories edited and curated by your Last Podcast Hosts made to entrance the eyes and titillate the senses.

SEE: Detective Popcorn solve the meaning of LIFE!

WITNESS: The descendent of Albert Fish!

GET AROUSED BY: Very Sexy Mothman!

A mix of Comedy and Horror created by some of the best comic writers, artists, and warlocks in this dimension. Once read The Last Comic Book on The Left will change your life maybe for the better.

DISCLAIMER: The Last Comic Book on The Left has not been funded by an underground satanic cult, All Cryptid portrayals have come with the explicit permission of The Mothman, Sasquatch and Jersey Devil estates. By buying, reading or even looking at this book you are consigning your soul, spirit or any eternal animating entity to the creators of this book which again is not funded by a satanic cult."
To learn more and pick up a copy for yourself, visit: https://z2comics.com/products/the-last-comic-book-on-the-left-volume-1-graphic-novel