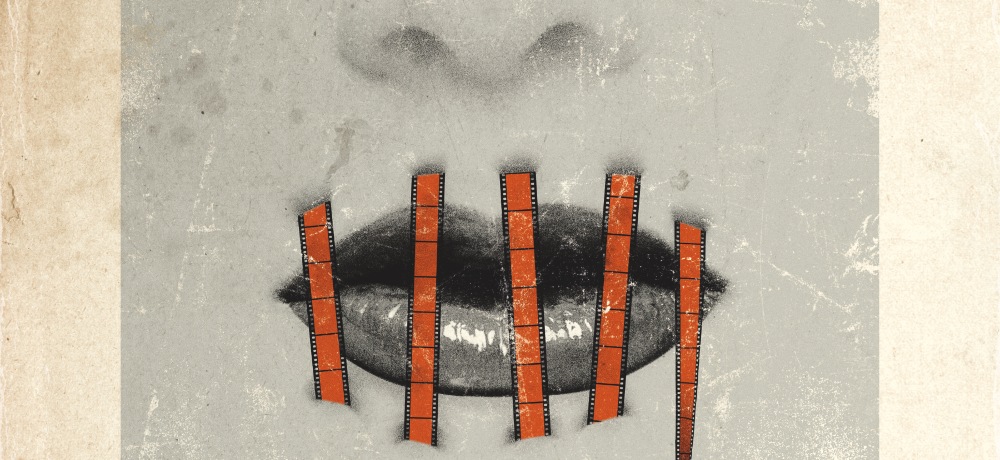 "When there's no more room in Development Hell..." For as many intriguing, thought-provoking, and altogether entertaining horror movies we've seen over the decades, there are many more that never saw the light of the big screen. Thankfully, longtime horror journalist and filmmaker Dave Alexander sheds light on the scary good projects that never quite came to life in his new book Untold Horror, and we're excited to exclusively announce that Dark Horse Books will release Untold Horror in hardcover to comic shops on July 28th and in bookstores on August 10th.
Brimming with interviews, scripts, and artwork for some of the horror genre's most shocking unmade movies, Untold Horror spotlights unfinished films that were in the works from George A. Romero, John Landis, Joe Dante, Larry Cohen, Richard Stanley, Vincenzo Natali, and more filmmakers!
Below, we have the official press release with additional details, as well a look at the cover art that's fittingly reminiscent of a horror movie poster!
Press Release: MILWAUKIE, Ore., (February15, 2021)— Some of the most mind-bending, jaw-dropping and heart-stopping tales in the history of genre film are the ones that never made it to the screen... Dark Horse Books has a story to tell—or rather, untold stories, insightful interviews, and behind-the-scenes looks from horror legends George A. Romero, John Landis, Joe Dante, Larry Cohen, Richard Stanley, Vincenzo Natali and more, conducted by former editor-in-chief of Rue Morgue magazine, Dave Alexander, about the scariest movies never made. Crack the spine, if you dare, and discover the Untold Horror!

Take a behind-the-scenes look into development hell to find the most incredible horror movies that never were, from unmade Re-Animator sequels to a couple H.R. Giger passion projects, to alternate takes on legendary franchises such as Frankenstein, Dracula and Jaws!

Features art, scripts, and other eye-popping production material from unmade films that still might make you scream—with insights from influential directors, screenwriters, and producers with decades of experience.

Untold Horror hardcover will be in comic shops on July 28, 2021 and in book stores on August 10, 2021. It is available for pre-order on Amazon, Barnes & Noble, TFAW, and at your local comic shop and bookstore. Untold Horror will retail for $39.99.

About Dark Horse Comics 

Founded in 1986 by Mike Richardson, Dark Horse Comics is an excellent example of how integrity and innovation can help broaden a unique storytelling medium and transform a company with humble beginnings into an industry giant. Under a new partnership with Vanguard Visionary Associates, Dark Horse is positioned to further expand its reach globally with publishing, products, and filmed entertainment. Over the years, Dark Horse has published the work of creative legends such as Yoshitaka Amano, Margaret Atwood, Paul Chadwick, Geof Darrow, Will Eisner, Neil Gaiman, Dave Gibbons, Faith Erin Hicks, Kazuo Koike, Matt Kindt, Jeff Lemire, Mike Mignola, Frank Miller, Moebius, Chuck Palahniuk, Wendy Pini, and Gerard Way. In addition, Dark Horse has a long tradition of establishing exciting new creative talent throughout all of its divisions. The company has also set the industry standard for quality licensed comics, graphic novels, collectibles, and art books, including Stranger Things, Avatar: The Last Airbender, The Legend of Korra, Minecraft, The Legend of Zelda, Super Mario, Dragon Age, James Cameron's Avatar, Game of Thrones, Mass Effect, StarCraft, The Witcher, and Halo. Today, Dark Horse Comics is one of the world's leading entertainment publishers.