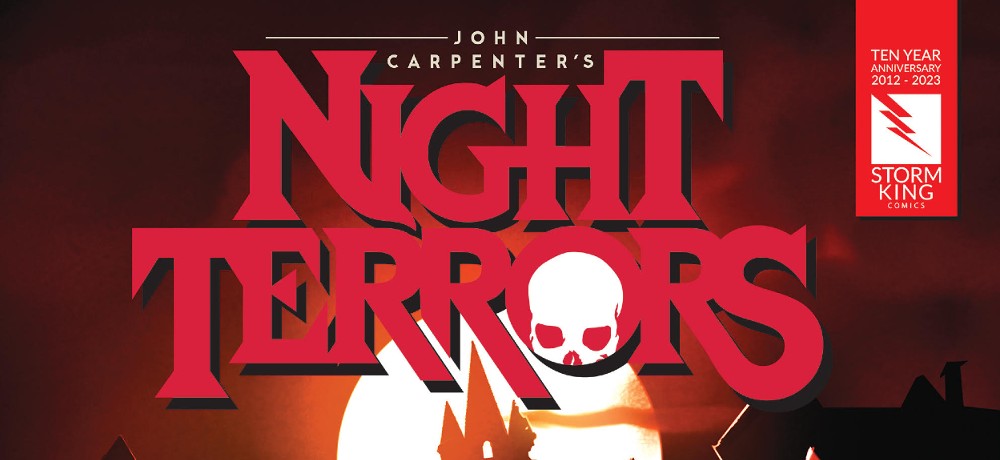 With San Diego Comic-Con only two months away, we're already starting to get a heads up on the horror comics and events you won't want to miss, and we are excited to exclusively reveal that Storm King Comics will debut Usher Down, the latest volume in their popular anthology series John Carpenter's Night Terrors. A chilling ghost story "set in perhaps history's most fabled haunted house," we have all the details and a look at the cover art.
The release of Usher Down coincides with the 10th anniversary celebration of Storm King Comics, the first comic book publishing company to be founded by a woman, producing legend Sandy King Carpenter, with multiple activations planned at this year's Comic-Con International: San Diego. Written by Jason Henderson and illustrated by Greg Scott, with colors by Felipe Sobreiro and letters by Ed Dukeshire, Usher Down kicks off the 2023 slate of the John Carpenter's Night Terrors imprint. Here's the synopsis:
"A young psychic joins a government expedition to explore the most legendary haunted house of all time, the fabled House of Usher. The house is real, frozen in time below ground-but what the explorers find there is demonic, alive, and may well have called them for its own dark purposes. Writer Jason Henderson along with artist Greg Scott and colorist Felipe Sobreiro take you underground in Usher Down, the seventh story in Storm King Comics' anthology series, John Carpenter's Night Terrors."
"Here's the thing. Usher Down isn't a haunted house story-- it's a haunted house expedition story like the ones Greg Scott and I are obsessed with like The Haunting, Rose Red and The Legend of Hell House" says writer Jason Henderson. "When you have a house that everyone holds in awe and you put together an expedition and anything can happen. That's the stuff, that's what we wanted to make and Storm King made that vision a reality."
More on Storm King Comics: "Storm King Comics was founded in 2012 by CEO Sandy King Carpenter. She and husband/creative partner, John Carpenter, released their first comic, Asylum, ten years ago in 2013. With over 100 comic and graphic novel titles published, Storm King has brought together some of the best creators in the world to craft original horror, sci-fi, and fantasy tales. Sandy King Carpenter has utilized her extensive background in entertainment—as a horror film producer and professional—to build a successful comic book company from the ground up. She has shepherded every title throughout the creative process, alongside managing editor Sean Sobczak."
Usher Down will be available on July 12, 2023 in comic shops and digitally online through GlobalComix. Copies will ship from Amazon, and become available in bookstores on July 25 .
For more information on Usher Down and Storm King Comics, visit https://stormkingcomics.com/