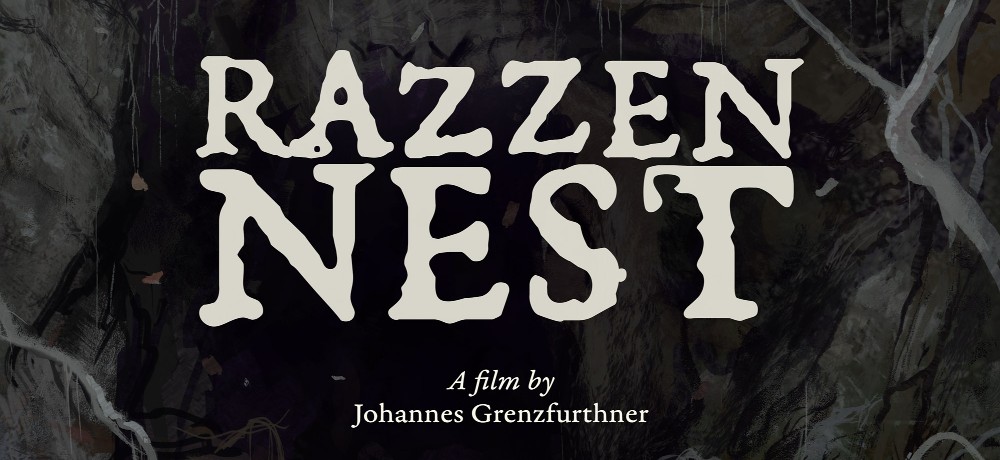 "History is Written by the Dead" From director / writer Johannes Grenzfurthner, Razzennest will have its world premiere at a prestigious festival this Autumn and we have the trailer premiere as a special treat for Daily Dead readers!
Synopsis: "South African enfant terrible filmmaker and artiste-cineaste Manus Oosthuizen meets with Rotten Tomatoes-approved indie film critic Babette Cruickshank in an Echo Park sound studio. With key members of Manus's crew joining, they record an audio commentary track for his new elegiac feature documentary Razzennest. But the session goes down a different path... cazzart! The ultimate elevation of arthouse horror, just not as you might expect."
Cast: Sophie Kathleen Kozeluh (as Babette Cruickshank), Michael Smulik (as Manus Oosthuizen), Anne Weiner (Ellen Zampaglione), Roland Gratzer (as Hetti Friesenbichler), Jim Libby (as Pat Kirkpatrick), Bob Rose (as Bob), Joe Dante (as Joe Dante)
Crew:
Johannes Grenzfurthner ... writer and director

Florian Hofer & Philine Hofmann & Ronald von den Sternen ... Directors of Photography

Alec Empire ... music

Fabian Wessely ... sound recordist and sound editor

Daniel Hasibar ... sound design/foley/re-recording artist

Assistant director ... Jasmin Hagendorfer

Bernhard Hochenauer ... color grading
Producers: Jasmin Hagendorfer, Günther Friesinger, Julianne Gabert, and Johannes Grenzfurthner
Associate Producers: Robert Stachel, Vlad Gozman, Michael McEnroe, Seda Röder, Matthias Röder, David Fine, Rosa Lobo Antonio
Director's / Writer's Statement from Johannes Grenzfurthner: "Razzennest not only gave me the unique opportunity to write a love letter to genre films and rain ridicule on pretentious arthouse films, but also to write a love letter to arthouse films and mock the inherent problems of genre films. It allowed me to realize my decades-old dream of making a film about the Thirty Years' War and its endless atrocities without needing a budget of millions of dollars to depict the war's bloody significance. Also, Razzennest provided an exciting chance to portray a fascinating landscape, the Rohrwald, which is only a few kilometers from where I grew up.
Razzennest is horror, satire, drama, a ghost story, and a tale of survival told on a very improbable cinematic canvas. Given the political climate in the United States and other Western societies, the film is a necessary reflection on the undead legacy of murderous Christianity.
Enjoy Razzennest while you still can."
Grenzfurthner's last film, Masking Threshold, was recently acquired by Drafthouse Films and will have its streaming release later this year. Stay tuned to Daily Dead for more details on Razzennest and its upcoming screenings!