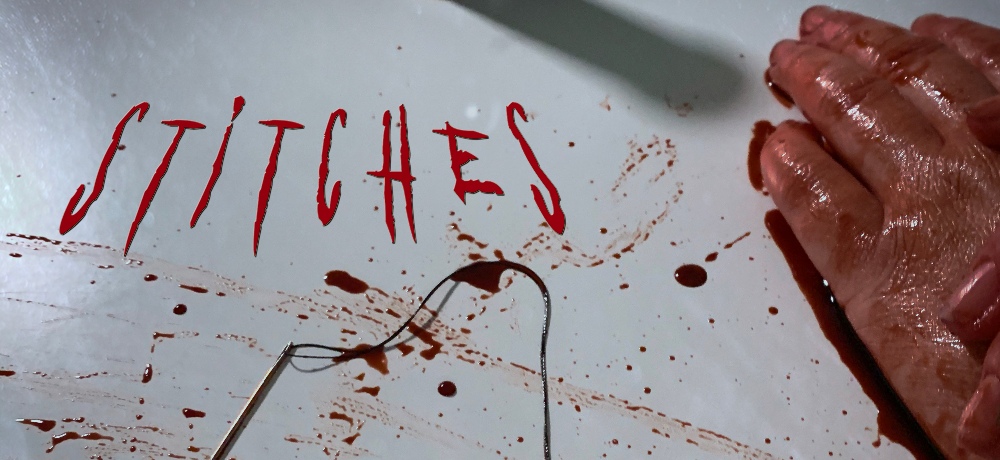 When your body is held together by thread and needle, it truly gives an all new meaning to "holding it all together." Such is the case for Nicole (played by Nicole Barron) in Colin MacDonald's Stitches, and we've thrilled to exclusively premiere the new body horror short film right here on Daily Dead, complete with a haunting score by composer Jerry Smith!
Below, you can watch Stitches in its entirety and check out behind-the-scenes photos from the short film, and to learn more about Stitches and the creative team that brought it to life, visit:
A young woman will stop at nothing to hold it all together in Stitches. Watch the agony unravel in the 6-minute body horror short on YouTube.

Stitches is the latest film from onStream Productions - writer/director Colin MacDonald and actress/special effects creator Nicole Barron, in collaboration with composer Jerry Smith. Following their award-winning short Hangail, the trio pushed themselves to make viewers' skin crawl with an even more visceral effort.

"The thought of having thin, delicate threads holding my flesh together has always disturbed me," shudders MacDonald. "Making Stitches allowed me to amplify that and explore the most nightmarish of scenarios."

onStream Production is currently in development on their next short, Hunters' Orange. For more information, visit onStreamProductions.com.
Additionally, here's what composer Jerry Smith had to say about working on Stitches:
"It was great to work with Colin and Nicole from OnStream again, this time doing our best to bring some body horror to horror fans in a gruesomely short way. It's always such a blast to collaborate to with such imaginatively sick filmmakers. Can't wait for the next one!"
NSFW behind-the-scenes photos courtesy of onStream Productions: