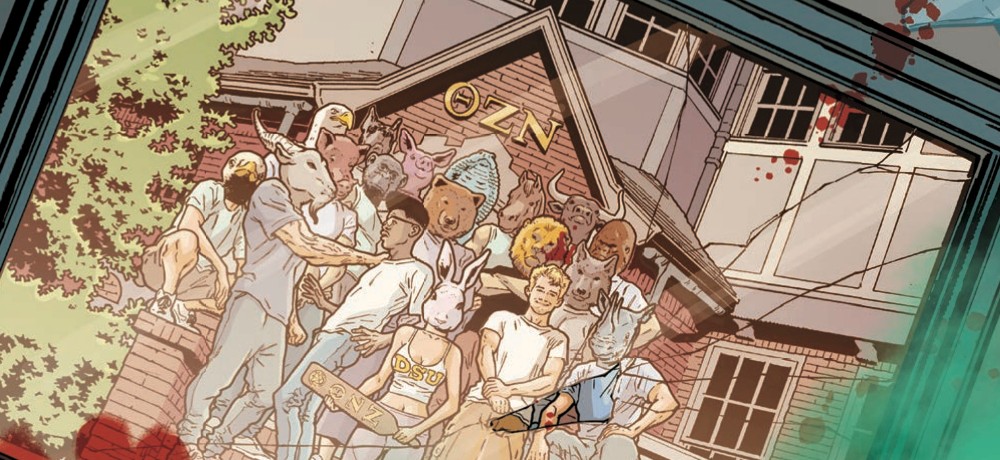 From Night of the Creeps and Pledge Night to Sorority Row and The Skulls, college has long been the perfect setting for unsettling scares in the horror genre, and writer Jon Ellis, artist Hugo Petrus, and colorist Lee Loughridge look to enroll horror fans in their own demonic take on higher education with their new graphic novel Fraternity.
Centered on a college freshman's descent into a sinister fraternity and his best friend's attempt to save him from "eternal fraternal damnation," Fraternity will be released in trade softcover and digitally on August 9th from Humanoids, and we've been provided with exclusive preview pages to share with Daily Dead readers!
Below, you can check out our exclusive preview from Fraternity as well as the official press release with additional details. To learn more about Fraternity, visit:
Press Release: Wyatt's roommate has been acting pretty strange ever since he joined that frat… This is FRATERNITY, the latest horror graphic novel from Humanoids, written by first-time graphic novel writer Jon Ellis with art by Hugo Petrus and coloring by Lee Loughridge. Replete with blood sacrifices, demon possessions, and all sorts of occult weirdness, FRATERNITY is a contemporary horror about childhood friends Jake and Wyatt, whose relationship is put to the test when Jake joins a shadowy fraternity. The gory thriller explores family bonds, grief, and what brotherhood really means—as well as what happens when the regular pressures and temptations of college take a dark and demonic turn…

After suffering a tragic loss, Wyatt can't wait for a fresh start away at college. Too bad freshman year isn't all it's cracked up to be, especially when you're a grieving introvert. If it wasn't for his best friend and roommate Jake, who he's known since they were kids, Wyatt would never leave his room. But when Jake joins a mysterious fraternity, Wyatt unearths something beyond sinister within its red brick walls... Now Wyatt must fight like hell to save his friend or risk losing him to eternal fraternal damnation. All hail Amaymon, King of the Southern Gate!

FRATERNITY hits stores on August 9, 2022.

For more updates, follow Humanoids on Twitter, Facebook and Instagram.

About the creators:

Jon Ellis is the writer/co-creator of Fraternity from Humanoids, Inc. He holds a degree in Journalism from Hofstra University, where he had the pleasure of interning with Marvel, Macmillan Learning, Valiant Entertainment, and Simon & Schuster. When he isn't writing comics, he's probably reading comics, buying comics, or spreading avocados on toast.

Hugo Petrus was born in 1981 in Menorca (of the Balearic Islands), where he enjoyed a childhood consisting of cartoons, books, movies, karate, and (above all) comics! After graduating with a degree in Psychology, he decided to change paths and pursue his dream of becoming a cartoonist. Since then, his work has been featured on the pages of Marvel, DC, Dark Horse, Humanoids, and IDW (just to name a few). Hugo still lives in Spain, where he's a proud husband, father, and cuddler of cats.

Lee Loughridge is a comics colorist who has worked for the biggest and best publishers in the business.

About Humanoids: 

HUMANOIDS is a global entertainment media company dedicated to bringing to life innovative and elevated contents with stunning visuals. Grounded by a fiercely independent spirit, the company is passionate about creating content that explores the power of art beyond boundaries, while focusing on the imaginative depth of fandom. Headquartered in Los Angeles, CA and led by CEO Fabrice Giger and Group COO Matthieu Coppet, HUMANOIDS is a major content provider in the expansive entertainment industry, recognized for its multigenre catalogue — from science-fiction, fantasy and thriller to comedy, adventure and children's tales. Above all else, creators have always been the heart of HUMANOIDS as it continues to attract leading talents as collaborators and true auteurs of the iconic brand.