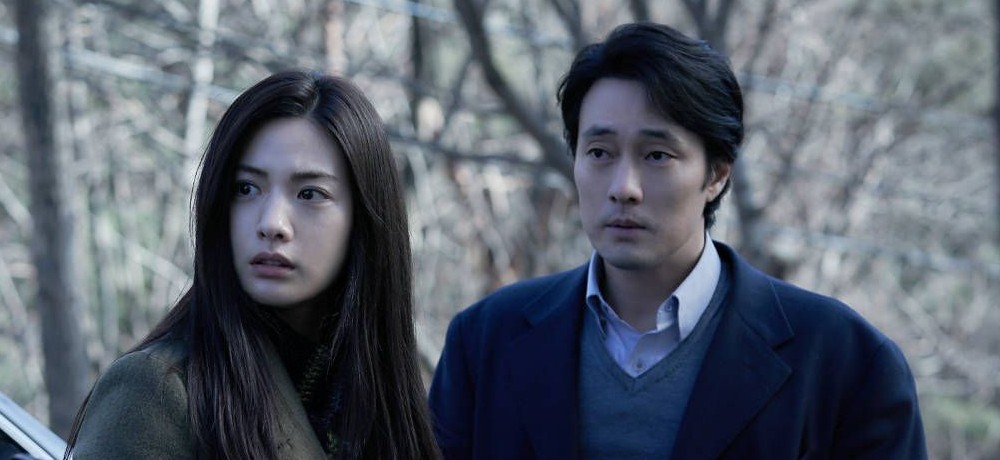 Who doesn't like a good murder mystery, especially one that keeps you on the edge of your seat guessing who the killer is until the credits roll? Based on the 2017 Spanish film The Invisible Guest directed by Oriol Paulo but with a revamped ending, writer/director Yoon Jong-seok's South Korean thriller Confession had its Canadian Premiere at this year's Fantasia International Film Festival. Confession masterfully tells the story of a man suspected of murder through a series of mind-bending flashbacks leading to a transcendent final act.
Confession stars So Ji-sub as Yoo Min-ho, a man suspected of killing his mistress Kim Se-hee, played by Jin-Ah Im. Yoo claims he's innocent, but he appears to be guilty after he was found in a locked hotel room with his dead lover. When he is released on bail, he goes to a remote retreat to meet with his new attorney, Ms. Yang, played by Yunjin Kim (Lost), who will only agree to represent him if he tells her exactly what happened. The ensuing conversation plays out like a game of cat and mouse and a series of flashbacks present several different theories of what really happened in that hotel room while attempting to uncover the identity of the killer. 
With clever writing and outstanding performances, Confession invites the audience to participate in unraveling the mystery surrounding the murder, as well as the case of a missing person who might somehow have a connection to Yoo. The story is fast-paced and it's impossible to predict the twists and turns that are exposed as each flashback plays out and unmasks a different possible killer, each with a different motive. Yunjin Kim is outstanding as the mysterious and secretive Ms. Yang and So Ji-sub is magnificent as the accused Yoo, who may or may not be a cold-blooded killer. Confession skillfully conceals not only a murderer, but through exceptional storytelling, also presents the possibility that some of the people involved might not be who they say they are. The film dexterously draws the audience into the enigma to try and figure out who is lying and who is telling the truth leading to a magnificently shocking climax. 
Confession cleverly weaves a web of deceit that sways the audience in one direction and once you're convinced you know the real story of what happened in the locked hotel room, as well as the identity of the killer, the film slickly takes some wildly unexpected turns resulting in a mind-blowing finale. This film is a brilliant whodunit featuring phenomenal performances and stellar storytelling done at a rapid-fire pace, which makes it a sensational, thrilling, must-see murder mystery. 
Movie Score: 5/5