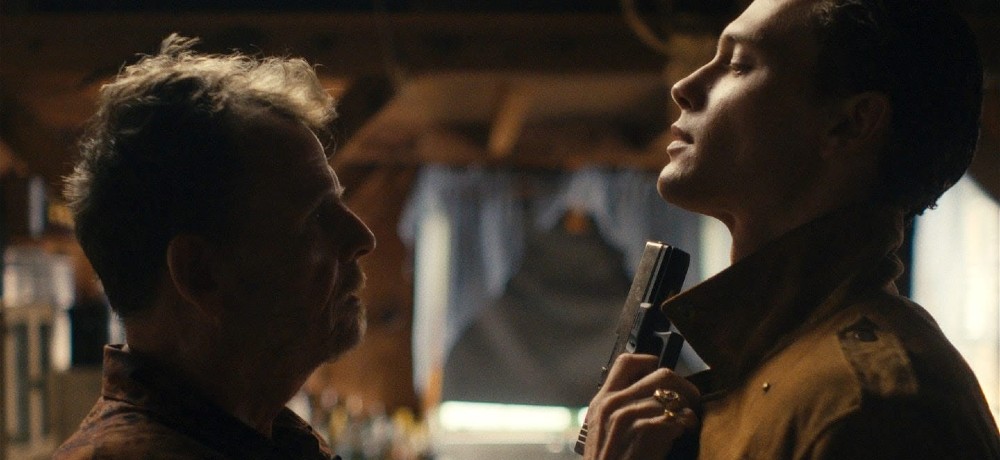 Filmmaker Carter Smith started his career doing fashion photography before successfully making the switch to directing horror films. Smith is known for the body horror driven film The Ruins (2008) as well as Jamie Marks is Dead (2014). Written and directed by Carter, his new film Swallowed premiered at this year's Fantasia Film Festival and brilliantly showcases cringe-inducing body horror by utilizing creepy crawly effects, a standout cast, and an intriguing story. By far, the highlight of Swallowed is an emotional and magnetic performance from Cooper Koch. 
Koch stars as Benjamin, a gay, aspiring porn actor who is about to move to Los Angeles. He is spending his last night at home out drinking and dancing with his best friend Dom, played by Jose Colon. After Dom tells Benjamin he needs to make a quick stop on the way home, the friends go to Dom's cousin's house where they meet Alice, played menacingly by Jena Malone (The Neon Demon, Donnie Darko), who is a known local drug dealer. In an attempt to make some easy money for his best friend's move to California, Dom has agreed to transport drugs for Alice, but the transaction won't be as easy as he expected it to be. Alice demands that Dom swallow a bunch of small balloons before he delivers them and collects the money, causing Dom and Benjamin to become alarmed. When Alice pulls a gun on them, Dom reluctantly swallows several of the balloons and Benjamin is forced to swallow one, before being instructed to drive to a rest stop to deliver them to the buyer. Before they can deliver the drugs, Dom becomes violently ill, causing Alice to become concerned, before warning the friends that something might be hatching inside them.
Being forced to swallow small balloons containing illicit substances is bad enough, but Swallowed effectively takes the intensity, and dreadful intimacy, of the situation to another level. Benjamin thinks he's about to start an exciting new life in California, but instead he finds himself with a jar of Vaseline being forced to retrieve the balloons Dom swallowed, while being held at gunpoint by Alice's boss Rich, played ferociously by Mark Patton (A Nightmare on Elm Street 2: Freddy's Revenge). To make matters worse, despite saying they're just friends, Dom and Benjamin share an undeniable attraction to one another, which punctuates the horrifically awful situation they're in. 
There are a lot of films which feature extreme body horror but Swallowed expertly manages to get up close and personal in ways few other films have. Dom and Benjamin's relationship consummately accentuates a riveting story which spotlights a charismatic, compassionate performance from Koch. Highlighted by hauntingly Queer subtext, Swallowed features cringeworthy subject matter in an empathetic, but still horrifying manner, and arresting performances, which will leave the audience with a discomfort that is hard to shake.
Movie Score: 4/5
(Teaser Trailer via Bloody Disgusting)