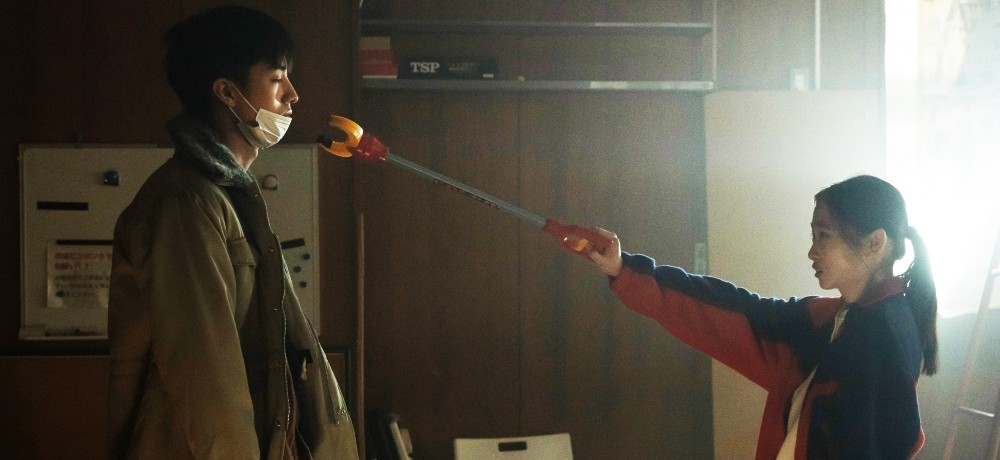 A successful thriller starts with a good story and ideally should take the viewer through various stages of excitement, astonishment, and anxiety — extra points if a film marketed as a thriller succeeds at being genre-defying. South Korean filmmaker Bong Joon-ho is known and loved for making movies that hit all these marks and more, so it's interesting that one of the most gifted, up-and-coming directors in Japan has been referred to as Joon-ho's protégé. Before making his feature film debut with Siblings of the Cape in 2018, filmmaker Shinzô Katayama served as assistant director to Bong Joon-ho on his acclaimed film Mother in 2009. Katayama's second feature film, Missing (Sagasu), screened at Busan International Film Festival in 2021 and is premiering at this year's Fantastic Fest. Written by Shinzô Katayama, Kazuhisa Kotera, and Ryô Takada, and directed by Katayama, Missing is a twisty thriller and a heart-wrenching story with an amazing cast, which masterfully blends multiple genres. Ahead of Fantastic Fest, Missing was acquired by Dark Star Pictures and in collaboration with Bloody Disgusting, is planning a U.S. theatrical release for November 4th. 
After Satoshi Harada's (Jirô Satô) wife is diagnosed with Amyotrophic lateral sclerosis (ALS), she is in constant pain and requires around-the-clock care from her husband, leading to her taking her own life. Her death leaves Satoshi in a state of deep depression and in debt after closing the ping pong club their family owns. After he stops sleeping and his behavior becomes increasingly erratic, Satoshi's teenage daughter Kaede, played wonderfully by Aoi Itô, is concerned about her father's emotional stability. When he casually mentions to her that he believes he saw a wanted serial killer the press has dubbed No Name (Hiroya Shimizu) on the train and wants to try to find him to collect a reward, and then mysteriously disappears, Kaede is panic-stricken. A teacher finally agrees to help Kaede make and post missing fliers for her father, but the police think Satoshi has abandoned his daughter and won't take her pleas for help seriously. When Kaede realizes she is going to have to look for her father herself, she enlists the help of a boy from school who has a crush on her. With only her father's cellphone and a ferry ticket to a nearby island to go on, the two teens set out on a chaotic journey to look for Satoshi, which leads them to some very unexpected places. 
Since comparisons have been made between the two filmmakers, the tone of Missing could be compared to some of Bong Joon-ho's work, but Katayama definitely has his own thrilling and unique style. One of the most awe-inspiring things about this film is how many dizzying twists and turns the story effortlessly takes, while the pacing remains flawless. The casting of the main characters is perfect. As the ruthless serial killer, No Name, Shimzu deftly alternates between deranged and an almost boyish charm. The way Itô portrays Kaede as a shy and inexperienced but fierce teenager is moving to watch. Satô is both eccentric and methodical as Satoshi. Their performances are believable and feel genuine. 
Don't let the two-hour runtime of this film scare you; it's worth every single second. Missing features a phenomenal cast and extraordinary storytelling, and boldly combines elements of horror, comedy, and drama. Missing is mind-blowingly genre-bending and plays a brilliant game of cat and mouse with the audience. This is cinematic excellence.
Movie Score: 5/5