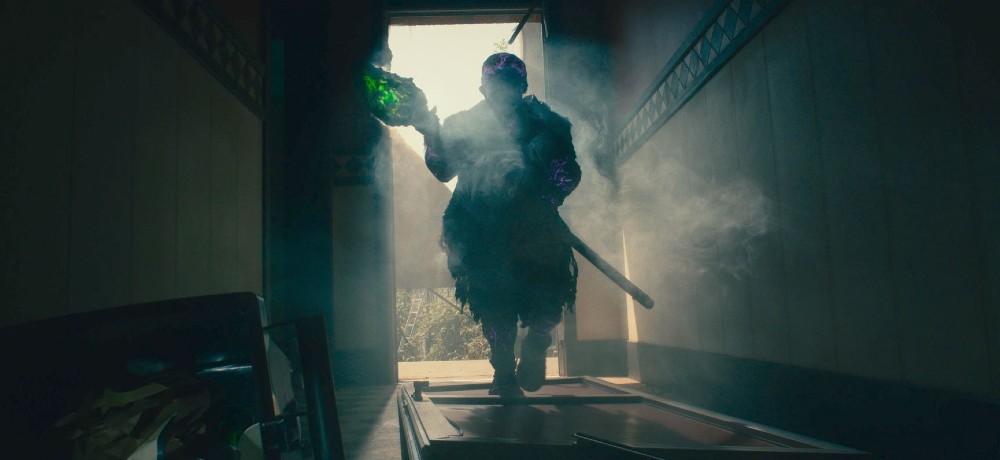 [Editor's Note: This article was written during the 2023 WGA and SAG-AFTRA strikes. Without the labor of the writers and actors currently on strike, the film being discussed here wouldn't exist.]
Opening with an abortive hero's narration, a flurry of neon, and defenestration via harpoon, writer/director Macon Blair's re-imagination of Lloyd Kaufman's legendary shoestring superhero spoof is an energetic good time that nevertheless proves why Mainstream and Tromaville are worlds apart. 
Peter Dinklage (Game of Thrones) radiates put-upon single dad energy as Winston Gooze, a nobody janitor who struggles to keep his moody teenaged stepson (Jacob Tremblay) happy when he's not mopping up toxic waste for BTH – an irresponsible corporate behemoth with its tentacles in everything from private insurance to banking to "proprietary, cutting edge, bio-boosters" for the health/beauty conscious consumer. When he's diagnosed with inoperable brain cancer, Winston crashes a benefit for BTH overlord Bob Garbinger (Kevin Bacon) in a bid to beg him for the means to beat his disease. But Garbinger's smiling callousness leads to Winston being left for dead in a pool of some of BTH's most noxious sludge – mutating he (and his trusty mop) into a lumpy, green-skinned vigilante out to scrub his town of corporate overreach and chemical pollutants. 
Macon Blair (Murder Party, Green Room) cites Kaufman's 1984 original as a massive influence going back to his teenage years, and his The Toxic Avenger is littered with innumerable easter eggs and Troma love from frame one. The director does his best to capture the juvenile, anarchic sensibility that the studio is loved/derided for, and he's aided by his game cast, especially Bacon as the flat-ironed, Bryan Johnson-styled transfusion-happy villain and Taylour Paige (Zola) who wisely underplays her role as environmental activist/Toxie sidekick with a wry sardonicism that gets big laughs. Dinklage is well-matched for the material, even under mounds of prosthetics, and flexes his Emmy award-winning emotional muscles to deliver some unexpectedly earnest character beats. 
The film is carried by a frantic mixture of practical effects and CGI, with limbs detaching, orifices prolapsing and human meat flying apart with all the ease of soppy red toilet tissue. There are a couple welcome instances of old-school puppet work and Toxie himself looks incredible – with a huge glassy black eyeball and craggy pink eruptions decorating his mottled green exterior, calling to mind how he looked in the animated Toxic Crusaders more than the lumpy brown OG.  
Blair also manages to expand the original film's relatively simple satire around oh-so-'80s concerns like health clubs and toxic waste into a more full-figured takedown of the Medical-industrial complex and capitalist greed. But as amusing as the film consistently is, it can't help but feel like a "Troma film" for those allergic to Troma films. Produced by Legendary Entertainment, there's a disconnect between Kaufman's offend-all-comers brand of independent comedy and the needs of a studio project doing its best to pay tribute to and update the same, and, for all its potty-mouth humor and acid pee, there's never a sense that this Toxic Avenger may truly go too far or tempt bad taste (the closest it gets are a couple of jokes about pronouns delivered with sheepish brevity). But, for many, The Toxic Avenger will be the balance between pleasing Tromaniacs and not turning off everyone else, which is an accomplishment in and of itself. 
Packed with inspired gore gags, a few well-calibrated comic performances, and a bevy of Troma-esque non-sequiturs, The Toxic Avenger reboot is an energetic and entertaining reboot that nonetheless struggles to prove the independent, lead-with-bad-taste worlds of Lloyd Kaufman and mainstream studio moviemaking are compatible. Still, that it works at all is something of a marvel, and should Macon decide to take his version of the mop-swinging vigilante to Tokyo or pit him against an updated Noxious Offender, our butts will be planted firmly in seat. Let's just leave Sgt. Kabukiman in the past where he belongs, mmkay?
Movie Score: 3/5