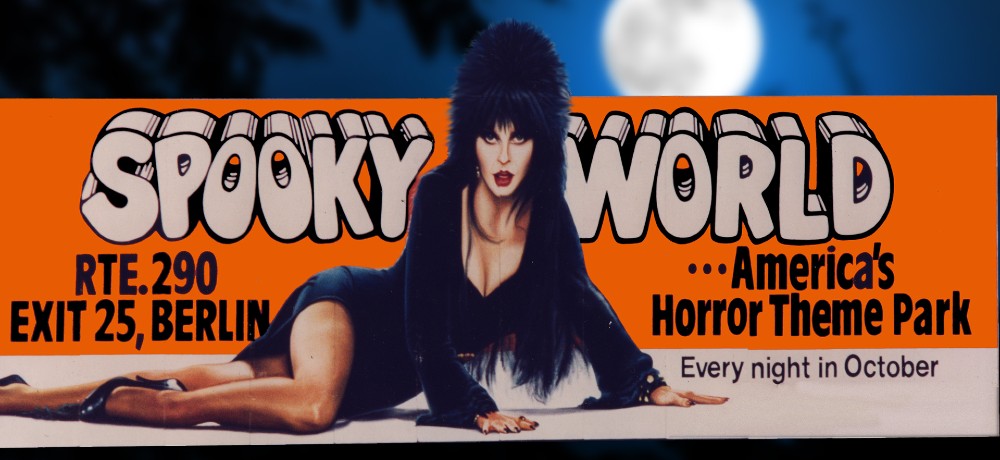 If you grew up on the East Coast, you may have heard of (or even visited) Spooky World. Started in Berlin, Massachusetts in 1991, it was properly the first of its kind. A large-scale haunted attraction that opened its doors every October to horror fans and lovers of Halloween. I grew up in the Midwest so Quinn Monahan's new documentary Spooktacular! is my first introduction to the park itself, though I certainly grew up experiencing the reach of its impact.
In 1991, David Bertolino started a Halloween themed hay ride event. Customers would board and would be taken around the property of a farm in rural Massachusetts, and along the way, they would pass by a variety of spooky scenes and actors portraying monsters, zombies and spookies galore.. Standard stuff now, but at the time, it was a brand new idea; one that was an immediate success. Word spread rapidly. Guests would be lined up for miles, there was often a 2 hour wait just to get to the parking lot, and feedback was positive. Bertolino knew that he had something.
So he immediately began to grow it. He partnered with effects legend Tom Savini to create a haunted house on the property for guests to walk through, in addition to the hayride. They made plans to continue building and adding in the coming years (which they most certainly did), and Spooky World was born.
Bertolino seems to have been sort of the P.T. Barbum of Professional Haunts. He knew how to capitalize on opportunities and would continue to push to make Spooky World bigger and better every year. He was constantly adding new attractions, hiring more staff, bringing different horror celebrities to do special guest appearances, and making his theme park the toast of New England every fall.
Spooktacular! shines a light on this groundbreaking annual event. It tells the story of how Spooky World came to be, and how it grew into something much more than anyone could have imagined. Monahan interviewed Bertolino and some other people who were there to witness the business get off the ground in the first year, as well as former employees who returned year after year to work in what they often refer to as the best job of their lives. The business had some interesting ups and downs - some the result of happenstance and others the result of poor decisions, but its legacy remains. Thousands of people would make Spooky World a part of their Halloween celebrations, and many businesses sought to emulate its success after it got off the ground and had made a name for itself. This film tells the story of how Bertolino and his team make something groundbreaking and memorable. 
Monahan employs a really charming method of telling this story. Of course, we have interviews with Bertolino, his partners, and people who worked in the park over the years. But there's an added technique that really adds a lot of character.. Earlyon in the film, Bertolino states that he always loved horror movies, particularly the work of Vincent Price. Monahan brings that aboard as a visual cue and intercuts footage from Vincent Price films into the interview footage so that the stories being told through the audio are illustrated onscreen by a Price character, reflecting the mood or the moment being discussed. It's a lot of fun and adds to the storytelling in a clever way.
The film is also interesting for its portrayal of Bertolino himself. He is absolutely an innovator. Someone who had a clever idea and had the drive, the follow through and the right amount of bare bones insanity to see it through and keep it growing. The original Spooky World existed for just a handful of years and he was never one to just rest in his laurels and say "you know what, that's enough." He continued to grow and add to the park in any way he could. But at the same time, not all of his decisions were good ones. The film talks about how he purchased a collection from a horror museum in Hollywood which featured a number of wax figures from historical murders and events. Charles Manson, the Hillside Stranglers and other serial killers were prominently featured. And though there is certainly an audience for the darker and macabre, it went against the more wholesome, Halloween vibe that the park, and especially its surrounding community out forward. Especially when David decided that the best way to cap off that particular exhibit was to feature a topless dancer. Innovation means risk, but that doesn't mean that it always pays off and is the right path. Monahan isn't afraid to shy away from portraying Bertolino as a fully human character, flaws, bad decisions and all, and the film is richer for it.
Spooktacular! is a testament to a specific moment in time. For the residents of Massachusetts, Spooky World was a Halloween tradition that they waited for all year. For kids growing up in the 90s, it represented something special and unique. Large-scale haunts weren't as prevalent as they are today, and for those kids, Spooky World was one of a kind. 
Documentary Score: 4/5