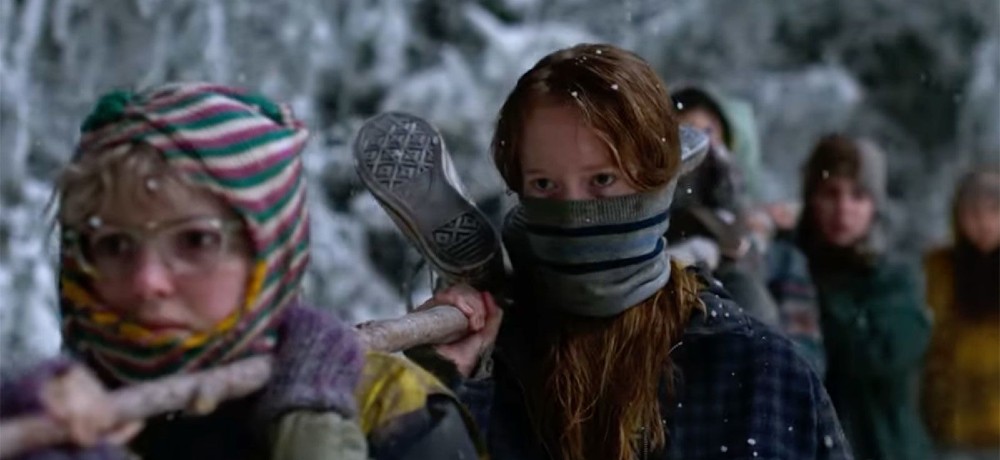 When I first saw Yellowjackets' first episode of season 1, I was blown away by the story, cast ensemble, and the show's ability to dazzle with just one episode. Season 2, and especially its first and second episodes, masterfully prepare you for what appears to be the hungrier, gorier, and most shocking season of Yellowjackets yet.
The action picks up some time after the season 1's conclusion. Two months have passed since Misty gave all the survivors psychedelic mushrooms, two months since Jackie (Ella Purnell) froze to death. As Daisy von Scherler Mayer and Rich Monahan's "Friends, Romans, Countrymen" begins, it's evident how two months without civilization has already affected a soccer team. Natalie (Sophie Thatcher) and Travis (Kevin Alves) try to forage for food, others prepare it while Shauna (Sophie Nélisse) struggles to accept her best friend's brutal death. At the same time, in the present, the survivors of the historic plane crash are still dealing with guilt, dark secrets, and the fallout from Shauna's (Melanie Lynskey) committed murder.
The first episode immediately draws you in and makes you feel as if you never left the threatening wilderness. The exceptional writing and direction, as well as the dynamic performances, continue to stand out. One of the most intriguing aspects of Yellowjackets is how the past and present are illustrated and showcased interchangeably—after the plane crash, each character changes, evolves, has flaws and secrets. Furthermore, the opening lightly teases what more we can expect from season 2: more about the teenagers' rescue and their lives after reuniting with their families.
Each carefully chosen cast member demonstrates that they are perfectly suited to the role bestowed upon them. Playing the adult versions of teen characters, Christina Ricci, Melanie Lynskey, Tawny Cypress, and Juliette Lewis, amongst others, are outstanding. Ricci, in particular, is unbeatable as Misty. Misty's indifference to anything significant or illegal, including crime, murder, or kidnapping, is one of the more amusing aspects of the otherwise intense, heart-pounding season 2 premiere. The nurse becomes obsessed with covering the truth about Shauna's crime, which brings her to someone intriguing.
Episodes 1 and 2 ("Edible Complex" written by Jonathan Lisco and directed by Ben Semanoff) also heavily focus on Lynskey and Nélisse's Shauna. As we jump back to the 90s, the season reveals a lot of what transpired during her time post-Jackie's death. For young Shauna, the grief is too overwhelming as she tries to go on for herself and a baby. Lottie (Courtney Eaton), especially, takes interest in the safety of the other. As Yellowjackets team confirmed, during hiatus, Lottie survived and is now in charge of spiritual retreats. Moreover, she has a message to Natalie. Casting Simone Kessell as an adult Lottie was a bull's eye. Kessell is truly exceptional and perfectly encapsulates the aura of younger Lottie as well as the mysticism about the character and her hypersensitivity to the paranormal. 
It seems that season 2 will be full of turns and twists, with an occasional cliffhanger or a shocker. Circumstances, already strained relationships between the characters, and the mental struggle to accept unacceptable take an even more disturbing turn, one that may perhaps remind some of Bates Motel. Additionally, the creators maintain the high bar, developing each character evenly. It's undeniably difficult to create a show with so many lead characters yet make it so intriguing and coherent. Yet, Ashley Lyle and Bart Nickerson achieve just that with season 1, successfully continuing in season 2. 
Yellowjackets is, first and foremost, a story about survival. It's a series illustrating how trauma in one's life influences their adulthood, or PTSD and the destructive nature of the illness. It's also a story about female friendship, interpersonal relationships, and overpowering human curiosity, which sometimes destroys instead of helping. In season 2, it appears, the creators give the viewers precisely what they wanted, while continuing to further explore the characters' fates. 
As the survivors' hunger grows, so is the audience's appetite for more. With another promising soundtrack focusing on the music of the 90s, season 2 already looks like another great installment, even bloodier and more unpredictable. We absolutely can't wait for more. 
Episodes 1 & 2 Score: 5/5
Yellowjackets season 2 starts streaming on March 24 with episodes airing weekly.