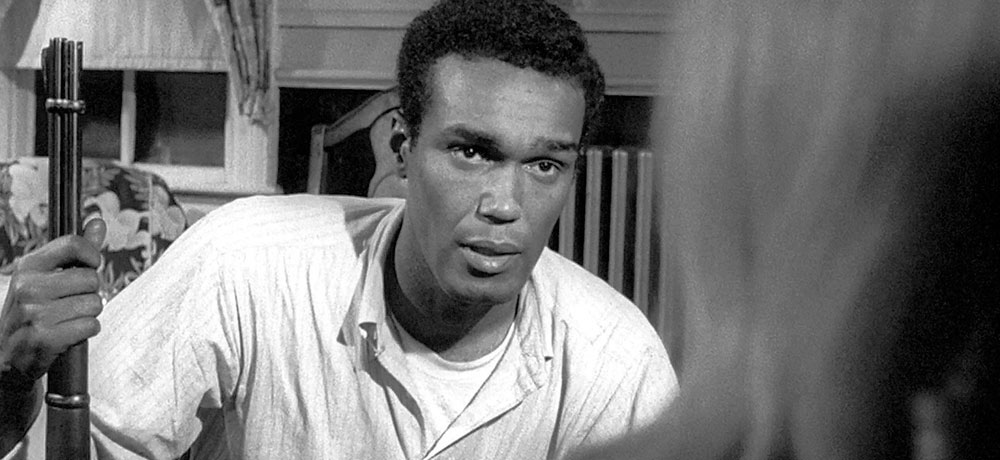 "There's not going to be five, or even ten of them! There's going to be twenty, thirty, maybe a hundred of those things."
Wednesday, May 27th will mark the beginning of the zombie apocalypse; Night of the Living Dead Trading Cards are "coming to get you," in a massive 81-card base set. According to Night of the Living Dead historian Jim Cirronella, this will be "the absolute best card set released for the film yet."
New York-based horror merchandise retailer Fright-Rags is trying their hand at the biggest horror trading card franchise out there. Having debuted over thirty years ago with eleven sets and countless singles being printed since, Night of the Living Dead trading cards pioneered the inclusion of autographed non-sports cards, which is now an industry standard.
Fright-Rags is famous for their licensed, original horror t-shirts, but they are no slouch in the trading card market, either. They've printed comprehensive trading card sets for Child's Play, House of 1000 Corpses, The Evil Dead, and most recently, Halloween. Not to mention the very first official Dawn of the Dead set—part of the George A. Romero family!
In our chat, Fright-Rags president Ben Scrivens told me, "Night of the Living Dead has always been one of my favorite horror films, so getting the chance to work with the iconic property was a great opportunity."
There have been numerous Night of the Living Dead trading card sets available from Rosem, Imagine, Unstoppable, and small sets/singles from countless other printers.  What makes Fright-Rags' take on the NotLD trading card franchise different from the rest?
Ben Scrivens: That was definitely a concern when we decided to take on this project. We knew there would be some crossover in imagery and information, but the last thing I wanted to do was put out the same thing someone else has. Aside from our own design aesthetic, and the fact that these cards will be in traditional wax packaging, we also have some never-before-seen images in the set, as well as some exclusive chase cards.
What can we expect to see in the set? How many common cards? Will there be autograph cards and sketch cards as cool as the ones in other Fright-Rags trading card sets?
Ben Scrivens: Here is the list of base cards in the set. We are also working on autograph cards and sketch cards to help complete the set:
BASE SET - 81 Cards
40 movie cards
13 behind-the-scenes cards
8 character cards
5 ghoul cards
4 director's cards
9 memorial cards
1 bonus card
1 checklist
STICKERS
AUTOGRAPH CARDS
5 surviving cast signature cards
[Editor's Note - Updated with additional info on the contents of the set, and the case / box / pack breakdown]
AUTOGRAPHS
Russ Streiner (50)
Judith O'Dea (50)
Kyra Schon (50)
Judith Ridley (50)
Marilyn Eastman (50)
Rare Chase Card
George Romero Portrait Card (25)
SEALED CASE
qty ordered: 275 (LIMITED)
Price: $120
features:
 2 Full Sets of Cards, Parallel Cards, and Stickers
1 Chase Card (Autograph or Portrait Card)
1 Printing Plate
FACTORY BOX
Open edition
Price: $35
features:
 Full 81 Card Base Set
2 Random Unique Art Parallel Cards
 Two Stickers
SINGLE PACK
Price: $5
features:
9 Cards
1 Sticker
Randomly Inserted Chase Card (Autograph or Parallel Card)
Any other cool Fright-Rags trading card projects in the works?
Ben Scrivens: Due to rights restrictions, full sets can be a bit difficult to pull off, but we do have others in the works, including one in particular that will complete the Dead trilogy :)
Fright Rags' Night of the Living Dead trading cards will be available exclusively on their website, www.Fright-Rags.com beginning May 27th at 10:00am EST.
And you can read more about previous Night of the Living Dead trading cards here.
https://johnnymartyr.wordpress.com/2017/09/10/night-of-the-living-dead-trading-card-history/
As George Romero famously said, "Stay Scared!"