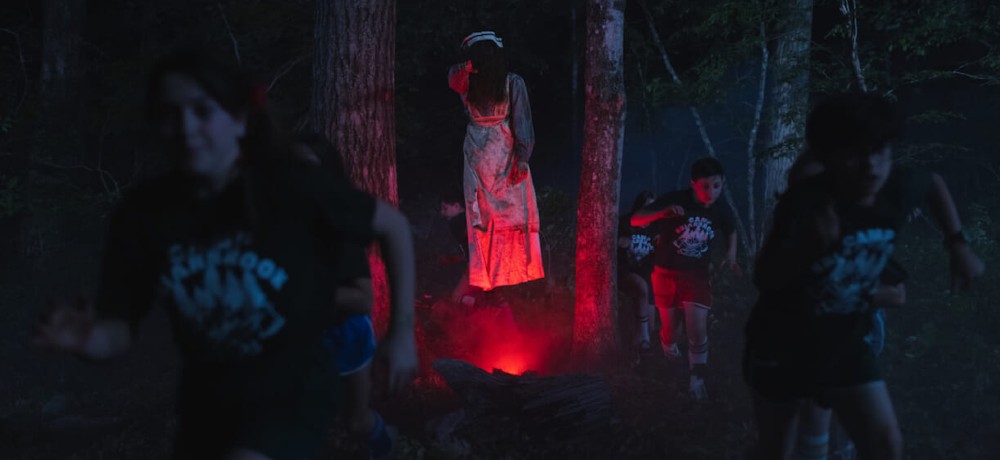 Many people have fond memories of summer camp – for some it's making life-long friends, roasting smores and hanging out by the lake; for others it's watching Friday the 13th, Sleepaway Camp or The Burning on TV with the curtains drawn. Yes, summer camp and the things that happen there hold a special place in the hearts of many. However, this isn't the case for the counsellors of Briarbrook summer camp. The summer of 1987 is one they would want to forget.
She Came From the Woods tells the tale of a summer camp run by three generations of the McCaliister family. Patriarch, Gilbert (William Sadler) has been a part of the camp for decades but this summer could be his last. General running of the camp is left to his daughter, Heather (Cara Buono), whilst her sons also work on site.
After the closing show of the summer, counsellors, led by the black sheep of the family, Peter (Spencer List) engage in an end of the season celebration, which includes drinking, partying and of course, summoning an urban legend from beyond the grave. The legend in question is of Nurse Agatha, who was found trying to experiment on camp children, and suffice it to say this did not go down well with the staff, and she died after being confronted. 
The current crop of counsellors let blood and call her name… "AGATHA!", but like many attempts before, nothing happens. Well, not straight away. All seems to be well until things take a bloody turn when one of the counsellors starts acting violently out of sorts after his attempt to be intimate with his summer crush is thwarted; things quickly go from bad to worse. Meanwhile, far away from camp, a bus carrying children on their way home breaks down. The children go missing, but they soon turn up – acting a little out of sorts.
Back at Briarbrook, the remaining staff must quickly come to terms with the fact they have unleashed an unholy evil, and the only way to stop it is by unlocking a dark family secret that has been buried in the woods.
She Came From the Woods is a love letter to 80s horror. So many sub-genres from the decade are tightly packed in – slasher, possession, occult and adventure are all blended together to create a fun tale that doesn't take itself too seriously. And, if a genre film set at camp in that decade has taught us anything, it's that blood will spill, heads will roll and bodies will pile up like firewood. There's a nostalgic feel but with some refreshing changes, namely that there is no nudity and the characters are more fleshed out – the group has more of a dynamic and each has their own personality, friends and grudges. Writers Erik and Carson Bloomquist have done well to strip out the unnecessary elements whilst keeping a free-flowing story.
The treasure chest of 80s fun doesn't finish there. There is a heavy use of practical special effects that really emphasise each unique and, at times, nasty deaths. The effects for Agatha are a little underwhelming; she is seldom seen and most of her bidding is carried out by those she possesses. When she is seen early on it is from a distance or in silhouette, but when she is finally seen up close there is no sense of demonic power or malevolence about her. Unfortunately, her infamous legacy doesn't seem to fit the rather flat presentation.
She Came From the Woods is pure fun. The action is fast-paced, the humour dark and there are many little homages and nods to a decade horror fans hold dear. At times the movie presents itself as if Angela from Night of the Demons is substituting for Jason Voorhees at Camp Crystal Lake, which is certainly a good thing. The story is something that has been seen before but that won't stop you enjoying it. Watching She Came From the Woods is much like listening to a ghost story around a campfire – it's more fun to do as a group.
She Came From the Woods received its world premiere at FrightFest 2022.
Movie Score: 3/5