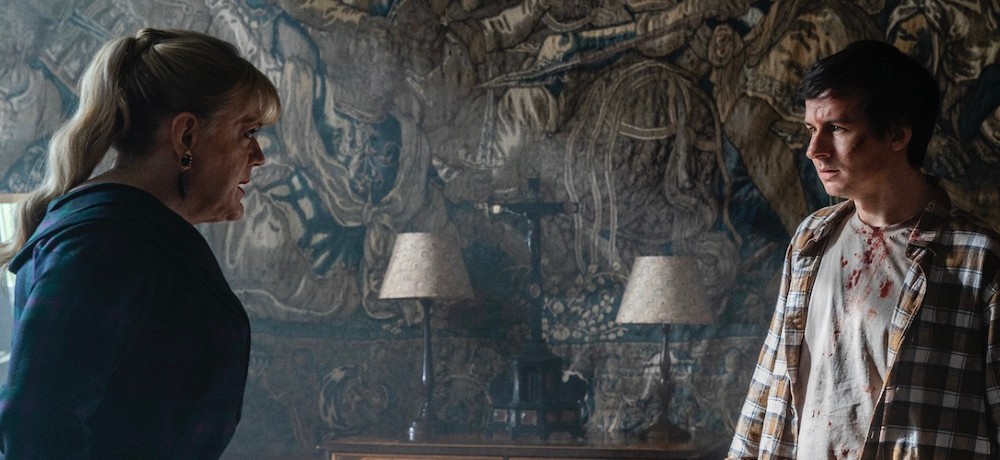 Since the publication of The Strange Case of Dr Jekyll and Mr Hyde in 1886 there have been over 120 adaptations of Robert Louis Stevenson's novella. The adaptations have changed and evolved to keep the story fresh; these include a Blaxploitation retelling, Dr Black and Mr Hyde, and Dr Jekyll and Sister Hyde, where the good Doctor transforms into a woman. The latest reimagining of this classic is arguably its most diverse, as Jekyll and Hyde are both transgender women.
Rob (Scott Chambers) has gone through a lot at such a young age. He's had substance abuse issues, mental health problems and his new-born daughter is very sick in hospital. In order to try and get his life back on track and provide for his baby, he secures a job with Nina Jekyll (Eddie Izzard) - a controversial, brilliant and reclusive pharmaceutical pioneer - as a live-in carer. Rob is under qualified for the job but Nina is sympathetic to his past troubles and she hires him, much to the chagrin of her long-time estate manager, Sandra (Lindsey Duncan). 
Nina and Rob get on well, despite some of Nina's erratic requests and behaviour. The two share more about their lives with one another, and a bond develops. Nina discovers more about Rob and she finds out about his personal suffering, but in turn he also finds out about hers. As ghosts from the past look to pull him back into his old destructive ways, Rob must also contemplate that Nina may not be all that she seems.
Doctor Jekyll is a Hammer studios property, and it's easy to see why. The stately house, the rural setting and even the relationship between a doctor-figure and their ward/protégé/subject. It's atmospheric and benefits from having most of the action take place in Nina Jekyll's large country home, to the point where the house becomes a character in itself. It also allows for a more effective cat-and-mouse struggle between Nina and Rob.
Interestingly, after the screening of Doctor Jekyll at FrightFest, Director Joe Stephenson stated that he originally was looking for the best actor when casting the role of Nina Jekyll, implying that the transgender element of the story wasn't in the original plan. On the surface, nothing really is made of Nina Jekyll's transgenderism, but much can be read into it. Parallels could be drawn to the casting of Duane Jones as the lead of Night of the Living Dead and the choice of casting in Doctor Jekyll. The Night of the Living Dead script didn't change because Duane Jones was cast, but the casting resulted in something ground-breaking for the genre and cinema. Maybe, in time, Doctor Jekyll could do the same. 
The highlight of Doctor Jekyll is the lead performances by Eddie Izzard and Scott Chambers. Izzard gives a reserved performance that has bursts of charisma, spite and warmth. Not many other actors could make the discussion about - and eating of - Crunchy Nut Cornflakes be so artful and enticing. Izzard's portrayal as Nina perfectly complements Scott Chambers' sweet, endearing and anxious turn as Rob. Chambers' portrayal as the innocent and traumatised soul really grounds in a sense of realism to proceedings.
When Nina first meets Rob, she asks him if he plays chess, but little does he know that his game with Nina will take place without the pieces and the board. Chess is a constant analogy throughout; at one point Nina tells Rob that he has to be 'two moves ahead'. A comparison can even be made between Nina and her alter ego's relationship and that of the King and Queen – who has the real power?
Most of Doctor Jekyll plays out like a chess game - methodical, strategic and controlled. However, the climax is more like a frantic round of Hungry, Hungry Hippos - there is a dash to try and reveal all the twists in one go, which makes the final 10 minutes far too busy and hectic, and trying to keep up with the revelations as they quickly unfold is a bit of a struggle.  
Doctor Jekyll effectively does something interesting with the original story whilst keeping it familiar, and it certainly ranks highly compared to other adaptations. 
Movie Score: 3.5/5
Note: This review is based on an initial cut of Doctor Jekyll, the completed version may differ slightly when released in the Fall.