Happy (Good) Friday, everyone! Even though time isn't much of a construct these days, the weekend is officially here and if you're like me, you're looking for ways to entertain yourself at home during this whole pandemic mess. And with the economy being what it is right now, I know it's helpful for many folks out there to save money wherever you can, so I thought I would dive into all the great films over at Tubi TV (seriously, their library is BANANAS) to compile a list of more than 50 different cult films you can currently stream for free.
Just a note: there are a lot of definitions of "cult film," so I did my best to not include a bunch of titles that horror fans throw around ad nauseam here, and I even opened up my search parameters a bit to include horror, sci-fi, and genre-adjacent titles that I feel like anyone who reads this site in search of genre content would definitely enjoy (or at the very least, be entertained by).
Stay safe, stay healthy, and happy streaming!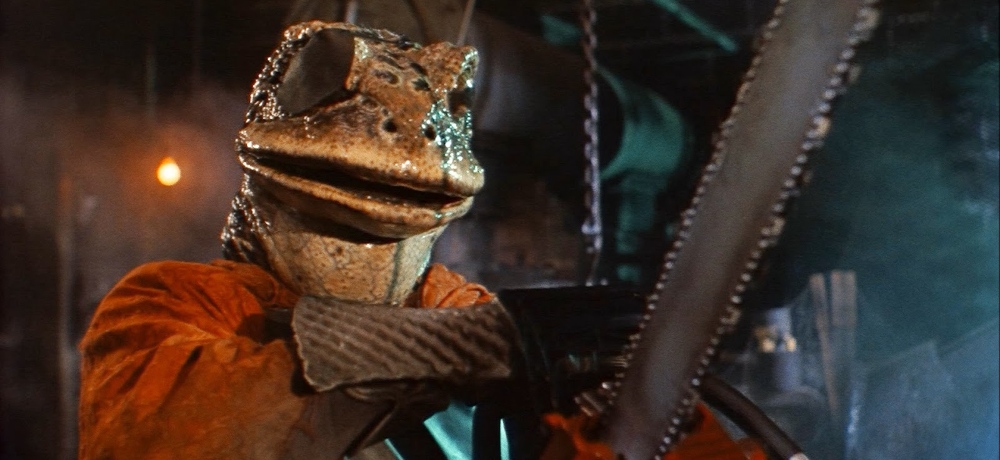 Hell Comes to Frogtown (1988)
In a post-apocalyptic world dominated by mutant humanoid frogs, the survival of the human race falls on women finding the few remaining fertile men.
Freeway (1995)
A teenage delinquent goes to live with her grandmother but on her way, she meets a charming serial killer and things go downhill from there.
Belladonna of Sadness (1973)
Raped on her wedding night by a brutal lord, a village girl makes a pact with the devil to exact her vengeance as a black-robed seductress.
The Wraith (1986)
A mysterious black turbo racing car appears and challenges a murderous gang leader to a series of races. The driver's identity may surprise everyone.
Death Ship (1979)
In this cult classic, a ghostly freighter rams a modern cruise ship whose survivors enter the freighter, discovering its origins as a Nazi torture vessel.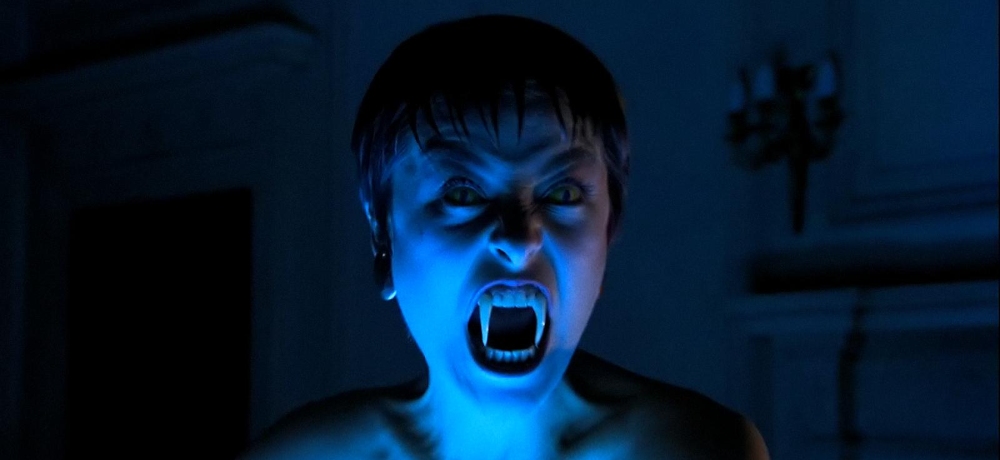 The Lair of the White Worm (1988)
After a mysterious skull is unearthed near a convent, village residents start disappearing, and a pagan god hungers for the taste of virginal flesh.
Destroy All Monsters (1969)
A daring super rocket crew must infiltrate alien headquarters that have taken control of Earth's monsters in order to destroy every major city.
Meet the Feebles (1989)
In this musical black comedy, the titular puppet theatre group brings depraved and degenerate fun that's decidedly not for the whole family.
Death Race 2000 (1975)
A surgically engineered racer in a futuristic USA that has become a speedway has to race from coast to coast and survive attacks by cars and by air.
Class of 1984 (1982)
Andrew Norris is a newly hired music teacher at a troubled inner city school, where students have to pass through a metal detector due to problems with gangs, drugs, and violence.
Freejack (1992)
Race car driver Alex Furlong is kidnapped by bounty hunters from the future, who have been hired to sell his body for a mind transport.
Basket Case (1982)
An ordinary-looking man in New York City and his formerly conjoined twin in a wicker basket are out to brutally kill the surgeons who separated them.
Bride of Re-Animator (1991)
A doctor whose reanimation of corpses went wrong the first time tries to create a female mate with the heart of his assistant's dead girlfriend.
Fire & Ice (1983)
Prepare for a prehistoric battle of the elements when the ruler of the Ice World starts a war against the Fire people using armies of monsters.
Reptilicus (1957)
A frozen, prehistoric fossil is found and given to scientists, who then revive it. The monster grows to gigantic size and goes on a citywide rampage.
The Stuff (1985)
A dairy conglomerate hires an FBI agent-turned-industrial mole to investigate a new dessert product that once eaten starts eating your body alive.
Cecil B. Demented (2000)
Guerrilla moviemakers kidnap a movie goddess (Melanie Griffith) and force her to star in their underground movie.
Stuff Stephanie in the Incinerator (1990)
Jared and his wife Stephanie get an education in the perverse fantasies, and twisted games, of the super-rich in this gonzo horror-comedy.
Society (1989)
A teenage boy becomes wary of his family's desire to please the upper class, and discovers the truth about a horrifying secret cult.
Spider Baby (1967)
In a dilapidated mansion, the inbred Merrye family lives with an inherited disease causing mental regression. but when greedy relatives come to take their home, trouble begins.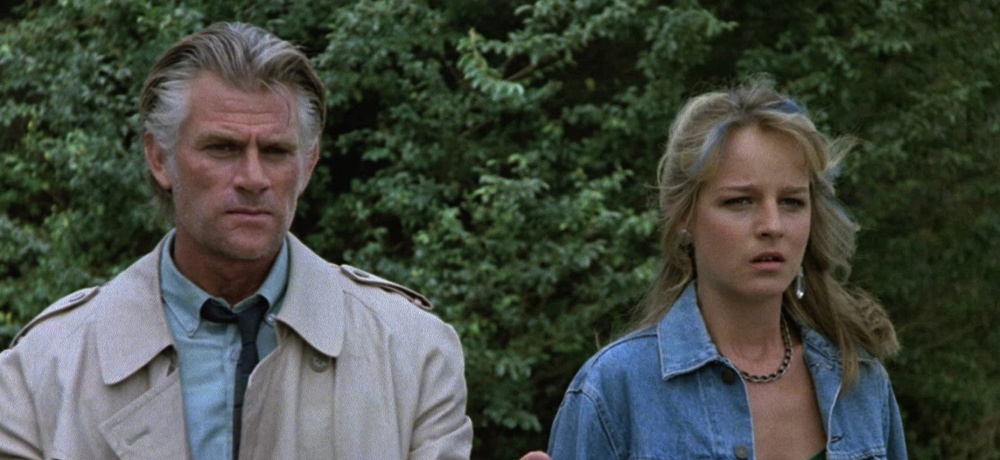 Trancers (1984)
A gruff bounty hunter travels back in time to 1980s Los Angeles to stop a twisted criminal who can transform people into zombie-like creatures.
Cool World (1992)
A cartoonist is tempted by one of his sexy characters, a vixen named Holli Would, who'll stop at nothing to take human form in Las Vegas.
Savage Streets (1983)
A teenage vigilante sets out to deliver deadly revenge against a group of violent thugs who attacked and violated her handicapped sister.
Assault on Precinct 13 (1976)
In this action thriller, an understaffed police station enlists the help of criminals when they become a target of a deadly street gang.
Parents (1989)
In this bizarre and very black comedy set in 1950s suburbia starring Randy Quaid (Kingpin), Michael Laemle comes to suspect that his conventional parents have a little secret which they have kept from him.
Plan 9 From Outer Space (1959)
Dead humans, zombies and vampires.
Jesse James Meets Frankenstein's Daughter (1966)
Guns fire and monsters rage when the famed outlaw hides out in the castle of Dr. Frankenstein's granddaughter, who turns his accomplice into a zombie.
Cannibal! The Musical (1996)
The legendary sole survivor of a gold-mining expedition gone wrong retells his gruesome tale black-comedy style, complete with song and dance.
Dead Heat (1988)
After a studious LA police officer becomes a zombie, he must rely on his loudmouthed partner to help him apprehend a supernatural crime ring. 
Samurai Cop (1991)
This brutal action adventure stars genre staples Robert Z'Dar, Matt Hannon, and Gerald Okamura. A cabal of Japanese mobsters known as the Katana Gang is taking over the streets of Los Angeles. With the regular police unable to stop them, it's up to maverick cop Joe "the Samurai" Marshal to use his sword and martial arts expertise to bring the crooks down.
Brain Damage (1988)
An average guy becomes addicted to a powerful parasite's euphoric substances. The only accepted form of payment is brains of innocent bystanders.
Shivers (1979)
The unsuspecting residents of an apartment building are in danger of being wiped out after a twisted medical experiment goes awry.
Dead End Drive-In (1986)
Welcome to the distant future, where a drive-in theater has turned into a high-security prison. A couple attempt to escape from this pop culture hell.
The Brain that Wouldn't Die (1962)
A doctor experimenting with transplant techniques keeps his girlfriend's head alive when she is decapitated in a car crash, then goes hunting for a new body.
Evilspeak (1981)
A military cadet (Clint Howard) bullied by his classmates gets revenge by summoning demons and casting spells on his tormentors through his computer.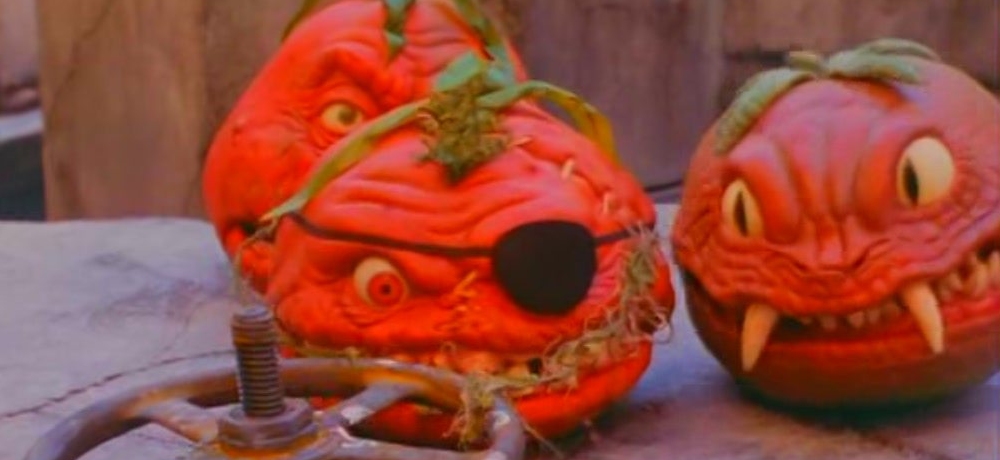 Attack of the Killer Tomatoes (1977)
In this musical comedy spoof, a team of eccentric individuals must keep killer tomatoes from taking over the world and killing everyone in their path.
Cannibal Women in the Avocado Jungle of Death (1989)
A beautiful feminist scientist and her sarcastic trail guide run up against a clan of scantily clad women while out in the wilderness of California.
The Toxic Crusaders Movie (1997)
Radioactive superhero Toxie and his fellow mutants fight to save the planet from insectoid alien Dr. Killemoff and his polluting pals.
The Manster (1959)
An American reporter traveling in Japan is lured to secret laboratory where he is injected with an experimental serum that turns him into a hideous two-headed MANSTER!
Satan's School for Girls (1973)
A young woman investigating her sister's suicide at a private girls' school finds herself battling a satanic cult.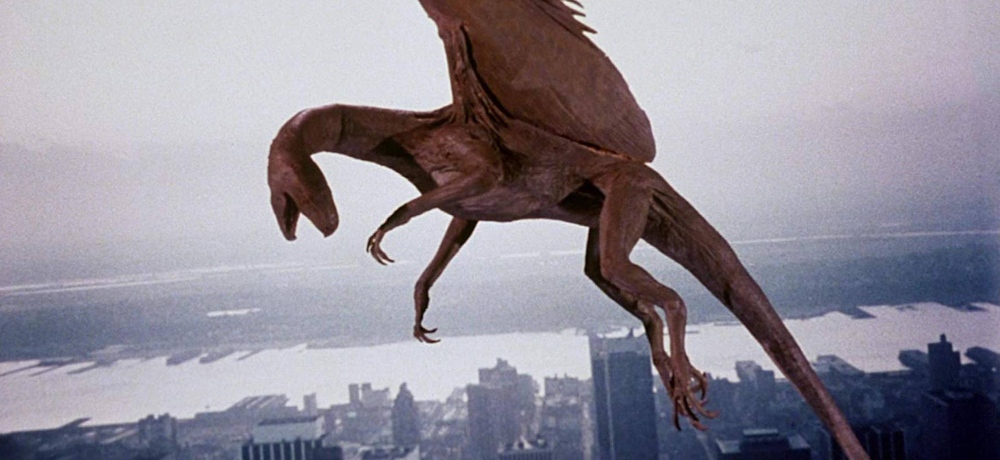 Q: The Winged Serpent (1982)
A thief helps two detectives locate a savage cult that has summoned an ancient Aztec god to terrorize New York City in this fantasy thriller.
Slithis (1978)
When radiation leaks into the ocean, a flesh-eating monster rises from the depths to wreak havoc on the bohemian enclave of Venice, California.
Brain Dead (1990)
An experimental operation plunges a brilliant neurosurgeon into a mind-bending nightmare that blurs the line between reality and delusion.
Surf Nazis Must Die (1987)
Blood is the only thing that will satisfy an elderly woman's quest for revenge against a racist gang in this over-the-top exploitation film.
Evil Bong (2006)
A vintage bong with a feminine appearance takes all who take a hit from it to Bong World, where deadly, exotic strippers kill stoners with pleasure.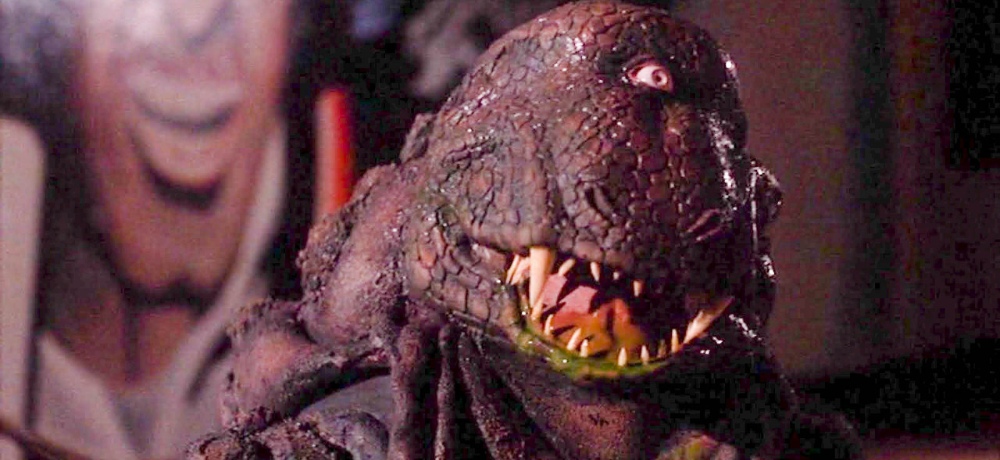 Neon Maniacs (1986)
In the heart of San Francisco, the legions of the damned lay waiting beneath the Golden Gate Bridge. As night falls, this battalion of butchery is unleashed upon the city to carve terror into the souls of the innocent.
Color Me Blood Red (1964)
A crackpot painter goes on a killing spree, using the blood of his victims to create the crimson color for his macabre masterpieces.
Bad Taste (1987)
This intergalactic fast food chain has human flesh on the menu. When aliens snack on a small town, it's up to Derek and friends to save the day.
Creature (1985)
Scientists reach a remote planet only to find their rivals got there first, and are dead. Now, the creature that killed them hunts the new arrivals.
Blood Feast (1965)
An Egyptian caterer kills various women in suburban Miami to use their body parts to bring to life a dormant Egyptian goddess, while an inept police detective tries to track him down.
Death Bed: The Bed That Eats (1977)
Three unsuspecting travelers spend the night in an old mansion, where they discover a demon possessed bed that consumes all who sleep in it.
Microwave Massacre (1983)
After bludgeoning his wife with a pepper grinder, and microwaving her remains, a cranky construction worker discovers he has a taste for human flesh.
---------
ICYMI, visit our online hub to read more of Heather Wixson's recent From Streams to Screams lists!