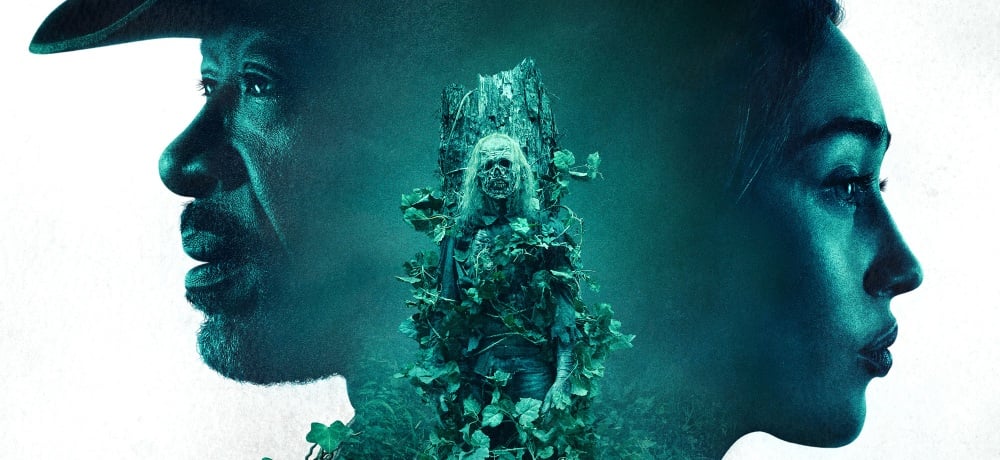 With Fear The Walking Dead recently returning to AMC for the second half of its sixth season, Daily Dead was thrilled to take part in virtual roundtable interviews with the cast to discuss what it was like returning to the set after being on hiatus due to COVID-19, continuing to develop their characters, and the unpredictable nature of the upcoming episodes.
On finding their way back to their characters after production was put on hiatus due to the COVID-19 pandemic:
Colman Domingo: I can talk to the way we've come back, which is even more mindful of production. Productions can be unwieldy and big and lots of hands-on things, and all it took was this pandemic for us to take a moment and be more mindful of how we're working. About our time, about our coverage, about just taking that beat to wipe something off and make sure someone is safe and clean and protecting each other. Having more mindfulness feels really good on sets. There's an extra level to care. We're all racing so fast trying to get things done, and you sort of miss a beat sometimes. And now you can't miss that beat. The universe has granted us that gift to take a moment of gratitude, of being able to do this work, to infuse it with even more heart and spirit, because it's a privilege to work, it's a privilege to be able to be creative right now. We were one of the first casts that went back to set. It's such a blessing. So I think "mindfulness" is the word that comes to me.
Danay Garcia: I agree with Colman. There was more structure. It was the first time in years that we didn't see each other for seven months straight. We usually have a four-month hiatus, but we usually see each other in Comic-Con, we're always in each other's lives. This was the first time we were separated so quickly and when we came back we were so grateful, we were so inspired to be creative right now and finish what we started. It was such a beautiful start and we were on a roll, and it's like, "Oh my gosh, the apocalypse." I remember when I saw Colman for the first time, when I saw Alicia for the first time. It gave us that mindfulness. You're right, Colman, that's the right word to describe it.
Colby Hollman: Yeah, I want to third that mindfulness and also add that when we started this season before the pandemic hit, and then having to take that seven months off and come back to it, you mentioned getting back to our characters, when that happened, when the pandemic hit, it made the show a lot more prevalent in today's society, so it upped the ante a bit. We got to get back to these characters in an apocalyptic situation, so we're telling these stories that are a lot more real and a lot more accessible to the audiences today, and we knew that. Everybody corralled, and the heart and the spirit, I could feel a difference, because we knew that what we were doing was very important, and had a more important voice in what's happening today.
Lennie James: It is about how a group of people who are not necessarily related find themselves thinking of each other as family, and one of the things the pandemic has done for all of us is reminded us of the people we are truly connected to. Even though we might not have said it before or we might not have realized it before, they are vital parts of our life and we think of them as family. I think that that's one thing going forward that people are going to identify a lot more with our show, because it is a group of strangers who become family. And I think that one of the things that the pandemic, I hope to God it has, has reminded people of just how connected we all are.
Christine Evangelista: It took on a very different meaning for me. This is the first season that I've been on Fear The Walking Dead as Sherry, this Sherry 2.0 that I call her, is a very different Sherry than she was in The Sanctuary with Negan in The Walking Dead, this hardened woman that gets reunited again with the love of her life that she hasn't seen in a very long time, as this different woman, and I was just starting to get into this and get my engines revved up and everything came to a halt again, but it really took on this whole new meaning when we did come back. And that episode that aired with Sherry and Dwight reuniting again really took on a very different meaning, not just for myself playing it, but to so many people watching it because we've been so disconnected from people in our lives and people that we love, and to see these two people come together again was highly emotional for a very different reason coming into it. There's a lot of different levels for me just coming into a new show and playing this character again and then everything stopping and getting picked back up, it's been a very wild ride, but it's had a much deeper meaning than I even imagined it would.
Jenna Elfman: I had a unique experience because we were in the middle of 608 when the pandemic happened, and I was about to shoot some key scenes, and then we had to go on a seven-month break, so it was very weird, which people will all understand when they watch 608. There were a lot of sensations and I'm so happy to be back in a creative place. Everyone's on this survival learning curve, like, "Can I breathe air in the park? Can I touch the apple at the grocery store?" You're all in this heightened personal experience of survival as we're all going through the learning curve in the real-life pandemic. I'm just so grateful AMC facilitated production to be able to go back, and then to be back in that creative space was actually a really therapeutic thing. Even though we were filming about a pandemic in a pandemic, to use that part of your mind that is your imagination and make-believe was quite a nice escape, frankly.
Mo Collins on the joys of working with Daryl Mitchell:
Mo Collins: It is exactly as joyful as it appears and then add ten cups more. Everything that you're seeing between Wendell and Sarah is actually from the moment we met authentic. Some people you meet and it just clicks and he is really my brother. With our comedy backgrounds, we have a great understanding of each other, something that runs through our DNA and bones, if you will. We trust and have faith in each other and understanding, as different as we are in so many ways, there is this common bond that we have, and that joy is real, and thank you so much for enjoying it as much as we do.
Karen David on what we can expect from Grace in the second half of season 6:
Karen David: Well, we know that that Ginny has been hiding Grace from the whole group, so like everyone, Grace doesn't know what's happened to those people she cares about, and she thinks that Morgan has died, that's probably the likelihood. So she's now having to live for her baby bump and keeping her emotional wellbeing, her physical wellbeing, everything is based on that. I think this is the first time we see Grace truly having something to live for. Getting to know the group and immersing herself into the group from last season and spending more time with Morgan and the relationship that they're fostering, that certainly helped to give Grace the strength and the courage to move forward, but definitely now with the baby, the stakes are high and every day is a big worry. Is she going to make it, is the baby okay? There's always this concern: what if the baby is born and Ginny takes it away? It's a constant fear for her. We are going to see more of Grace and see her go through these emotions and raging hormones, too, as her pregnancy progresses, and you're going to see her be challenged like never before, and let's see how she pulls through.
Alexa Nisenson and Alycia Debnam-Carey on the unique connection between Charlie and Alicia:
Alexa Nisenson: For Charlie, I absolutely have loved getting to do this storyline with Alycia and it's so special to me and we've gotten to do some incredible stuff together. Character-wise, the bond that they share is so special because of what they've been through together, and I think no matter where they are distance-wise, whether they're together or separate, they'll always carry that special bond with them. Like you said, they do kind of share this sisterly bond, but I think one of the reasons why it's resonated so well with the fans is because of what they've been through and it's not just a normal kind of bond they share because of what's happened in the past.
Alycia Debnam-Carey: It's such a unique relationship because of where it started. You could never imagine that these two would become family and close after what has happened. I think what's really struck me with the start of season 6 and especially when we were getting midway through was recognizing that what has defined Alicia is what she has gone through, and now seeing someone who is even younger than she was go through the apocalypse and the end of the world, and see how the lack of love and care and support and hope and optimism could shift a character like Charlie into such a dangerous direction.
I think what a lot of what Alicia's relationship with Charlie is based around is it has to be a nurture and a care and a love, the fear that she would turn out in the way that Alicia almost felt like she did, which was a bad person or making wrong choices or going through life with such pain and hurt and trauma. In a way, she's trying to heal through Charlie, and healing together has allowed them to open up again and evolve into letting themselves be open to trust again, which is crazy coming from where it started. I think she does see herself in Charlie in so many ways. What I do love about Alycia is there's a badass quality to her and she'll kick ass if she needs to, but there's also a lot of hope and love and what she craves most in this world is that love, trust, and support, and if she's able to bestow that upon someone that had a potential trajectory that was so much worse, it speaks a lot to who she is, which is someone who believes in those key qualities of love and trust and support. It's been a really beautiful relationship to see evolve and flourish, and it's also the best working with Alexa. We get along so well and we have the best time.
[Image Credit: Above image courtesy of AMC.]