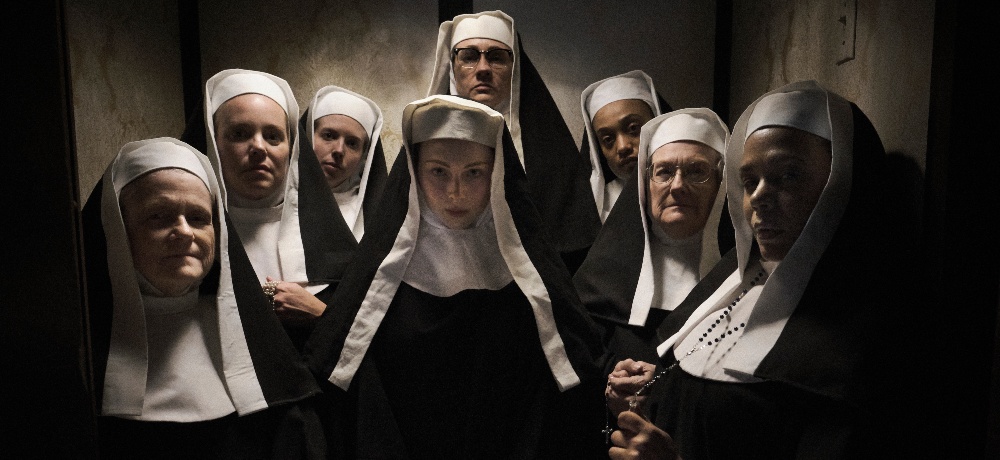 AGNES Release Details: "A nun's disturbing behavior sparks rumors of demonic possession at a remote convent. When a priest-in-waiting and his disillusioned mentor are sent to investigate, their methods backfire, leaving a wake of terror and trauma.
AGNES is directed by Mickey Reece, and written by Reece and John Selvidge. It stars Molly C. Quinn, Sean Gunn, Chris Sullivan, Haley mcFarland, Rachel True, Chris Browning, and Jake Horowitz.
AGNES opens in theatres and on demand Friday, December 10th."
-
NIGHT AT THE EAGLE INN: "Fraternal twins Spencer and Sarah Moss embark on a pilgrimage to a remote Vermont inn to investigate the last known whereabouts of their father who mysteriously disappeared the night they were born. Once checked in, the uncanny innkeeper and enigmatic groundsman guide the twins through the institution's tragic and terrifying history. Not ones to leave any stone unturned, Spencer and Sarah go rogue and dive deeper - their exploration leading to shocking revelations as the property's dark secrets ensnare them in a hellish labyrinth they must escape before dawn. Equal parts The Innkeepers, The Shining, and Vacancy, Night at the Eagle Inn is a fast-paced horror-mystery laden with intrigue, black comedy, and plenty of scares."
Release Date: November 2, 2021
Distribution Company: 1091 Pictures
Directed by: Erik Bloomquist
Written by: Erik Bloomquist, Carson Bloomquist
Starring: Amelia Dudley, Taylor Turner, Greg Schweers, Beau Minniear, Erik Bloomquist
Produced by: Carson Bloomquist, Erik Bloomquist
----------
LOVECRAFT COCKTAILS: "75 drinks, potions, concoctions, and offerings for your next haunted housewarming or Samhain soirée.
The author and the illustrator behind the best-selling Necronomnomnom have summoned another glorious grimoire—this time featuring cursed cocktails. These boozy and punny recipes pay homage to Lovecraftian horror themes and monsters with titles such as the King in Jell-O, Pink FlaMi-Go, and Sunken Island Iced Tea. Further libations include the Hell Residente, Moscow Ghoul, the Root Beer of All Evil, and the Bloodbath & Beyond. The book provides "Virgin Sacrifices" for the coachman designated to drive everyone back from the séance, or for anyone not wanting to imbibe the devil's water.
There are 75 delicious and malicious recipes, each gorgeously illustrated, mercilessly tested, and hilariously written. Recipes appear in the form of cryptic rhymes and arcane rituals but are always easy (and fun) to follow. Bibulous and ridiculous, Lovecraft Cocktails will bring delight and fright for Halloween, the holidays, and beyond."
Learn more at: https://wwnorton.com/books/9781682686416