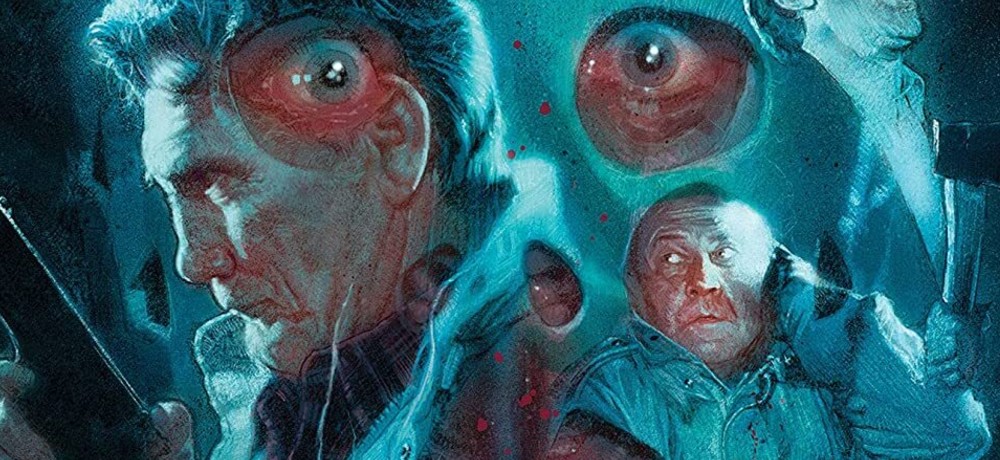 ALONE IN THE DARK Blu-ray: One of the most underrated and terrifying cult horror films of the 1980s, Alone in the Dark makes its Blu-ray™ debut September 14, 2021 from Scream Factory™. This Collector's Edition release boasts a new 2K scan of the interpositive and includes a number of new bonus features, including a new interview with director and co-writer Jack Sholder, a new audio commentary with genre film critic Justin Kerswell and film historian Amanda Reyes, and the new featurettes Mother Choppers: The Sic F*cks Remember Alone in the Dark and Sites in the Dark: The Locations of Alone in the Dark. Fans of the film can pre-order their copies now at ShoutFactory.com
At a secluded mental institution, electricity fuels the asylum's hi-tech security system that keeps the nearby neighborhoods safe from menaces like Frank Hawkes (Jack Palance, Batman) and "Preacher" (Martin Landau, Ed Wood). Dr. Bain (Halloween's Donald Pleasence) maintains strict order while a new doctor, Dan Potter (The A-Team's Dwight Schultz), arrives in town with his family. But the inmates don't take kindly to Potter's presence and believe he has killed off their former therapist. Suddenly, a power outage leaves the town in chaos ... and now the maniacs are free to roam the streets and hunt down the man they believe has invaded their lives. With the area quickly descending into riots and chaos, the innocent few must fight for their lives when they're left terrified, cornered and Alone in the Dark! This white-knuckle shocker from director Jack Sholder (The Hidden) features shocking makeup effects from Tom Savini (Dawn Of The Dead, Friday The 13th), delivering one seat-jumping scare after another, along with a thick slab of pitch-black humor!
Alone in the Dark Bonus Features
NEW 2K scan of the interpositive
NEW Out of the Dark – an interview with director and co-writer Jack Sholder
NEW Mother Choppers: The Sic F*cks Remember Alone in the Dark
NEW Sites in the Dark: The Locations of Alone in the Dark
NEW Audio Commentary with genre film critic Justin Kerswell and film historian Amanda Reyes
Audio Commentary with director Jack Sholder
Bunky Lives! – an interview with actress Carol Levy
Still F*cking Sick – Catching up with the The Sic F*cks
Theatrical Trailer
TV Spot
Radio Spots
Still Gallery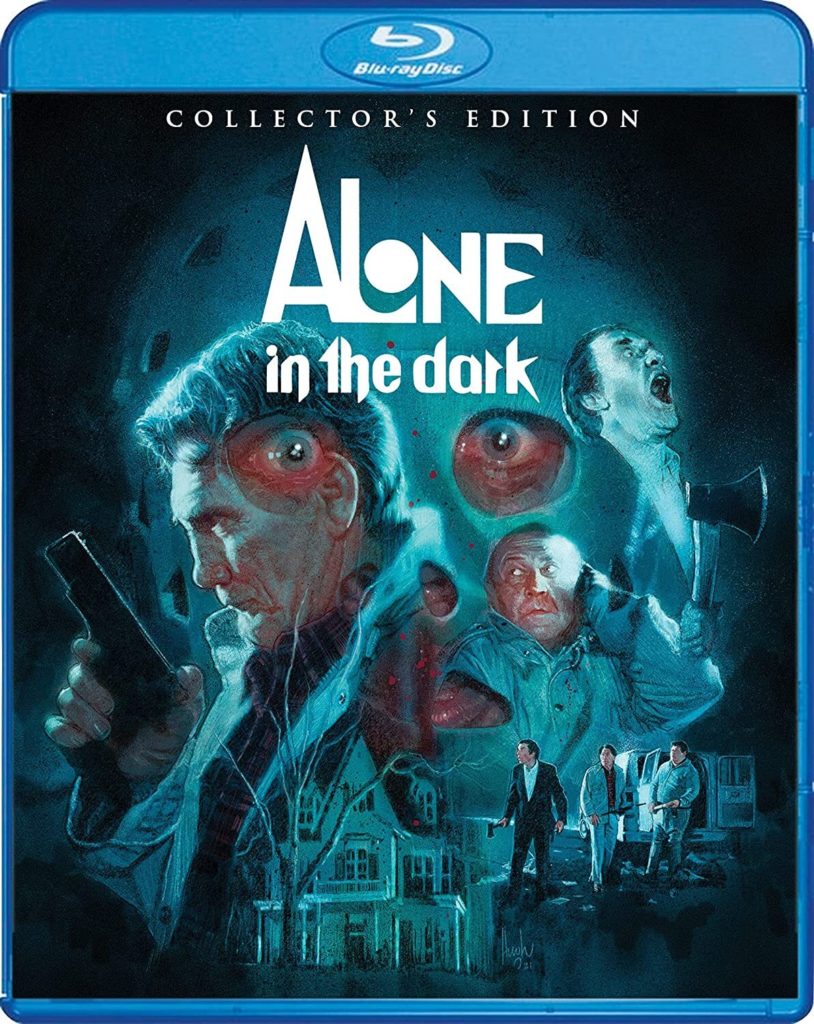 ----------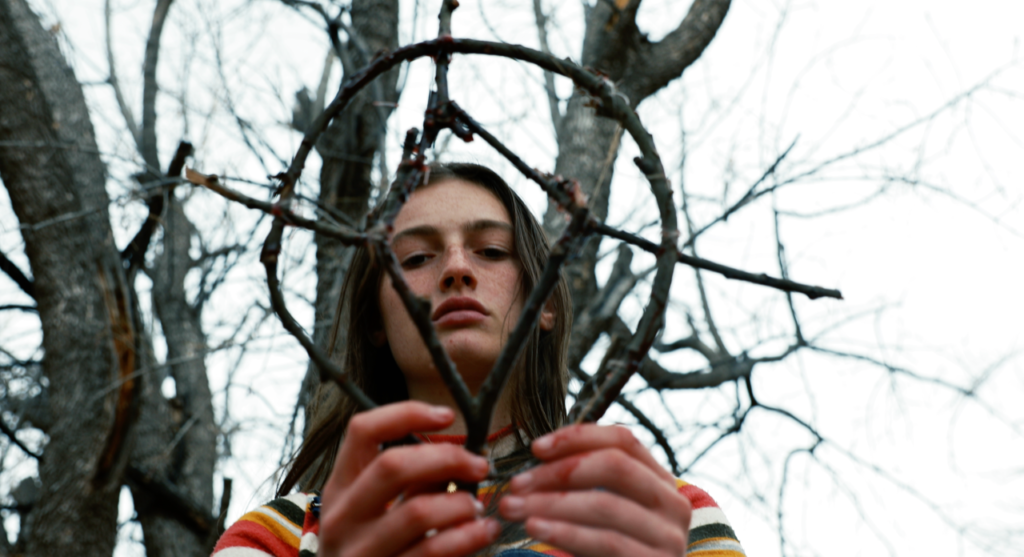 Shudder Acquires Occult Coming-of-Age Horror, Hellbender: "NEW YORK – August 5, 2021 – Shudder, AMC Networks' premium streaming service for horror, thriller and the supernatural, has acquired the occult horror feature Hellbender ahead of its world premiere at Fantasia International Film Festival. Shudder will release the film, which is written and directed by Toby Poser, John Adams and Zelda Adams, in North America, the United Kingdom, Ireland, Australia and New Zealand in early 2022.
Said Craig Engler, general manager of Shudder, "We are thrilled to bring this family-focused folk nightmare to Shudder with such a talented actual family in front of and behind the camera. With Hellbender, Wonder Wheel Productions has made their most polished feature yet, and we know our audience will delight in the film's shocking visuals and scares."
"Teaming up with Shudder was at the top of our bloody bucket list. They're the pinnacle of beautiful horror, and to be a part of that is beyond thrilling for our family," added Toby Poser, Zelda Adams and John Adams.
"Hellbender is an absolute stunner. I am obsessed with every frame and couldn't be more excited to partner with Shudder for the release of such an ambitious and unique movie," said Justin Timms at Yellow Veil Pictures.
The acquisition deal was negotiated by Emily Gotto and Samuel Zimmerman on behalf of Shudder and Hugues Barbier, Justin Timms, and Joe Yanick of Yellow Veil Pictures on behalf of the filmmakers.
In Hellbender, 16-year-old Izzy (Zelda Adams) suffers from a rare illness that has kept her isolated on a mountaintop with her mother (Toby Poser) her whole life.  As Izzy begins to question her sickness, she pushes back against her confinement and secretly befriends Amber (Lulu Adams), another girl living on the mountain, but her newfound happiness is derailed after she eats a live worm as part of a juvenile game and finds an insatiable and violent hunger awakened within her. To understand the hunger, Izzy must learn the dark secrets of her family's past and the ancient power in her bloodline.
Hellbender is the sixth feature from Wonder Wheel Productions, the family-run production company founded by Poser and Adams and their children, Zelda and Lulu. The family also produced the music for the feature with tracks from their experimental punk band H6LLB6ND6R. In 2019 the Adams family first screened at Fantasia with their award-winning The Deeper You Dig.
Hellbender will world premiere virtually August 14 as part of the 25th Fantasia International Film Festival, which kicks off August 5 as a hybrid event with in-person screenings in Montreal, Quebec and the virtual slate geo-locked to Canada. The film is part of the festival's esteemed Cheval Noir competition."
----------
Francis Ford Coppola's DEMENTIA 13: DIRECTOR'S CUT in HD on Blu-Ray and 4K on Digital on September 21: "Global content leader Lionsgate (NYSE: LGF.A, LGF.B) announced today that Francis Ford Coppola's "Dementia 13: Director's Cut" will be available on Blu-ray and Digital on September 21st via Vestron Video Collector's Series. Following his recent director's cuts for "Apocalypse Now Final Cut" and "The Cotton Club Encore", Coppola went into his own private collection to restore his directorial debut from 1963. Over the years, the film was shown on poor quality 16MM prints or transfers from whatever found its way into film collectors hands, but never properly presented as it was intended by the director. Now fully restored and remastered in Coppola's original vision for the film, this is now the definitive version for fans of this cult classic.
"DEMENTIA 13 obviously occupies a place in my heart as my first film and I'm very proud that it can now exist as I intended it," said Coppola.
The Blu-ray special features include an Introduction by Francis Ford Coppola, Audio Commentary by Francis Ford Coppola, and Prologue (Dementia 13 Test). The Blu-ray SRP is $17.99 and Digital SRP is $9.99. The Blu-ray is in 1080p High Definition, with audio in English Mono DTS-HD Master Audio, English 5.1 DTS-HD Master Audio, and presented in the director's approved aspect ratio of 16x9 1.66. The film will be available in 4K digitally.
Coming to the Vestron Video Collector's Series and presented in 4K for the first time in almost 60 years, Francis Ford Coppola's remastered "Dementia 13: Director's Cut" is quintessential gothic horror, wrapped in the twisted mysteries of a family's deepest, darkest secrets. A widow deceives her late husband's mother and brothers into thinking he's still alive when she attends the yearly memorial to his drowned sister, hoping to secure his inheritance. But her cunning is no match for the demented, axe-wielding thing roaming the grounds of the family's Irish estate in this cult favorite featuring Patrick Magee, Luana Anders, William Campbell, and Bart Patton."
---------
Watch the New Trailer for YAKUZA PRINCESS: "Set in the expansive Japanese community of Sao Paulo in Brazil — the largest Japanese diaspora in the world — YAKUZA PRINCESS follows Akemi (MASUMI), an orphan who discovers she is the heiress to half of the Yakuza crime syndicate. Forging an uneasy alliance with an amnesiac stranger (Rhys Meyers) who believes an ancient sword binds their two fates, Akemi must unleash war against the other half of the syndicate who wants her dead."
In Theaters and On Demand on Friday, September 3rd